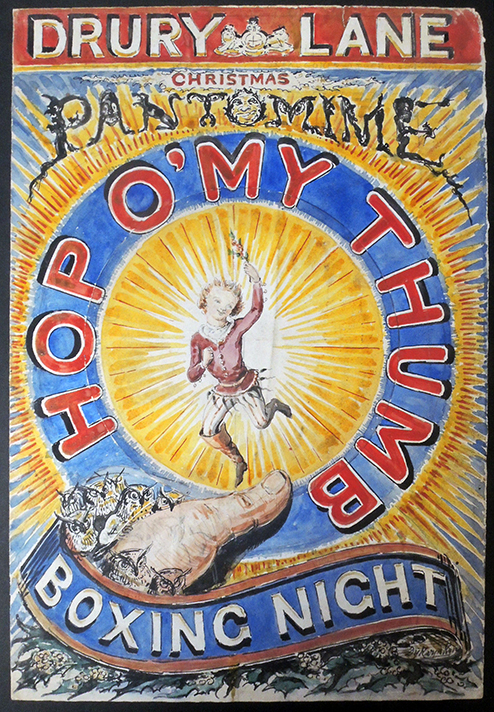 Drury Lane Christmas Pantomime, Hop O' My Thumb, Boxing Night. [London, ca. 1864]. Ink and watercolor on paper. Graphic Arts Collection GAX 2021- in process
Not all our students know that "hop-o'-my-thumb" (or hop on my thumb) is a reference to a very small person. The character first appeared as one of eight fairy tales by Charles Perrault (1628-1703) in Histoires ou countes du temps passé in 1697, translated to English by Robert Samber thirty years later. This is only one of many small characters in literature. There is Tom Thumb or Thombe, who dates back to 1621, along with Der kleine Däumling (Germany), Little One Inch/Issun-bōshi (Japan), Thumbikin (Norway), and many others.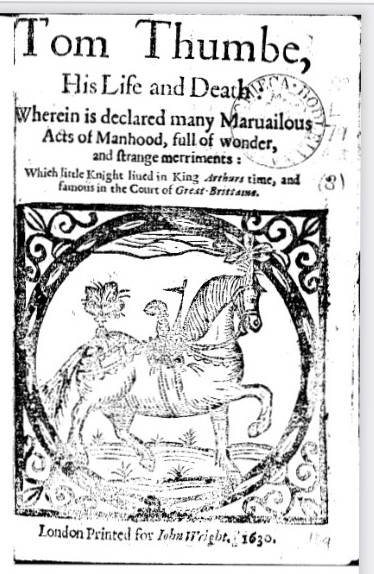 Tom Thumbe, his life and death: wherein is declared many maruailous acts of manhood, full of wonder, and strange merriments: which little knight liued in King Arthurs time, and famous in the court of Great-Brittaine. London : Printed [by A. Mathewes?] for Iohn Wright, 1630.
In the 1850s George Cruikshank (1792-1878) published a series of fairy tales, including Hop-o'-My-Thumb, implanted with his personal abstinence pledge and commitment to the temperance movement. He altered the stories so that villains were alcoholics or gamblers. Charles Dickens (1812-1870) was one of Cruikshank's detractors, writing "Frauds on the fairies" and "Whole hogs," in Household Words (October 1, 1853), to which Cruikshank responded with his own widely circulated letter that began: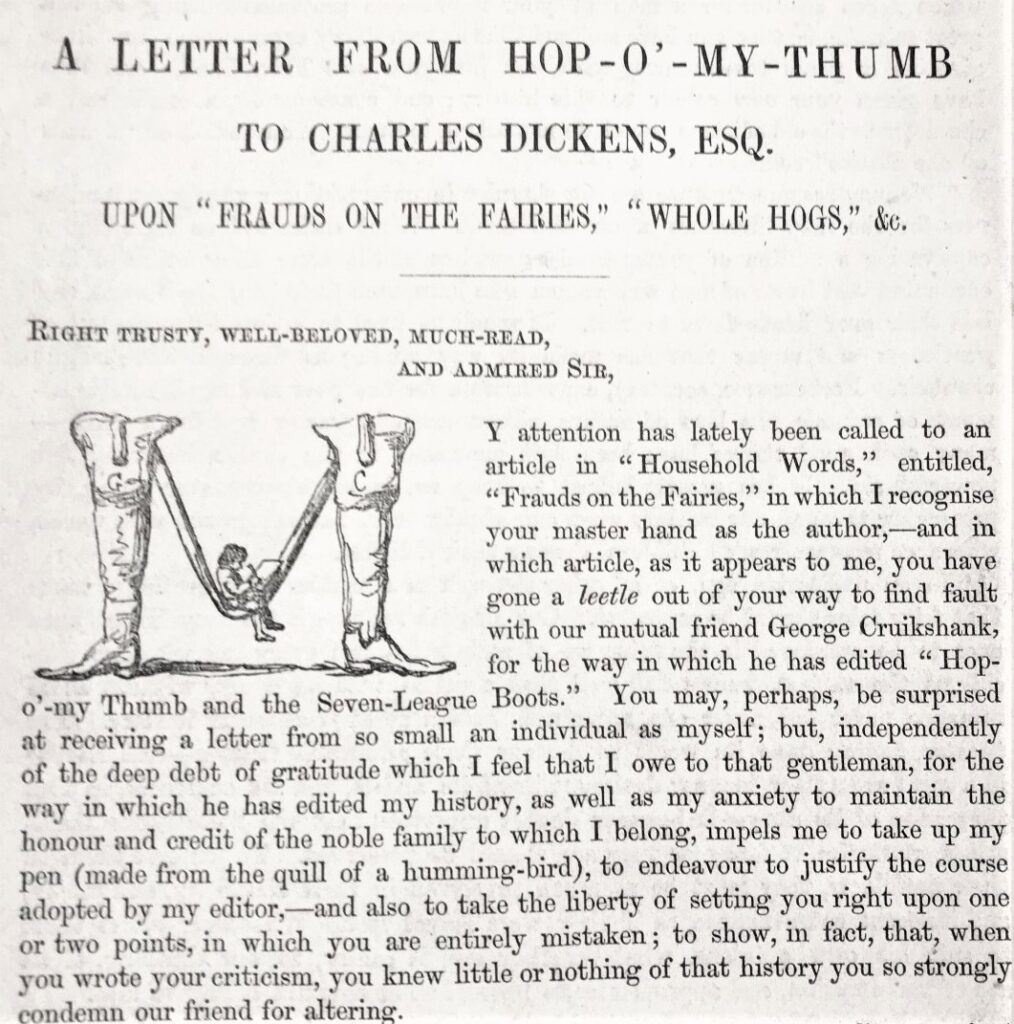 George Cruikshank (1792-1878), A letter from Hop-o'-My-Thumb [i.e. G. Cruikshank] to Charles Dickens, esq.: upon "Frauds on the fairies," "Whole hogs," &c. (London : D. Bogue, [1854?]) Graphic Arts Collection Cruik 1854.
See also a draft: George Cruikshank (1792-1878), The Controversy between Charles Dickens and George Cruikshank concerning George Cruikshank's Fairy Library; autograph letter, 1853. Manuscripts Collection C0256 (no. 36) Gift of Richard Waln Meirs, Class of 1888.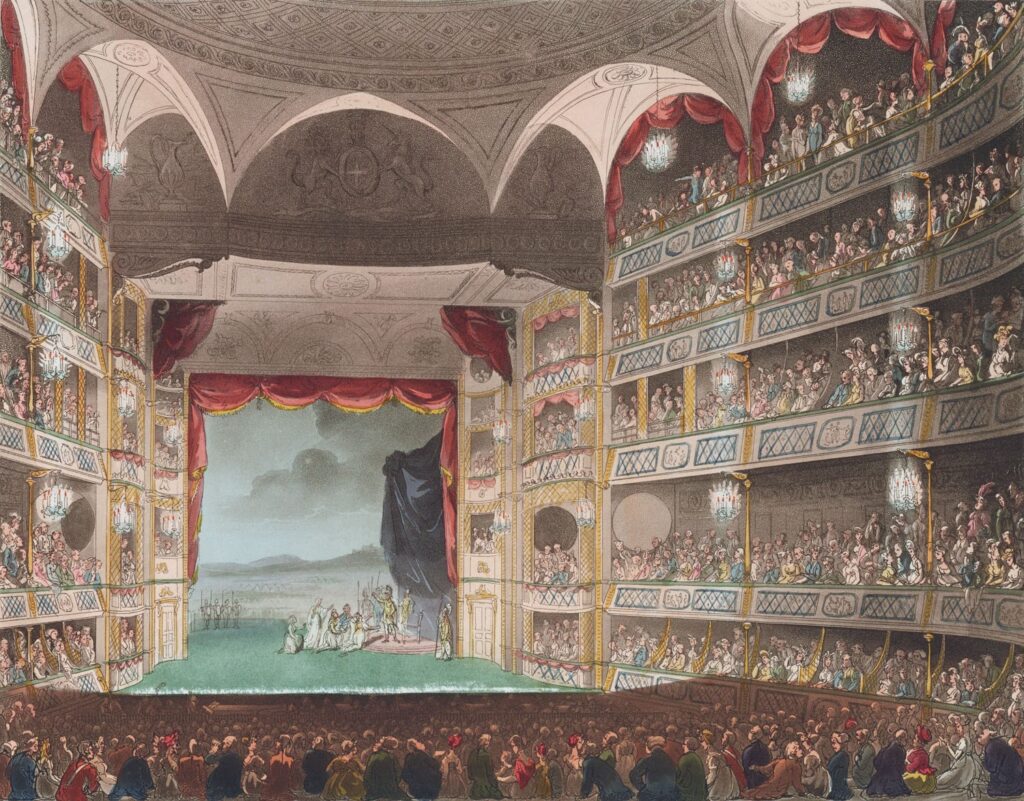 Theatre Royal Drury Lane staged its first pantomimes in the 18th century and by 1761 they became a regular feature. From 1852 to 1888, E. L. Blanchard was the author of 37 pantomimes performed at the Theatre Royal and the first to present Hop-o-My-Thumb within the Christmas pantomime series. https://link.springer.com/chapter/10.1057/9780230291782_2
1861 – The House That Jack Built; or, Old Mother Hubbard and Her Wonderful Dog
1862 – Little Goody Two Shows; or, Harlequin and Cock Robin
1863 – Harlequin Sindbad the Sailor; or, The Great Roc of Diamond Valley
1864 – Hop o' my Thumb and his Eleven Brothers!; or, Harlequin and the Ogre of the Seven-Leagued Boots
1865 – Little King Pippin; or, Harlequin Fortunatus and the Magic Purse and Wishing Purse
1866 – Unknown
1867 – Faw-Fee-Fo-Fum; or, Jack the Giant Killer
1868 – Grimalkin the Great; or, Harlequin Puss in Boots and the Miller's Son
http://www.its-behind-you.com/drurylanepantos.html
The Graphic Arts Collection recently acquired an original ink-and-watercolor advertisement designed as a poster or a program cover for the 1864 production. Note in particular the figures that form the letters of the word Pantomime.

In their review, The Times of London praised the performers of the show for executing their craft "in the best manner that circumstances will allow" and for the "great importance" they attached to their pantomime. The Times continued with further accolades: "All the artists are the best….The painter is Mr. William Beverley, the acknowledged chief of faery illustration, the genius to whom the 'transformation scene' in the present sense of the word may be said to owe its existence."
It is hard to make out the artist's signature in the bottom right corner. Can you recognize the name?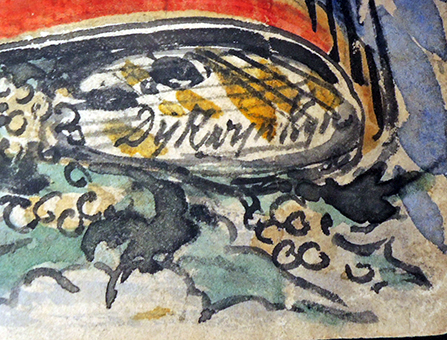 Read more: Jeffrey Richards, The Golden Age of Pantomime (London & New York: I.B. Tauris, [2015]),