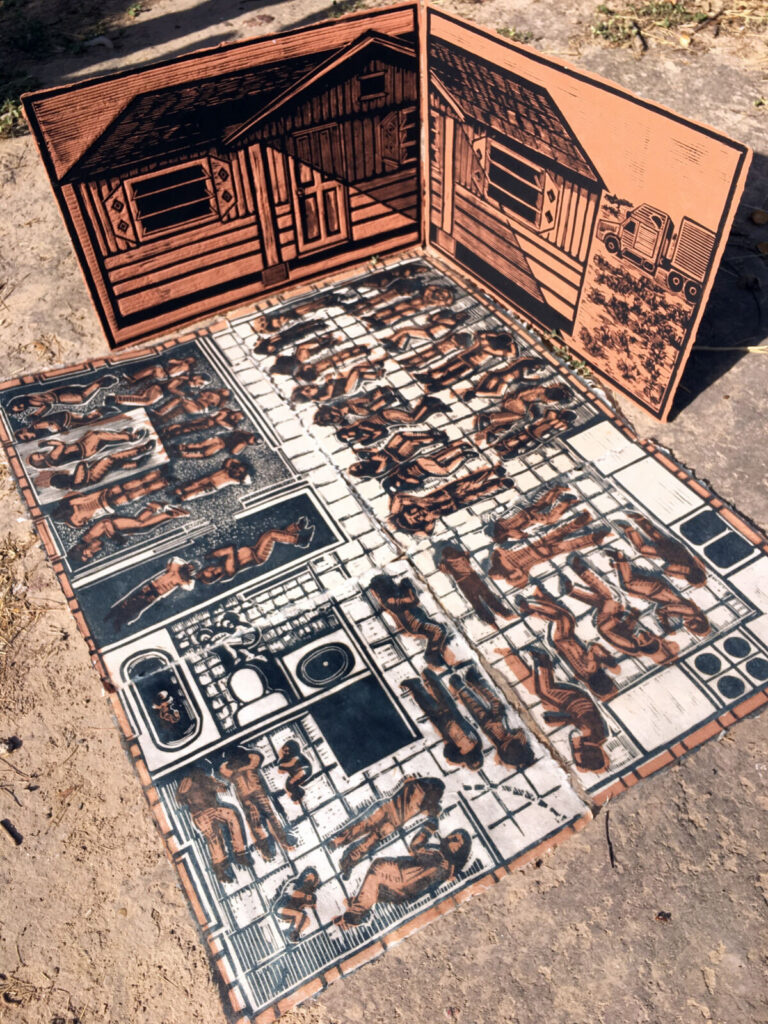 Eric Avery and Susan Mackin Dolan, Stash House Folio, 2020. Linocuts on hand made paper in linen hinged folio cover. The interior house view is printed on paper made by Susan Mackin Dolan. The hinged folio cover to hold the interior prints is a molded paper linocut by Eric Avery. Copy 7 of 9. Graphic Arts Collection GAX 2021- in process **Note, some images will load slowly but we wanted you to have good resolution
Stash House is a paper/print collaborative artist book project about human trafficking along the border in South Texas, created by Eric Avery and Susan Mackin Dolan with students at the Southwest School of Art in the spring of 2020. Avery and Dolan have been artist friends and collaborators for 35 years.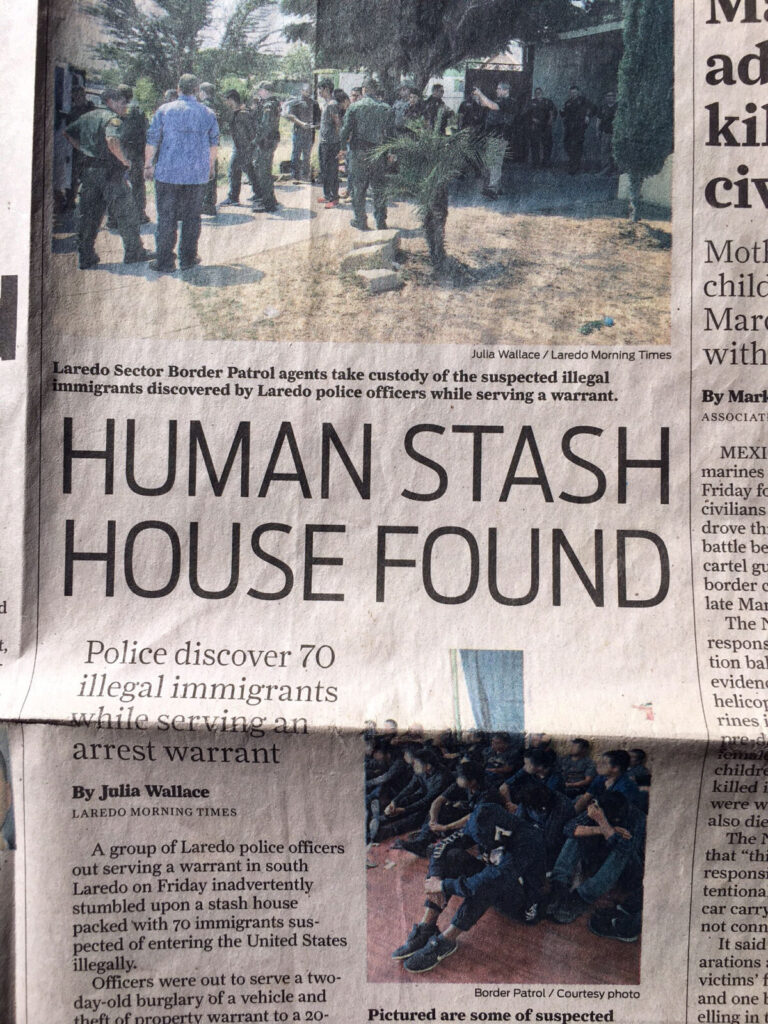 Their subject matter came from a 2018 article in the Laredo Morning Times, describing a raid by the Customs and Border Protection (CBP) patrol on a "stash house" where 73 migrants were hiding, waiting to be moved further north. "Thinking about how 73 people could sleep in a small house," wrote Avery, "triggered memories of my work with refugees in Somalia and Indonesia." He was the medical director in a large refugee camp in Somalia in 1980 and a photograph he made of Vietnamese refugees in the cargo hold of Ship Sea Sweep became an inspiration for their 21st century project.
This is the abandoned house in San Ygnacio [below] that Avery used as a modeled his cover folio, made of cast paper and pieces of clothing (mostly socks) he found abandoned on the Rio Grande riverbank in Laredo. The silhouettes of fifty people sleeping on the floor of such a house were designed by Dolen and editiond in four sheets of double dipped kozo paper. Avery printed four linoleum blocks on the sheets so that when laid out, the assembled print will be a floor plan with walls, door openings, kitchen, bathroom and silhouettes of fifty people.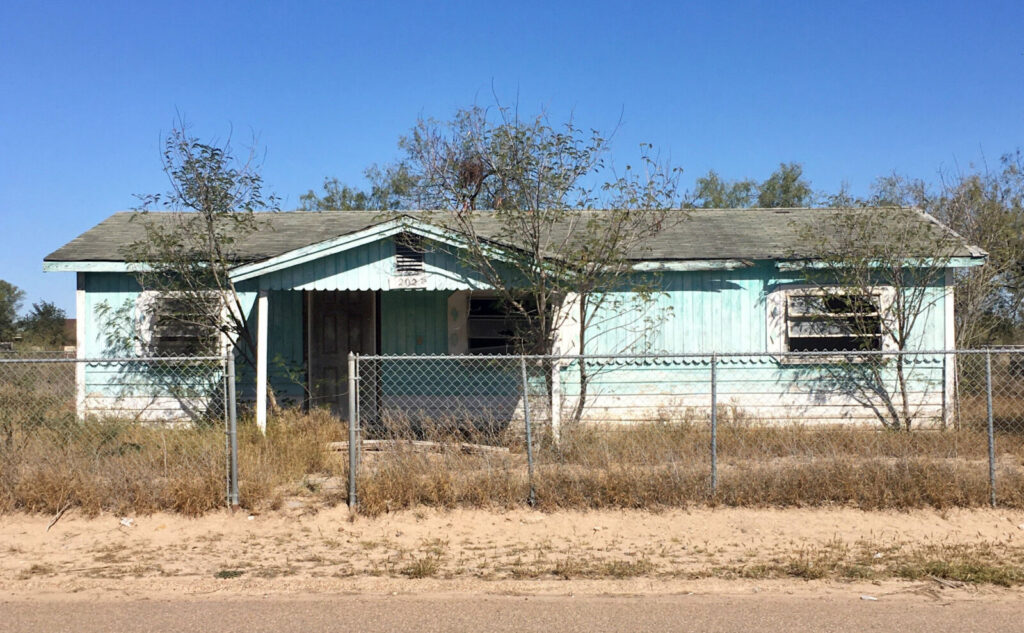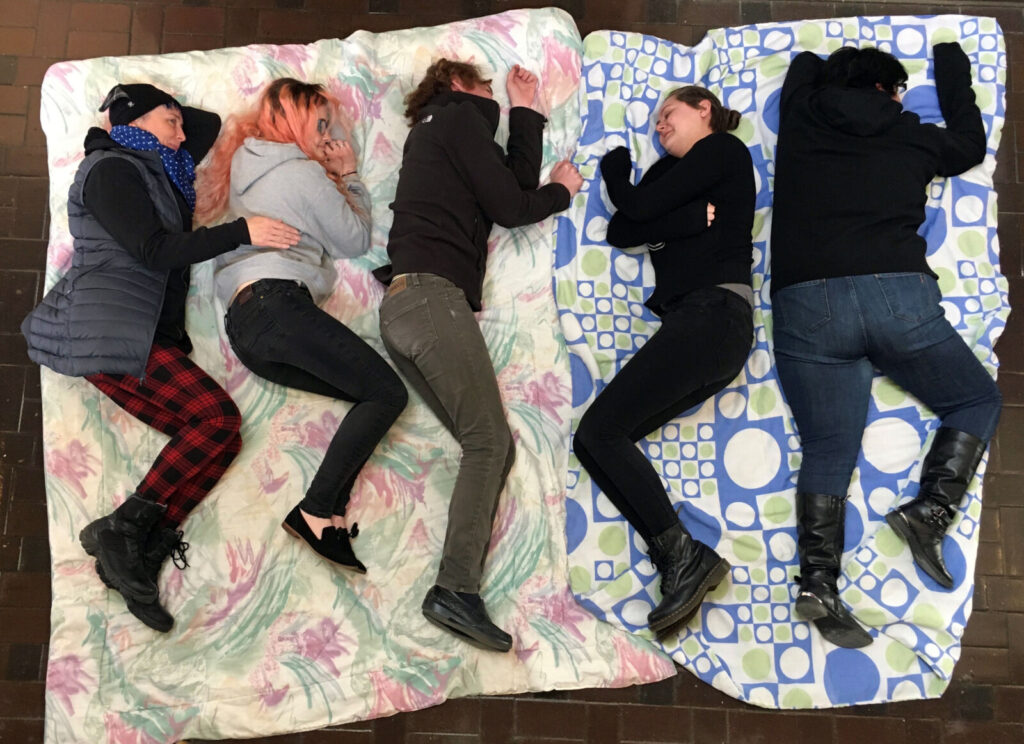 Here are the students in their class posing as sleeping migrants to work out the configuration of bodies [above] and [below] Avery's photograph of Vietnamese refugees.
A master of her craft, Dolen described the unique paper making process used: "I started making paper for my prints 40 years ago, because I wanted it to be more integrated into the prints and couldn't buy the type of paper I needed. I use Japanese kozo, gampi and local plant fibers, cooked and pounded to make the pulp. My sheet forming process is a modified Asian technique and uses contrasting fibers shaped by foam stencils to make images within the sheets of paper. This adds another layer of color and shape to the final printed image."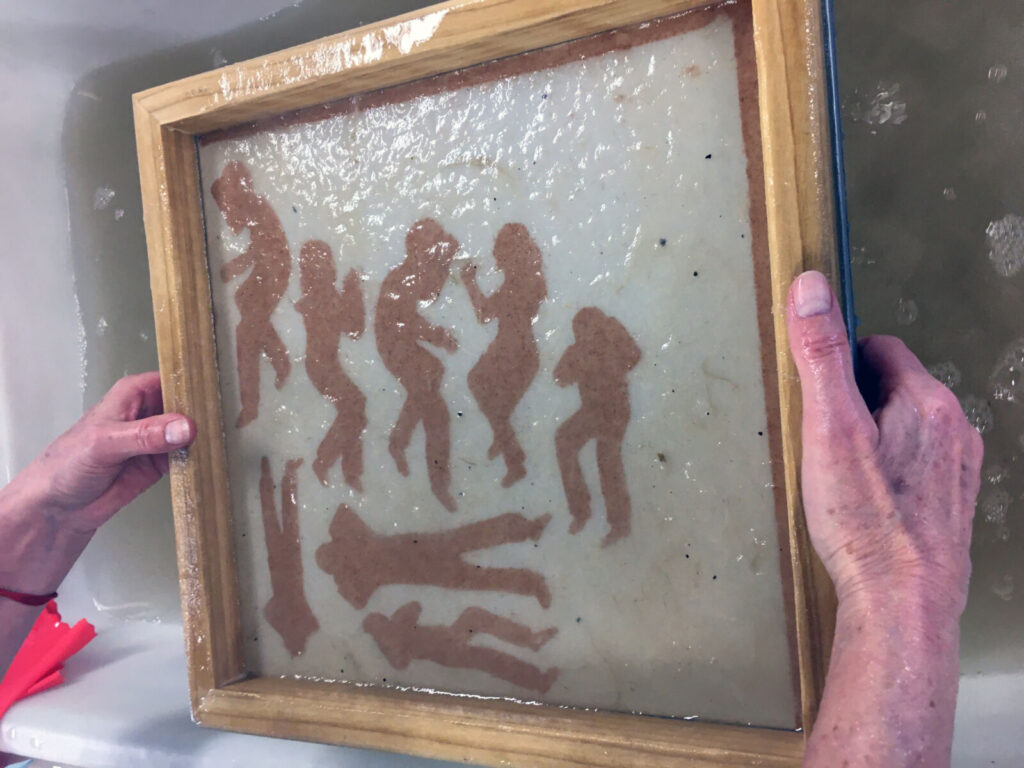 In speaking about this project, Avery described "bearing witness" as the narrative function of art. "Living on the border I am a witness to what is happening to the migrants and human rights abuses. I didn't want our work to contribute to the narrative that the border is out of control and that we need the Wall to control it. The migration of people across our southern border can be monitored by CBP and virtual technology. Building a wall to solve the problem is like building prison walls that we live inside."
–Dialogue quoted here is from the artists' conversation in Passage: An online magazine of visions and voices, 4 (October 2020) http://passagevision.com/issue4.html.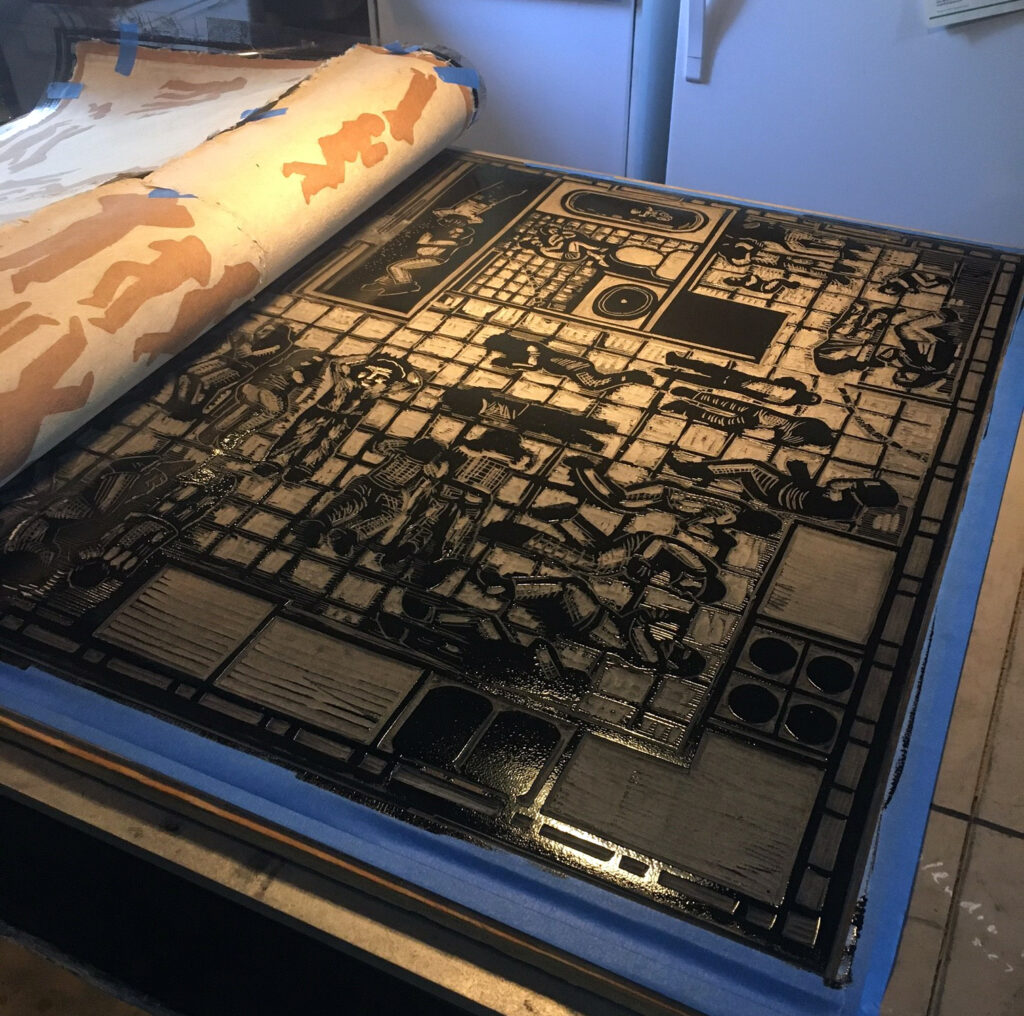 Read more:
http://www.susanmackindolan.com/
https://www.ericaveryartist.com/human-rights-abuses.html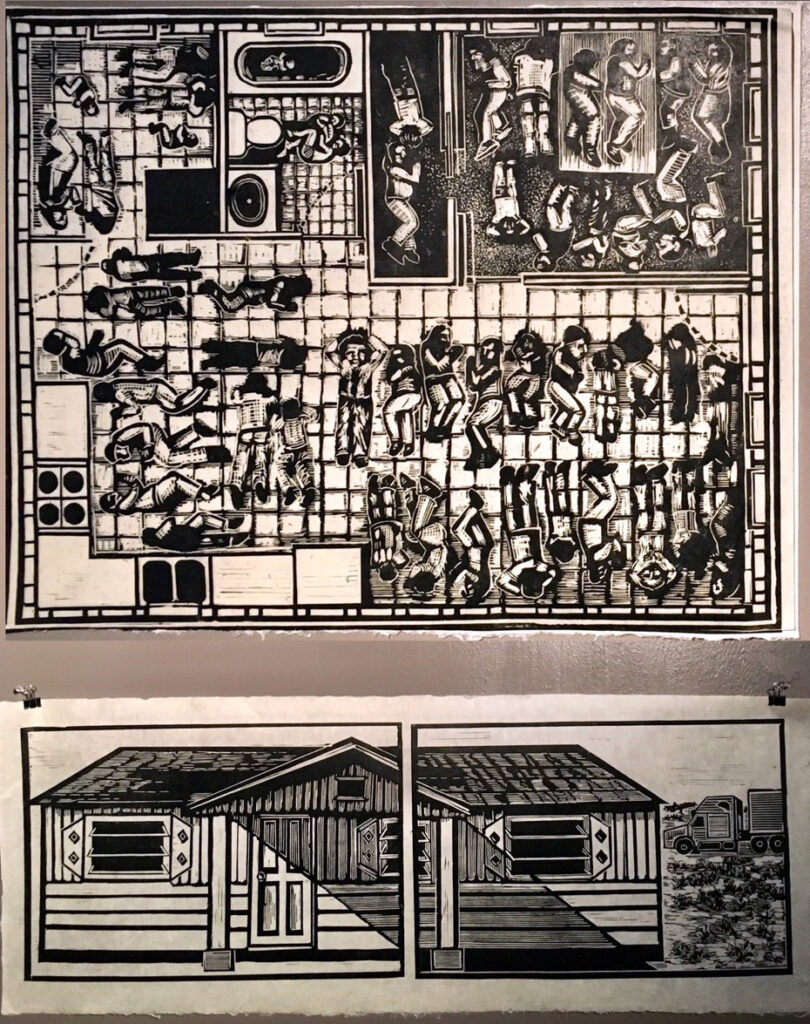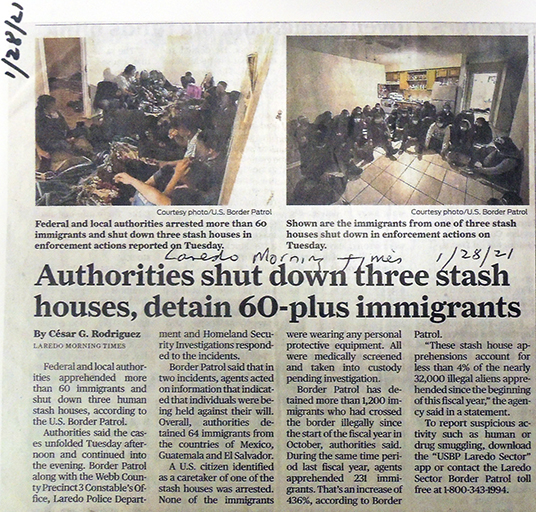 The 2018 raid on that stash house was, unfortunately, not a one-time occurrence but one of many. Here from January 28, 2021, is a raid on three houses involving 60 migrants. We are thrilled to have this important and timely project at Princeton University.