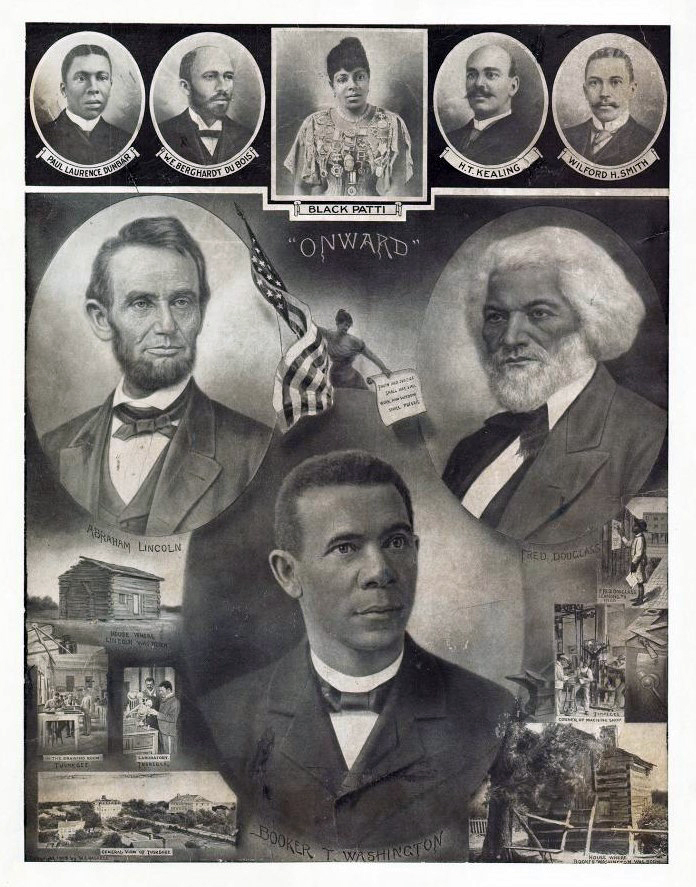 Onward ([Chicago:] W.L. Haskell, 1903). Poster mounted on linen and framed. Graphic Arts Collection GAX 2021- in process
Reported to be the highest-paid African American performer of the late 19th century, soprano Matilda Sissieretta Joyner Jones (1868 or 1869–1933) was also the first African American to perform at Carnegie Hall in 1892 (called simply "the Music Hall" at that time). Sometimes billed as Black Patti, as in this 1903 poster titled "Onward," the reference compares her to the white soprano Adelina Patti (1843-1919), a moniker Jones discouraged.
In 2018, The New York Times gave her an obituary, where she is quoted as saying, "Try to hide my race and deny my own people?" she responded in the interview… "Oh, I would never do that." She added: "I am proud of belonging to them and would not hide what I am even for an evening."–https://www.nytimes.com/2018/08/15/obituaries/sissieretta-jones-overlooked.html
This poster promotes Booker T. Washington (1856-1915), alongside Abraham Lincoln (1809-1865), Frederick Douglass (1818-1895) with vignettes of prominent African Americans including Jones, Paul Laurence Dunbar (1872-1906), W.E.B. Du Bois (1868-1963), Hightower T. Kealing (1859-1918), and Wilford H. Smith (1863-1926). A second version replaces the top and bottom with text listing the achievements of the central men.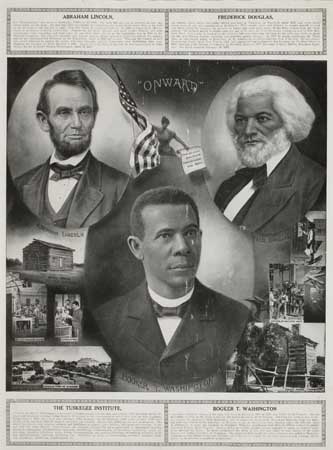 The poster is one of many the white Chicago publisher William L. Haskell printed and sold with composites featuring the best poets, best musicians, and so on. Here is an early advertisement: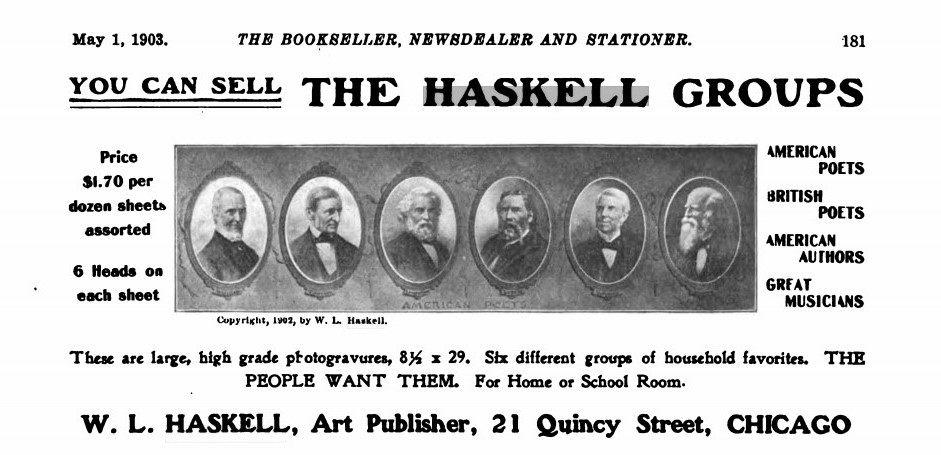 Between Lincoln and Douglass, a figure of Liberty appears holding a scroll with the motto, "Truth and justice / Shall not fail / Work and wisdom / Shall prevail." The other scenes include illustrations of the house where Washington was born; a young Douglass learning to read; the log cabin where Lincoln was born; classroom and shop scenes from the historically black Tuskegee University in Alabama, which was co-founded by Washington; and a view of the Tuskegee campus.

Here, Carnegie Hall's Archives and Museum Director Gino Francesconi relates the story of rise and fall of "The Black Patti" and how they came to have a very rare piece of Sissieretta Jones memorabilia on display in the Rose Museum at the Hall.