–Music & Lyrics by Al Sherman & Harry Tobias from the film Sensations of 1945.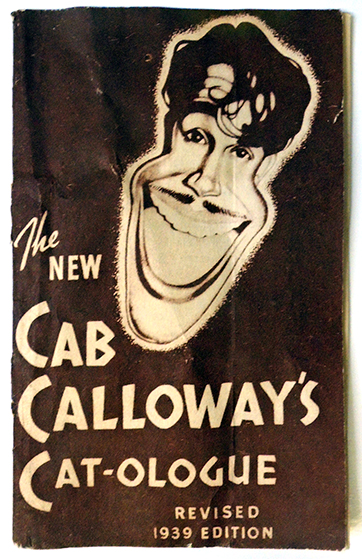 Cab Calloway (1907-1994 ). The New Cab Calloway's Cat-ologue: A Hepster's Dictionary. 2nd revised ed.  ([New York?]: Privately published by the author, 1939). Graphic Arts Collection GAX 2021- in process
The first Black American musician to sell a million records from a single song, Cab Calloway (1907-1994) was also the first to write a dictionary. Working with his manager, Irvin Mills, Calloway recorded the unique lexicon he and his fellow musicians had developed and published it in June 1938 as Cab Calloway's Cat-ologue: a Hepster's Dictionary. It was so successful a second revised edition was published the following year as The New Cab Calloway's Cat-ologue, with a foreword by Ned E. Williams (managing editor of Downbeat magazine). Seven more editions followed through 1944.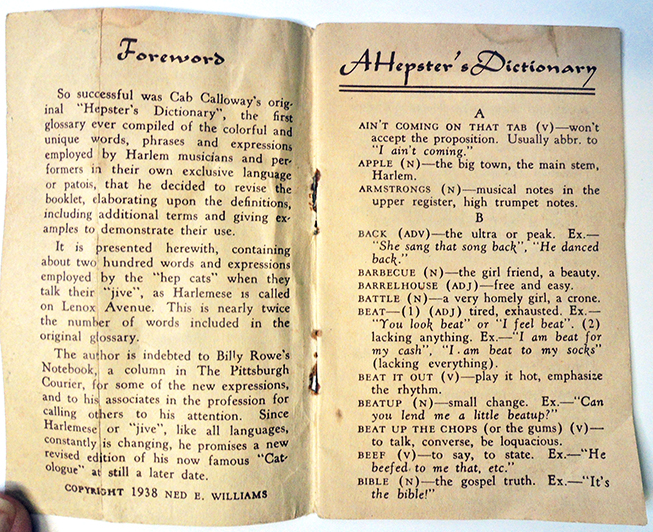 Calloway's foreword to the 1944 volume began: "Some six years ago I compiled the first glossary of words, expressions, and the general patois employed by musicians and entertainers in New York's teeming Harlem. That the general public agreed with me is amply evidenced by the fact that the present issue is the sixth edition since 1938 and is the official jive language reference book of the New York Public Library. … Many [words] first saw the light of printer's ink in Billy Rowe's widely read column "The Notebook," in the Pittsburgh Courier."
He wasn't kidding. According to the New York Daily News, June 3, 1944, "The New York Public Library announces that it will use Cab Calloway's Hepsters' Dictionary as the official jive reference book…"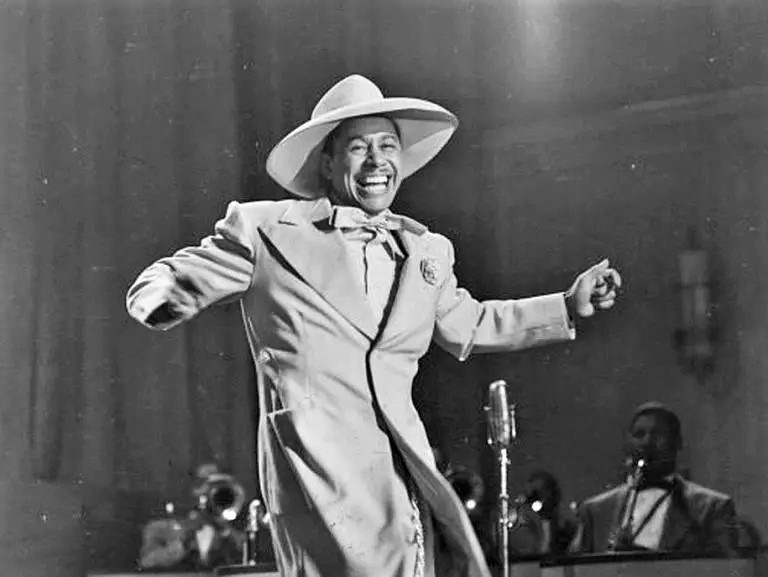 This wonderful radio program from the BBC will tell you everything: https://www.bbc.co.uk/sounds/play/b04mcmnl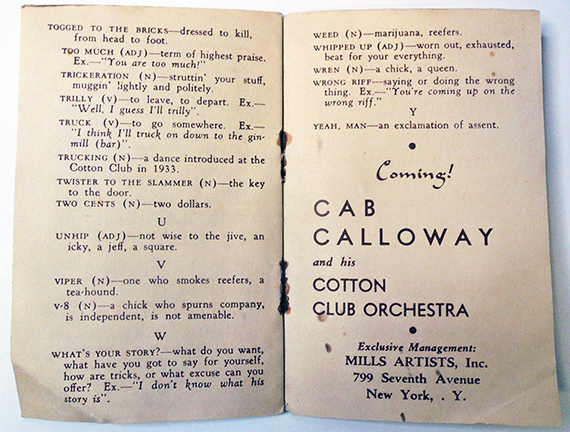 Armstrongs are the musical notes in the upper register and friskin' the whiskers means the musicians are warming up. A barbecue is a girl friend and if you need a match you would say, Boot me that match."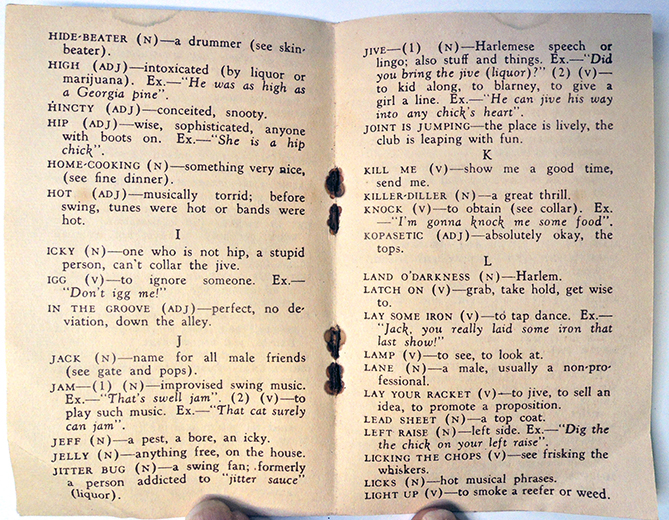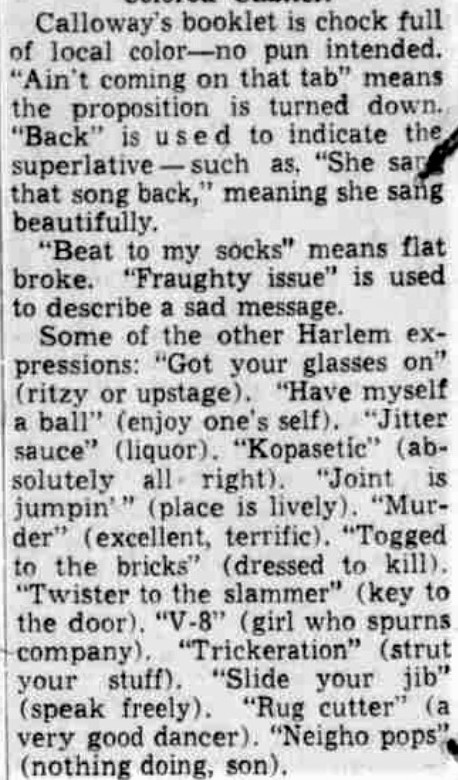 [Newark, Ohio] 17 June 1938: 4.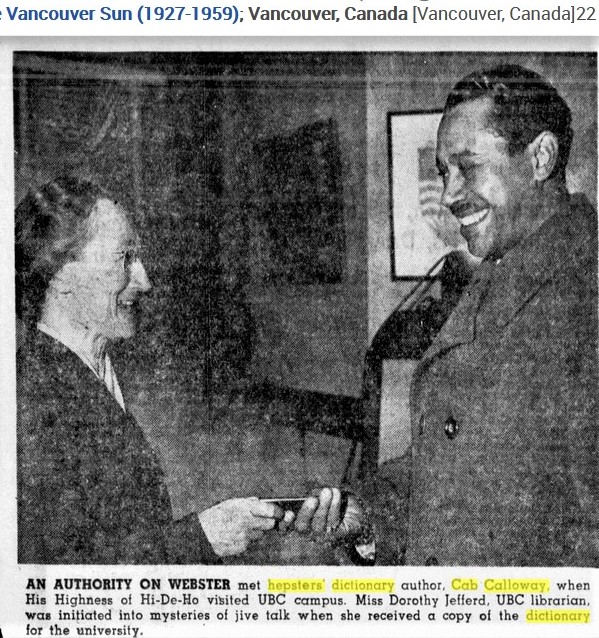 Calloway and his orchestra played at Princeton many times, but he never left a copy of his dictionary.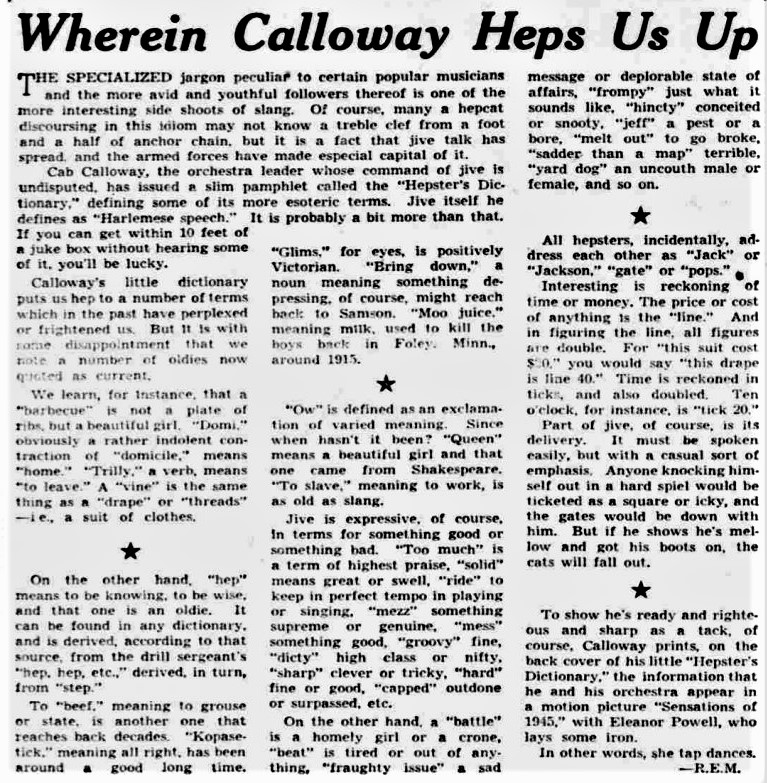 Minneapolis Tribune 18 June 1944: 32.