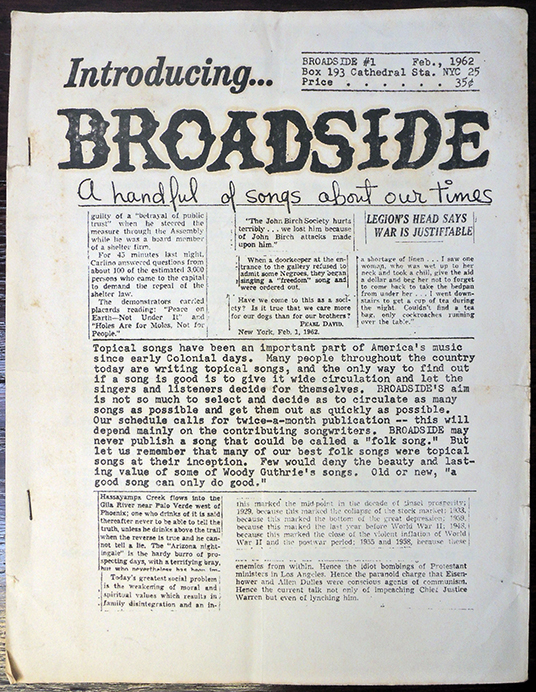 Beginning in February 1962, Agnes "Sis" Cunningham (1909-2004), her husband Gordon Friesen, and their daughters gathered around the kitchen table to mimeograph and then distribute a small magazine they called Broadside. Their friend Pete Seeger (1919-2014) provided the funds and served as a consultant. They used as their inspiration The People's Songs Bulletin, which Cunningham, Seeger, Alan Lomax, Lee Hays, and others published twenty years earlier. The long period in between was due in part to the fact that Cunningham, Seeger, and the others were blacklisted by U.S. senator Joseph McCarthy and could not perform or publish.
The mimeograph machine they used was famously discarded by the American Labour Party and salvaged for this project. Included in issue no. 1 are the lyrics by a young folk singer named Bob Dylan, his first published and copyrighted song (still in copyright). Dylan's recording of Talking John Birch can be heard on the Alexander Street database, presumably recorded at Cunningham's home : https://search-alexanderstreet-com.ezproxy.princeton.edu/view/work/be%7Crecorded_cd%7Cli_upc_889176297359. This link is only for Princeton.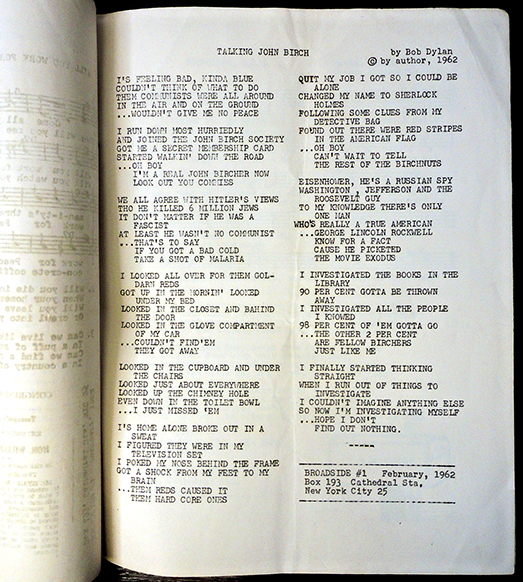 Also available online is The best of Broadside 1962-1988 [electronic resource]: anthems of the American underground from the pages of Broadside magazine / produced, compiled, and annotated by Jeff Place and Ronald D. Cohen. Washington, D.C. : Smithsonian Folkways Recordings, c2000.
Read: Sis Cunningham, Red dust and broadsides: a joint autobiography, Agnes "Sis" Cunningham and Gordon Friesen; edited by Ronald D. Cohen; foreword by Pete Seeger (Amherst, Mass.: University of Massachusetts Press, c1999). Mendel Music Library ML420.C985 A3 1999
This story is often repeated: "Dylan was given the opportunity to perform on The Ed Sullivan Show and wanted to sing "Talkin' John Birch Paranoid Blues" on the program. CBS worried that including the song on the show could result in a defamation suit from members of the John Birch Society. Dylan refused to perform a different song on the show, and he walked off its set; the incident garnered publicity. The controversy surrounding the song caused Columbia Records to remove "Talkin' John Birch Paranoid Blues" from subsequent copies of The Freewheelin' Bob Dylan (1963), though it was released on later Dylan albums. The song has been praised for its humor and deemed politically relevant decades after its release by both progressive and conservative publications."
https://blogs.princeton.edu/mudd/2016/12/bob-dylans-honorary-princeton-university-degree/
https://press.princeton.edu/books/paperback/9781942130369/bob-dylan
https://www.beachamjournal.com/journal/2021/02/sean-wilentz-princeton-university-historian-and-expert-on-bob-dylan-is-70-years-old-today.html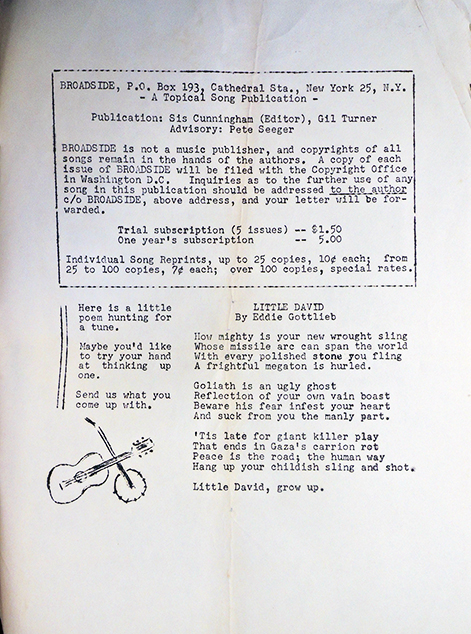 Graphic Arts Collection, in process