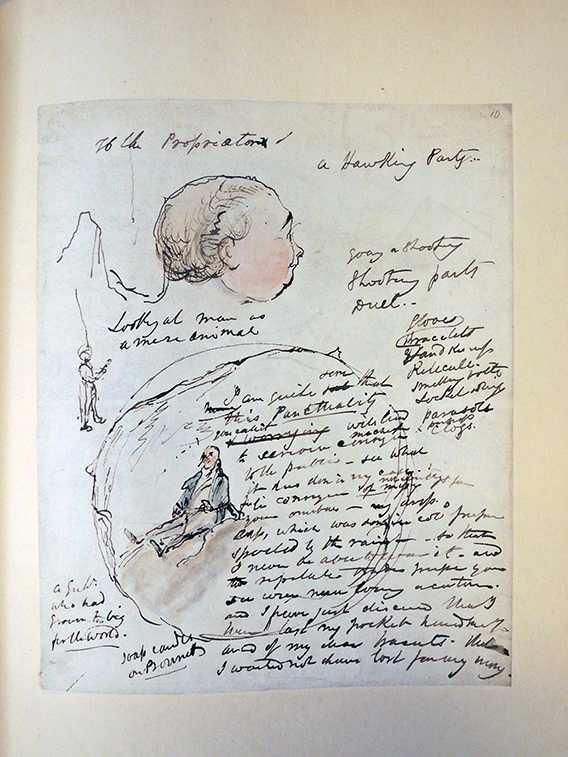 George Cruikshank (1792-1878 ), Album of Original Drawings, Sketches and Manuscript. Graphic Arts Collection GAX 2021 – in process. Provenance: Albert M. Cohn. Acquired in honor of Henry Martin, Class of 1948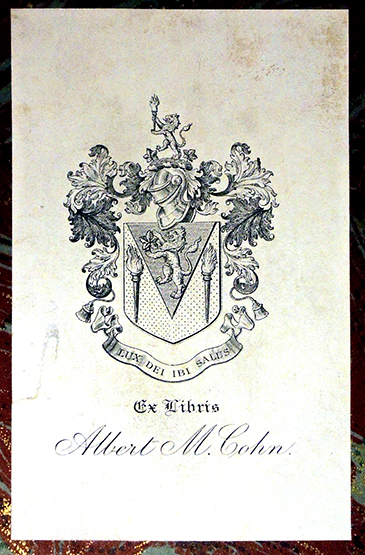 First deposited at the Princeton University Library in 1913, the Richard W. Meirs, Class of 1888, Collection of George Cruikshank, comprises one of the finest Cruikshank collections in the United States. About 1000 volumes, many separate prints, as well as drawings, finished oil paintings, oil sketches, "panorama" prints on rollers, etched plates, broadsides, bound manuscripts, autograph letters, and Cruikshank correspondence can be found in Princeton stacks.
Meirs used the Cruikshank bibliography prepared by Albert M. Cohn in his collecting and the library did the same in organizing the collection in our vaults. Throughout the 20th and 21st centuries, we have continued to expand on the Meirs gift, most recently with a unique scrapbook owned by Cohn containing Cruikshank sketches, letters, and other miscellany. This acquisition is made in honor of the artist and friend of this collection in particular, Henry Martin, Class of 1948.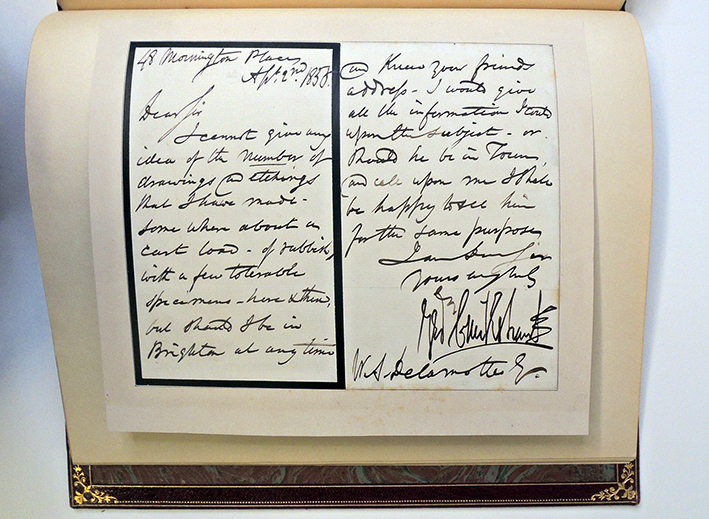 This substantial album contains original sketches and manuscripts from the Cohn's collection and confirms that Cruikshank drew or wrote on anything, here using letters, lists, envelopes and assorted ephemera. Of particular interest is an invoice from Draper Charles Coleing, Commercial House, an invitation from the Council of the Photographic Society and on a printed letter from the British Institution for Promoting The Fine Arts in the United Kingdom.
There is a letter to English artist Andrew William Delamotte, 1775-1863, in which Cruikshank notes his prolific output: "I cannot give any idea of the number of drawings and etchings I have made – somewhere about a cart load – of rubbish with a few tolerable specimens here & there." Among the sketches are many curious notes, such as the comment on a sketch of a fisherman coming home: "I wonder why the fish don't bite, if they were as hungry as I am they would bite fast enough."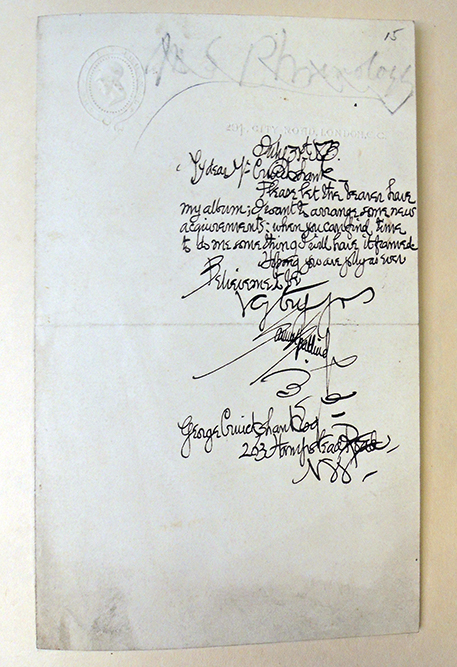 Additional information of Cruikshank at Princeton (compiled by Steve Ferguson):
A list of Library holdings as of 1920 appears in the Princeton University Classed List, (Special Collections) vol. 6 (Princeton, 1920) pp. 3565-3583 [(ExB) 0639.7373.5], published after the major deposit of Cruikshank material by Mr. Meirs. A large portion of the collection is found at http://catalog.princeton.edu
The Cohn Cruikshank bibliography (covering illustrated books and separate prints) has been checked (recording call numbers) for the Library's holdings. For particulars refer to: Albert M. Cohn. George Cruikshank, a catalogue raisonné of the work executed during the years 1806-1877. (London, 1924) [(GARF) NC1479.C9 C72q, copy 2)
An important article about how and why Americans collected Cruikshankiana was published in 1916 by Arthur Bartlett Maurice, Class of 1894. See A. B. Maurice, "Cruikshank in America", in The Bookman November 1916.  Maurice was editor of The Bookman from 1899 to 1916. This article has many particulars about the Meirs collection.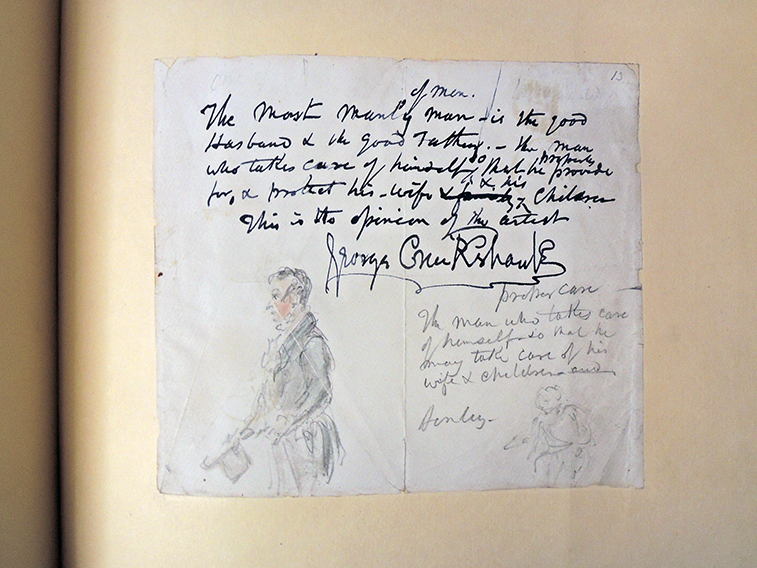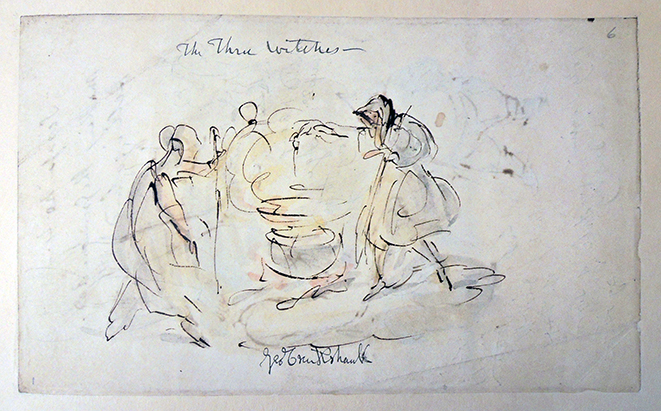 See also: Howard S. Leach "Cruikshank's Illustrations of Shakespeare in the Meirs Collection, Princeton University Library" in the Princeton Alumni Weekly (13 December 1916, p 259-262). An editorial note on the same page as this article states "Alumni visiting Princeton may spend a very entertaining and profitable afternoon in looking over this collection, which is in the exhibition room of the Library."
Also see: F.J. Mather "Rowandson and Cruikshank" in the Princeton Alumni Weekly (4 March 1932); Frank Jewett Mather, "A Statistical Survey of the Meirs Cruikshank Collection" in the Princeton University Library Chronicle IV, 2-3 (February-April, 1943) pp. 50-52; E.D.H. Johnson. George Cruikshank: the Collection at Princeton (Princeton, 1973) [(Cruik) 747] which is the offprint of: E.D.H. Johnson, "The George Cruikshank Collection at Princeton" in Princeton University Library Chronicle XXXV, 1 (Autumn and Winter, 1973-74) pp. 1-33.