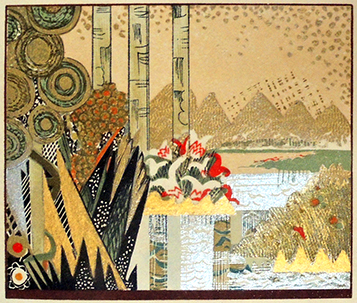 La Création. Les trois premiers livres de la Genèse suivis de la généalogie adamique. Traduction littérale des textes sémitiques par M. le docteur J.-C. Mardrus (Paris: Schmied, 1928). Designed and illustrated by François-Louis Schmied. Graphic Arts Collection GAX 2021- in process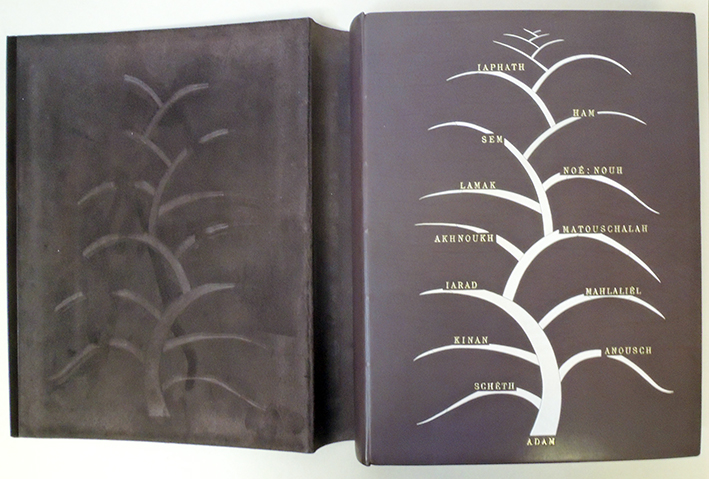 It is, perhaps, not surprising that French master binder Marie-Jose Guian-Milliaud chose this edition of Genesis, illustrated by François-Louis Schmied (1873-1941), to bind for her personal library. Her full brown calf binding with ivory-toned calf complements the artist by reproducing his plate XII of the biblical family tree on her cover [see plate below].
Schmied's 42 beautiful color wood engravings are printed on Arches wove paper, many highlighted with gold and/or silver. The copy now at Princeton includes an additional suite of plates in black, bound at the back of the volume.
Born in Cairo, the translator Joseph Charles Mardrus (1848–1949) was also responsible for an important French translation of Les Mille et Une Nuits (Thousand and One Nights, 1899–1904) based primarily on the 1835 Egyptian edition of The Arabian Nights by Boulak. Writing for the Oxford Companion to Fairy Tales, Anne Duggan notes:
"Mardrus studied classics and Arabic literature in Beirut, and went on to receive a doctorate in medicine at the Sorbonne in 1895. While working as a doctor on shipping lines, which took him from the Middle East to South-East Asia, he began to translate and publish Les Mille et Une Nuits, the revenues from which allowed him to settle permanently in Paris by 1899. Within Parisian literary circles, Mardrus frequented Stéphane Mallarmé, Paul Valéry, Maurice Maeterlinck, André Gide, and Marcel Schwob, and dedicated to each of them a volume of his 16-volume work. Mardrus's translation became the object of critical debate, which opposed the partisans of Antoine Galland, who claimed the superiority of the latter's classical style, to those who favoured Mardrus's more sensual, unexpurgated version. Unlike Galland, Mardrus did not Frenchify the Arabian tales but retained much of their cultural specificity."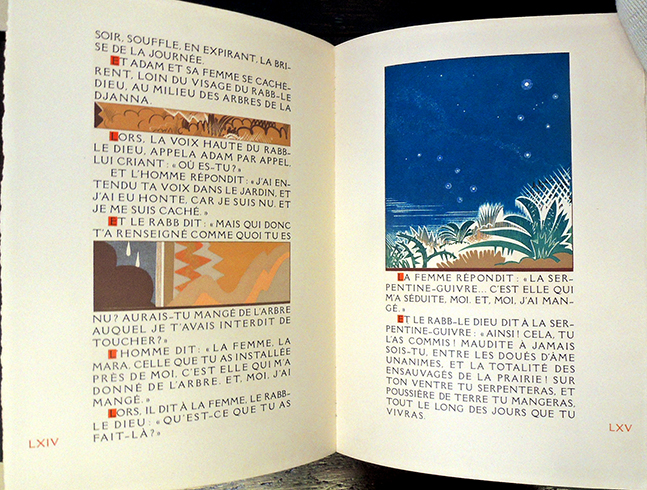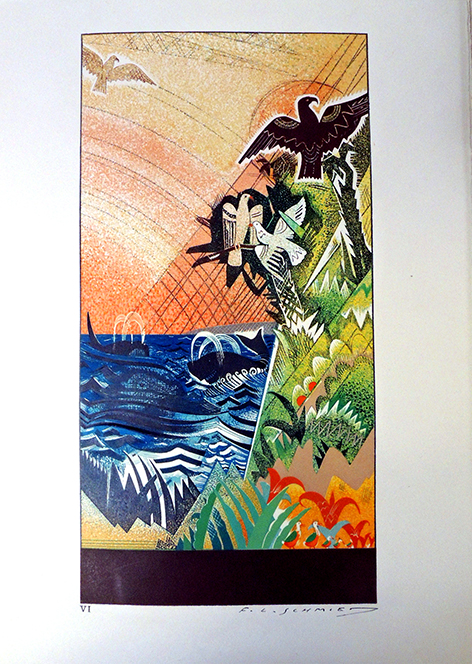 When the California book collector Ward Ritchie gave up the study of law to become a printer, he traveled to Paris hoping for an apprenticeship with Schmied. This led to his establishment of the Ward Ritchie Press in 1932. Later, Ward wrote the following description of his personal copy of Création:
"[This book is] a daring and innovative design with the copy of the first two books set in capital letters in narrow columns with decorative bars to fill out the lines where necessary. The small illustrations in the columns are brilliant in color. Dominating full-page illustrations break the continuity of the text. The format is completely changed in Book Three with a wider measure of type and the illustrations integrated with the text."