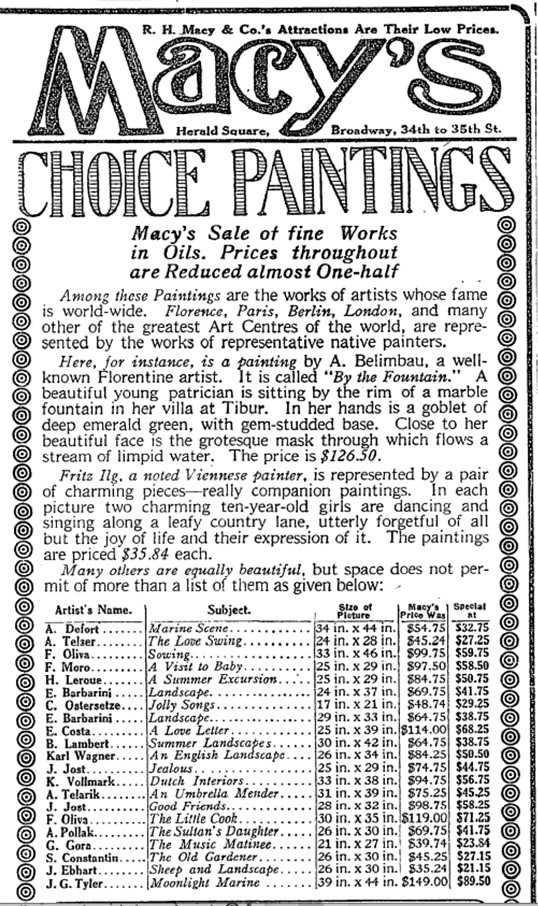 In 1902 R.H. Macy' & Co. already known simply as Macy's, moved their flagship store to Broadway and 34th street where they hoped to become the largest department store in the world. Ten years later an art gallery was added on the 6th floor, advertising in the New York Times "Choice Paintings" for half price.
Throughout the 1920s monthly art exhibitions were mounted and advertised alongside the prestigious Madison Avenue galleries, including lithographs by Henri Matisse, woodcuts by Rockwell Kent and Wanda Gag, and Bartolozzi engravings after Hans Holbein.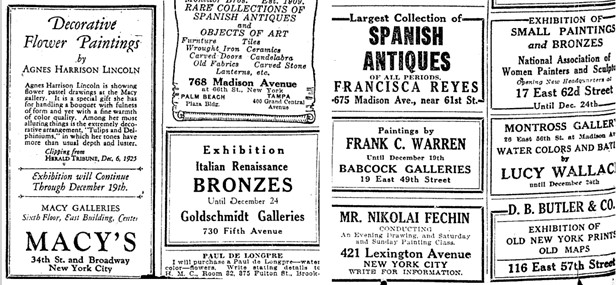 Beginning on May 18, 1931, Macy's staged an advertising campaign that would last over ten years. The store would sell all 435 hand colored, aquatinted and engraved plates from a copy of John James Audubon's four-volume double-elephant Birds of America, which they cut apart for this event. According to the New York Herald Tribune, "The New Macy Galleries Announce a unique and spectacular purchase—The Birds of America from original drawings (1827-1838) by John James Audubon." Although some sources report that the store broke up three copies of the Havell/Audubon volumes, it may have only seemed that way because it took so long to sell the plates.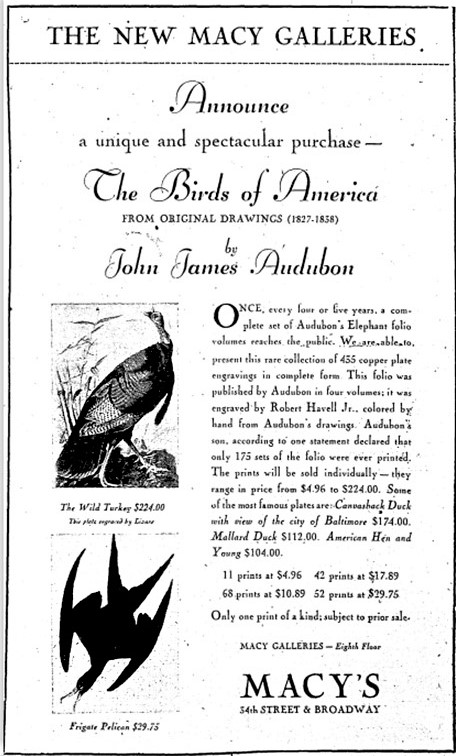 The rarity of these enormous volumes was used to promoted the sale: "Once, every four or five years, a complete set of Audubon's Elephant folio volumes reaches the public. We are able to present this rare collection of 435 copper plate engravings in complete form. This folio was published by Audubon in four volumes; it was engraved by Robert Havell Jr., colored by hand from Audubon's drawings. Audubon's son, according to one statement declared that only 175 sets of the folio were ever printed. The prints will be sold individually—they range in price from $4.96 to $224.00. Some of the most famous plates are Canvasback Duck with view of the city of Baltimore $174.00. Mallard Duck $112.00. American Hen and Young $104.00"
Eighteen months later, on December 17, 1933 the Tribune advertised a special Christmas sale of "all original copper-plate engravings of great brilliance and connoisseurs will appreciate this—the first ten plats are engravings by Lizars; and many of the first plates are colored by Robert Havell, Sr. There are very few like these in existence." But so important was the physical exhibition of the plates that Macy's asked "our customers to let us exhibit these plates for two days after sale that others may have the opportunity of seeing them. No mail or phone orders." Now 104 plates were priced under $10; 199 plates $12.89 to $24.39; 120 plates $29.75 to $99.75; and 12 plates from $124 to $594 (the most expensive being the "Wild Turkey").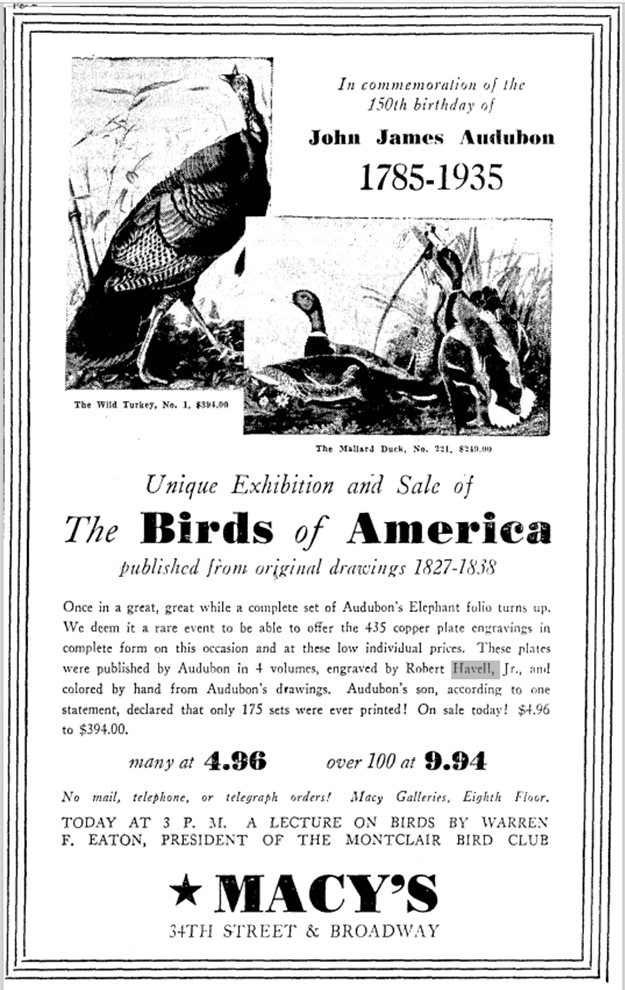 On April 26, 1935, in commemoration of the 150th birthday of Audubon, a lecture on "Birds" was delivered by Warren F. Eaton, President of the Montclair Bird Club. This accompanied the continuing "Unique Exhibition and Sale of The Birds of America published from original drawings 1827-1838. Once in a great, great while a complete set of Audubon's Elephant folio turns up. We deem it a rare event to be able to offer the 435 copper plate engravings in complete form on this occasion and at these low individual prices. …On sale today! $4.96 to $394.00. No mail, telephone, or telegraph orders!"
The "rare event" of the Audubon print sale was advertised again on October 2, 1938 in both the Tribune and the New York Times, followed by more announcements until finally on March 16, 1941, the Times informed its readers that only 106 Audubon prints were still for sale at Macy's, beginning at $13.97 (usually $18.74).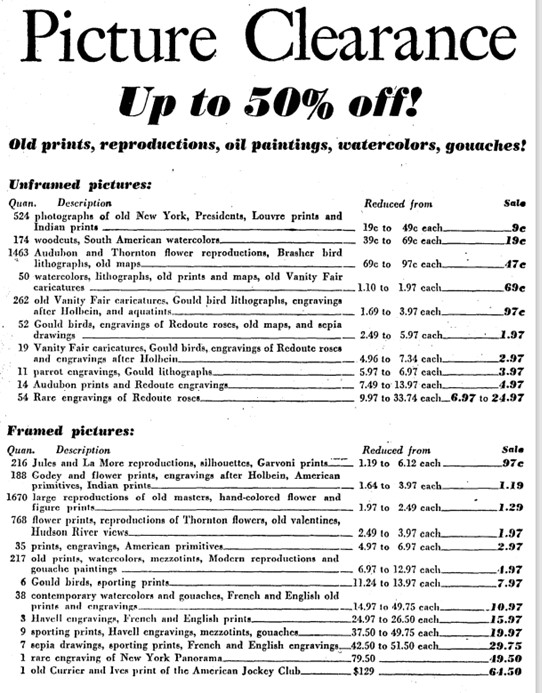 A "Picture Clearance" sale was held at Macy's on April 18, 1943, in which Audubon prints are sold at $4.97, while sporting prints by Robert Havell Jr. are going for almost $20.
Happily, no such stunt has been tried lately.