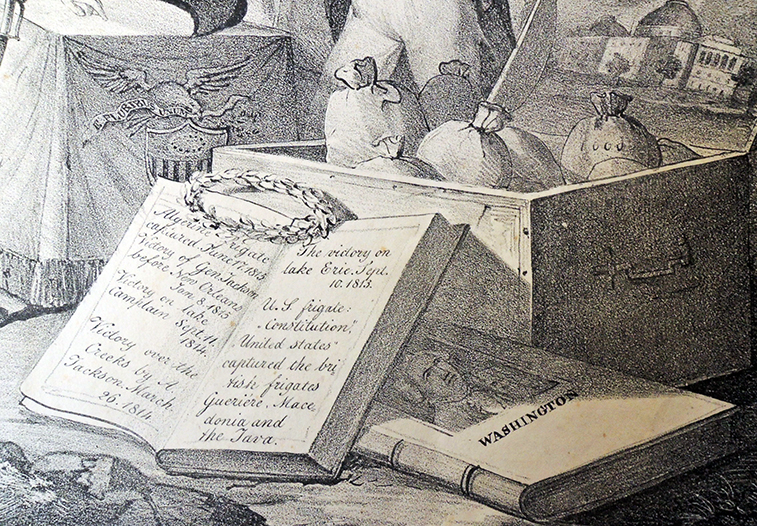 Conflict and contrast form the basis for this lithograph, on deposit with the Graphic Arts Collection thanks to Bruce C. Willsie, '86. With France on the left and the United States on the right, the print even has two distinct titles, taken from separate captions on the left and right. Beneath King Louis Philippe (1773-1850) is written: "The debilitated situation of a monarchical Government when puffed up by pride and self-importance, whose resources must be wrung from the people's hands. The difficulties to which such a State must ever be exposed." Beneath Andrew Jackson (1767-1845) is the text: "The flourishing condition of a well-formed industrious Republic. The willingness displayed by the citizen of a free state to serve his country with his blood and fortune." The debilitated situation of France VS the flourishing condition of the United States.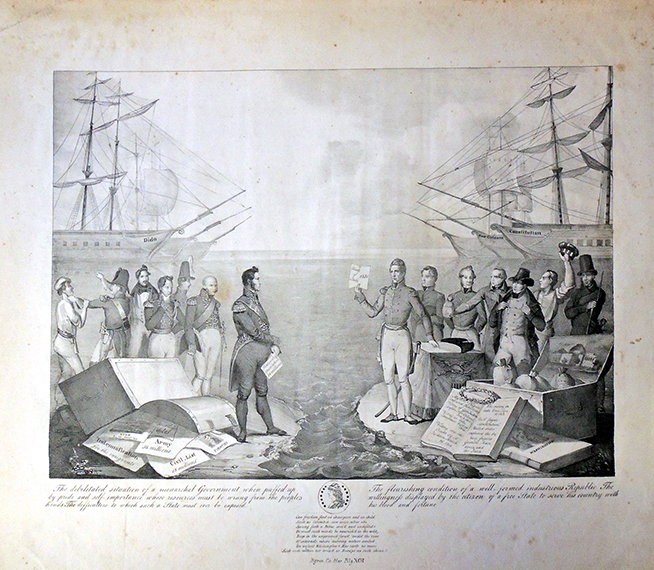 Printed in 1836 by an anonymous artist, possibly in Philadelphia, the scene presents the American superiority following the Treaty of 1831, in which France agreed to pay claims for Napoleonic depredations on American shipping (specifically, France agreed to pay 25 million francs, and in return, the United States paid a small sum to extinguish French claims against the American government and reduced the duties on French wines).
On the American right side a trunk is filled with bags of money while on the left, the French trunk is overturned with bills spilling out on the ground. The officers on the right are proud and sure of themselves while on the French left the men are unsure, fighting amongst themselves. Between them lies an ocean with an equal number of battle ships ready for war.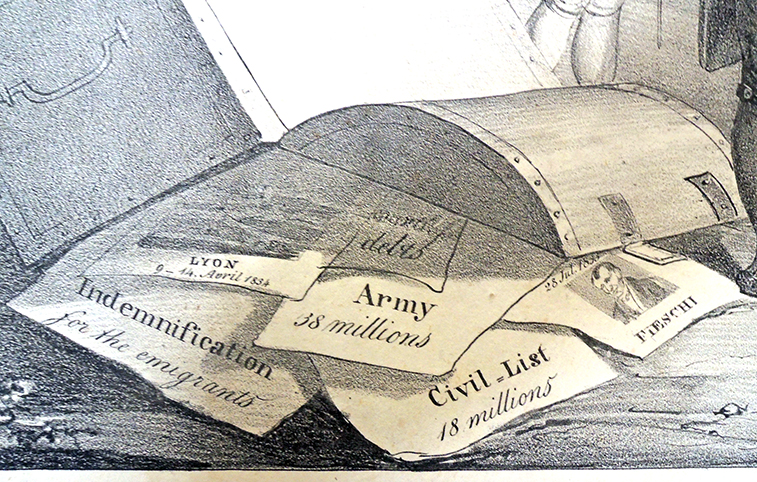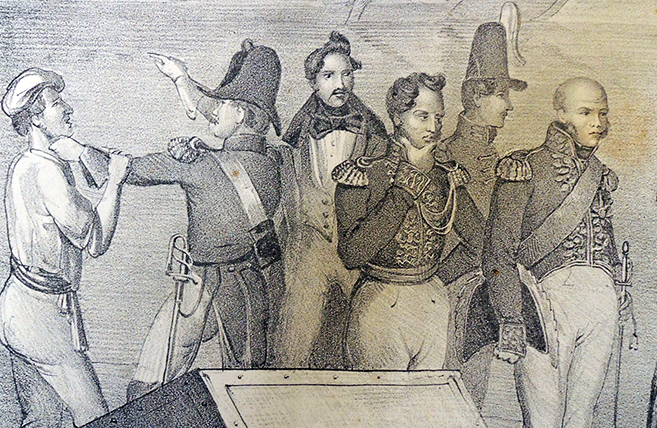 A center medallion includes lines from Byron's Childe Harold's Pilgrimage, slightly altering the beginning:
Can [tyrants but by tyrants conquer'd be,
And] Freedom find no champion and no child
Such as Columbia saw arise when she
Sprung forth a Pallas, arm'd and undefiled?
Or must such minds be nourish'd in the wild,
Deep in the unpruned forest, 'midst the roar
Of cataracts, where nursing Nature smiled
On infant Washington? Has Earth no more
Such seeds within her breast, or Europe no such shore?