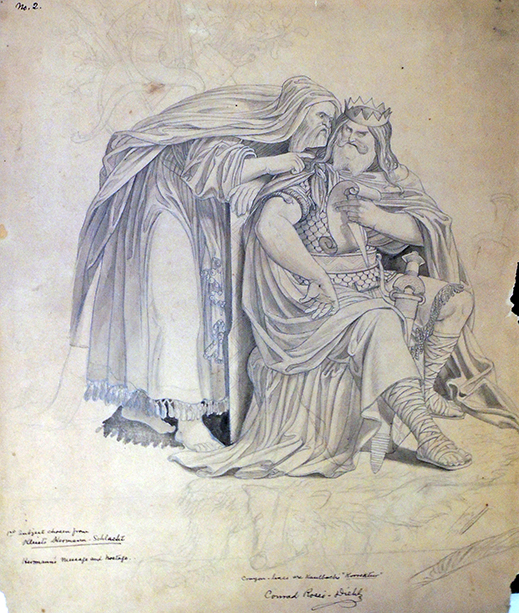 Artist and art educator Conrad Rossi-Diehl (1842-1926) was brought to the United States from Rhenish, Bavaria, as a child and spent his early years in various mid-west cities before his artistic talent became evident. When offered the chance to study in Europe, Rossi-Diehl chose to go to Munich to study under Wilhelm von Kaulbach (1805-1874), concentrating on fresco painting and elements of design. This led to various teaching positions with St. Louis Art Society, the Chicago Academy of Design and the Missouri State University, where he lasted until the spring of 1885. It was time to move to New York City.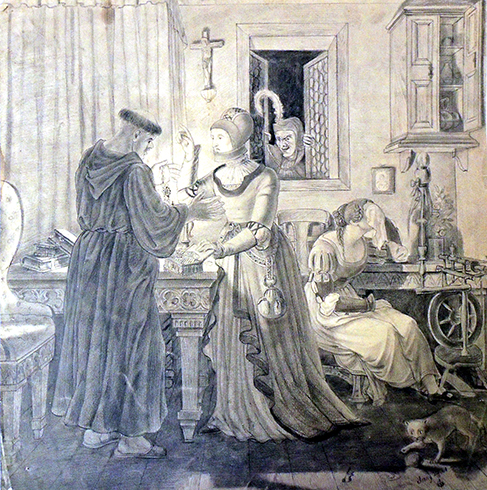 Rossi-Diehl found work at the Hebrew Technical Institute, while organizing a weekly journal, entitled The Reflector: an Illustrated Journal Devoted to the Interests of Labor & Capital VS Monopoly. This often overlooked publication, filled with bright chromolithographs and articles about the Knights of Labor and early craft unions, only lasted from May to November 1886 but its emphasis on craft and artisan training led directly to his next venture [The Reflector is available at the Library Company and New-York Historical Society].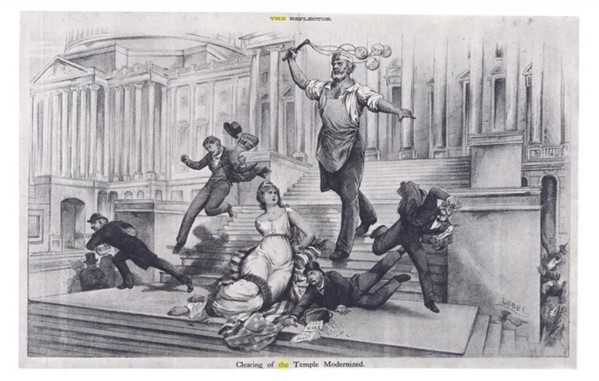 A plate from The Reflector reproduced in black and white in Quarter of a Millennium: The Library Company of Philadelphia, 1731-1981
At this point, Rossi-Diehl joins John Ward Stimson (1850-1930) to establish the Artist Artisan Institute also called the New-York Institute for Artist-Artisans, on West 23rd street. Stimson had been lecturing in art at Princeton College before being named Director of Art Education at the Metropolitan Museum of Art but resigned to lead his own school focused on practical art training. Both Stimson and Rossi-Diehl believed that America needed to improve the artistic nature of its manufactured products like wallpaper, book covers, and stained glass windows. Rossi-Diehl directed the drawing and design classes, emphasizing form, ornamentation, anatomy, and perspectives. Unlike his previous schools, he taught craft as art and in doing so, sought improve Americans homes and cities.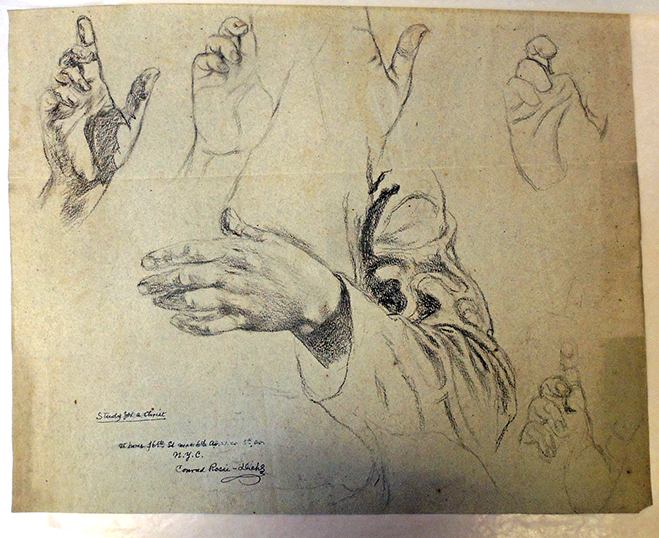 The New York Times said "Mr. Stimson's idea in the establishment of the institute was…teaching principles instead of mere imitation, and developing the democratic American idea that art is not necessarily the mere foible of the foolish, the fad of new fashionables, or the monopoly of the speculator." By 1890 the The Artisan-Artist Institute had 250 students with classes in painting, sculpture, architecture, illustration, etching, stain glass, ceramics, carving, metal working jewelry, interior decoration and plastic modeling. They became known as  "the most promising among the art educational institutions of the country" and 23rd Street became the center of art instruction in New York. Students included T. M. Cleland (1880-1964) and Henry McBride (1867-1962).
Meanwhile Rossi-Diehl published a variety of anatomy manuals and design books, while also writing passionate editorials for the Times and other journals. Below is a small section from "The Training of Teachers: A Review of an Argument in The Times Concerning Frederic Burk's Book" by Rossi-Diehl, New York Times 13 Oct 1897: 6.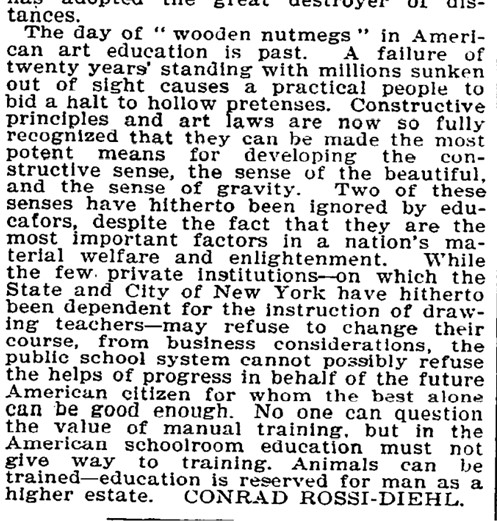 The Graphic Arts Collection recently acquired a small group of drawings by Rossi-Diehl, about whom little has been written. A short biography can be found by William Richard Cutter (1847-1918) in American biography; a new cyclopedia, and there is a brief piece in Scannell's New Jersey First Citizens: biographies and portraits of the notable living men and women of New Jersey with informing glimpses into the state's history and affairs (Patterson, N.J. : J.J. Scannell, 1917/1918-).