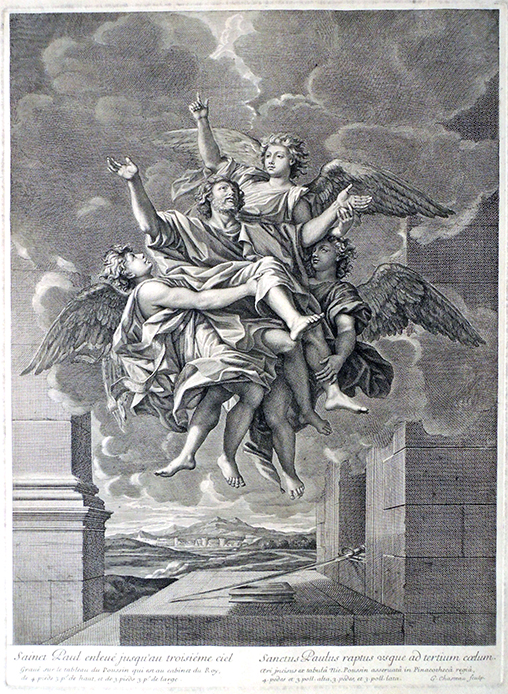 Guillaume Chasteau (1635-1683) after Nicolas Poussin (1594-1665), Saint Paul Raised to the Third Heaven [Saint Paul enlevé jusqu'au troisième ciel], 17th century. Graphic Arts Collection GA2012.01350
When you travel to Paris this summer, don't forget to go to room 826 in the Richelieu Wing at the Louvre, to visit Nicolas Poussin's The Rapture of Saint Paul, painted mid-17th-century (1649 – 1650) [seen below]. The Graphic Arts Collection has only the engraving after Poussin by Guillaume Chasteau.
"After moving to Rome from his native France in 1624, Nicolas Poussin made his reputation with paintings of subjects from classical literature. In contrast to the extravagance of Baroque art, Poussin developed a way of framing moments on drama and extreme emotion in harmonious, beautifully balanced landscape and architectural settings.

In 1640, summoned by King Luis XIII he returned to Paris where he was courted by French art patrons, such as Paul Fréart de Chantelou. Through Chantelou, the well-connected poet and playwright Paul Scarron commissioned a painting from Poussin—a commission he did his best to defer, since he despised Scarron and his burlesque plays.

In 1649, however, now once again settled in Rome, he finally started work on the painting that became The Ecstasy of St Paul (Musée du Louvre, Paris)….—Michael Bird, Artists' Letters: Leonardo da Vinci to David Hockney (2019).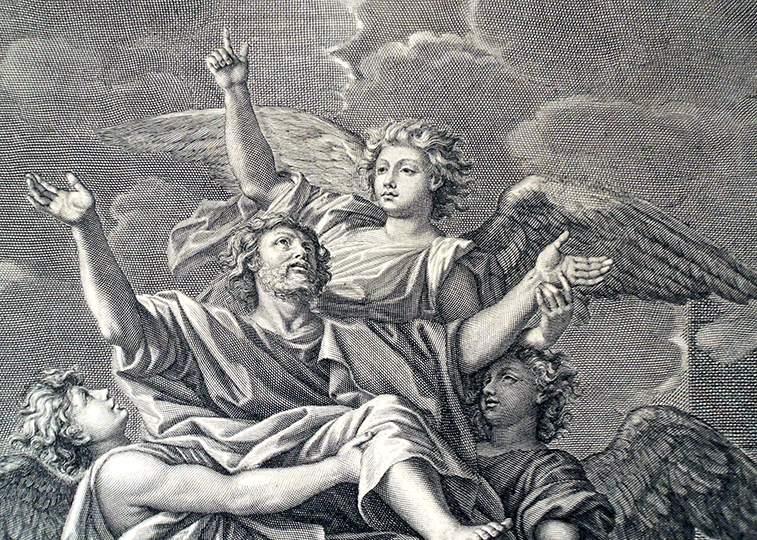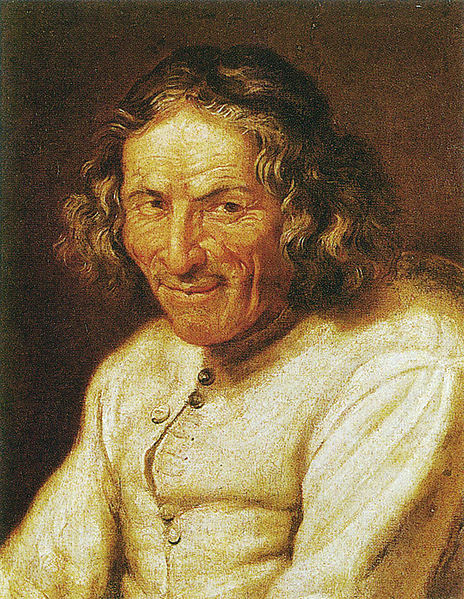 French poet and dramatist, Paul Scarron (1610-1660) studied at the Sorbonne and acquired the patronage of Charles de Beaumanoir, Bishop of Le Mans. In 1652, he married Françoise d'Aubigné, (later Madame de Maintenon) who patiently cared for him when he was forced to use a wheelchair and eventually became bedridden due to his crippled spine. Scarron wrote many comedies, among them "Jodelet, ou le maître valet" (1645); "Les trois Dorothées" (1646); "L'héritier ridicule" (1649); "Don Japhet d'Arménie" (1652); "L'Ecolier de Salamanque" (1654); and "Le gardien de soi-même" (1655).
This anonymous portrait of Paul Scarron is owned by the Musée de Tessé.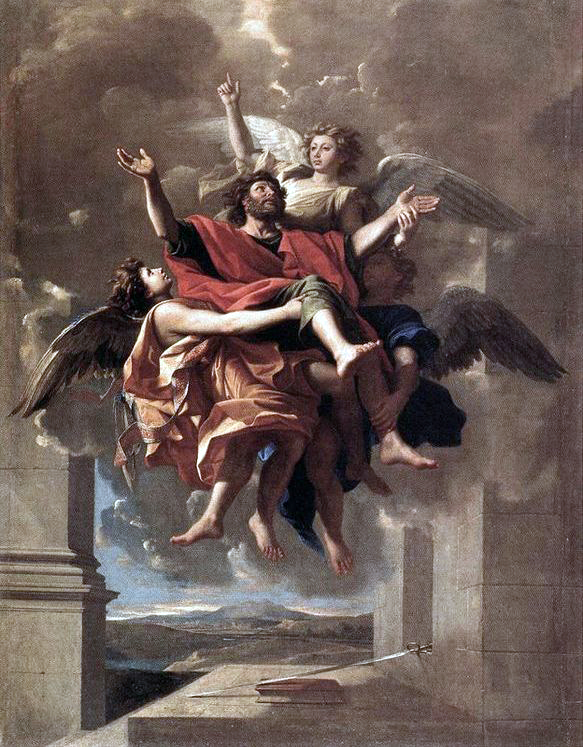 Poussin, Nicolas (1594-1665), The Rapture of Saint Paul [or The Ecstasy of Saint Paul], 1649-1650. Oil on canvas. Painted for the writer Paul Scarron (1610-1660), the work was acquired by Louis XIV from the Duke of Richelieu in 1665. See more: https://www.nicolas-poussin.com/oeuvres/ravissement-saint-paul-louvre/
The copper plate for this engraving is held at the Louvre, as noted in Catalogue des planches gravées composant le fonds de la Chalcographie et dont les épreuves se vendent dans cet établissement au Musée National du Louvre (1851)

It is interesting that the painting Scarron commissioned from Poussin, would come to be owned by Louis XIV, who also secretly married Madame de Maintenon, once married to Scarron.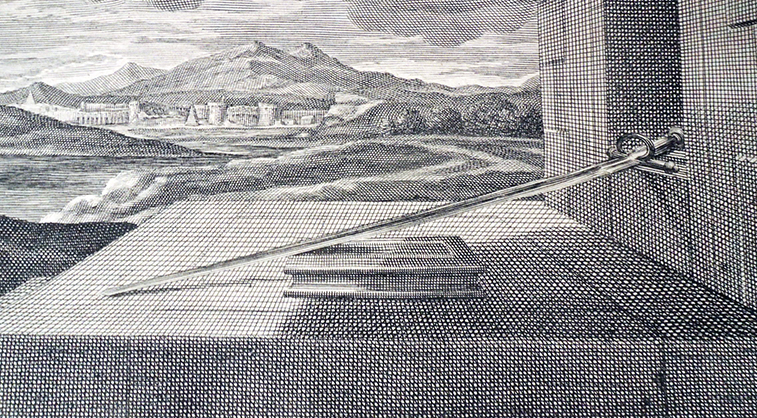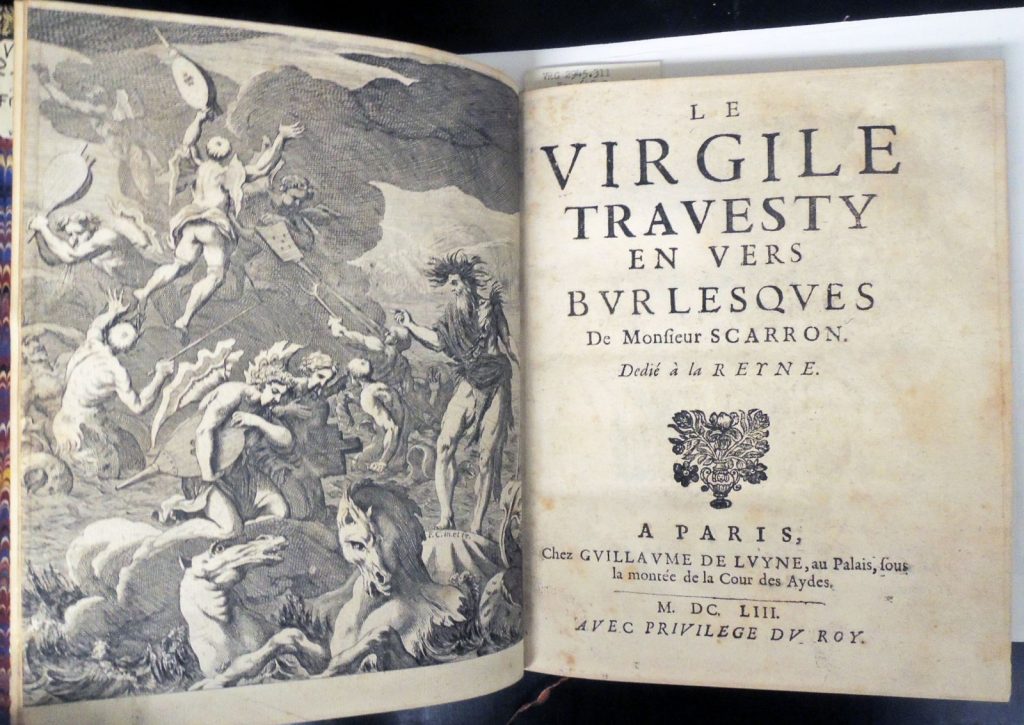 Paul Scarron (1610-1660), Le Virgile travesty en vers bvrlesqves… (Paris: G. de Lvyne, 1648- ). Vol. 1 of 7. Frontispiece by F. C.,  Junius Morgan Collection 2945.311.Fre648.2