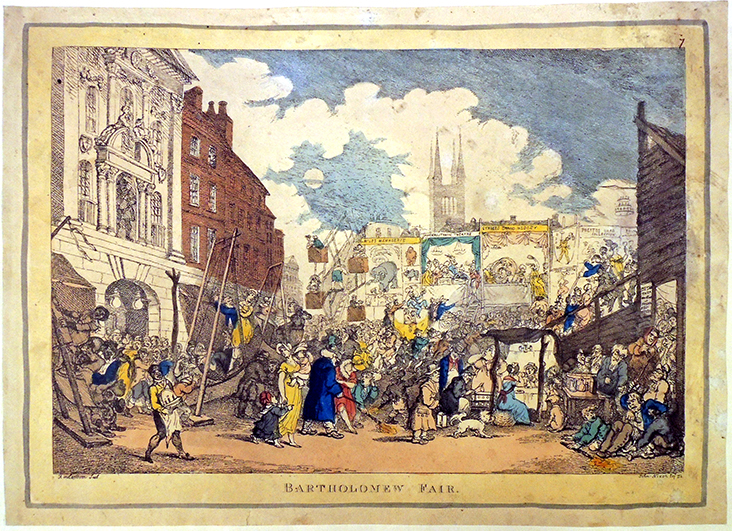 Thomas Rowlandson (1756-1827) after a drawing by John Nixon (ca. 1759-1818), Bartholomew Fair, no date [ca. 1807]. Hand colored etching. Grego II, p. 92. Graphic Arts Collection Rowlandson 1785e vol. 8. Gift of Dickson Q. Brown, Class of 1895.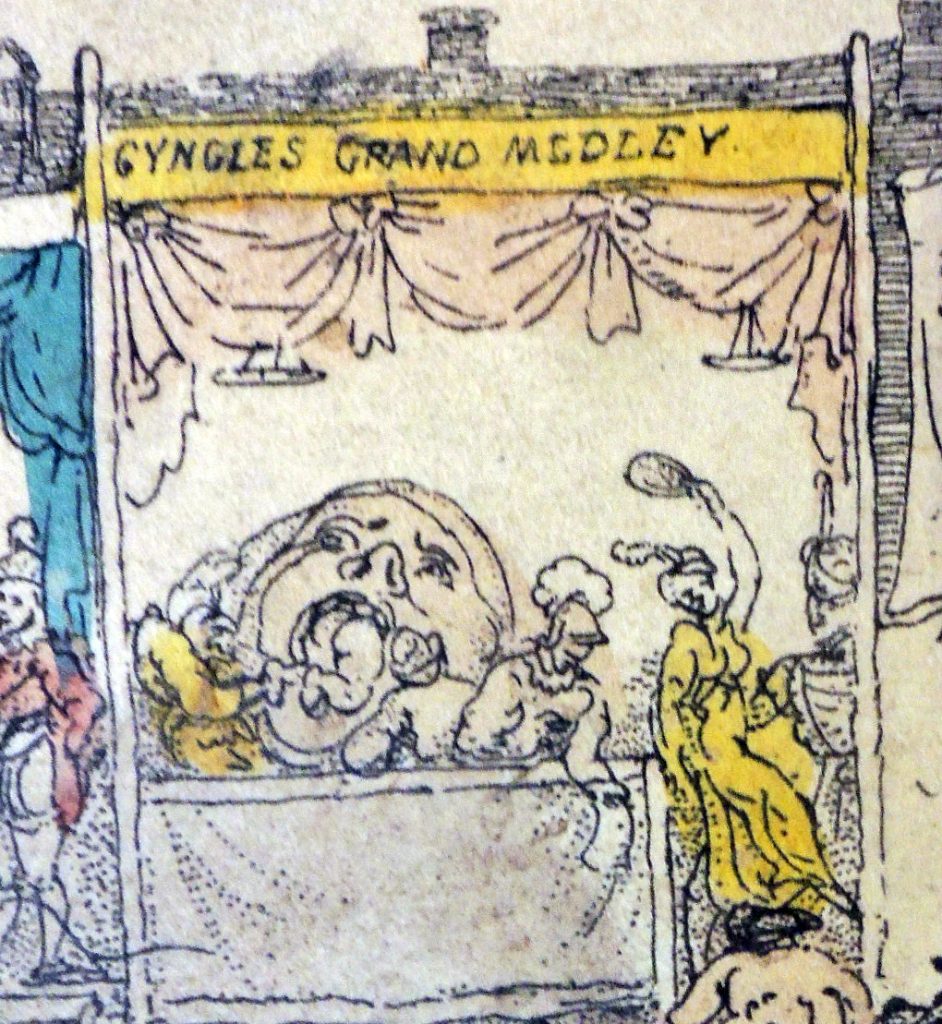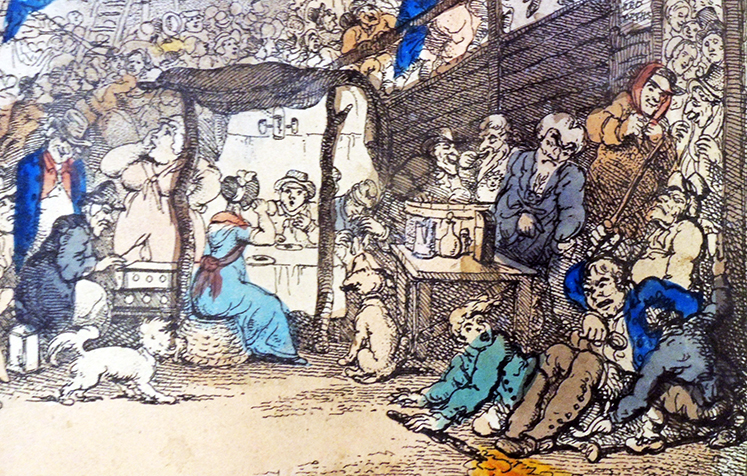 Dickson Q. Brown, Class of 1895, gave Princeton University Library a bound set of Thomas Rowlandson caricatures, with approximately 300 sheets pasted into 10 volumes. These should not be confused with the similarly bound sets of Rowlandson prints in Caricature Museum and/or Caricature Magazine, also donated by Brown.
Volume 3 includes John Nixon's teaming scene at Bartholomew Fair, which took place each year on August 24 in West Smithfield, London. At the center of the print, etched by Thomas Rowlandson, are sideshow attractions including Miles' Menagerie, Saunder's Tragic Theatre, Gingle's Grand Medley, Polito's Grand Collection, and Punch. Of particular interest, just to the right of Gyngles booth and below a tightrope juggler, is a banner advertising Miss Beffin (also spelled Biffin or Beffen), an artist born without arms or legs.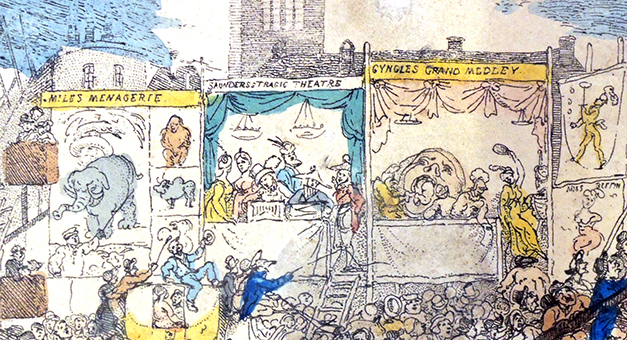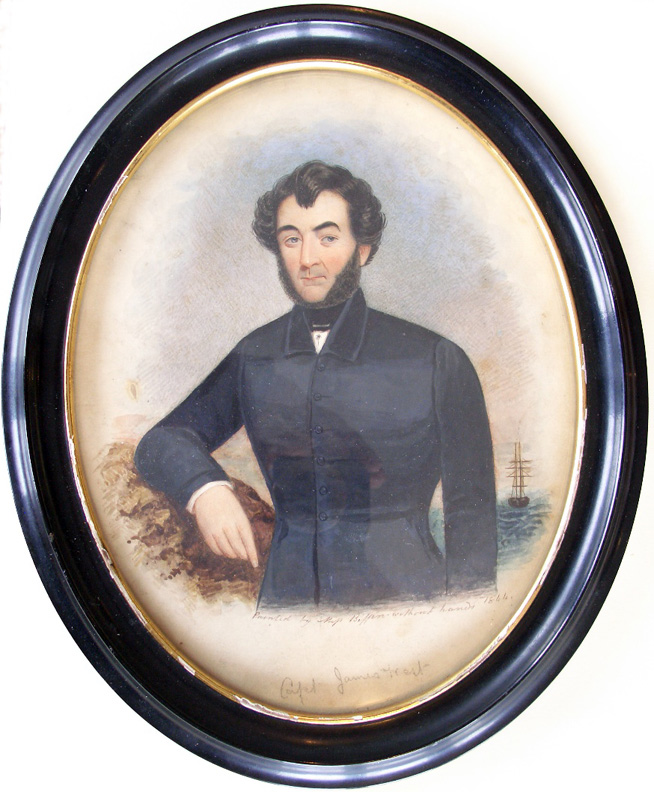 The Graphic Arts Collection holds several watercolors painted by Biffin (1784-1850), which she made by holding the brush with her teeth. Biffin's family contracted with Emmanuel Dukes, a traveling showman, to present her as one of his sideshow attractions. She traveled from town to town, painting or writing for the public's entertainment. Dukes publicized her as "The Eighth Wonder!" and pocketed all the proceeds from the sale of her watercolors. Thanks to the patronage from George Douglas, the sixteenth Earl of Morton (1761-1827), Biffin was finally released from her contract and established a studio in the Strand, London, where she painted miniature portraits. For more: https://www.princeton.edu/~graphicarts/2011/05/painted_without_hands_1844.html
[above] Sarah Biffin (1784-1850), Portrait of Captain James West (1808-1884), 1844. Watercolor on paper. Graphic Arts. 2011- in process. Gift of W. Allen Scheuch II, Class of 1976, given in honor of Meg Whitman, Class of 1977. Graphic Arts Collection GA 2011.01448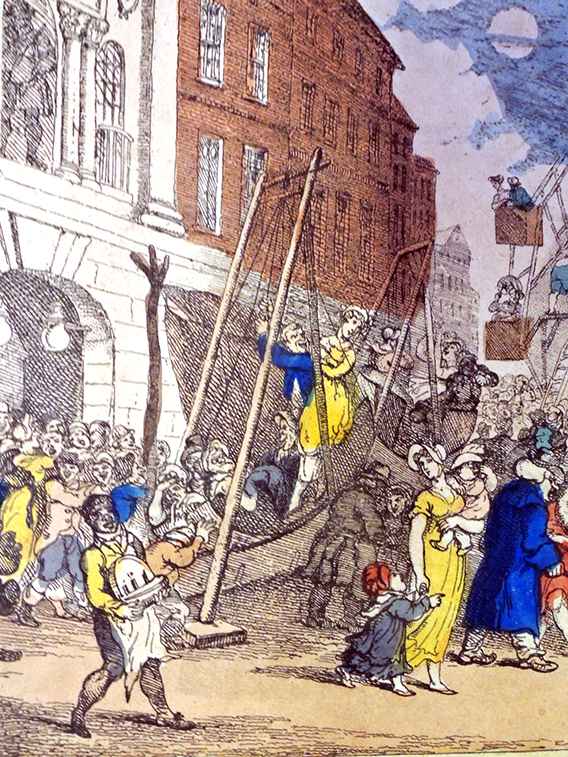 On the far left side of the print are carnival rides with an early Ferris wheel and three boat swings, one dumping its passengers in piles on the ground. The scene relates to a preliminary drawing by Nixon [below]  of the Sydney Gardens in Bath, which shows a standing version of the boat swing, invented by John Joseph Merlin (1735-1803).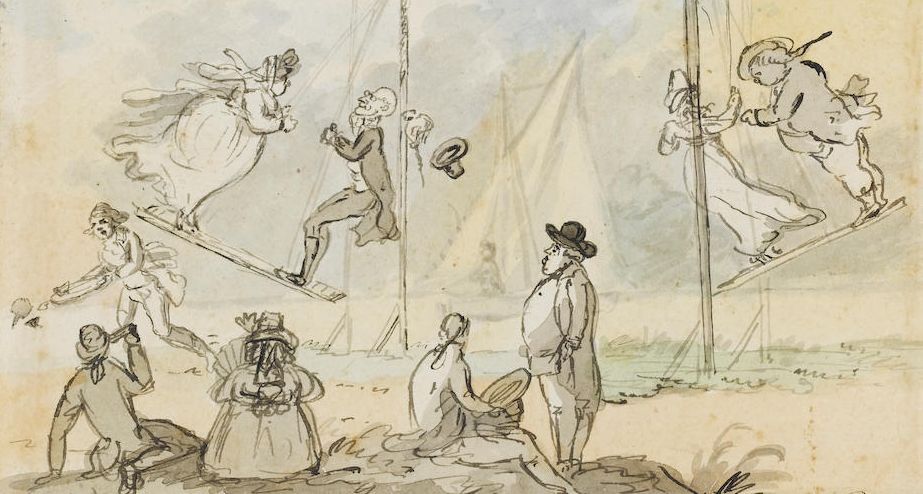 A 21st century version called the Coney Clipper entertains the masses at Coney Island in Brooklyn: