Was it fate that brought the package from Dublin to the Graphic Arts Collection at Princeton exactly on Bloomsday, June 16, 2021, or just good planning? In the midst of the annual celebration for James Joyce's Ulysses, we acquired a special limited edition copy of In Medias Res, The Ulysses Maps, A Dublin Odyssey. The portfolio is comprised of seven drypoints by David Lilburn—Phoenix Park, The Quays, O'Connell St., Loop Bridge, Eccles Street, Coastline, Howth—which together form a map of a large part of Dublin and its environs. In particular, they include the areas of the city that feature prominently in Ulysses.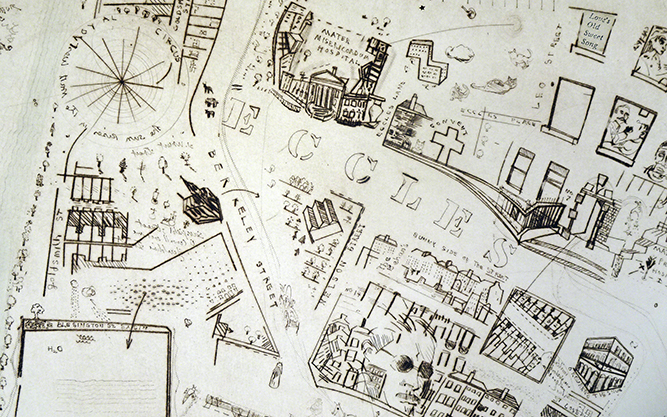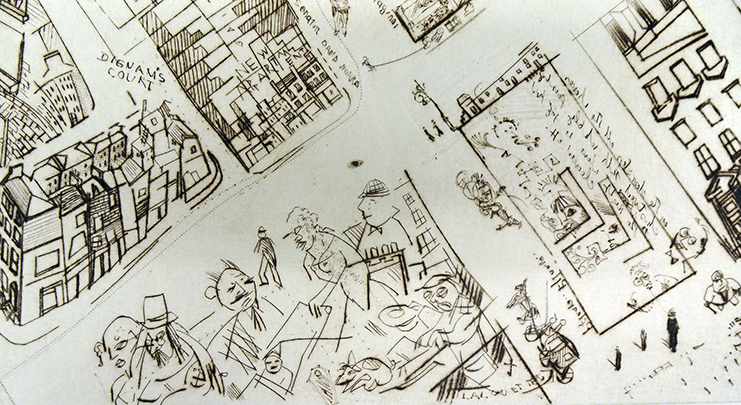 Hand-printed from zinc plates on Hahnemuhle paper, each sheet has additions of chine collé and watercolor applied by the artist. The publishers write:
"Constructed from a multiplicity of drawn marks and viewpoints, the work is packed with references to the topography of Dublin and plots fragments, characters, anecdotes, conversations, historical events and classical allusions all mentioned or implicit in the text. The work enables the viewer to orientate himself or herself within Dublin as it appears in Ulysses and as it is today and to follow the routes taken by various characters in Ulysses as they crisscross the city throughout 16th June 1904."
While they can be exhibited in sequence, the artist composed each individual print so that it would also function as a completely self-contained image. All seven prints are reproduced on the artist's website, so we are posting only a few spectacular details from this complex work. Special thanks to Stoney Road Press for their help in the acquisition.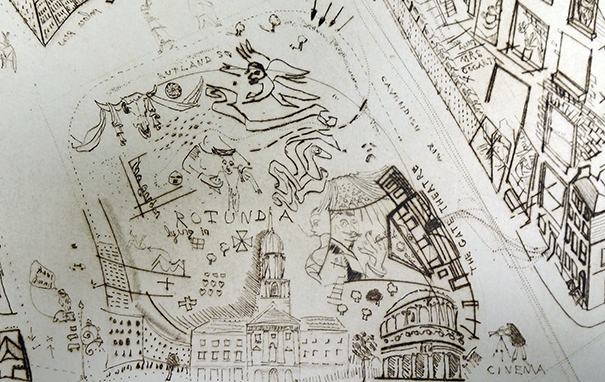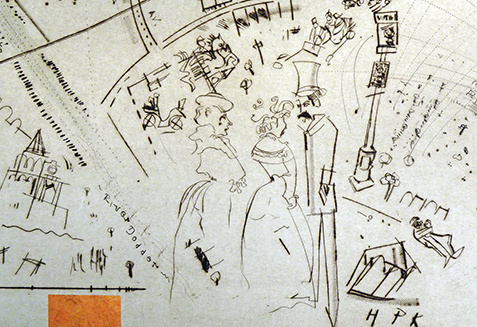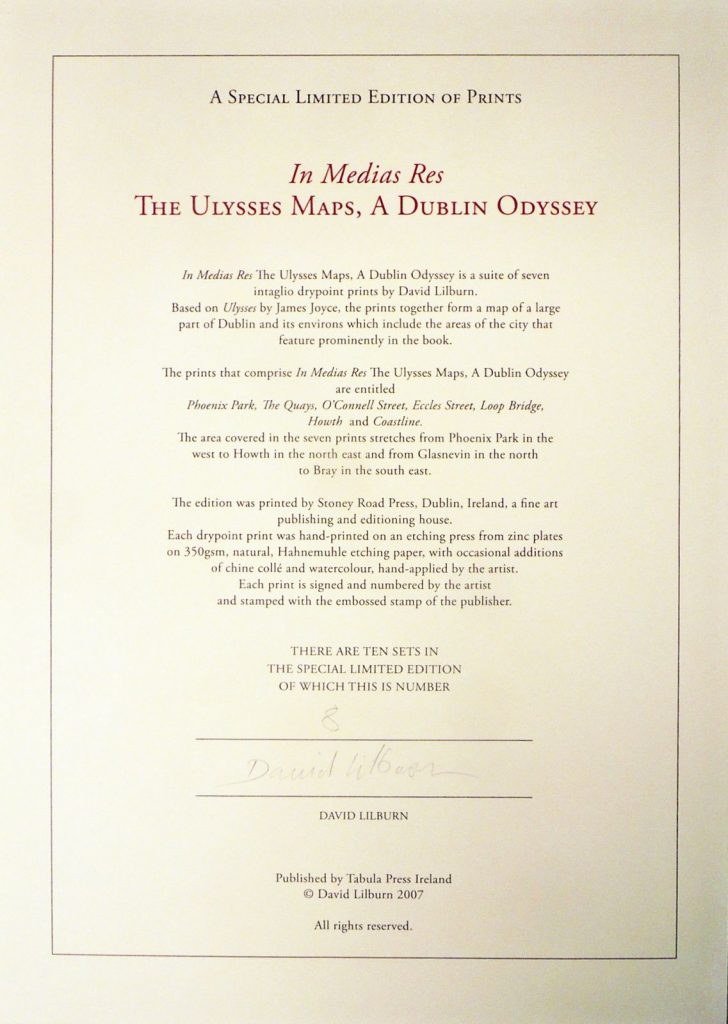 It is with sadness that we learned the artist, David Lilburn, passed away on Wednesday last (July 28, 2021) after a brief period of illness. Lilburn studied history at Trinity College, University of Dublin, 1969-73; lithography at Scuole istituto statale d'arte, Urbino 1973; and art & design at Limerick School of Art and Design (LSAD), Limerick Institute of Technology, 1980-83. Together with Jim Savage, he was also an occasional publisher. Here is a bibliography from his Occasional Press (apologies if I'm missing some):
A Connemara folio: a Ballynahinch sketchbook / Teskey, Donald, artist. Aghabullogue, Co. Cork: Occasional Press in collaboration with Ballynahinch Castle, 2011
An afterglow: a gallery of Connemara poems / Lally, Des.; Fallon, Peter, Aghabullogue, Co. Cork: Occasional Press in collaboration with Ballynahinch Castle, 2010
Ballynahinch postcards: poems / Fallon, Peter, 1951- Aghabullogue, Co. Cork, Ireland: Occasional Press in collaboration with Ballynahinch Castle Hotel, 2007
Being there: an introduction to the work of Joe Wilson / Wilson, Joe; Dunne, Aidan. [Aghabullogue, Co. Cork]: Occasional Press in association with the West Cork Arts Centre, 2006
Berger on drawing / Berger, John, author.; Savage, Jim. Aghabullogue, Co. Cork, Ireland: Occasional Press, 2005, 2007, 2008.
Fountainstown / Cross, Dorothy, 1956-; Cross, Dorothy, Aghabullogue, Co. Cork: Occasional Press, in collaboration with Ballynahinch Castle, 2012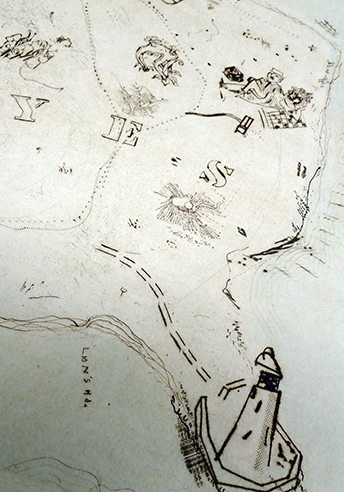 In Connemara: O'Dea, Mick, 1958-; Savage, Jim. Aghabullogue, Co. Cork: Occasional Press in a collaboration with Ballynahinch Castle, 2017
Into the mountains: images from the Twelve Bens / Wilson, Joe, 1947- artist.; Tóibín, Colm; Savage, Jim. Aghabullogue, Co. Cork: Occasional Press in a collaboration with Ballynahinch Castle, 2014
John by Jean: fifty years of friendship: photos of John Berger / Mohr, Jean, photographer. Aghabullogue, Co. Cork, Ireland: Occasional Press, 2016
Montenotte / Cross, Dorothy, 1956-; Cross, Dorothy, Aghabullogue, Co. Cork: Occasional Press, in collaboration with Ballynahinch Castle, 2012
Pony / Curtis, Tony, 1955- author.; Lilburn, David, Aghabullogue, County Cork, Ireland: Occasional Press, 2013, ©2013
The Celtic zoo: a report back on the state of modern Ireland in 24 satirical watercolour drawings / Fitzgerald, Tom, 1939- artist.; Dorgan, Theo. Aghabullogue, County Cork: Occasional Press, 2014
The idea of islands / Hubbard, Sue.; Teskey, Donald. Aghabullogue, Co. Cork: Occasional Press, 2010
This flight tonight: Captain John Alcock & Lieutenant Arthur Whitten Brown's non-stop transatlantic flight from Newfoundland to Ireland 14th-15th June 1919 / Curtis, Tony, 1955- author.; Lilburn, David, Aghabullogue, County Cork, Ireland: Occasional Press in collaboration with Ballynahinch Castle, 2019
Walking drawing making memory: a Ballynahinch sketchbook / Lilburn, David, artist. Aghabullogue, Co. Cork: Occasional Press in a collaboration with Ballynahinch Castle Hotel, 2009