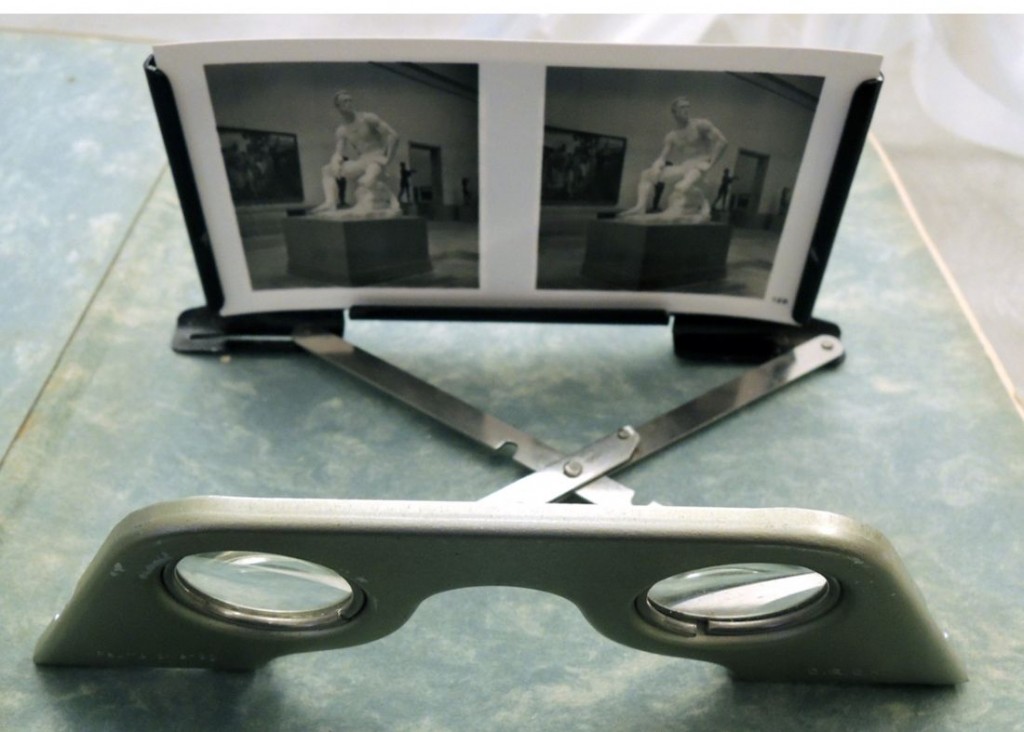 Raumbild Verlag (Stereoview publishing) was established by Otto Wilhelm Schönstein (1891-1958) in the 1930s (the earliest book I found is 1935). Their offices moved several times, eventually settling in Munich by the end of the decade.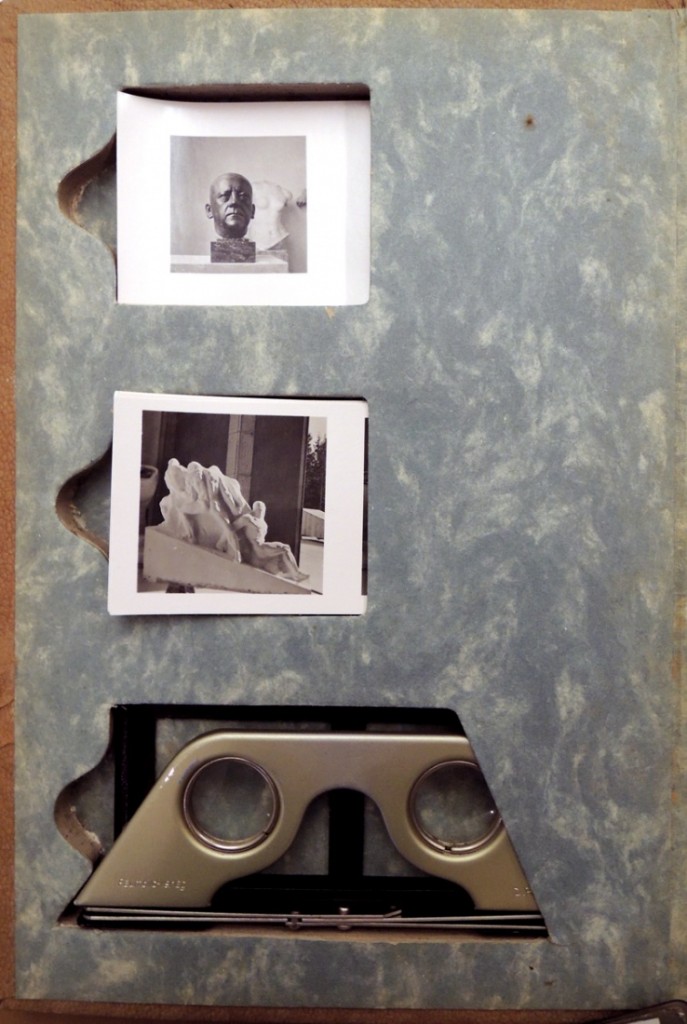 Each of his books was designed with extra thick boards, die-cut so that small stereographs could be inserted at the front and back, along with a stereo viewer (Raumbildbetrachter). Many of the titles included the photography of Heinrich Hoffmann (1885-1957), Adolf Hitler's official photographer.
Thanks to the generous donation of professor Anson Rabinbach, Department of History, we now hold our third photobook from Schönstein's firm, this one documenting Deutsche Plastik Unserer zeit (German Sculpture of Our Time).
The art exhibition was organized by Arno Breker (1900-1991) and hosted by the Nazi Party, highlighting the work of German sculptors. For an interesting article about Breker's work, see  http://www.nytimes.com/2006/07/24/world/europe/24germany.html?_r=0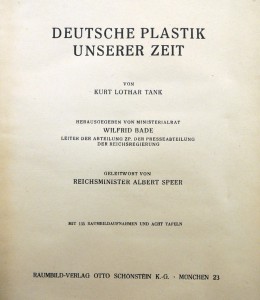 Kurt Lothar Tank (1910-) and Wilfrid Bade (1906-1945), Deutsche Plastik unserer Zeit (München: O. Schönstein, 1942). "Mit 150 Raumbildaufnahmen und acht Tafeln." Graphic Arts Collection GAX 2013- in process. Gift of Anson G. Rabinbach.
Other volumes published by Raumbild Verlag include:
Vendig; ein raumerlebnis by Kurt Lothar Tank (1935)
Reichsparteitag der ehre by Heinrich Hoffmann (1936)
Die Olympischen spiele 1936 by Ludwig Haymann (1936)
München, die Hauptstadt der Bewegung by Heinrich Hoffmann (1937)
Die Weltausstellung: Paris 1937 by E.P. Frank (1937)
Deutsche Gaue by Alfons Czibulka (1938)
Parteitag Grossdeutschland by Henrich Hansen (1939)
Aus der lebensgemeinschaft des waldes by Kurt Dieterich (1939)
Der erste Großdeutsche Reichskriegertag by Heinrich Hoffmann (1939)
Die Soldaten des Führers im Felde by Hasso von Wedel (1940)
Der Kampf im Westen by Hasso von Wedel (1940)
Die Kriegsmarine by Fritz-Otto Busch (1942)
Der Stadt Nürnberg Ursprung und Werdegang by Fritz Schulz (1949)
Hausärztliches Taschenbuch by Wilhelm Ermer (1950)