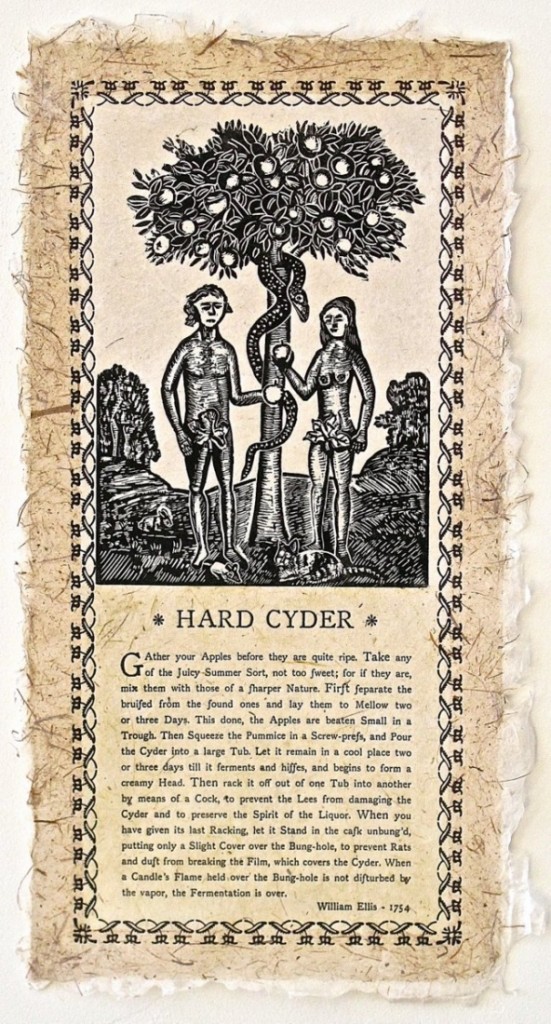 Thanks to an anonymous donor, the Graphic Arts Collection is the fortunate new owner of Hand Papermaking magazine's 2013 broadside.
Created by Eric Avery, Susan Mackin Dolan, and Mark Attwood, Hard Cyder combines a charming Adam and Eve, inspired by a 1790 design engraved by Patrick Maverick, together with a 1756 recipe derived from William Ellis's, The Complete Planter and Cyderist: or, a New Method of Planting Cyder-Apple, and Perry-Pear-Trees; and the Most Approved Ways of Making Cyder… (English Short Title Catalog, 162679).
Susan Mackin Dolan's handmade paper with "triple dipped" in batches of kozo with "veils of iris and wheat straw." Mark Attwood's type and border are letterpress from polymer plates. And the crowning touch is Eric Avery's marvelous Adam and Eve, printed on his Vandercook proofing press.
Hand Papermaking (Firestone Oversize TS1109 .H36q) was founded in 1986 by Amanda Degener and Michael Durgin. Princeton holds a complete run of the semi-annual, which offers "a unique repository of information and inspiration on the art and craft of hand papermaking. Each issue features articles on a variety of topics within the field, including: contemporary artistic approaches, craft techniques, historical topics and reference, international development, and educational initiatives." And each issue includes at least one unique sample of handmade paper!
It's a minor curator detail but I printed the image here in New Hope on my Vandercook proofing press. Mark's type and border are letterpress from polymer plates.