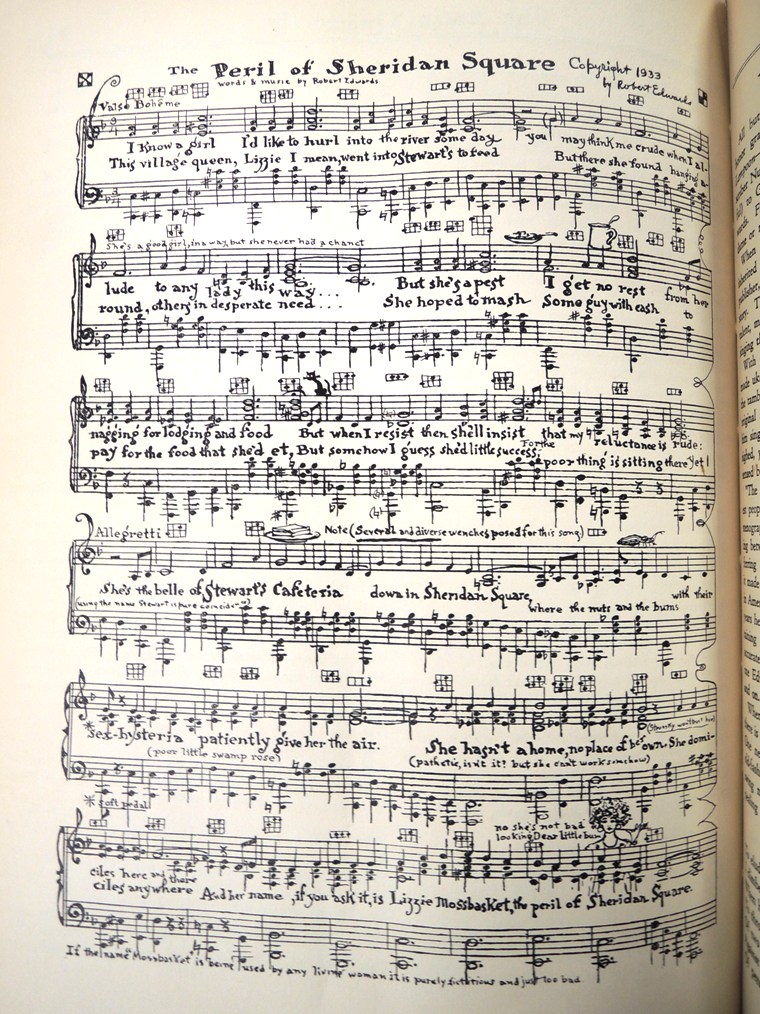 During the depression of the 1930s, Ruth Widen and Lew Ney could no longer afford to live in Manhattan and moved their Parnassus Press to the Brooklyn waterfront south of the Brooklyn Bridge. For their larger print jobs, Max Spiegel, owner of Maspa Press on Barrow Street, let them use whatever equipment they needed. It was his Linotype machine that enabled them to bring out a substantial new magazine called The Latin Quarter-ly (associating Greenwich Village with its Parisian counterpart).
Unlike Lew Ney's other news-sheets, this is a fifty-page magazine with editorials, poems, a short stories, essays, plays, cartoons, book and art reviews, and literary news. The content is decidedly more political, given the editors' involvement with the Writers' Union. The art is sharp and satirical thanks to artists borrowed from the New Masses, included Art Young (1866-1943) and Helen West Heller (1872-1955), who had only recently moved to New York City. Over 100 subscriptions were sold before the first issue was out, including to NYPL and Harvard University.
Sherwood Anderson's name is front and center as a consulting editor, although he never contributes his own writing. Regular contributors include Louis Ginsberg (1896-1976, Allen Ginsberg's father); the young Norman Fitzroy Maclean (1902-1990), later known for A River Runs Through It; the progressive minister Rev. Eliot White; Oxford-educated literary scholar Walter Edwin Peck (1891-1954), recently fired from Hunter College; journalist Isaac Don Levine (1892-1981) responsible for the formation of the Citizens National Committee for Sacco and Vanzetti; and Estelle Sternberger (1886-1971) a radio commentator who became the executive director of World Peaceways.
The 1934 winter issue includes the music for The Peril of Sheridan Square by Robert Edwards.
I know a girl I'd like to hurl into the river some day.
You may think me crude when I allude to any lady this way.
But she's a pest, I get no rest from her nagging for lodging and food
But when I resist then she'll insist that my reluctance is rude.
She's the belle of Stewarts' cafeteria down in Sheridan Square.
Where the nuts and the bums with their sex-hysteria patiently give her the air.
She hasn't a home, no place of her own, she domiciles anywhere,
And her name if you ask it is Lizzie Mossbasket, the peril of Sheridan Square
This village queen, Lizzie I mean, went into Stewarts to feed
But there she found hanging around others in desperate need.
She hoped to mash some guy with cash to pay for the food that she'd et
But somehow I guess she'd little success poor thing is sitting there yet!