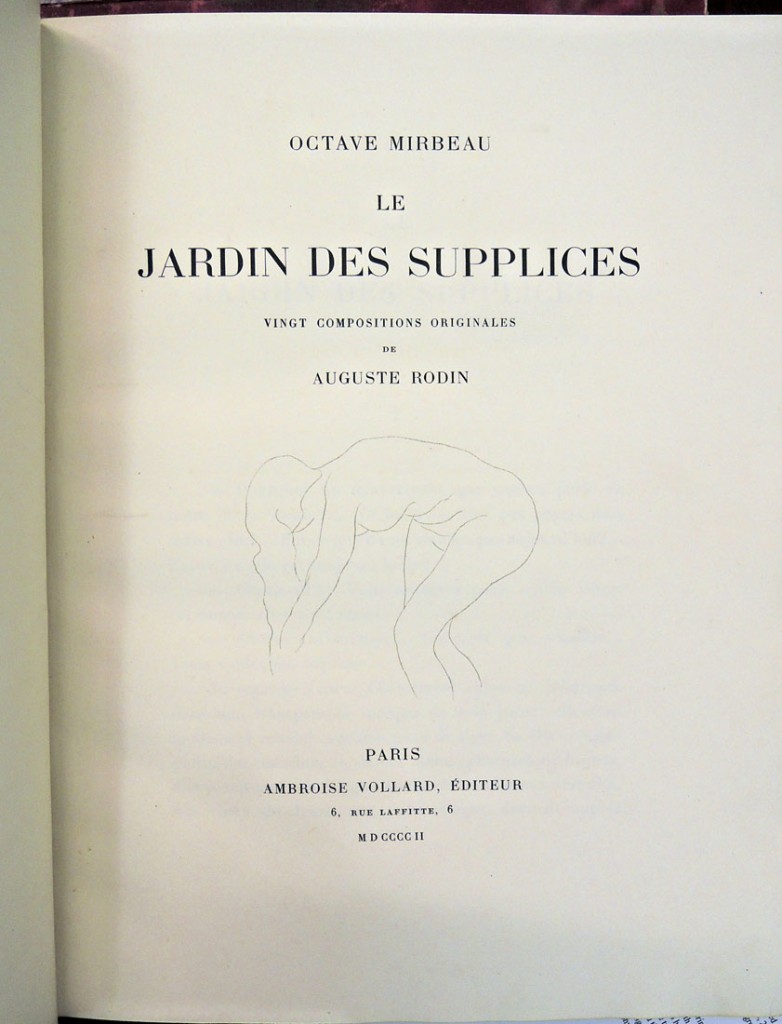 Friends and collaborators, Auguste Rodin and Octave Mirbeau published a modest illustrated edition of The Torture Garden in 1899, to limited success. When they heard that art dealer Ambroise Vollard (1866–1939) was preparing a deluxe edition of Paul Verlaine's erotic poem Parallèlement with lithographs by Pierre Bonnard, they approached Vollard about also publishing their book as a deluxe edition.
"Less than two weeks after they had signed a contract with Vollard on February 10, 1899, the master printer Auguste Clot received ten of Rodin's designs for reproduction as lithographs. When Vollard's edition appeared in 1902, the subject and illustrations proved too challenging for some clients, who returned copies they had preordered, creating significant cash flow problems for Vollard."–Cézanne to Picasso: Ambroise Vollard, Patron of the Avant-garde by Rebecca A. Rabinow (2006)
Clot printed 18 color and 2 black and white lithographs, with Rodin by his side supervising. In the final bound volume, these plates are interspersed throughout Mirbeau's text, protected with a tissue printed with a linear reproduction of Rodin's nude underneath. Today, this book is recognized as one of the rarest and most important livre d'artiste ever produced.
"Novels that produce a physical effect upon their reader," writes Tom McCarthy, "sending jolts outwards from the spine to the remotest nerve-ends, tightening the throat and burning the ears, must number very few; and The Torture Garden must stand near the top of any list of these. Yet not only is it—in its extremity, its viscerality and violence—an uncommon or 'exceptional' work of fiction; it also sits neatly in the middle of what, when the dust of time has cleared and the staid realist novels of the early twentieth century have been forgotten, will be seen as a canonical mainline running between the counter-enlightenment visions of Sade and the post-industrial ones of Burroughs and Ballard."