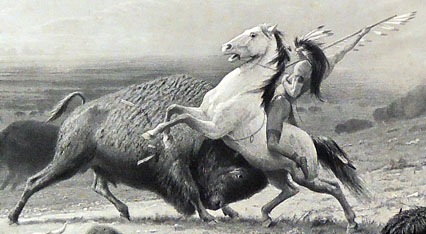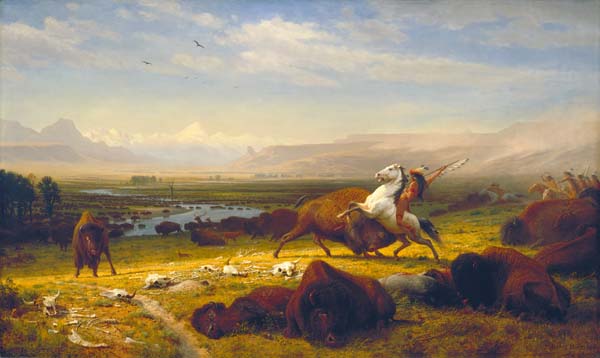 Albert Bierstadt (1830-1902), The Last of the Buffalo, 1888. Oil on canvas. Corcoran Gallery of Art. Gift of Mary Stewart Bierstadt (Mrs. Albert Bierstadt) 09.12.
In 1888, Albert Bierstadt painted The Last of the Buffalo and submitted it to the organizing committee of the Paris Universal Exposition of 1889. The painting was rejected as not in line with modern art. Today it hangs in the Corcoran Gallery of Art in Washington D.C.
The Washington Post tried to explain the rejection as Bierstadt's fault by submitting too late and ran the headline "The Bierstadt Picture: It Was Not Rejected by the Art Loan Exhibition Committee," on April 1, 1889:
The following extract is from yesterday's New York World. It is headed "Real American Art:" What manner of "pigmies'" of pigment are these alleged artists who are seeking a notoriety beyond the reach of their daubs by forming 'committees' from their petty little selves and then giving wide publication to the fact that they have 'rejected' one of Albert Bierstadt's pictures: the latest bit of this idiotic impertinence was the exclusion from a Loan Exhibition in Washington of a fine canvas which had not been loaned, but actually given, most generously, by Mr. Bierstadt for the benefit of the charity for which the exhibition was held. The only excuse for this amassing impudence furnished by the 'artists' in charge was the Mr. Bierstadt "did not belong to their school of art." This same thin excuse was also given by the learned committee of chromo-tinkers who selected their own nightmares for the Paris Exhibition, insulted Mr. Inness and 'rejected' Mr. Bierstadt's magnificent work, "The Last of the Buffalo."
Albert Bierstadt (1830-1902), The Last of the Buffalo, 1891. Photogravure. Graphic Arts Collection GA 2008.00906
As Bierstadt grew further out of favor with the contemporary art world, his debts also grew. In 1891, he commissioned a photogravure of the rejected painting for widespread sale. The Graphic Arts Collection is fortunate to hold a copy of the enormous print.