If you are a lover of British caricature, consider joining your friends in Oxford for James Gillray@200: Caricaturist without a Conscience? on March 28 and 29, 2015, organised by Todd Porterfield, Université de Montréal; Martin Myrone, Tate Britain; and Michael Burden, New College, Oxford; with Ersy Contogouris, Université de Montréal

The two-day symposium is being held to commemorate the 200th anniversary of Gillray's death, and in conjunction with the Ashmolean Museum's exhibition, Love Bites: Caricatures of James Gillray, based on New College's outstanding collection.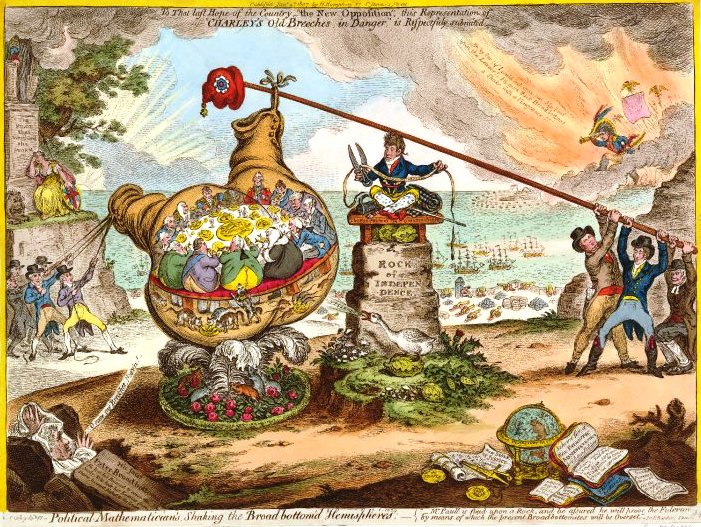 The conference website states: "James Gillray's reputation in the two centuries since his death has been as varied and layered as his prints. Trained at the Royal Academy, he failed at reproductive printmaking, yet became, according to the late-eighteenth-century Weimar journal London und Paris, one of the greatest European artists of the era. Napoleon, from his exile on St Helena, allegedly remarked that Gillray's prints did more to run him out of power than all the armies of Europe.
In England, patriots had hired him to propagandize against the French and touted him as a great national voice, but he was an unreliable gun-for-hire. At a large public banquet, during the heat of anti-Revolutionary war fever, he even raised a toast to his fellow artist, the regicide, Jacques-Louis David. Gillray produced a highly individual, highly schooled, and often outlandish body of work with no clear moral compass that undermines the legend of the caricaturist as the voice and heart of the people."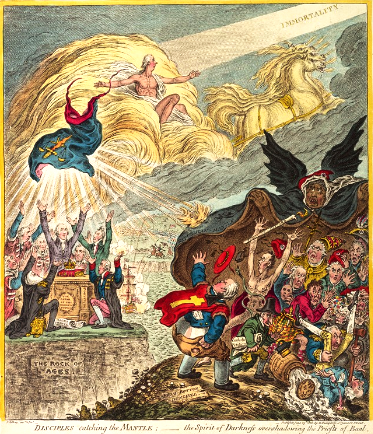 Saturday March 28
I: Gillray in the Media Age
10.30 Douglas Fordham, University of Virginia
'A Media Critic for the Intaglio Age'
11.00 Esther Chadwick, Yale University
'Gillray's Tree of Liberty: political communication and epistolary networks in the radical 1790s'
11.30 Kate Grandjouan, Visiting Associate Professor, Department of Art History,
University of Belgrade
'Gillray's French jokes: the "sick-list" casualties of the 1790s'
12.00 Lunch
II: Gillray in the Colonial Networks: Positionings on Race and Slavery
1.00 Julie Mellby, Graphic Arts Curator within Rare Books and Special Collections at Firestone Library, Princeton University
'The Sale and Resale of English Beauties in the East Indies'
1.30 Amanda Lahikainen, Aquinas College
'James Gillray and Representations of Napoleon's Egyptian Campaign:
Islam as Republican Sacrilege'
2.00 Katherine Hart, Senior Curator of Collections & the Barbara C. and Harvey P. Hood
1918 Curator of Academic Programming, Hood Museum of Art, Dartmouth
College
'James Gillray, Charles James Fox, and the Abolition of the Slave Trade: Caricature and Displacement in the Debate over Reform'
2.30 Coffee
III: The Artist and Formal Means
3.00 Ersy Contogouris, Université de Québec à Montreal
'Gillray's Preparatory Drawings'
3.30 Cynthia Roman, The Lewis Walpole Library, Yale University
'James Gillray and the Satiric Alternative to Painting History'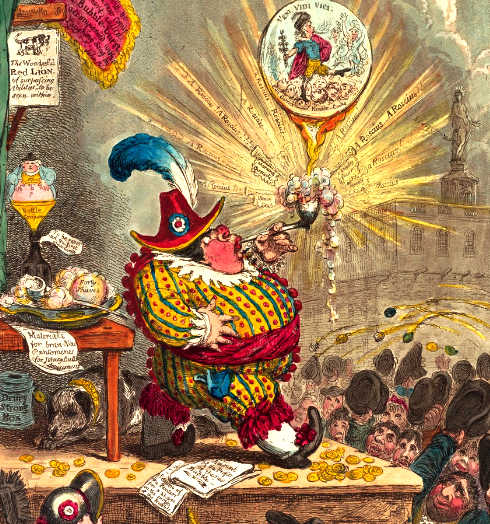 Sunday March 29
IV: The Artist and Literary Means
10.15 David Taylor, Assistant Professor, Dept. of English and Comparative Literary
Studies, University of Warwick
'Gillray, Milton, and the "Caricatura Sublime"'
10.45 Rachel M. Brownstein, Professor of English, City University of New York
'James Gillray and Jane Austen: Aesthetic Affinities'
11.15 Coffee
V: Gillray, the People, the Academy and Revolution
11.45 Katarzyna Murawska-Muthesius, Associate Lecturer, Department of History of Art, Birkbeck College, University of London
'Caricature's unconscious: James Gillray and the Academy'
12.15 Ian Haywood, Professor of English Co-Director, Centre for Research in Romanticism
University of Roehampton, London
'Gillray's valediction: The Life of William Cobbett'