Illustrator, printmaker, and sculptor John Woodrow Wilson was 92 when he died in January 2015. He pursued the path of an artist, "since he was a boy on Roxbury's streets, learning to sketch and honing a burgeoning talent that eventually would place his paintings and sculptures in the Museum of Fine Arts and far beyond," wrote Bryan Marquand for the Boston Globe. "In the Capitol Rotunda in Washington, D.C., stands a 3-foot-tall bronze bust of the Rev. Martin Luther King Jr. that is surely the most viewed creation of John Wilson, an artist who grew up in Roxbury and painted, sculpted, and made prints out of his home studio in Brookline for decades. Like much of his most important work, the bust brings viewers to the intersection of art and politics, of pure creativity and the desire to examine social injustice."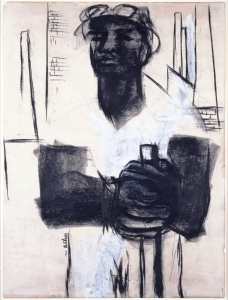 Princeton University Library holds two of his illustrated books: Joan M. Lexau, Striped Ice Cream; illustrations by John Wilson (Philadelphia; New York: J. B. Lippincott Company, c1968). Cotsen Children's Library (CTSN) Eng 20 61725 and Arnold Adoff, Malcolm X; illustrated by John Wilson (New York: Thomas Y. Crowell, c1970). Cotsen Children's Library (CTSN) Eng 20 33357.
In addition, the Princeton University Art Museum has a drawing for the cover design of "The Reporter," July 23, 1959, entitled Steel Worker (pastel and gouache on cream wove paper. Museum purchase Kathleen Compton Sherrerd Fund for Acquisitions in American Art 2005-16).
For more information on the American artist, listen to his oral history interview made March 11, 1993 to Aug. 16, 1994 under the auspice of the Archives of American Art. 11 sound cassettes (16 hrs, 30 min.). Transcript: 497 p. Abstract: "Wilson discusses his childhood as a member of a family of middle class blacks from British Guiana (now Guyana); his father's grave disappointments in the face of racial discrimination; his parents' push for their children to succeed; early urge to read and draw; encouragement by School of the Museum of Fine Arts, Boston students who taught at the Roxbury Boys Club; his secondary education; and friends. …His first teaching position at the MFA School; his involvement in civil rights in Boston; his gregariousness and the use of his studio as a meeting place for artists and political activists; his involvement with socialism in Boston and New York; and working in a socialist children's camp.…his move toward sculpture, beginning in the early 1960s, as a medium most expressive of black persons, culminating in the 1980s in a series of colossal heads and a statue of Martin Luther King, Jr. for the U.S. Capitol (1985-86)."
A memorial for the artist is being held today at the Museum of Fine Arts Boston.