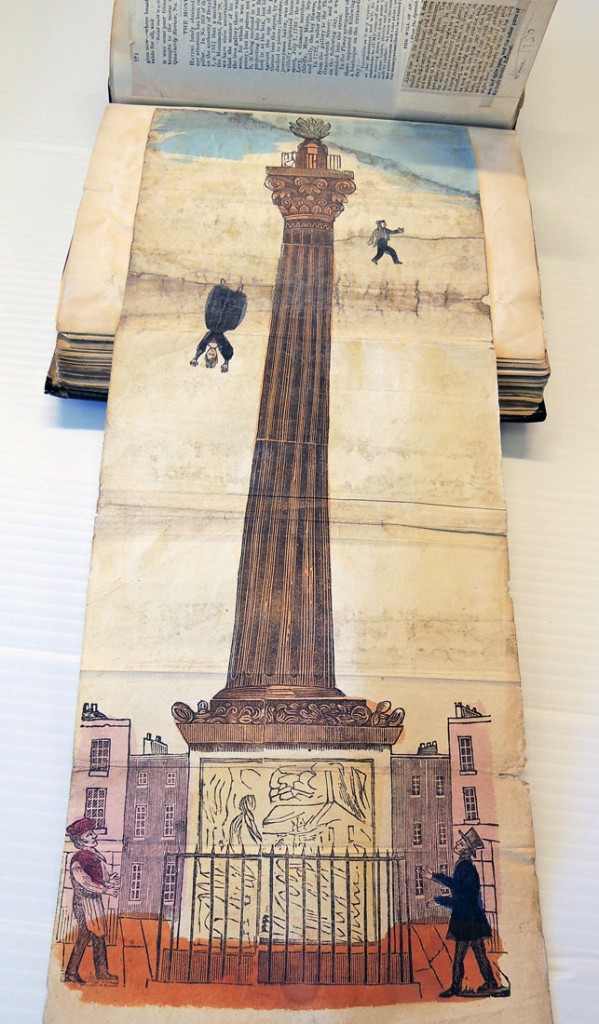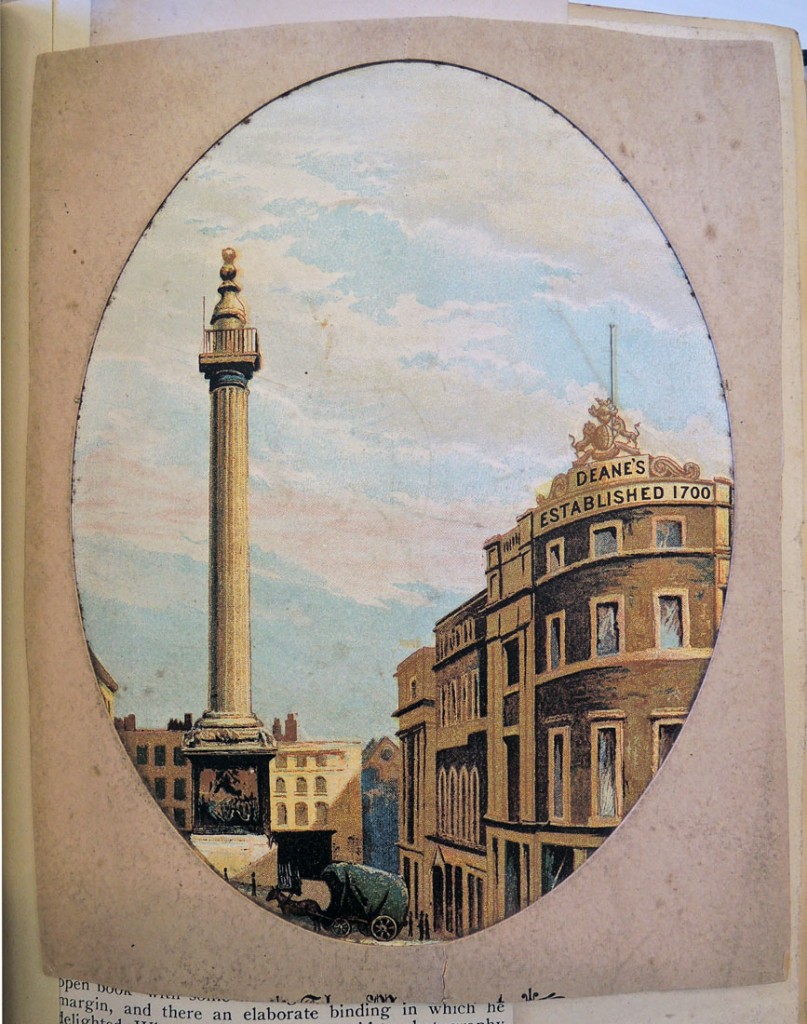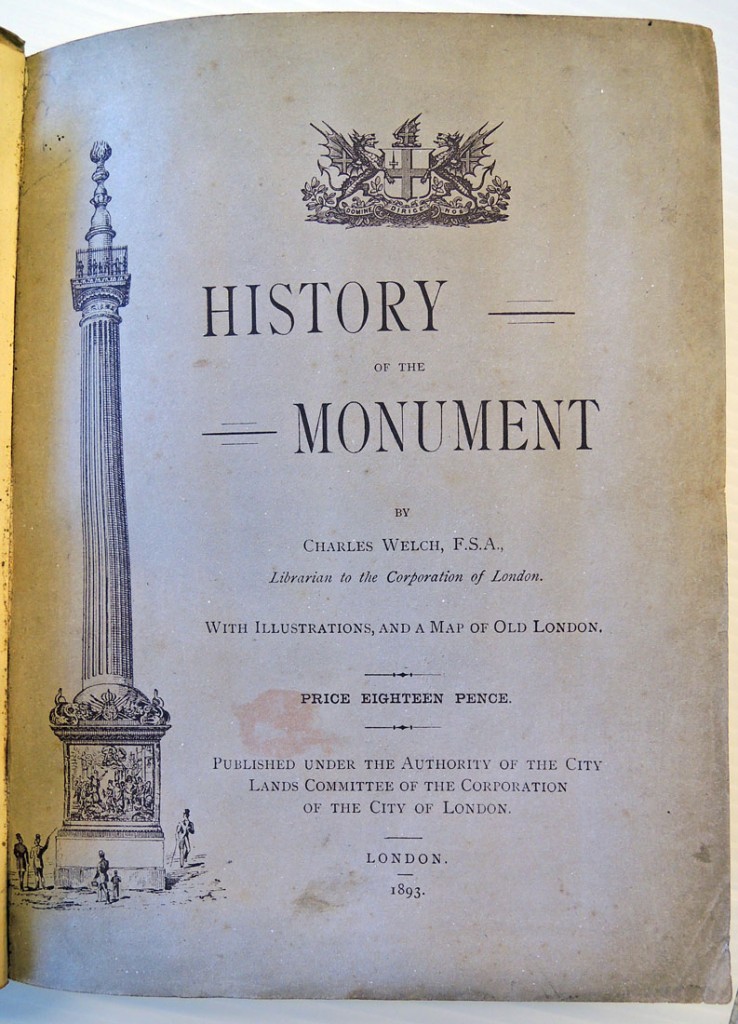 Charles Welch (1848-1924), History of the Monument (London: City Lands Committee of the Corporation of the City of London, 1893). Graphic Arts Collection GAX 2015- in process.
The Graphic Arts Collection recently acquired this extra-illustrated copy of Welch's history of the London Monument, including many engravings, printed broadsides, albumen silver prints, related printed ephemera, printed guides to the Monument, as well as manuscript letters and notes. The whole was collected by Aleck Abrahams of Willesden Green, London, who assembled the collection and had it bound in black morocco and marbled boards, ca. 1910 by T. Ross, Binders to the King. There is a pocket on inside lower cover containing additional printed guide books.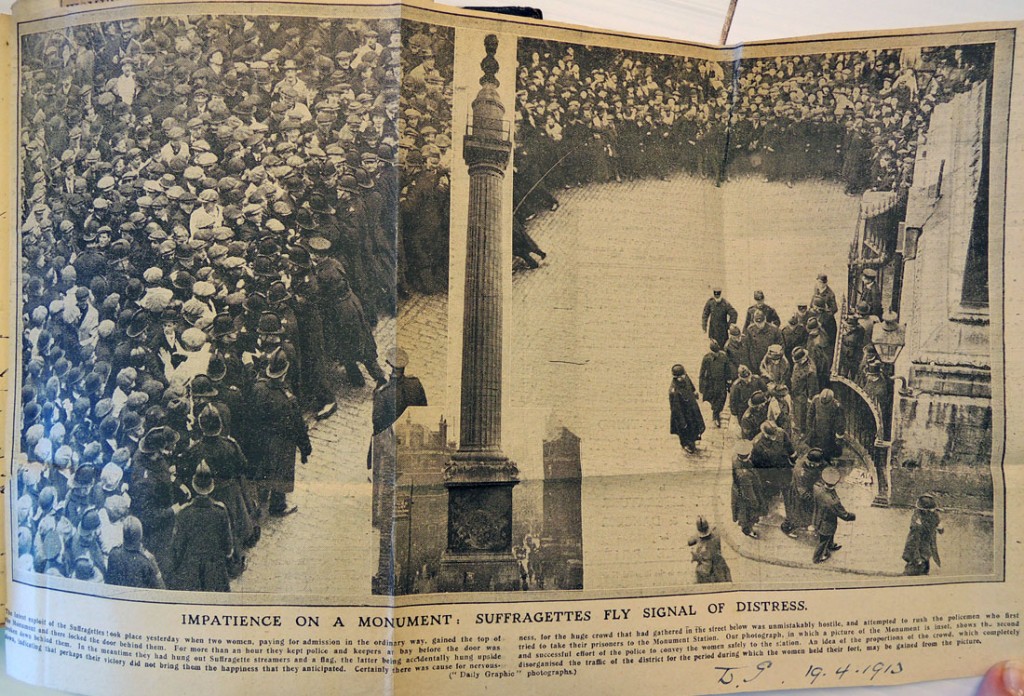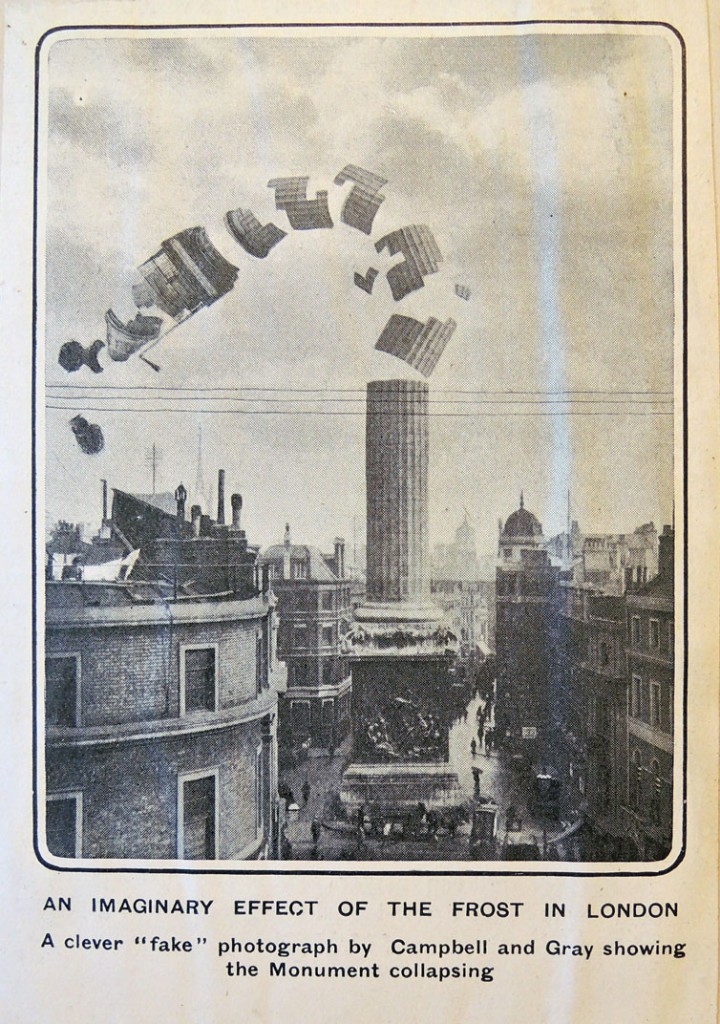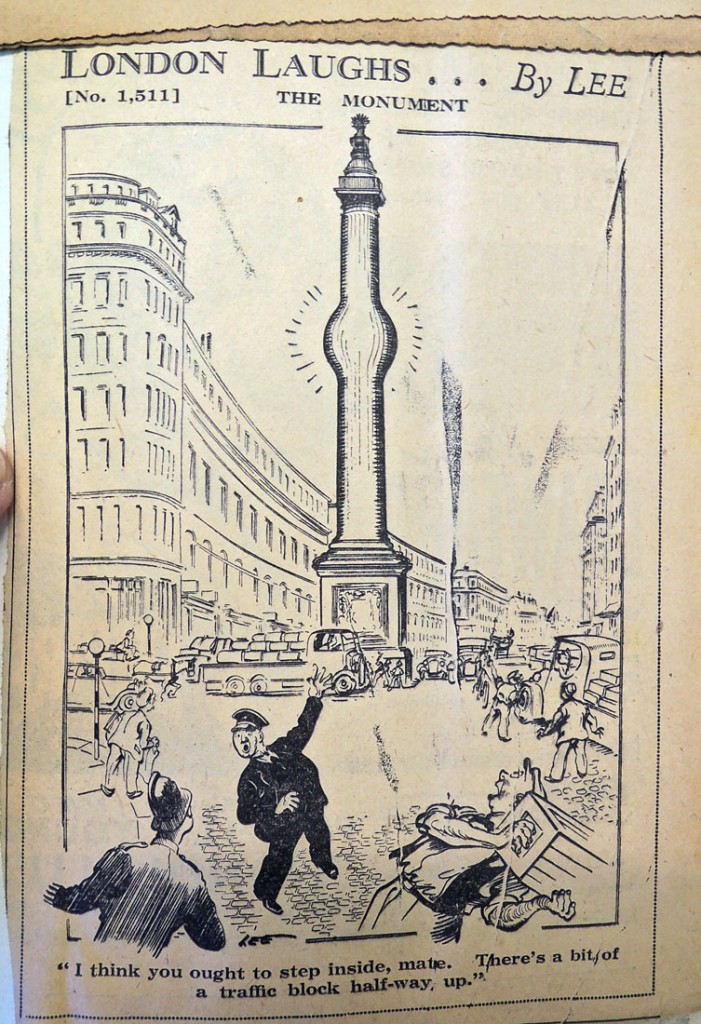 This is an extraordinary assemblage of images and printed ephemera relating to Christopher Wren's Monument, which was erected in the city of London in 1677 to commemorate the Great Fire of 1666. The Doric column had a viewing platform at the top, the highest vantage point in the city of London, with unparalleled 360 ° views across London.
Unfortunately it was also a suicide hotspot, particularly for women, and Welch records a number of actual deaths (p. 54). Abrahams has added to this several large, popular broadsides depicting suicides. "Another Dreadful Suicide at the Monument by a Young Woman" was printed and published by E. Lloyd, ca. 1842. The woman falling to her death has been identified as Jane Cooper, a servant, who threw herself off the Monument. Another hand colored print, ca. 1810, shows a man and woman together leaping off the column, while onlookers watch from below.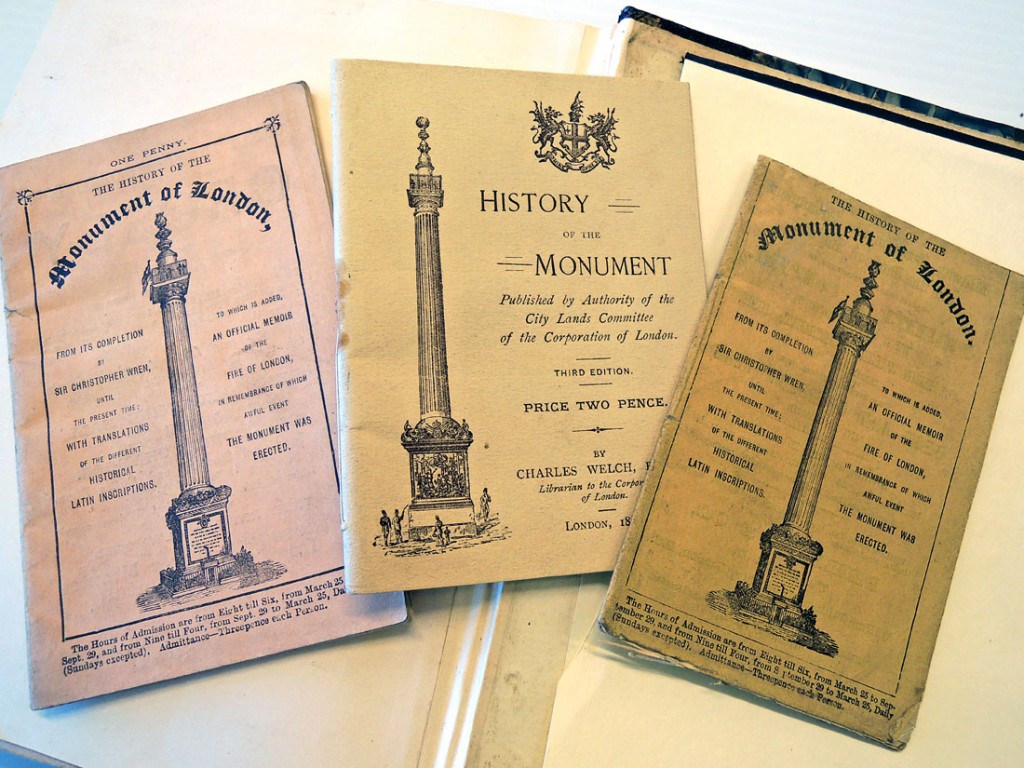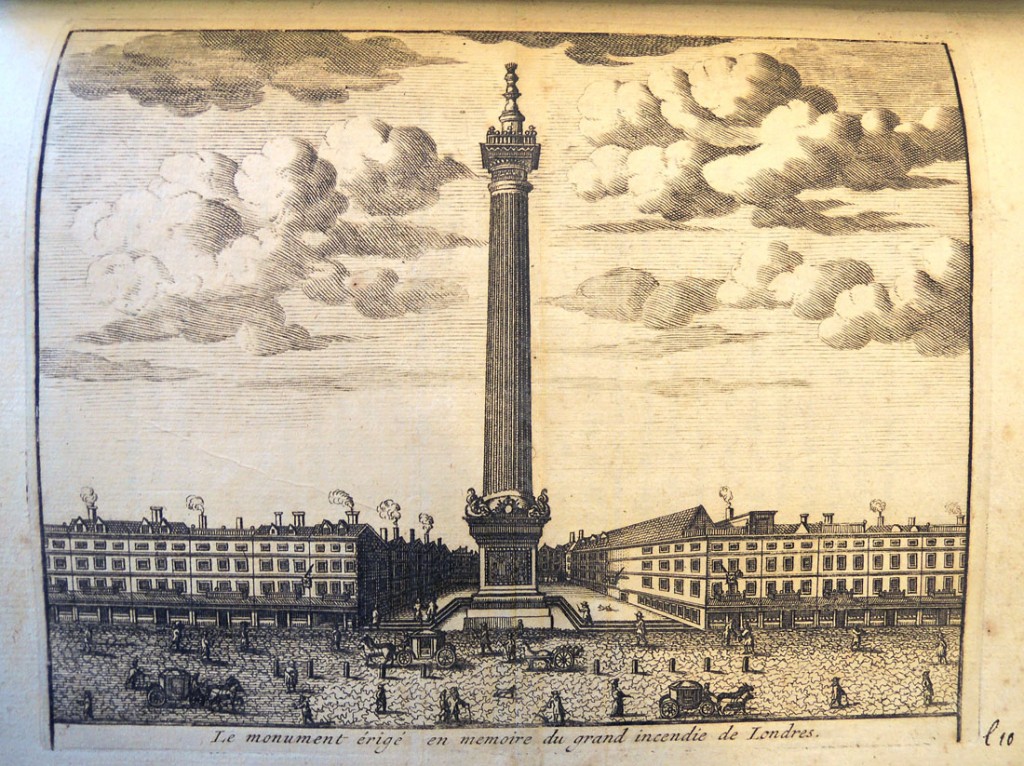 There is also a printed pamphlet Another Suicide by Precipitation from the Monument (London, 1839), with large folding woodcut of man falling from the Monument, in plain contemporary purple wrappers. News accounts of suffragettes marching and picketing around are juxtaposed with caricature and cartoons making fun of the structure. And much more.
At the end of his published book, Welch lists all the different "Views of the Monument" (p. 95-99) as well as printed books (mostly guide books) pertaining to the Monument (pp.99-100). Abrahams followed these lists and managed to find a large number of the prints and photographs, which he pasted, bound, and stuffed together into this single book. Here are a few examples.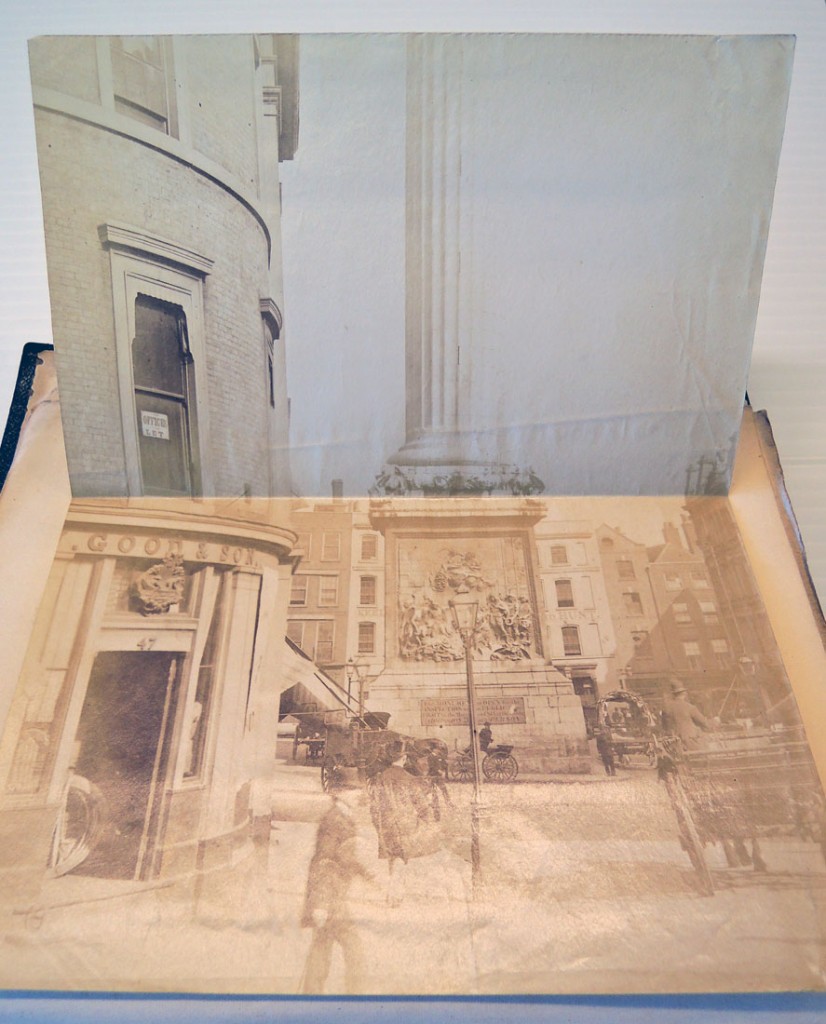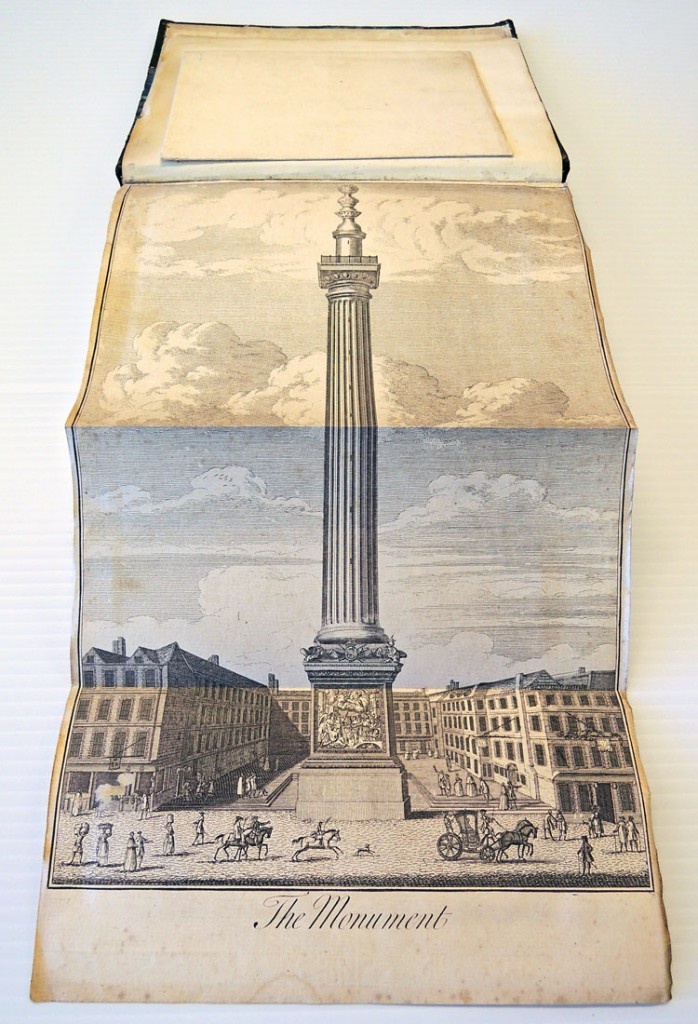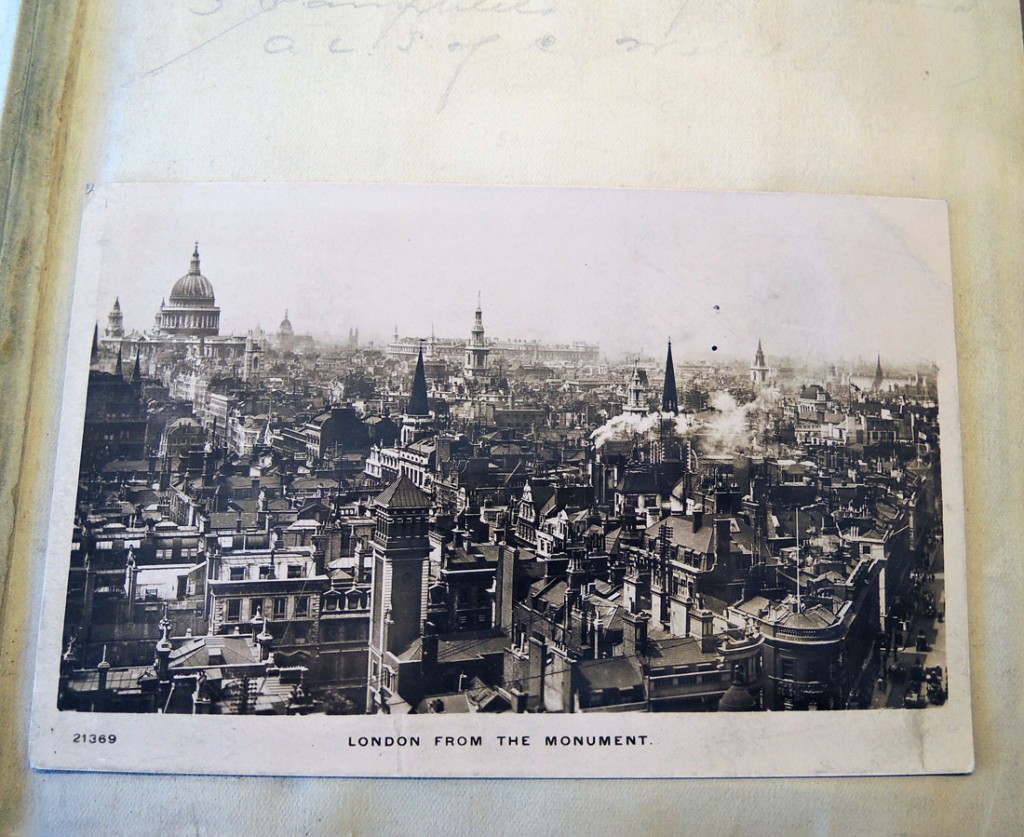 Charles Welch:
"The City of London heard with much regret of the death on Monday of Mr. Charles Welch, F.S.A., who for many years was the Librarian of the Guildhall," reported The Times on January 17, 1924. "He was in his 76th year, and has been in retirement since 1906. The son of a physician at Hackney, Mr. Welch was born on July 21, 1848, and was sent to the City of London School under Dr. Mortimer. On leaving school joined at once the then small staff in the Guildhall Library, which consisted of a librarian and two assistants. During his service of more than 40 years he helped the library to develop into the largest in London, next to the British Museum . . . On the history and antiquities of the City Mr. Welch became an authority second only to the late Dr. R. R. Sharpe. He wrote lives of civic worthies in the Dictionary of National Biography, and contributed to the Victoria County Histories . . . His Modern History of the City of London, which justifies its title, is of great value to the student."– Obituary. The Times Thursday, Jan 17, 1924; Issue 43551; pg. 14; col D — Mr. Charles Welch