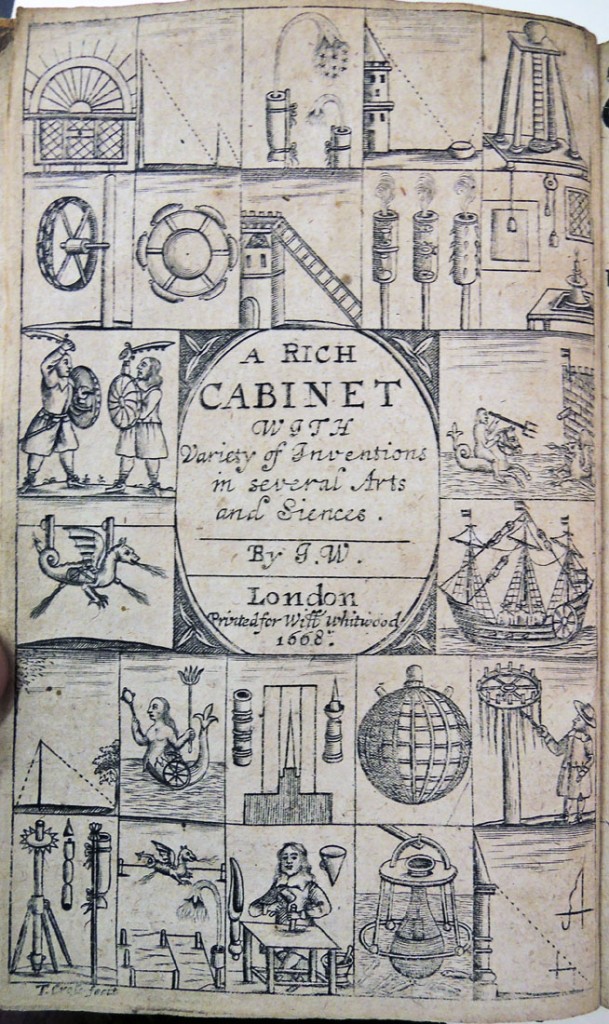 John White (died 1671), A Rich Cabinet, with Variety of Inventions: Unlock'd and Open'd, for the Recreation of Ingenious Spirits at their Vacant Hours. Being Receits and Conceits of Severall Natures, and Fit for Those Who Are Lovers of Natural and Artificial Conclusions . . . [Frontispiece by Thomas Cross, active 1632-1685]. Fourth edition, with many additions (London: printed for William Whitwood at the sign of the Golden Lion in Duck-Lane near Smith-field, 1668). Graphic Arts Collection GAX 2015- in process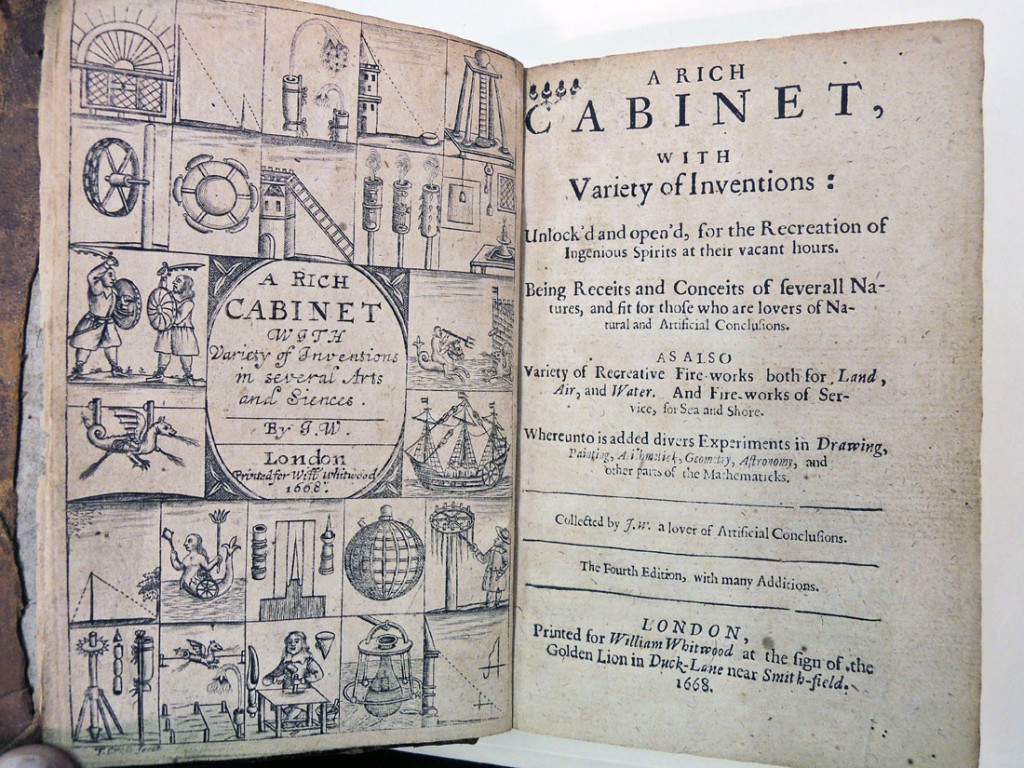 First published in 1651, A Rich Cabinet is made up of numerous directions and instructions for the purpose of conducting experiments, satisfying curiosities, solving problems, and much more. Instructions are given in Legerdemain (slight of hand); painting; "how to help deafness and to expel wind from the head;" arithmetic; and manufacturing fireworks. The book went through at least eight editions into the 18th century. The Graphic Arts Collection recently acquired the fourth edition. Here's a selection:
"Receipt IV. How to make dainty sport with a Cat.
If you will have some sport with a Cat, then get a little Bell, such as the tame Hawkes have at their legs, and tye the Bell something hard at the end of the Cats taile, and let her go, she feeling of her tayl smart, and hearing of the Bell gingle, she will run up and down as if she were mad, flying against the walls and windows: then if she can, she will get into some hole to hide her self, but when she wags her tayl never so little, then out she comes, and is as mad as before, and never will rest in quiet till it be taken off or she can get it off her self.
Another
Some have shod a Cat round, with putting melted Pitch into four Walnut-shels, and placing her feet therein, and she will make pretty sport.
Another
I was told of a merry Fellow that came into an Ale-house in cold weather, and finding but a reasonable Fire, said, He would make the Cat piss it out, and watching his opportunity, he getteth his Hostesses Cat, putting her head betwixt his thighs, and holding her four feet fast in one hand, and with the other hand he'd up her tayl near the fire, and did piss such abundance that she quite quenched the same."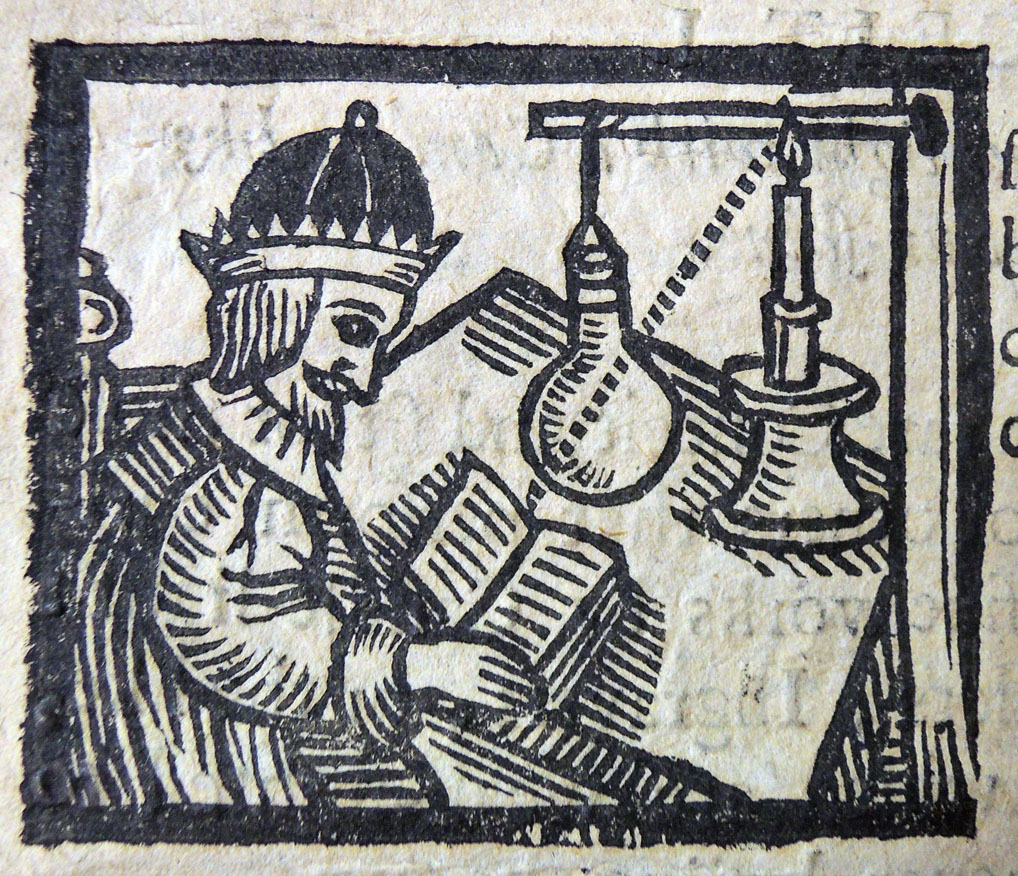 The unusual frontispiece for A Rich Cabinet was designed by the engraver Thomas Cross or Crosse, Sr., who is credited with over 200 portraits (the National Portrait Gallery, London, lists 165 http://www.npg.org.uk/collections/search/person/mp10604/thomas-cross?role=art) and more than two dozen striking title pages with a similar "cabinet of curiosities" format. Johnson's A Catalogue of Engraved and etched English title-Pages lists 26. If you know of others, please let me know.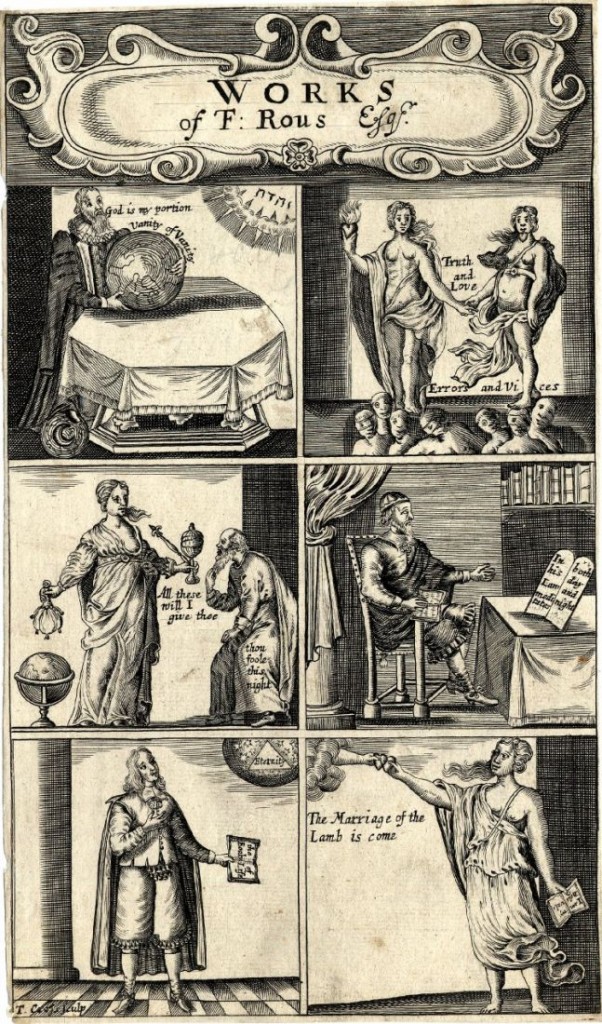 David Papillon, A Practicall Abstract Of the Arts of Fortification and Assailing (London, 1645). Lettered with title, imprint, and, at bottom centre, 'Tho: Cross fecit'
Francis Quarles, Boanerges and Barnabas, or, Judgment and Mercy for afflicted souls (London, R. Lowndes, 1646). Lettered centre left: 'T. C. fec.' Rare books 3902.1.318 1667
John Raymond, Gent. An itinerary contayning a voyage, made through Italy, in the yeare 1646, and 1647. Illustrated with divers figures of antiquities. Never before published. By Jo: Raymond, Gent. Il Mercurio Italico communicating a voyage made through Italy ( London: printed for Humphrey Moseley, 1648). Rare books 1541.751
Temporis Augustiae: stollen houres recreations (1649). Lettered within image "Aetatis Suae 21", and in lower margin four lines of verse "The pencill can noe more: it does present… The high-flowne vertues that adorne his mind", and production detail "T. Cross Sculpsit".
Lilly's, Merlini Anglici Ephemeris: or, general and monthly predictions upon several eminent conjunctions of the planets, for the year 1650 (London, J. Partridge and H. Blunden, 1650).
Moore's Arithmetick. "Effigies Jonae Moore." Lettered with title, date "Ao: Aetat 35. 1649", and production detail, "H. Stone Pinxit / T. Cross Sculpsit".
James Primrose, Popular Errours or the Errours of the people in matter of Physick (London, W. Wisson for Nicholas Bourne, 1651). Lettered with title, imprint, and at bottom right 'T. Cross sculpsit'
Brugis Vade mecum: or, a companion for a chyrurgion (London, 1651). Lettered 'T. Cross sculpsit'
Walter Blith, fl. 1649. The English improuer improued or the survey of husbandry surueyed discovering the improueableness of all lands… (London" printed for John Wright, at the Kings-head in the Old-Bayley, 1652. An expanded edition of "The English improver". The engraved title page is signed with a crossed T, i.e. Thomas Cross. Rare books Item 6349912
John Gauden, Hieraspistes: A Defence of the Ministry and Ministers of the Church of England (London, 1653). Lettered with title, imprint, various inscriptions, and at bottom right 'Tho. Cross Sculpsit'
Petrus Cunaeus, Of the Commonwealth of the Hebrews (London, Will. Lee, [1653]). Bottom left, lettered with a 'T' on which a Maltese cross has been superimposed, the mark of Thomas Cross. Rare Books: South East (RB) EX Lapidus 1.03
Procopius of Caesarea, The History of the Warres of the Emperour Justinian, translated by Henry Holcroft (1653). Lettered with title, and at bottom centre 'T. Cross Sculpsit'. Rare Books: Oversize (Exov) 2749.335.653
Lazarus Riverius's The Practice of Physick. Lettered with title and "Cross fecit". Rare books 89541.776
Francis Rous, Treatises and Meditations (London, 1657). Lettered at bottom left: 'T. Cross sculp'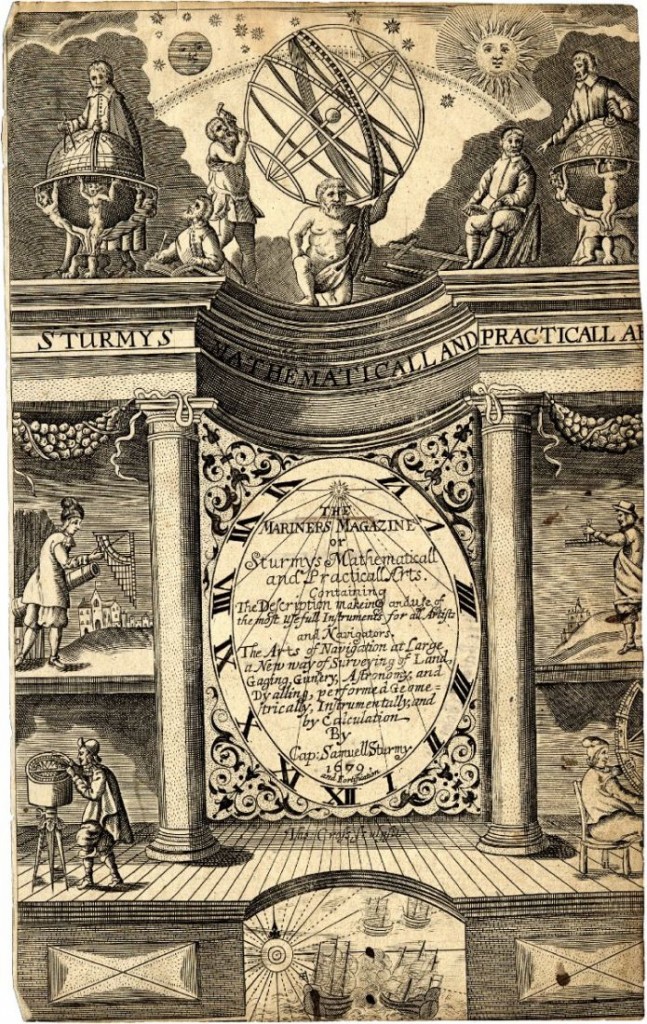 Renodaeus, His dispensatory containing the whole body of pharmacy, translated by Richard Tomlinson (1657). Lettered with title, captions, and at bottom left: 'Cross sculpsit'. Hind 1952-64 III.322.131
Natura Prodigiorum: or discourse (1660). Johannes Gadburius. Portrait of the astrologer John Gadbury (1660). Lettered with title and "T. Cross Sculpsit". This was also used as a frontispiece to Gadbury's 'Ephemeris' (1671).
The Whole Book of Psalms in Meeter (1660). Lower margin "T. Cross Sculpsit".
The compleat clark, containing the best forms of all sorts of presidents, for conveyances and assurances (London, 1664).
John White. A Rich Cabinet, with Variety of Inventions… (London: Printed for William Whitwood at the sign of the Golden Lion in Duck-Lane near Smith-field, 1668). Graphic Arts Collection GAX 2015- in process
William Leybourn, 1626-1716. The art of measuring, or, The carpenters new rule described and explained… London: Printed for Richard Jones …, 1669. Lettered at bottom: 'Printed for Rich: Jones. 1669' and 'T: Cross sculpsit'
Samuel Sturmy, 1633-1669. The Mariner's Magazine, or Sturmy's Mathematicall and Practicall Arts (1669). Rare books EXKA Oversize Americana 1679q Sturmy
Samuel Clarke, A Mirrour or Looking-Glass both for Saints, & Sinners, second volume (London, 1671). Lettered with title, imprint, and at bottom left, 'Cross sculpsit'
Samuel Sturmy, 1633-1669. The mariner's magazine: stor'd with these mathematical arts ... engraved by Thomas Cross Rare Books: South East (RB) EXKA Oversize Americana 1679q Sturmy
Hugo Grotius. Of the Rights of Peace and War, translated by William Evats (London, Ralph Smith, 1682). 'Printed for Ralph Smith under the Piazza of the Royall Exch: in Cornhill.'. Lettered below: 'T. Cross Senior Sculpsit.' Rare books Oversize PITN 014.41.1682q