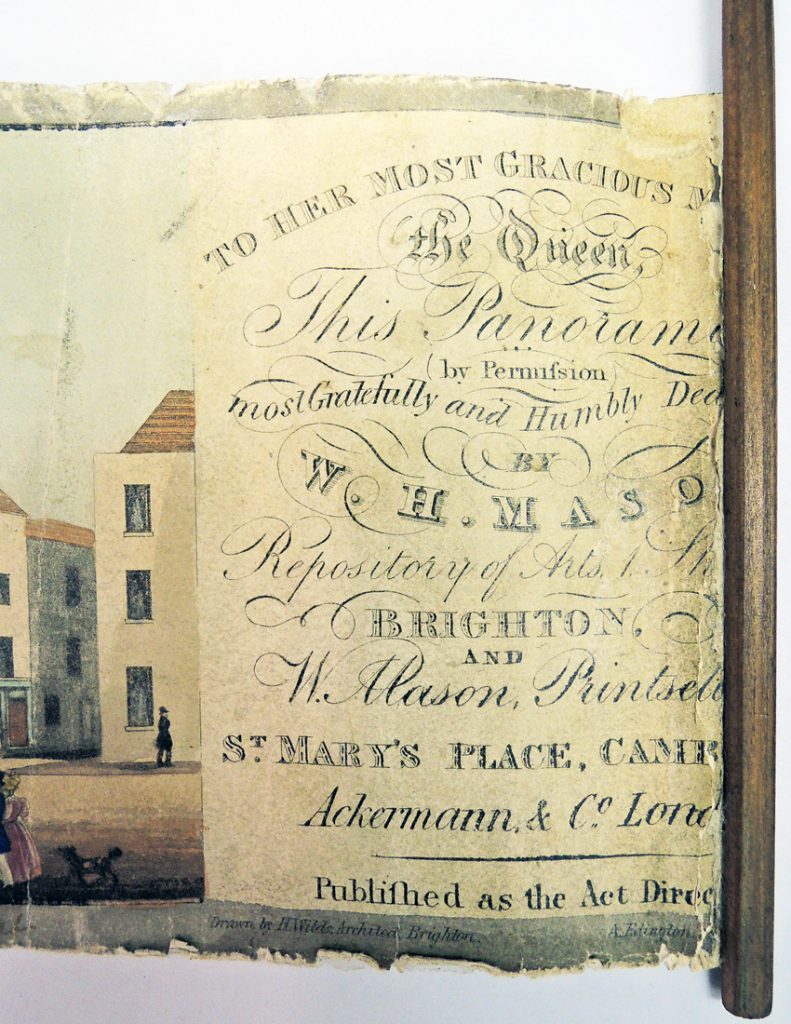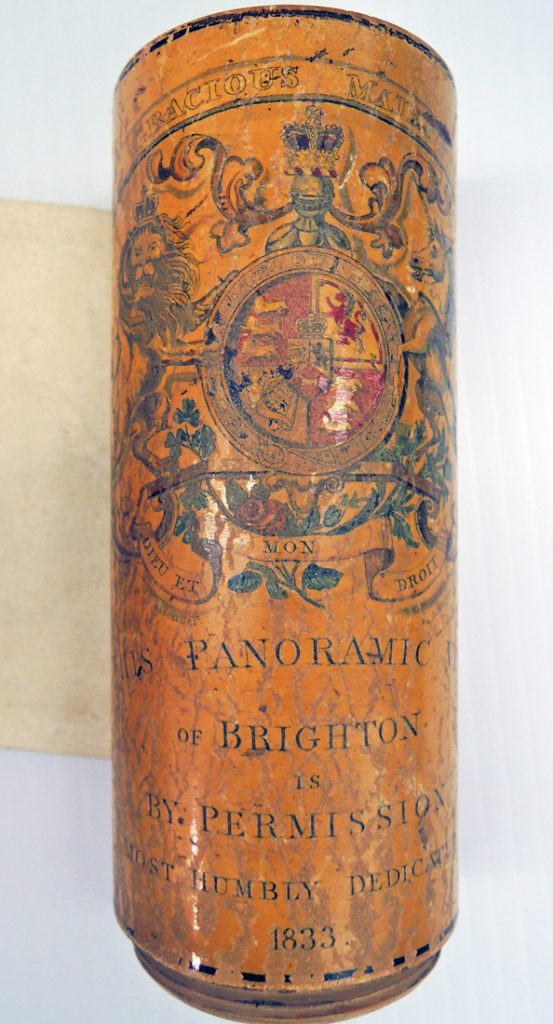 To her most gracious majesty the Queen, this panorama is by permission most gratefully and humbly dedicated by W.H. Mason … and W. Mason [also called Panoramic view of Brighton] (Brighton: W. H. Mason; Cambridge: W. Mason; London: Ackermann & Co., 1833). 11 cm. Hand colored aquatint. 6 sections total 15 feet, aquatinted by A. Edington, after a drawing by the architect Amon Henry Wilds (1784 or 1790-1857), in original boxwood drum with Royal coat of arms. Graphic Arts Collection. Gift of Leonard L. Milberg, Class of 1953.
William Henry Mason and his (?) father William Mason published this 15 foot panoramic view of Old Brighton, seen from the sea front, extending from Saunders's Belle Vue Mansion to the Athenaeum. The drawing was made in at least six parts by the architect Amon Henry Wilds (1784 or 1790-1857), later aquatinted by A. Edington.
Numerous figures are depicted in the costume of the period, civil and military carriages, and riders on horseback. Many of the streets and buildings are identified, including The Anthaeum, Adelaide Terrace, Brunswick Terrace, Lansdowne Place, Brunswick Square, Waterloo Street, Western House, Western Street, Kings Road, Norfolk Hotel, and many others.
The panorama is dedicated to Queen Adelaide (1792-1849), who married William, Duke of Clarence, the third son of King George III. Adelaide became the Queen consort in 1830 when her husband was crowned King William IV.
See also J.R. Abbey, Life in England (Rare Books (Ex) Oversize NE90 .A12q) and R. Hyde, Gilded scenes and shining prospects (Marquand Library (SA) Oversize NE628.H92q)