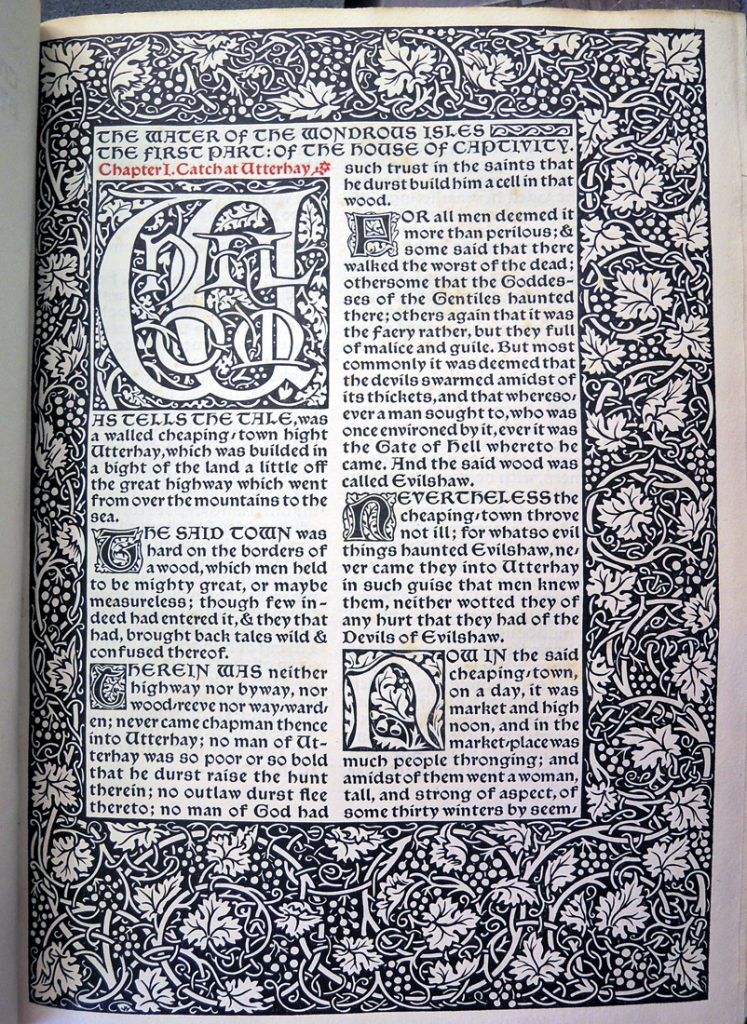 William Morris (1834-1896), The Water of the Wondrous Isles (Hammersmith: Kelmscott Press, 1897). Limited ed. of 250 copies printed on paper. Cf. Peterson. "Printed at the Kelmscott Press … The borders and ornaments were designed entirely by William Morris, except the initial words Whilom & Empty, which were completed from his unfinished designs by R. Catterson-Smith …"–Colophon. Original full limp vellum with silk ties, lettered in gilt on spine. Graphic Arts Collection GAX 2016- in process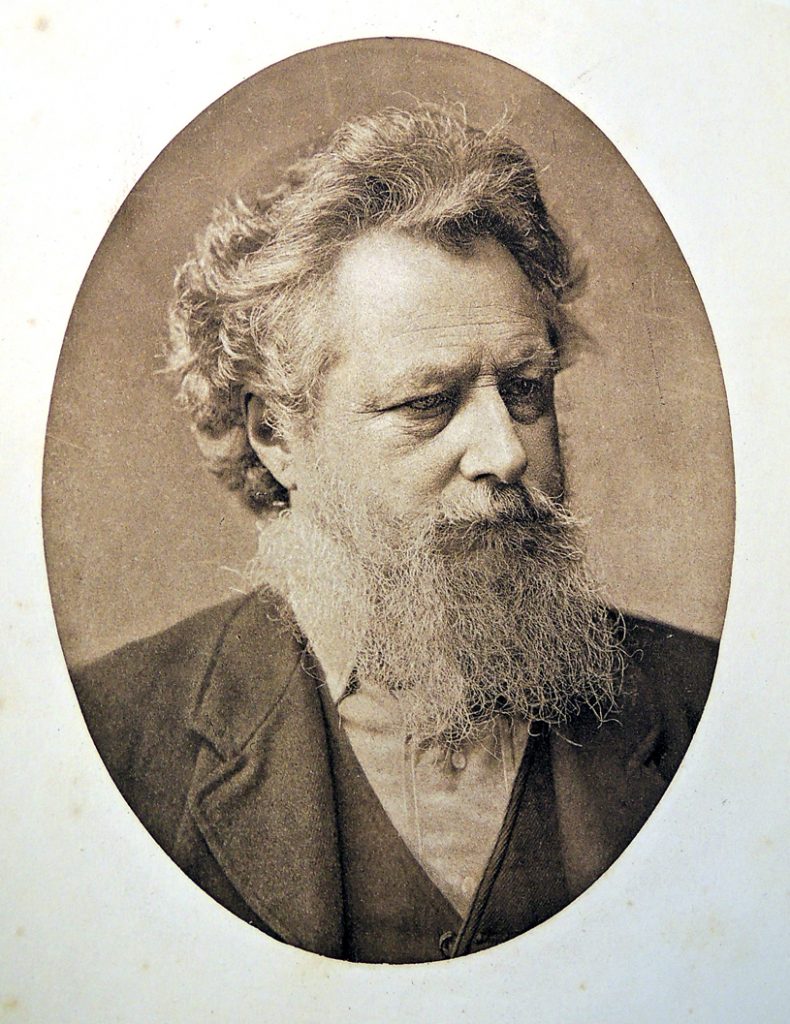 A heliogravure portrait of William Morris is tipped in as a frontispiece, engraved by Frederick John Jenkins (1872-1929), after a negative by Elliott & Fry (active 1863-1962), published 1895.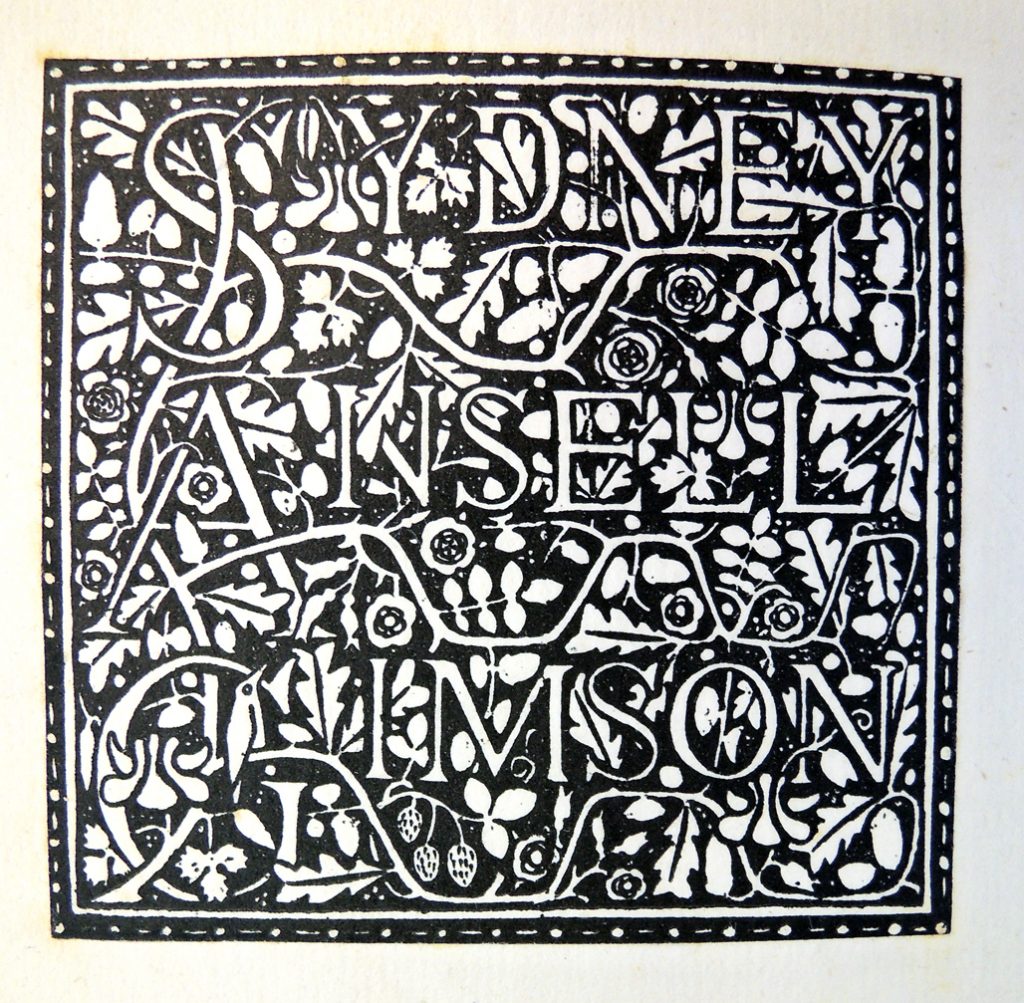 The copy of The Water of the Wondrous Isles recently acquired by the Graphic Arts Collection was once owned by Sydney Ansell Gimson (1860-1938), with a bookplate on the front pastedown designed by his brother Ernest Gimson (1864-1919). Primarily a furniture and wallpaper designer, Ernest was an early member of the Art-Workers' Guild and the Society for the Protection of Ancient Buildings.
This might be his only attempt at a bookplate design. He gave his brother two options, writing "I have done what I can with the book plates and send you the result. They are neither of them satisfactory… I don't understand designing for reduction. And it would require a more microscopic eye than mine to draw it real size."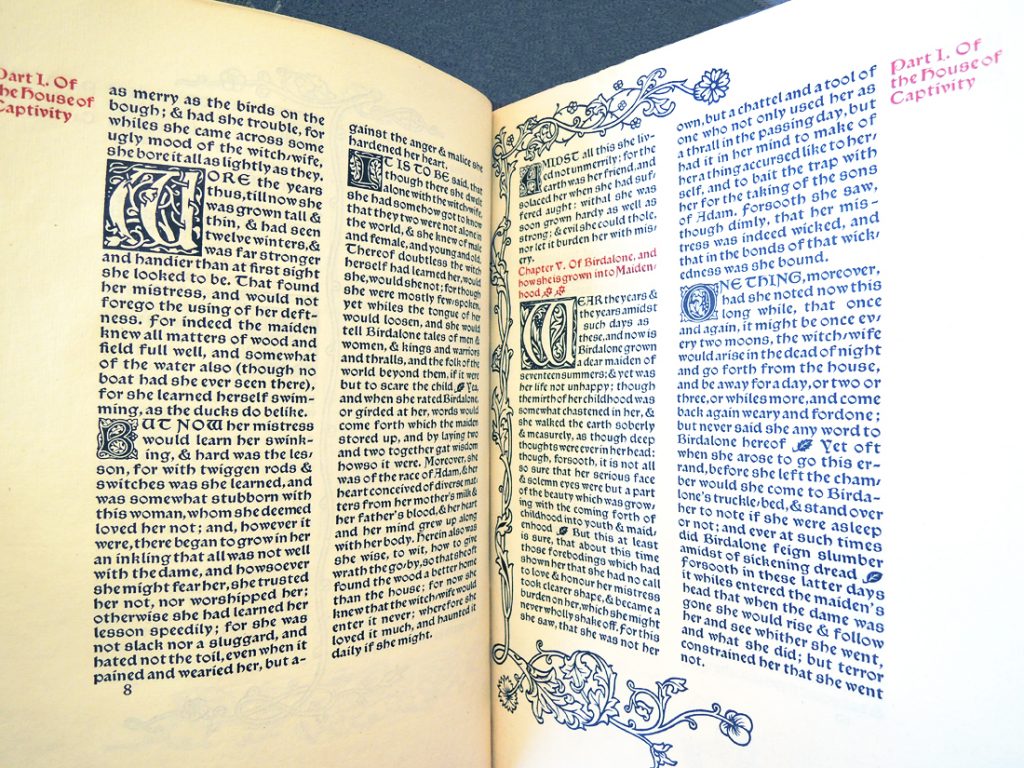 To read the entire text, in this edition, see http://morrisedition.lib.uiowa.edu/Images/WaterWondrousIsles/waterwondrouskelmscott.html.
"In this magical setting," writes literary historian Holly Ordway, "Morris gives us a characterization that subverts contemporary cultural norms for female behavior at a time in Victorian England when women agitated for the right to vote and equality before the law. What makes it even more complex is the issue of Birdalone's beauty. In her world of brave knights, evil witches, and magical quests, it's expected that damsels will be lovely. In this setting, to be the subversive character that she is without being beautiful would suggest that her independence is a compensatory mechanism, and that with physical attractiveness to fall back on she would be more traditional. As it is, her beauty seems irrelevant, making the point beauty is not a prerequisite to love, be loved, and be an individual as Birdalone is."– "Subverting the Female Stereotype: William Morris's The Water of the Wondrous Isles," by Holly E. Ordway, Associate Professor, MiraCosta College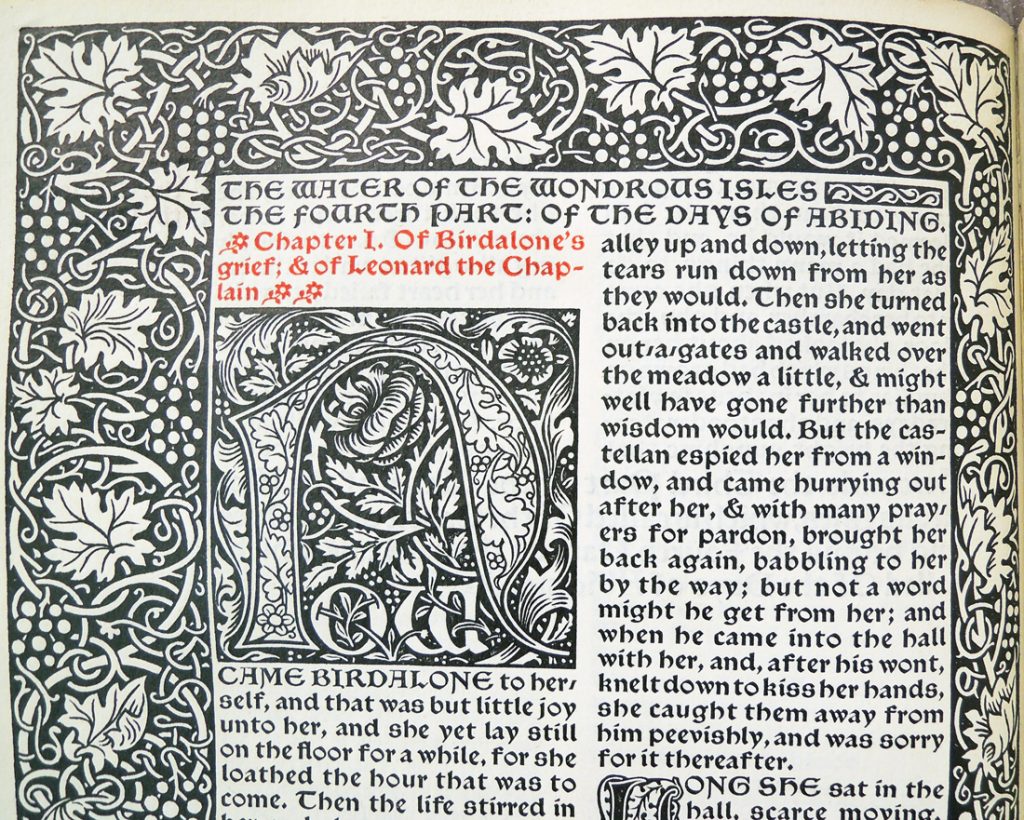 The author and designer, William Morris, died in 1896 before the printing of his novel was finished and so, the book was published by the members of Morris's estate. Enormously popular, OCLC lists 85 editions of the book from 1897-2016.