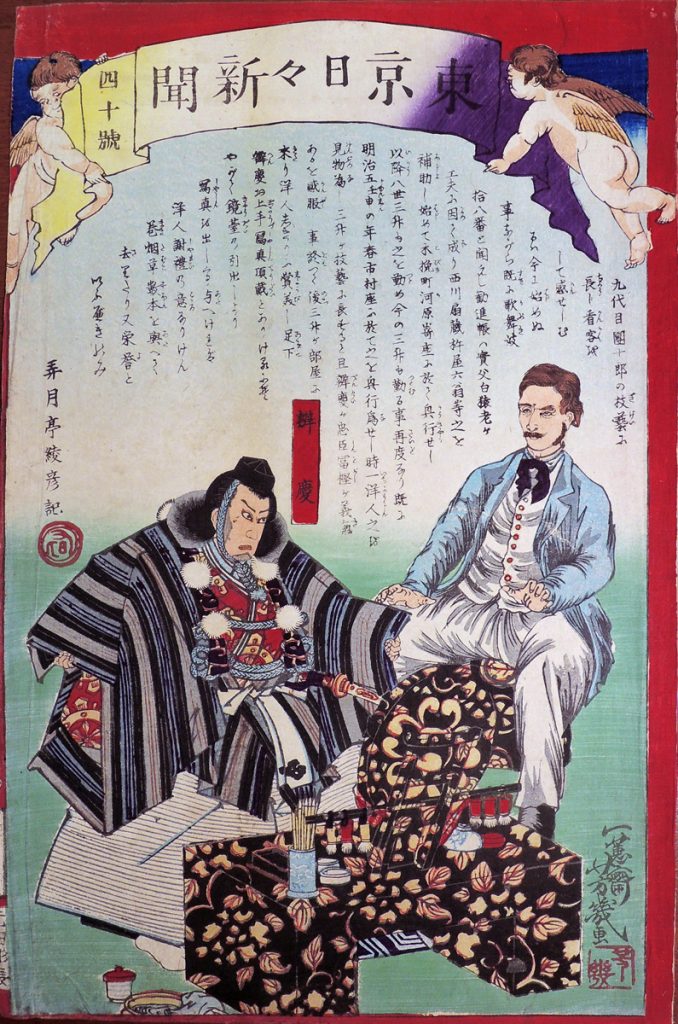 Utagawa Yoshiiku 歌川 芳幾 (1833-1904), [Meeting between the Kabuki actor Danjuro IX and the Italian photographer Adolfo Farsari], [Tokyo: Nichinichi Shinbun, 1874]. Color woodblock print. Graphic Arts Collection GAX 2017- in process A vault
"Utagawa Yoshiiku was a Japanese printmaker and illustrator. As a printmaker, he designed a wide range of prints including those depicting bijin (beautiful women), musha (warriors), yakusha (actors), and the sensationalized pictures of blood-stained mayhem called chimidoro-e and muzan-e, among others. From 1874 to 1875 he designed nishiki-e shinbun for the Tokyo newspaper Nichinichi Shimbun, which he co-founded."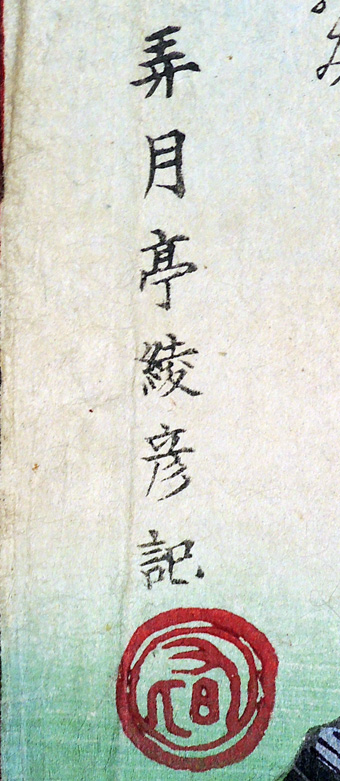 ". . . The founders of Tōkyō nichinichi shinbun are: Johno Denpei (1832-1902, pseud. "Sansantei Arindo" as gesakusha: popular fiction writer), Nishida Densuke (1838-1910, former clerk of TSUJI Den'emon's kashihon'ya: lending library), and Ochiai Ikujiro (1833-1904, pseud. "Utagawa Yoshiiku" as Ukiyoe print artist)." –See William Wetherall's News Nishiki website; Amy Reigle Newland, The Hotei Encyclopedia of Japanese Woodblock Prints (Hotei Publishing Company, 2005), p. 505.
One of the prints Yoshiiku designed for his newspaper was this meeting of the renowned Kabuki actor, Ichikawa Danjuro IX (1838-1903) and the Italian-born photographer, Adolfo Farsari (1841-1898).
According to the Japanese text, in May 1872 an unidentified "yojin" ("ocean person") visited Danjuro IX backstage and asked to photograph the actor in exchange for some European cigarettes.
The Westerner, not identified in the text, was almost certainly Adolfo Farsari, who took up residence in Japan in the early 1870s and became one of the most prominent photographers in the country.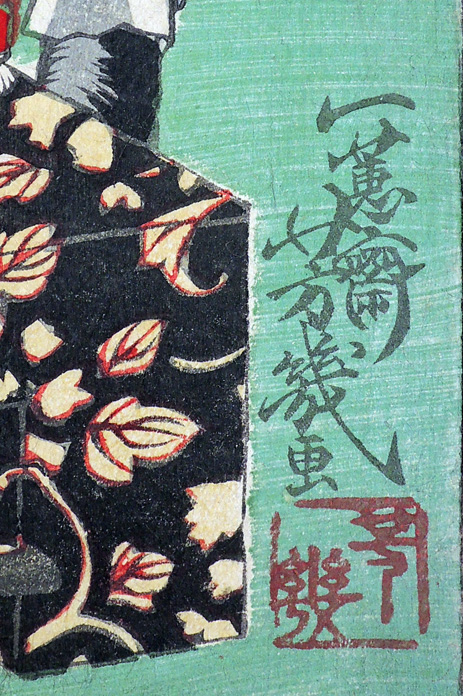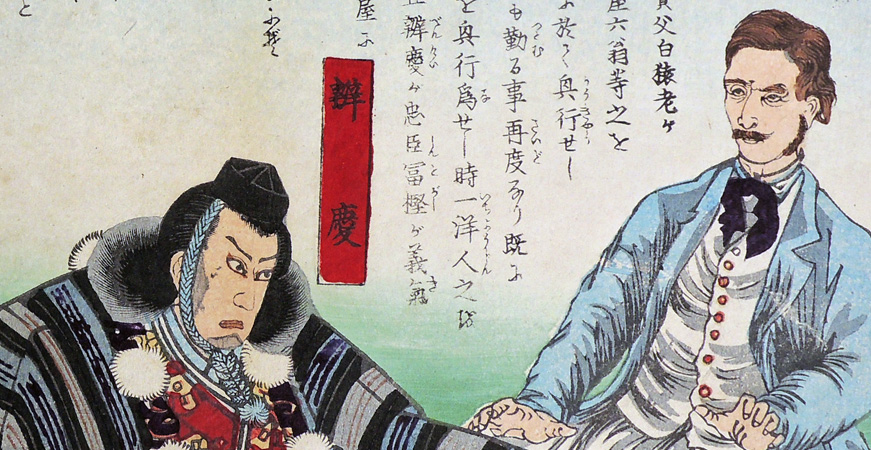 To read the entire newspaper, see: Tōkyō nichinichi shinbun [microform] = 東京日日新聞 (Tōkyō: Nippōsha, 東京 : 日報社, Feb. 21, 1872- Dec. 31, 1942). East Asian Microfilms (HYGF): Forrestal Annex Microfilm J00057
For more on Farsari, read the catalog of an exhibition held at the Villa Contarini, Piazzola sul Brenta, Italy, Dec. 18, 2011-April 1, 2012: East Zone: Antonio Beato, Felice Beato e Adolfo Farsari : fotografi veneti attraverso l'Oriente dell'Ottocento / a cura di Magda Di Siena ; testi di Magda Di Siena, Rossella Menegazzo (Crocetta del Montello (Treviso): Antiga, 2011). Marquand Library use only DS508.2 .E27 2011