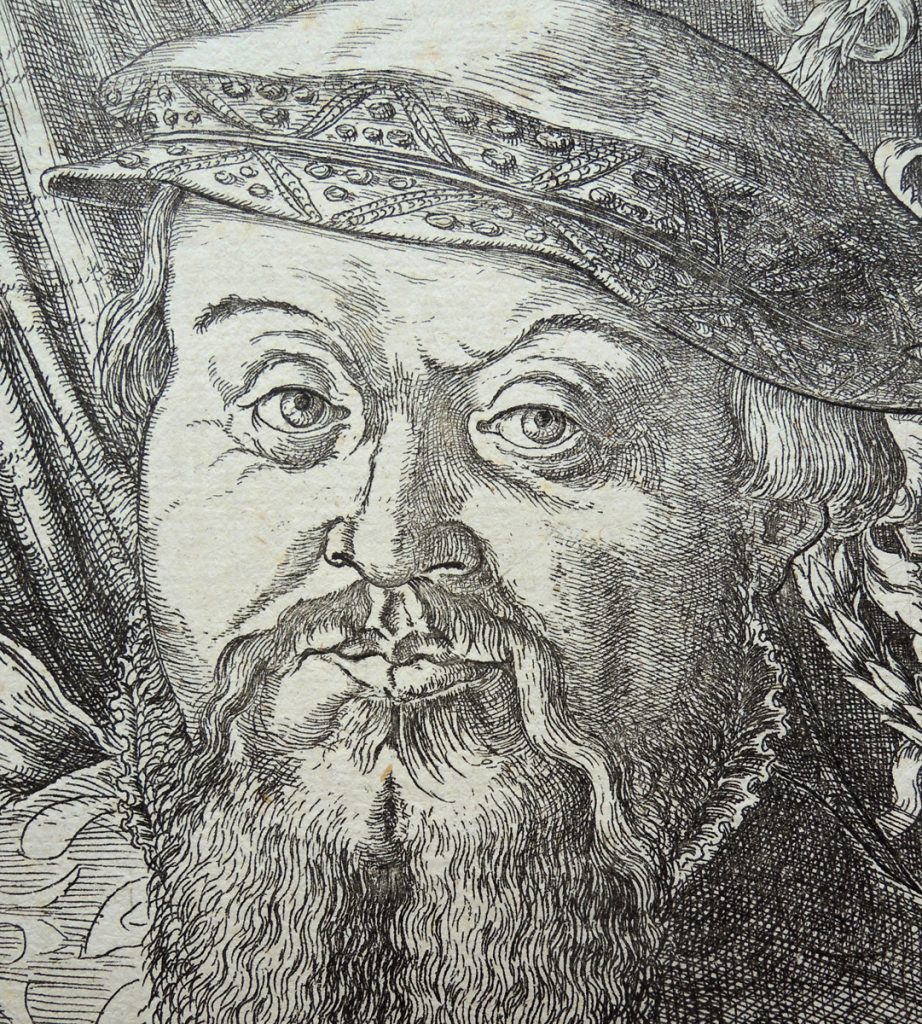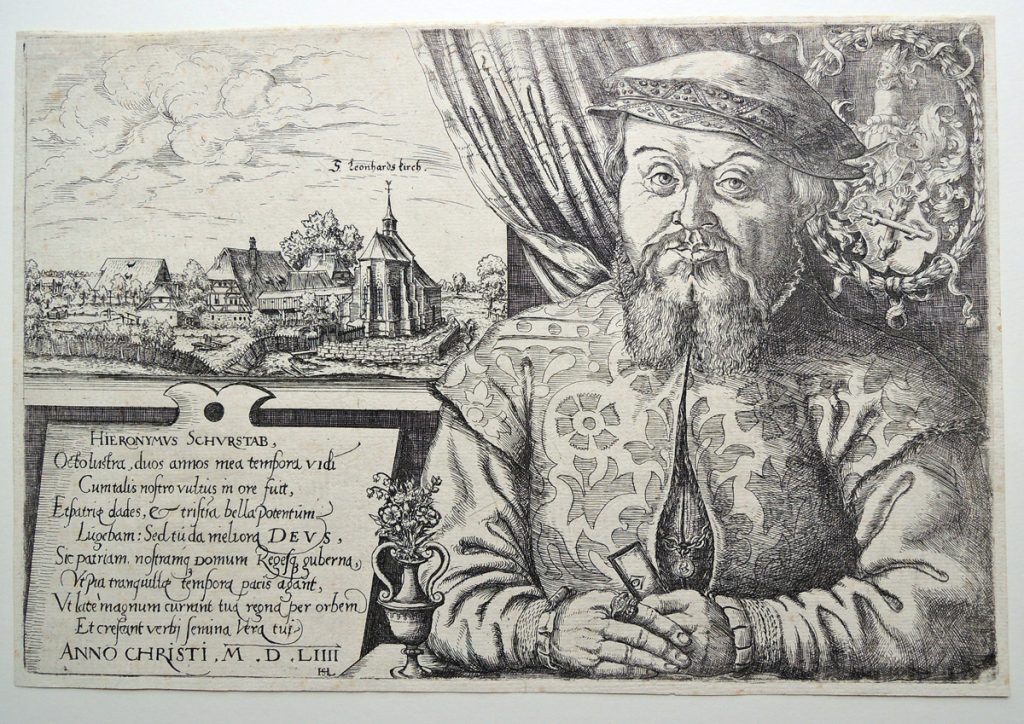 Hanns Lautensack (ca. 1520-1564/66), Portrait of Hieronymus Schürstab, 1554. Etching. II/II. Graphic Arts Collection GAX 2017- in process.
The German printmaker, draftsman, and medalist Hanns Lautensack used the printer's mark H.S.L. (under the Latin text), which has led to confusion in his name. Some assume the mark included his middle name, often written as Hans Sebald Lautensack, but recent sources suggest that his name and mark ought to be read Ham Lauten-Sack. For now, the Getty's Union List of Artist Names uses Hanns alone and so do we.
The Graphic Arts Collection recently acquired one of the last works Lautensack etched before leaving Nuremberg for Vienna, a lifetime portrait of Hieronymous (or Jerome) Schürstab (1512-1573). "Schürstab was a prominent member of the Nuremberg city council," writes Jeffrey Chipps Smith. "From 1545 he served as the bürgermeister and from 1558 as the alter bürgermeister (elder or senior mayor)." —Nuremberg, a Renaissance City, 1500-1618 (Marquand Oversize N6886.N9 S64q).
For a Schurstab-Rheticus-Copernicus connection, see chapter 6, pages 86-87 of The First Copernican by Dennis Richard Danielson (Firestone QB36.R38 D36 2006).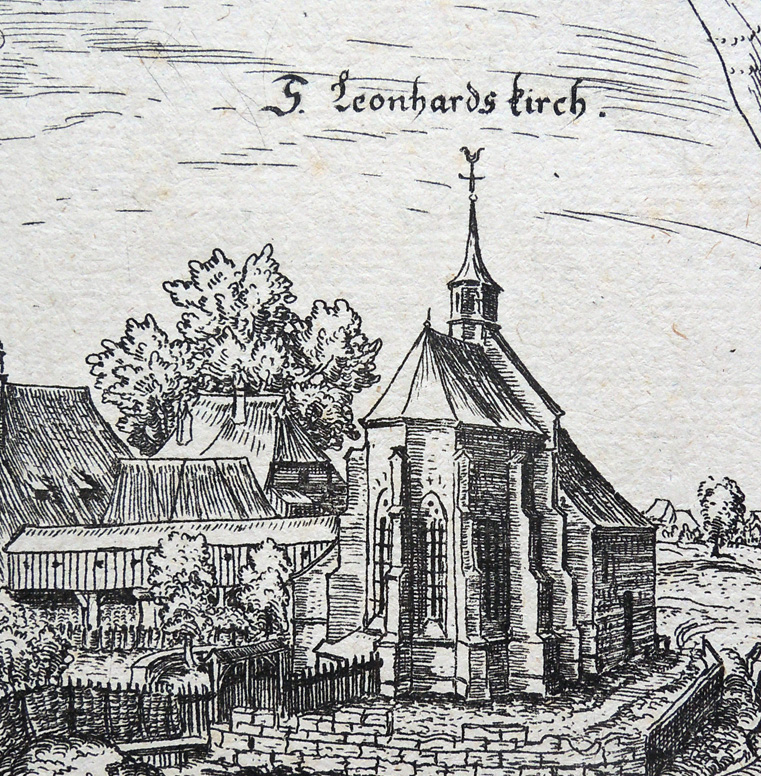 The church in the distance is identified as the St. Leonhard church and infirmary, located southwest of Nuremberg. St. Leonhard was established by one of Schürstab's early relatives and several years after the portrait was published, he was appointed one of its overseers.
However, when this portrait was etched, Schürstab was a guardian of St. Peter's and it has been suggested that the building in this landscape actually represents St. Peter's. Five years later, when Schürstab transferred to St. Leonhard, he hired an artist to add the inscription to the plate and a second edition of his portrait was printed. See F.W.H. Hollstein, German Engravings, Etchings, and Woodcuts. XXI, no.68.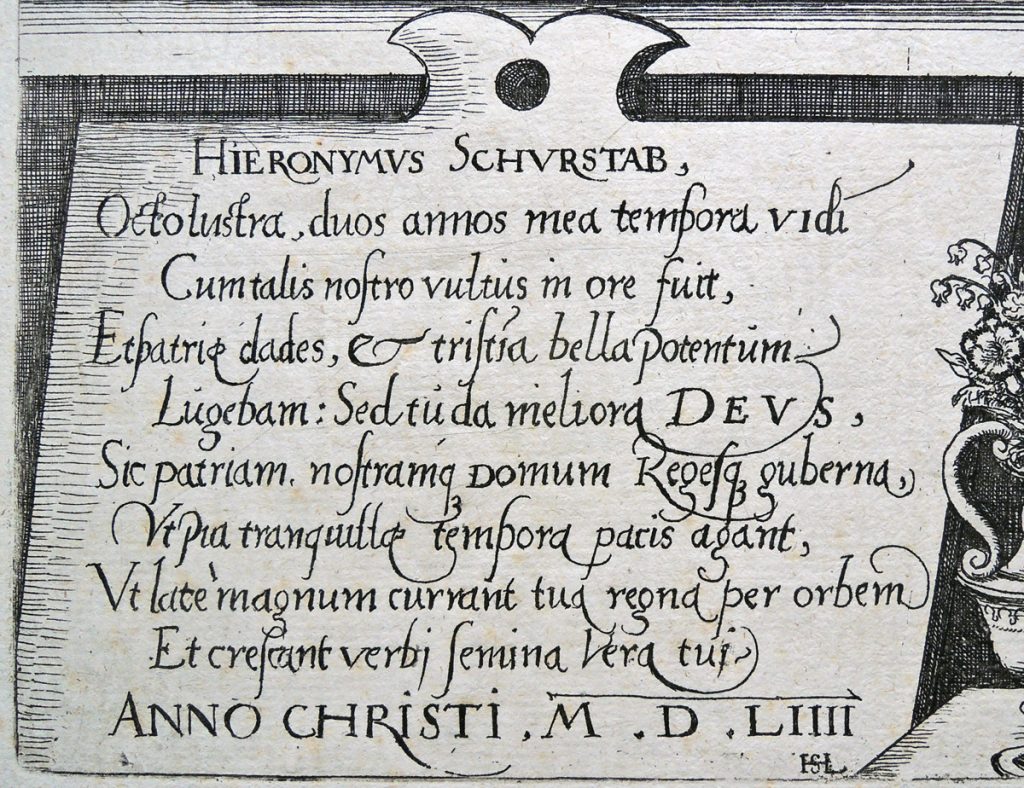 Latin text:
Hieronymus Schürstab
Octo lustra, duos annos mea tempora vidi
Cum talis nostro vultus in ore fuit,
Et patriae clades, et tristia bella potentum
Lugebam: Sed tu da meliora Deus,
Sic patriam nostramque Domum Regesque guberna,
Vt pia tranquillae tempora pacis agant,
Vt late magnum currant tua regna per orbem
Et crescant verbi semina vera tui.
Translation:
Hieronymus Schuerstab
For forty-two years I saw my times,
While such an aspect of things was always before us.
I have mourned the calamity of the homeland, the bitter wars of the powerful.
But give us better things, o God!
So govern our land, our homeland and our kings,
That they might bring about such faithful times of tranquil peace,
That far and wide, throughout the great earth, Thy domains should run,
And the true seeds of Thy word should thrive.
(translation by Mark Farrell)