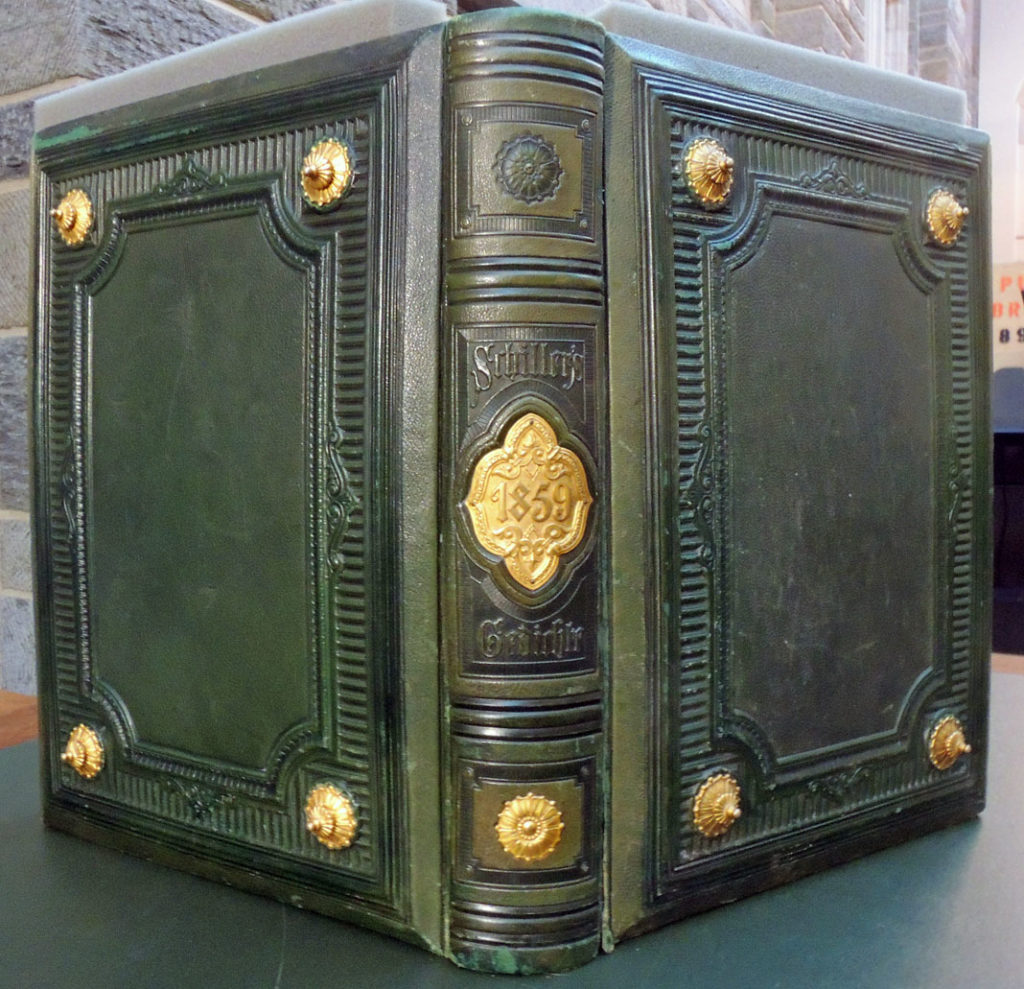 When Lucien Goldschmidt and Weston Naef got to Schiller's Gedichte, while working on The Truthful Lens, they did not mince words but described it as "the most sumptuous early German book illustrated with photographs." —The Truthful Lens: a Survey of the Photographically Illustrated Book, 1844-1914 , no. 145 (1980). GARF Oversize TR925 .G73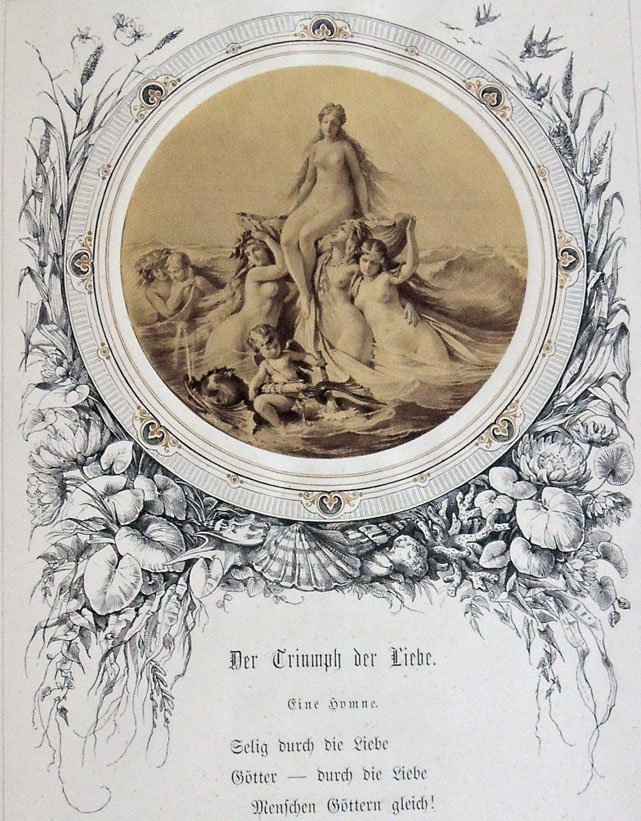 To mark the centenary of Friedrich Schiller's birth, a Jubiläum (anniversary) edition of his poems was published between 1859 and 1862, decorated with 44 albumen silver prints by Joseph Albert (1825-1886), after drawings by Böcklen, Kirchner, C. Pilothy, F. Pilothy, Ramberg, Schwind, and others. Throughout the text are woodcuts by an unidentified artist after designs by the Nazarene artist Julius Schnorr von Carolsfeld (1794-1872).
The Graphic Arts Collection is fortunate to have acquired this extraordinary book, beautifully bound in beveled-edge wooden boards covered with dark green embossed morocco and brass-corner bosses.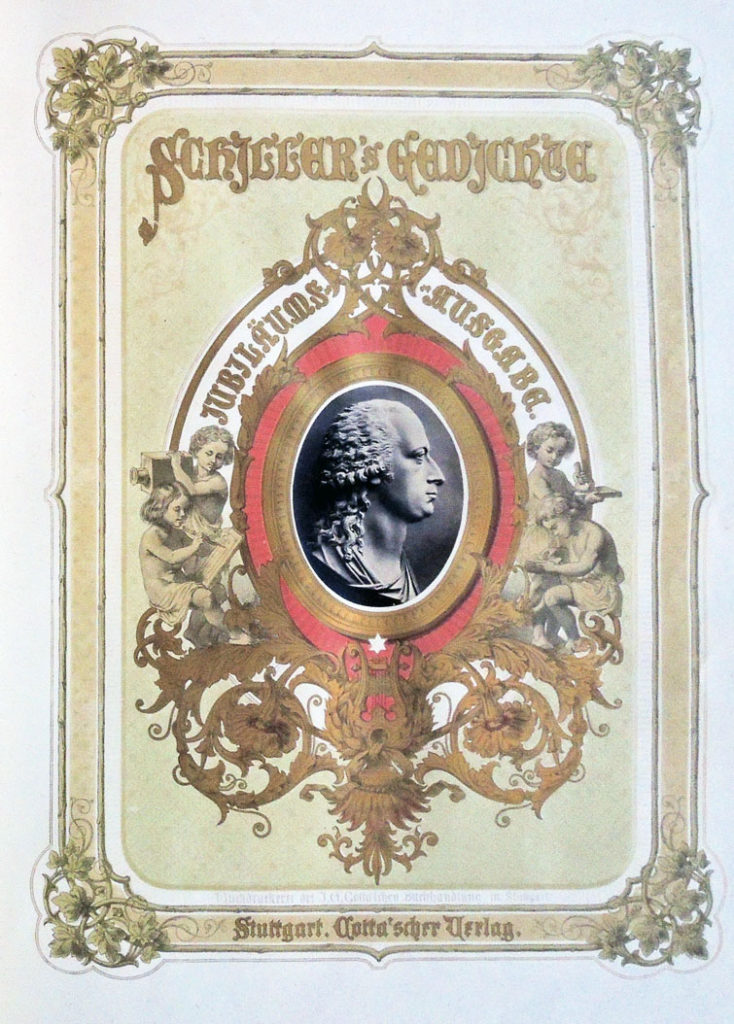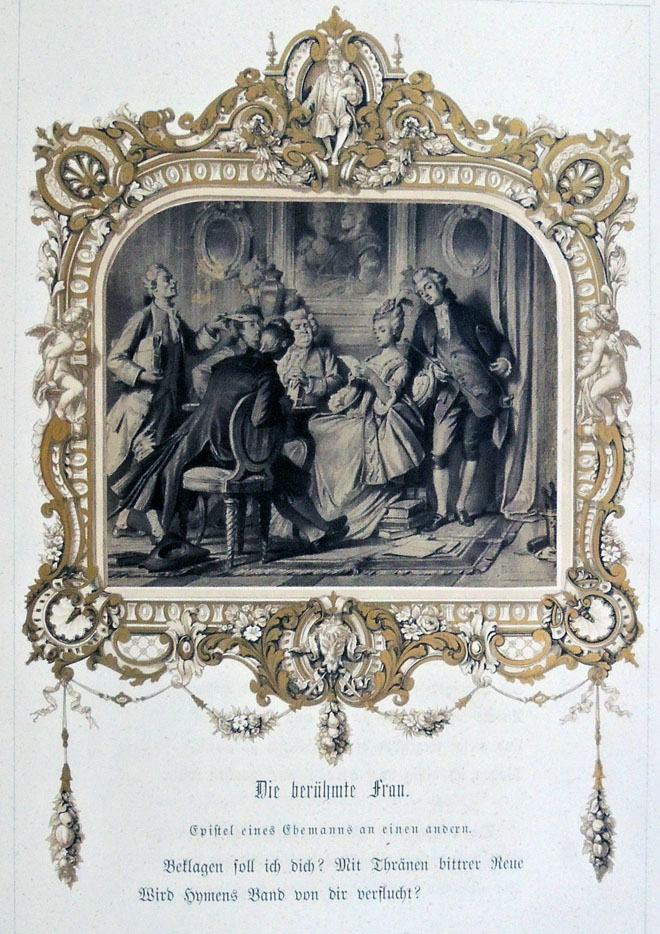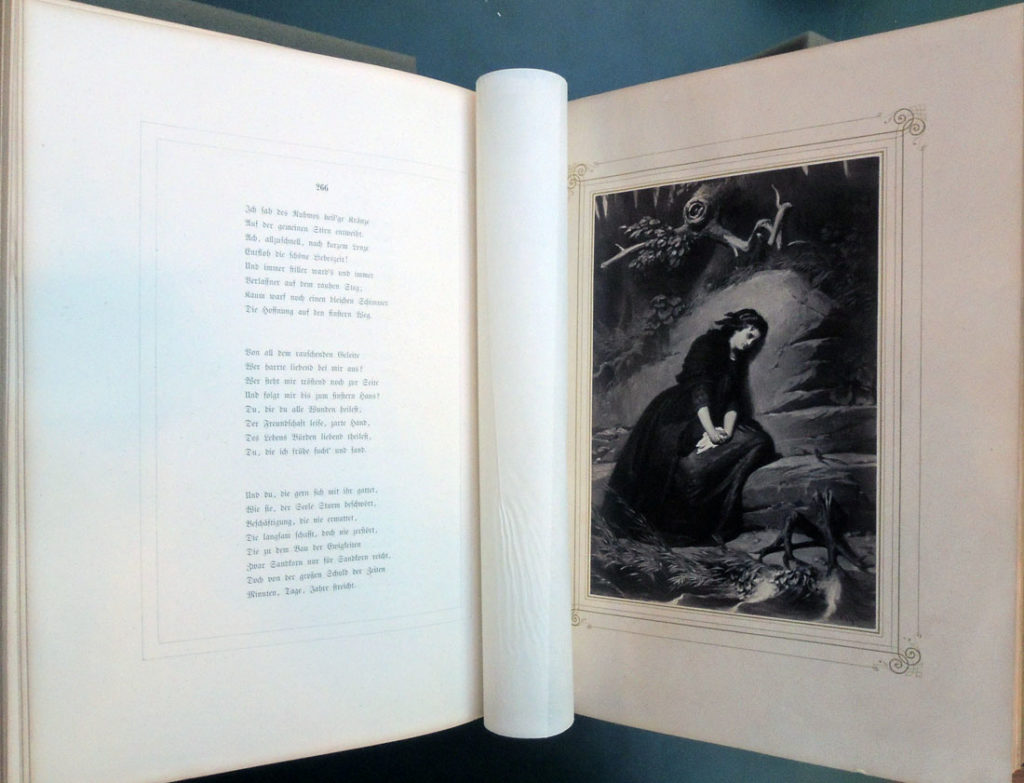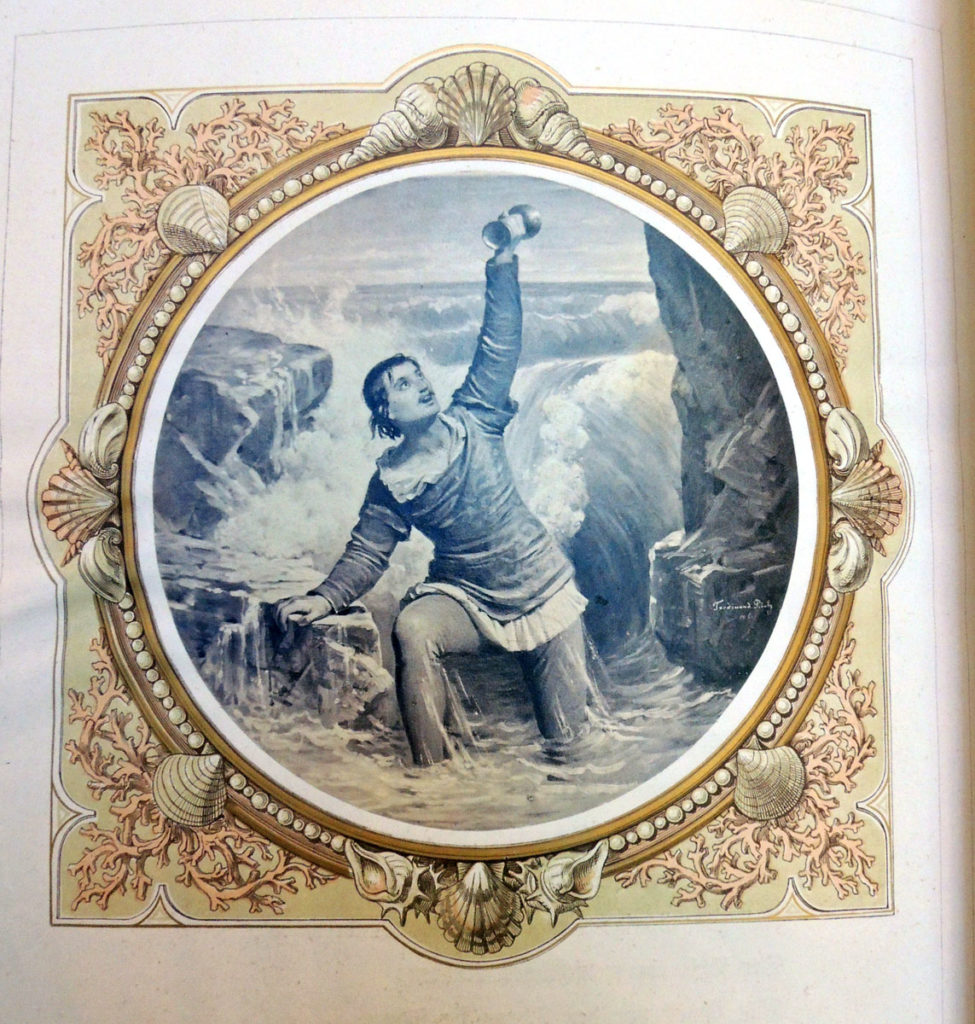 Friedrich Schiller (1759-1805), Schiller's Gedichte, mit Photographieen nach Zeichnungen von Böcklen … [et al.]; und Holzschnitten nach Zeichnungen von Julius Schnorr (Stuttgart: Cotta, 1859-1862). Graphic Arts Collection GAX 2017- in process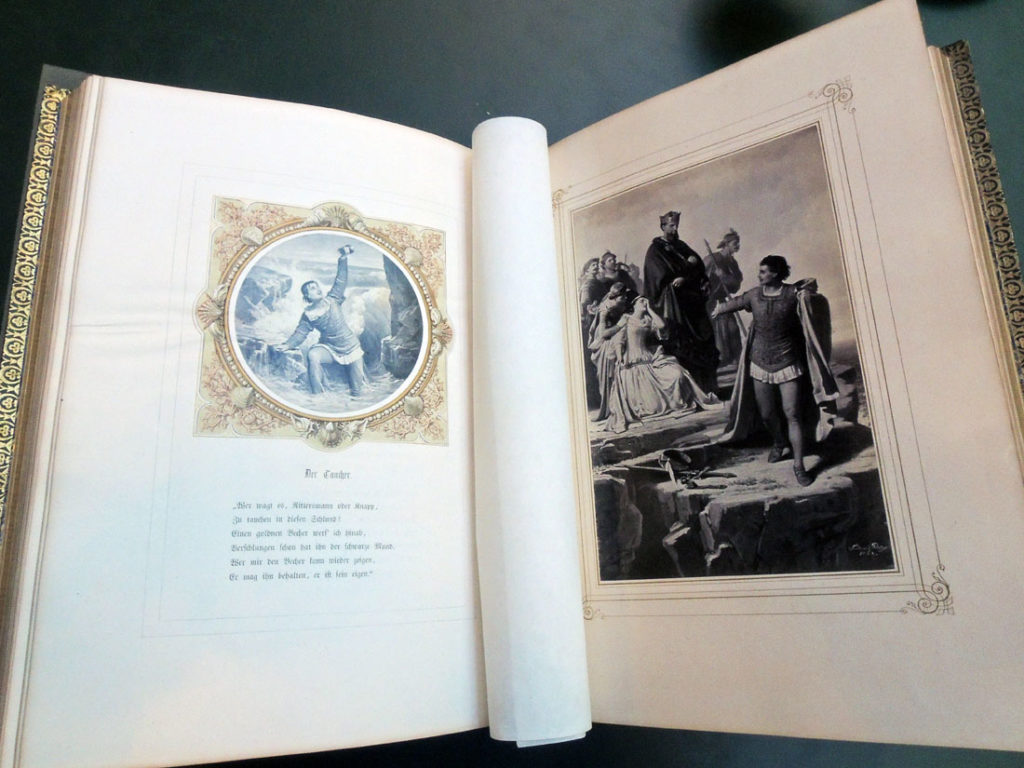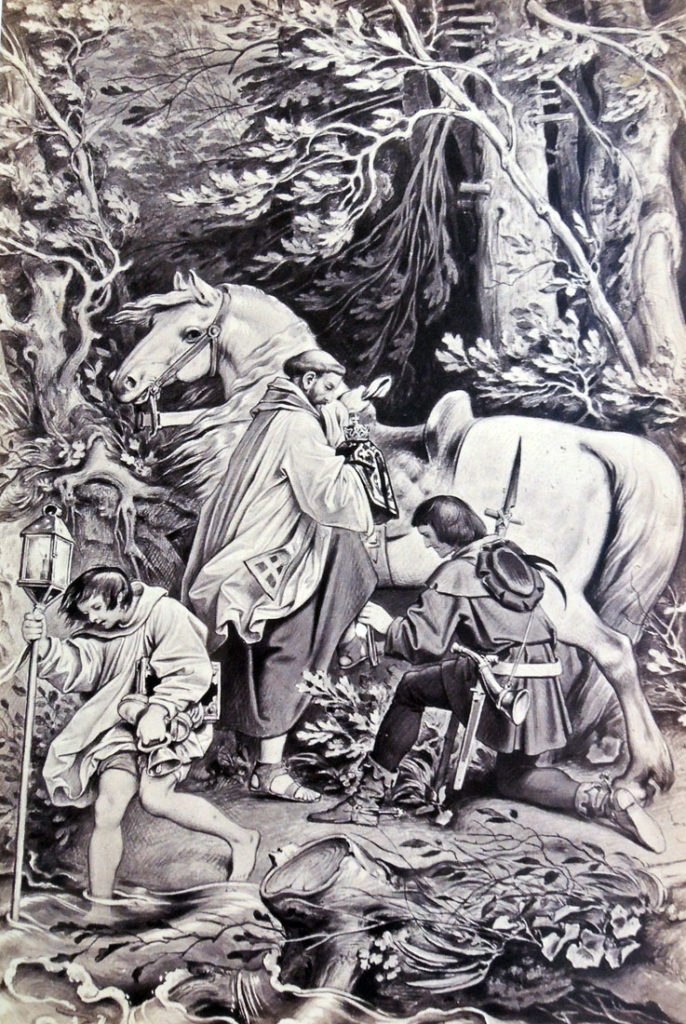 Ode To Joy
Friedrich Schiller, translated by William F. Wertz (first section)
Joy, thou beauteous godly lightning,
Daughter of Elysium,
Fire drunken we are ent'ring
Heavenly, thy holy home!
Thy enchantments bind together,
What did custom stern divide,
Every man becomes a brother,
Where thy gentle wings abide.
Chorus.
Be embrac'd, ye millions yonder!
Take this kiss throughout the world!
Brothers—o'er the stars unfurl'd
Must reside a loving Father.
Who the noble prize achieveth,
Good friend of a friend to be;
Who a lovely wife attaineth,
Join us in his jubilee!
Yes—he too who but one being
On this earth can call his own!
He who ne'er was able, weeping
Stealeth from this league alone!
Chorus.
He who in the great ring dwelleth,
Homage pays to sympathy!
To the stars above leads she,
Where on high the Unknown reigneth.
Joy is drunk by every being
From kind nature's flowing breasts,
Every evil, every good thing
For her rosy footprint quests.
Gave she us both vines and kisses,
In the face of death a friend,
To the worm were given blisses
And the Cherubs God attend.
Chorus.
Fall before him, all ye millions?
Know'st thou the Creator, world?
Seek above the stars unfurl'd,
Yonder dwells He in the heavens.