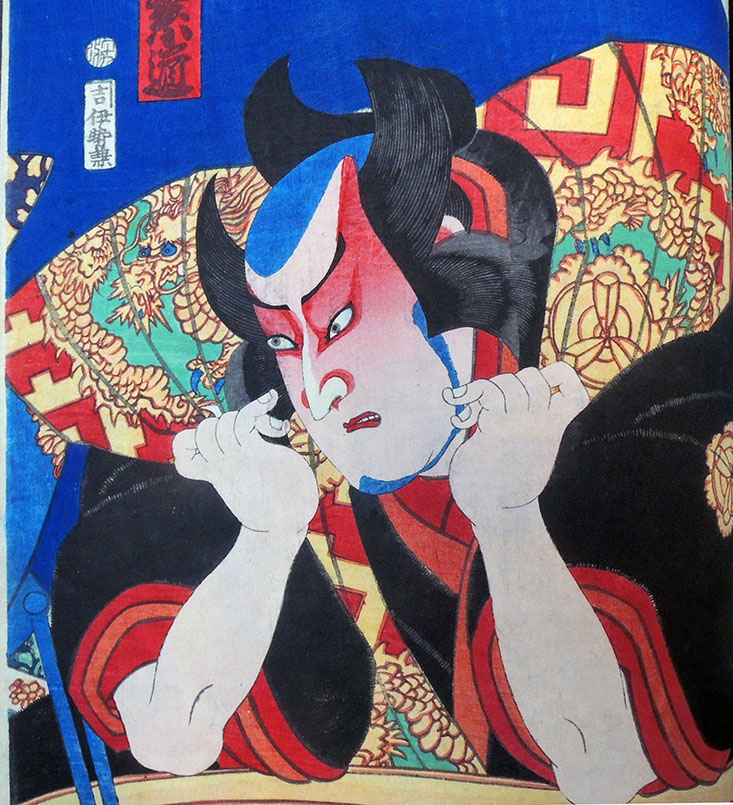 (detail)
Thanks to funds provided by the estate of Gillett G. Griffin (1928-2016), the Graphic Arts Collection has acquired a unique album of 56 superb color woodblock prints by Toyohara Kunichika 豊原国周 (1835-1900). A theater bill has been placed at the front of the album, in which the actors of these portraits are listed in the manner of sumo contestants, followed by the sequence of color woodblock prints. Blockcutters include Katada Horichô, Uta Hori, and Hori Ei; and printers Yamamotoya, Kagaya, Kyu, Kinjudô, Kineidô, and Koeidô. The portraits are chiefly the male actors of the Kabuki theater, many of whom were known personally by the artist.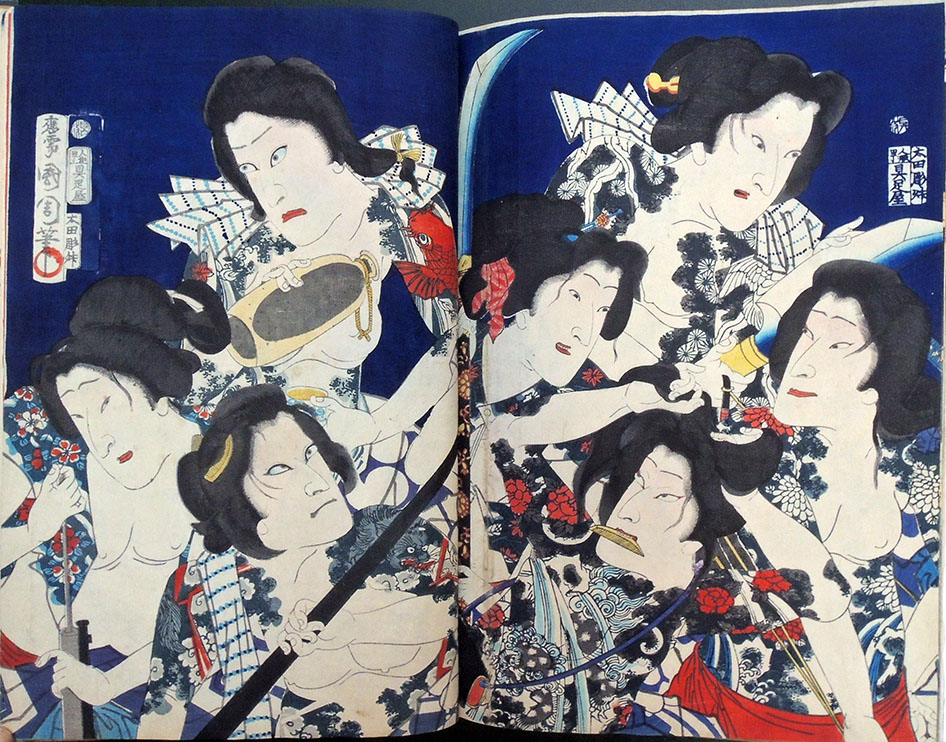 Toyohara Kunichika (1835–1900), First two (left and center) of triptych: A Shuihuzhuan of Beautiful and Brave Women (Kayûjo Suikoden): Actors Bandô Hikosaburô V, Onoe Kikugorô V, Sawamura Tosshô II (R), Ôtani Tomoemon V, Sawamura Tanosuke III, Iwai Shijaku II, Nakamura Shikan IV (C), Kawarazaki Gonnosuke VII, Bandô Mitsugorô V = 「花勇女水滸傳」 五代目坂東彦三郎、五代目尾上菊五郎、二代目沢村訥升  五代目大谷友右衛門、三代目沢村田之助、二代目岩井紫若、四代目中村芝翫  七代目河原崎権之助、六代目坂東三津五郎、三代目市川九蔵, 1869 (Meiji 2). Publisher Gusokuya Kahei, Blockcutter Ôta Masukichi (Hori Masu). Color woodblock print.
A complete list of the 56 prints with English translations is in process and will be posted in the future.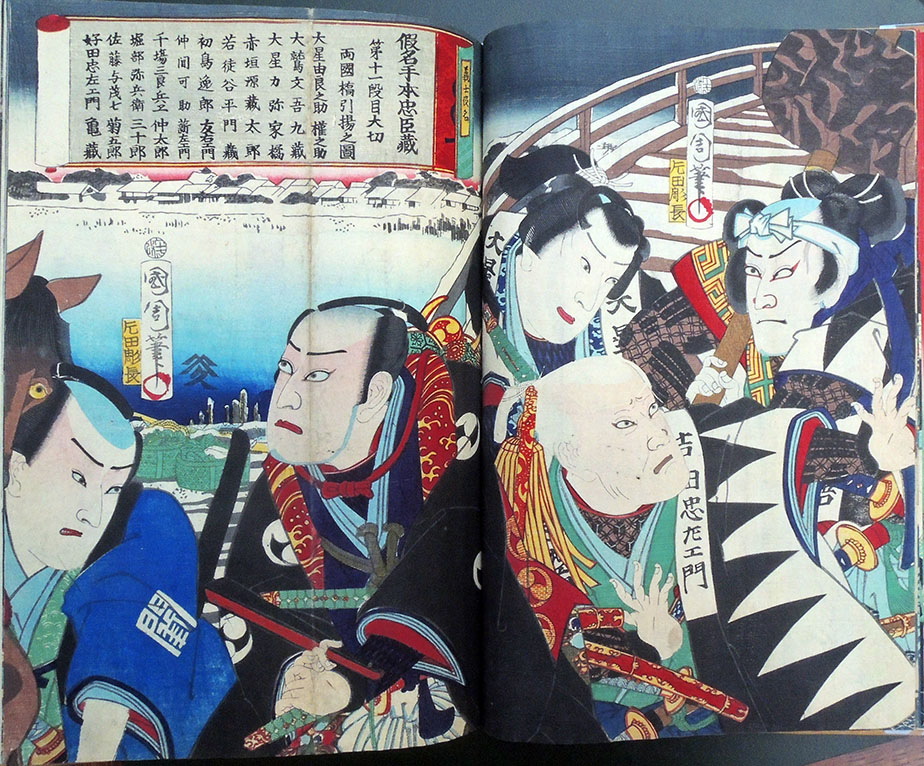 Kunichika was apprenticed to Utagawa Kunisada at thirteen having previously worked in the studio of the artist Toyohara Chikanobu (not his more famous contemporary of the same name) – his artist's name being a composite of his two teachers as was the custom. His first confirmed print is from 1854 but his mature works begin in the early 1860's. Kunichika was above everything an artist of the theatre. The vast majority of his output was concerned with actor portraits – as demonstrated in his great series 100 Roles of Ichikura Danjuro, in depictions of kabuki performances or scenes from well known plays. Despite his obsessive interest in kabuki, some of his best work remains the non-theatrical series, notably 36 Good and Evil Beauties.
–The Toshidama Gallery, where you can also find an 1898 interview with the artist transcribed and translated, http://www.kunichika.net/
Japanese print collectors will recognize many of the actors found in this album from facial features, even without the extensive cartouches, which also provide details on of the plays in which they were appearing. Among them are contemporary stars such as Nakamura Shikan IV (part of an acting dynasty tracing its lineage from 1818 to the twenty-first century), and Ichikawa Sadanji I (1842-1904), one of the leading Kabuki actors of the Meiji period, alongside Ichikawa Danjuro and Onoe Kikugorô.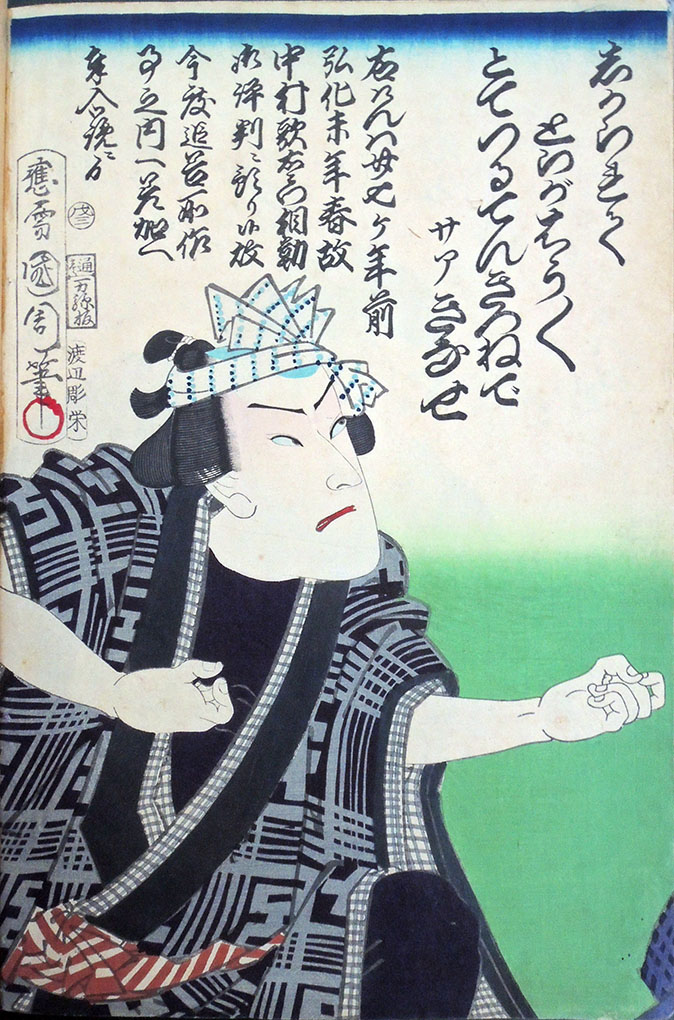 Toyohara Kunichika, [Woodblock prints of Kabuki actors]. [Tokyo], Meiji 2-Meiji 7 [1869 -74]. Folio album (380 × 254 mm) containing 56 prints. French cloth binding, ca. 1900 with onlaid suminagashi marbled paper. Purchased with funds provided by the estate of Gillett G. Griffin. Graphic Arts Collection GAX 2018- in process.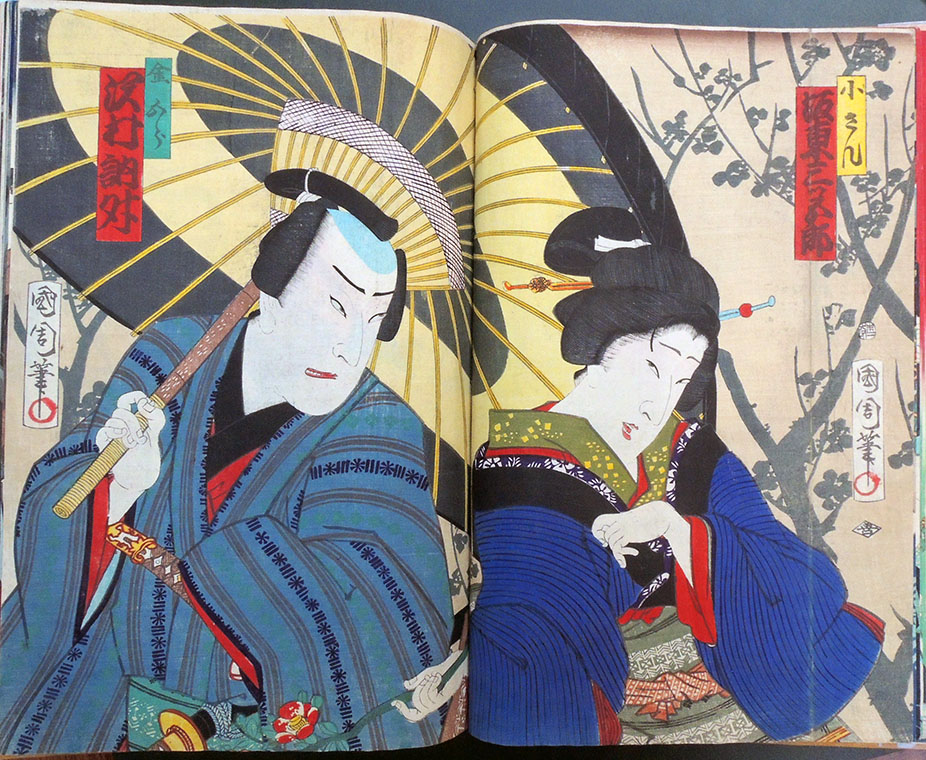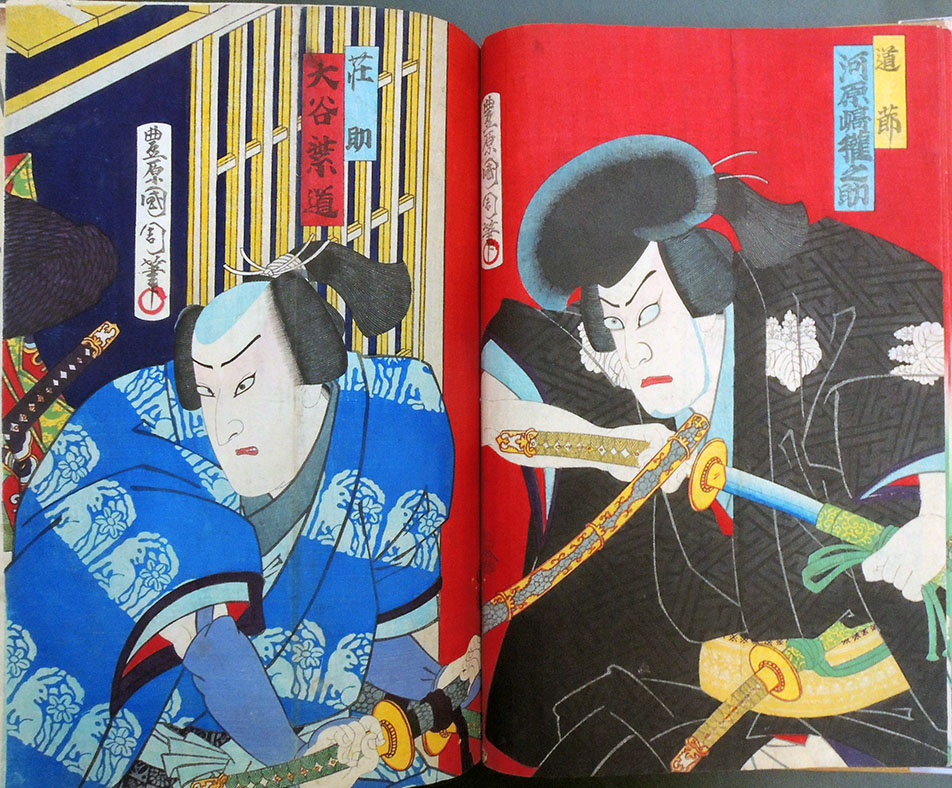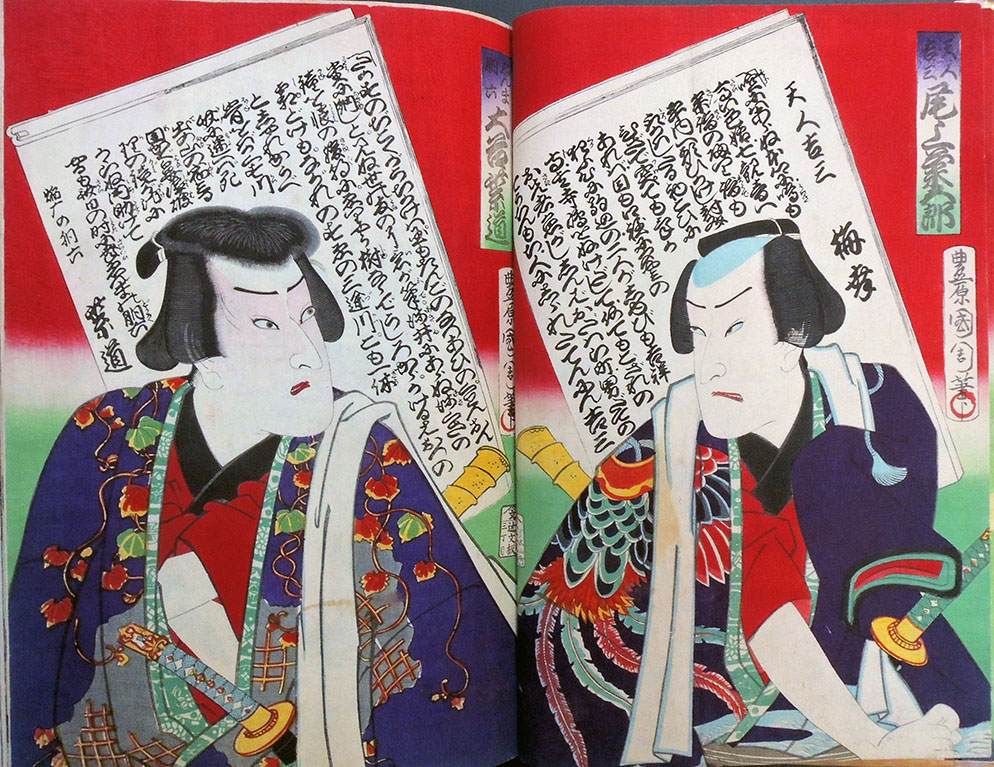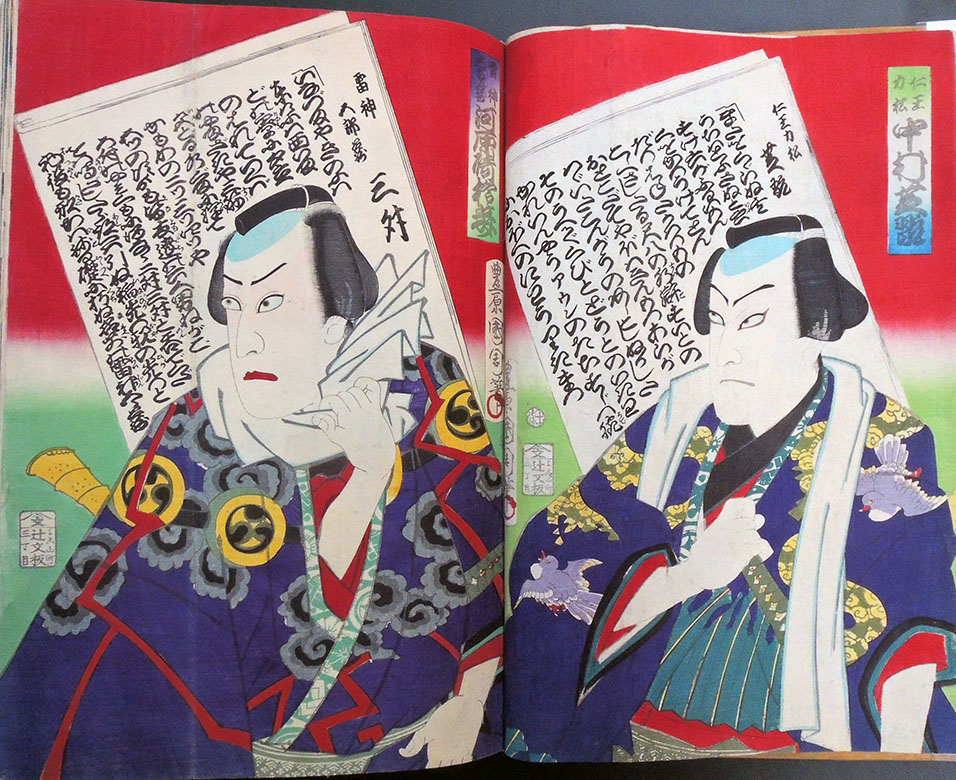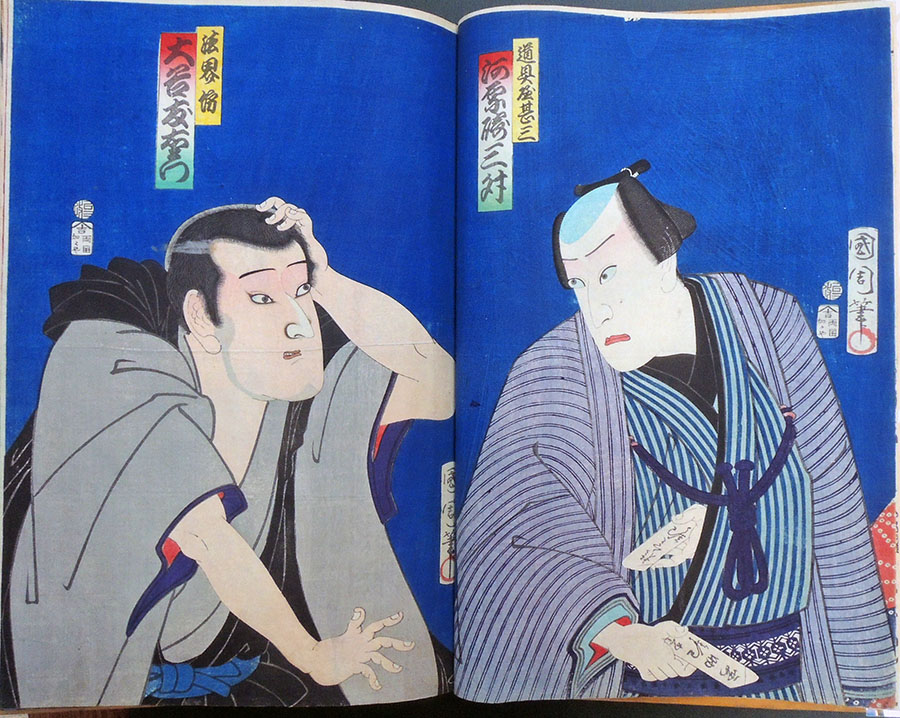 By one report, Toyohara Kunichika changed residences over 110 times while changing wives 40 times.  He  once boasted, "Although I can't equal Hokusai in art, I beat him in the number of times I've moved."  He spent money as in the saying, "A true Tokyoite doesn't save a penny even for one night" and although he was a heavy drinker, he possessed fine manners.  Indeed, Kunichika's life is full of colorful anecdotes. Kunichika was known as one of "The Three Greats of Meiji Ukiyo-e", along with Yoshitoshi Tsukioka (1839-1892) and Kiyochika Kobayashi (1847-1915), and received praise as the "Meiji Sharaku", a reference to the Edo period Ukiyo-e artist, Sharaku.
Source: Database on Yakusha-e Prints from the Ohe Naokichi Collection of Toyohara Kunichika's Ukiyo-e Prints, Kyoto University Art and Design http://kensaku.kyoto-art.ac.jp/ukiyoe/kuni_e.html and Time Present and Time Past: Images of a Forgotten Master: Toyohara Kunichika (1835-1900) by Amy Reigle Newland (1999)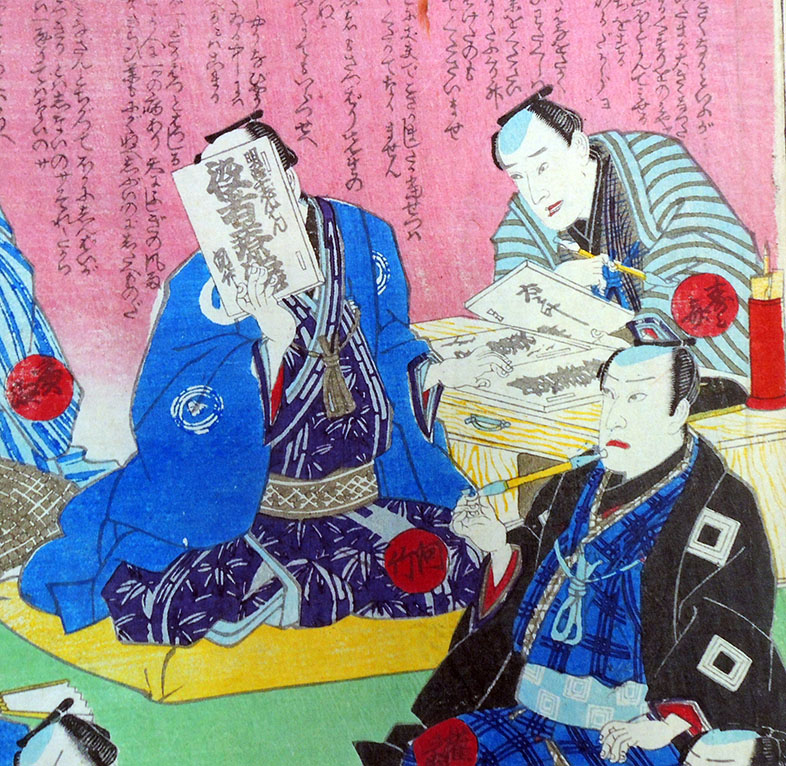 (detail)