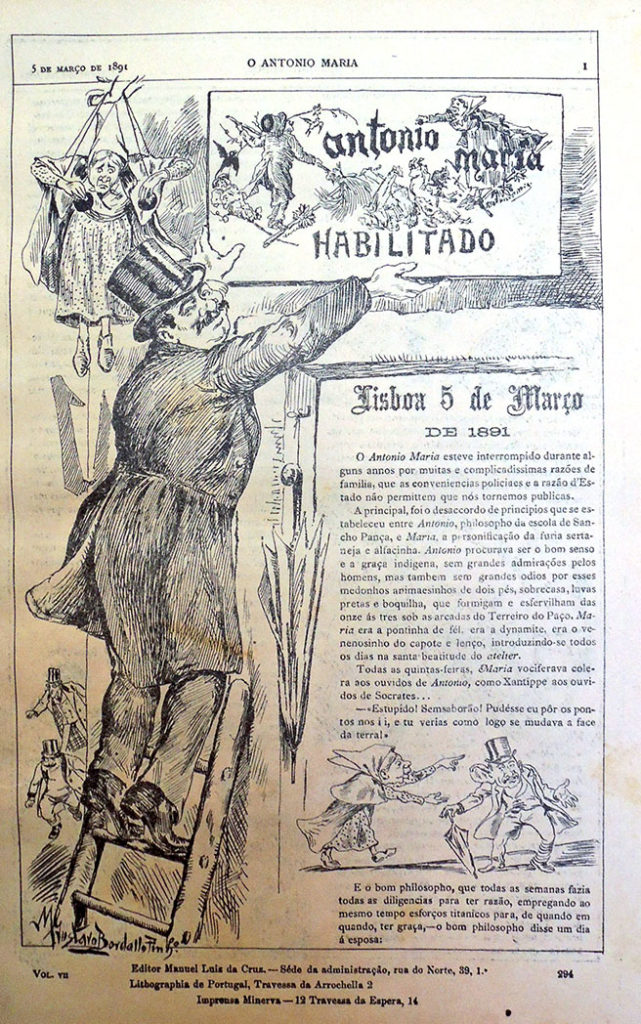 O António Maria, edited and directed by Rafael Bordalo Pinheiro (Lisbon). Complete: Vol. 1, No. 1 (June 12, 1879) to Vol. 7, No. 3 (January 21, 1885)
Ponto nos II, edited and directed by Rafael Bordalo Pinheiro (Lisbon). Complete: Vol. 1, No. 1 (May 7, 1885) to Vol. 7, No. 293 (February 5, 1891). Graphic Arts Collection GAX 2019- in process
Few artists rise to such stature that an entire museum is created in their honor. Rafael Bordalo Pinheiro (1846-1905) is such a talent. The Rafael Bordalo Pinheiro Museum and Library in Lisbon describe him as
"a striking figure of the Portuguese culture of the second half of the 19th century. He was born in Lisbon on Rua da Fé on March 21, 1846 [and] followed the family tradition of a life dedicated to the Arts. An enterprising and multifaceted artist, he has traveled a very personal way, dedicating himself to the graphic arts, plastic arts, ceramics, drawing of objects and decoration, producing a vast work that almost always critically reflects the daily cultural, political and social of the time in that lived.…

Pinheiro was also innovative, developing humorous design and cartoon as an artistic expression. Integrating the circle of intellectuals and artists who defined the Generation of 70 [ also called the Generation of Coimbra]… to show a true portrait of the society of that time. Conscious of the power and strength of the press, he founded several periodicals, using caricature as a vehicle for the defense of his ideals."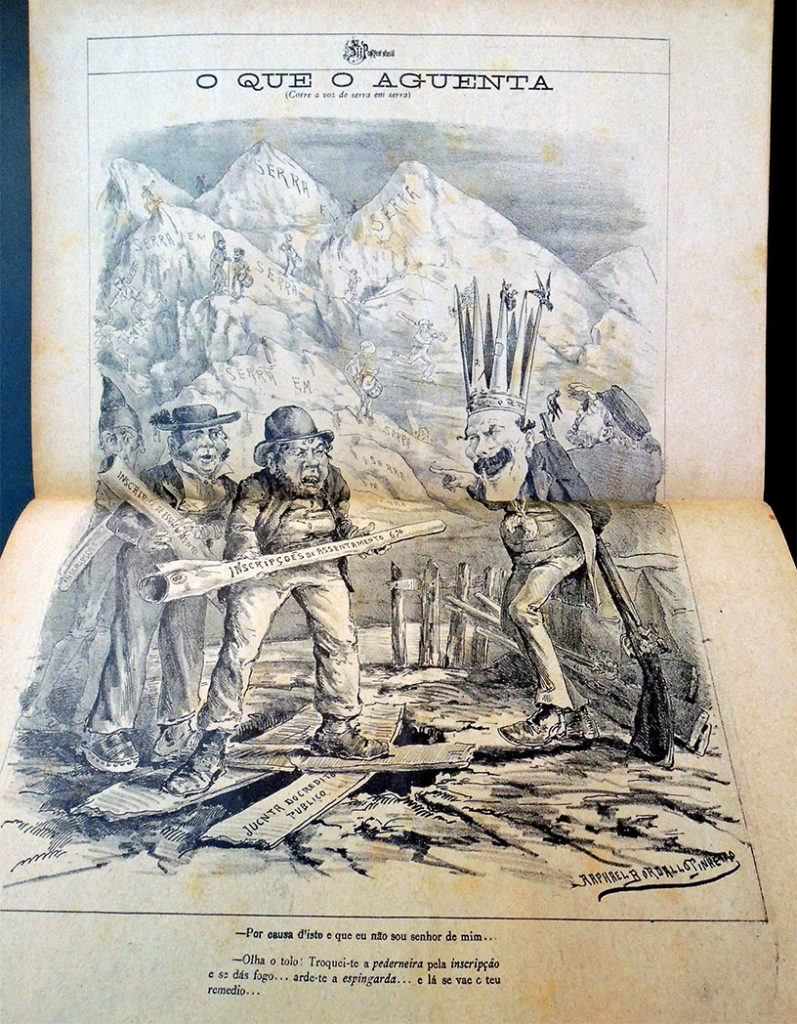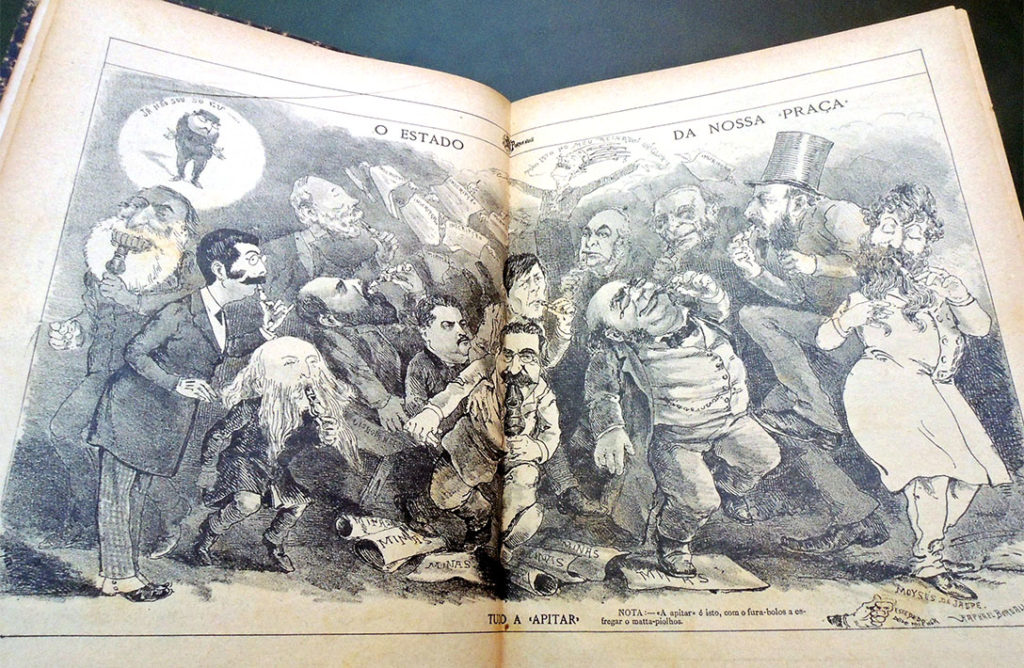 The Graphic Arts Collection has acquired complete runs of two of Pinheiro's satirical magazines, openly political and focused on changing public opinion against the corruption in the Portuguese government of that period. While extremely popular O António Maria faced opposition from various agencies and in 1884, the government passed new laws, resulting in serious limitations to freedom of the press. Publication of the magazine ended in January 1885.
After several months and a change of title, Pinheiro began once again with Ponto nos II, this time joined by his son, Miguel Gustavo Bordalo Pinheiro. One reviewer notes: "Ponto nos II goes beyond the erosive action of political caricature. In its pages also there is space for the news, the chronicle, literary activity, the success of exploration trips in Africa, the Portuguese representation at the Paris International Fair."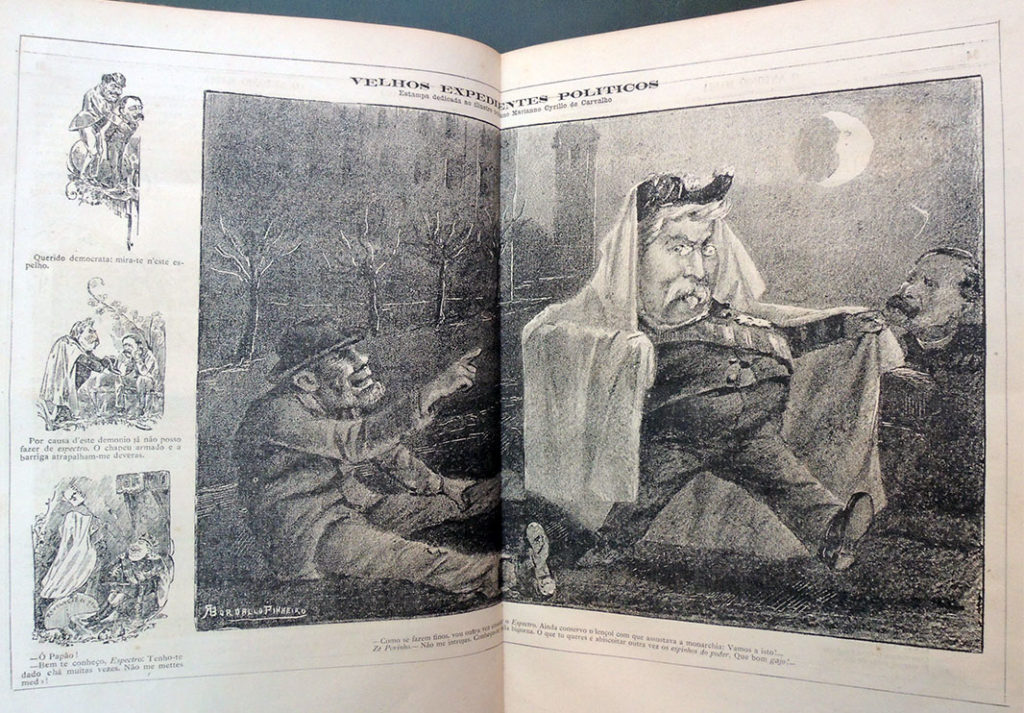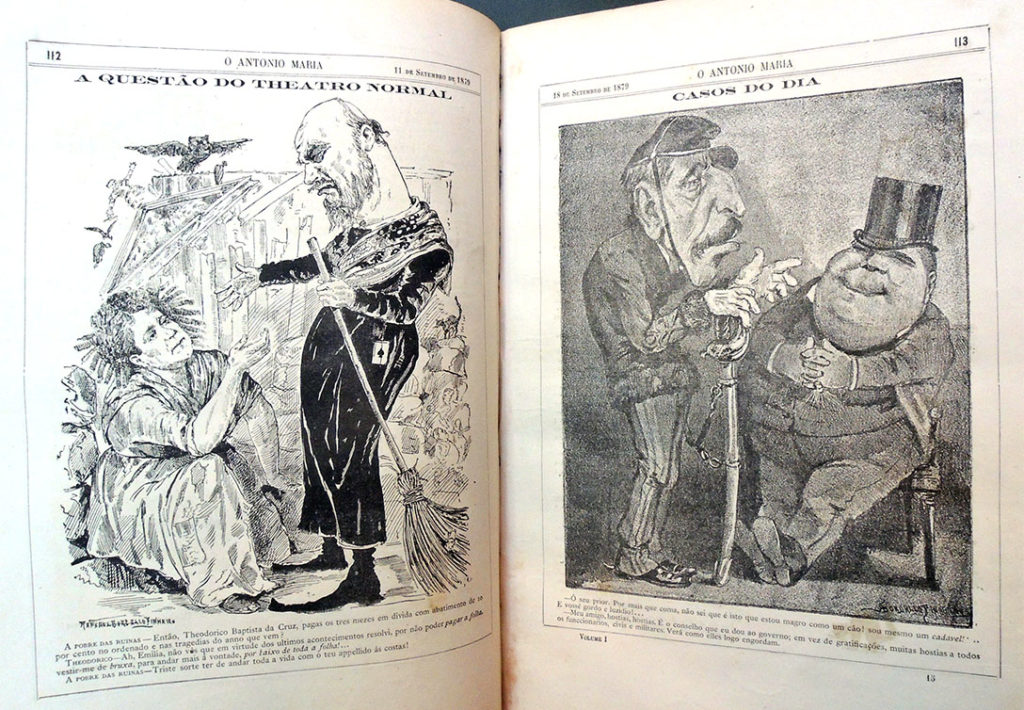 An additional note comes from the dealer:
From the middle of 1889, colonial policy, within the framework of the conflict of interests between Portugal and England, is the theme that dominates weekly the pages of Ponto nos ii. In the face of the government's vacillations before the "English arrogance," the weekly assumes itself as the mouthpiece of national interests and calls everyone to fight. The allusions to republicans and to the Republic also grow. Political tension and popular outrage roar on every page.

On 31 January, the Republican revolt erupts in Porto, a fact the newspaper Pontos nos ii does not hesitate to analyze in the following numbers: "Cowards!" In February of the following year, the same author will present a more sober reading of the events. It is a true republican manifesto that Ponto nos ii welcomes in its pages. The price of such high courage is not unexpected: the newspaper is suspended.
Thanks to Fernando Acosta-Rodríguez, Librarian for Latin American, Iberian, and Latino Studies at Princeton University Library for his help with this acquisition.