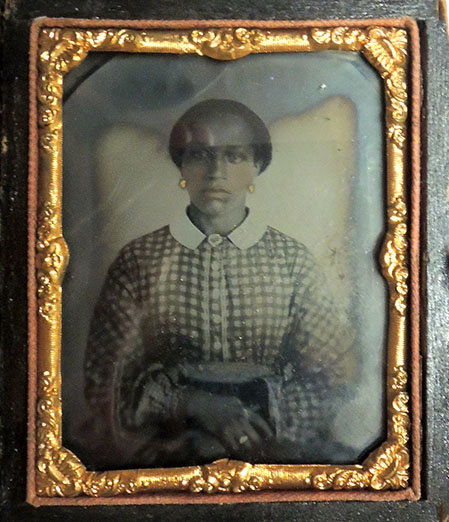 The Graphic Arts Collection recently acquired a 19th-century cased image of an unidentified woman that was sent through the mail. The ninth-plate ambrotype (2 1/2 x 2 inches) is a formal studio portrait of an African American woman with earrings and brooch hand-colored in gold. A note on the case reads: "Mr. Scroggins, Portsmouth Va., Box 1036," crossed out to read "601" and stamped "ADVERTISED" by the dead-letter office. We presume the date to be late 1850s or early 1860s.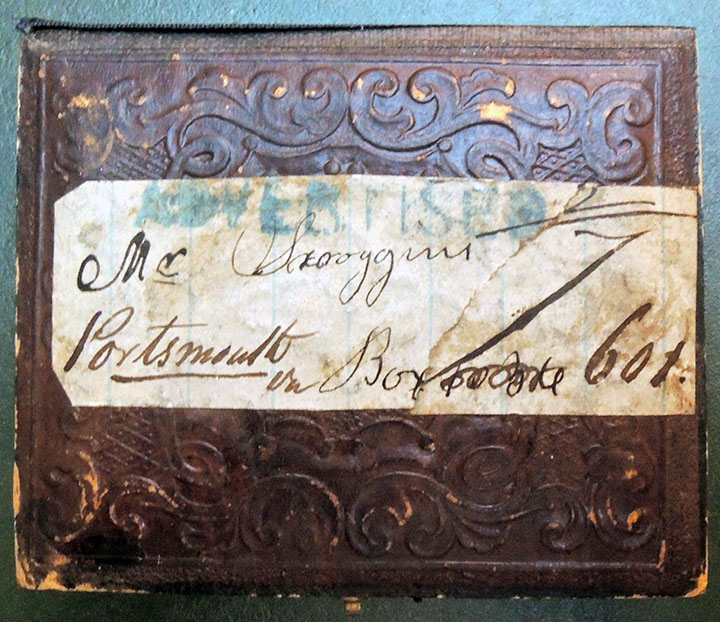 This portrait was delivered through the mail to a Virginia address, but was undeliverable, and marked "ADVERTISED" by the post office. It was found among other similar photographs from a dead-letter office. Was Mr. Scroggins a plantation owner being offered a new house slave or a free African American gentleman getting a picture of a family member? There are many potential connections:
https://bellegrove.org/about/enslaved : The name Scroggin turns up in a note "secured" by Jno Scroggin to pay for the freedom of an enslaved man at Bellegrave Plantation, Virginia. Mr. Scroggin might have been active in securing the freedom of others.

The selection above is taken from Temple Tsenes-Hills, I Am the Utterance of My Name (2006), which tells the story of Frances Jane Scroggins, born enslaved in Virginia but emancipated. Might this be connected?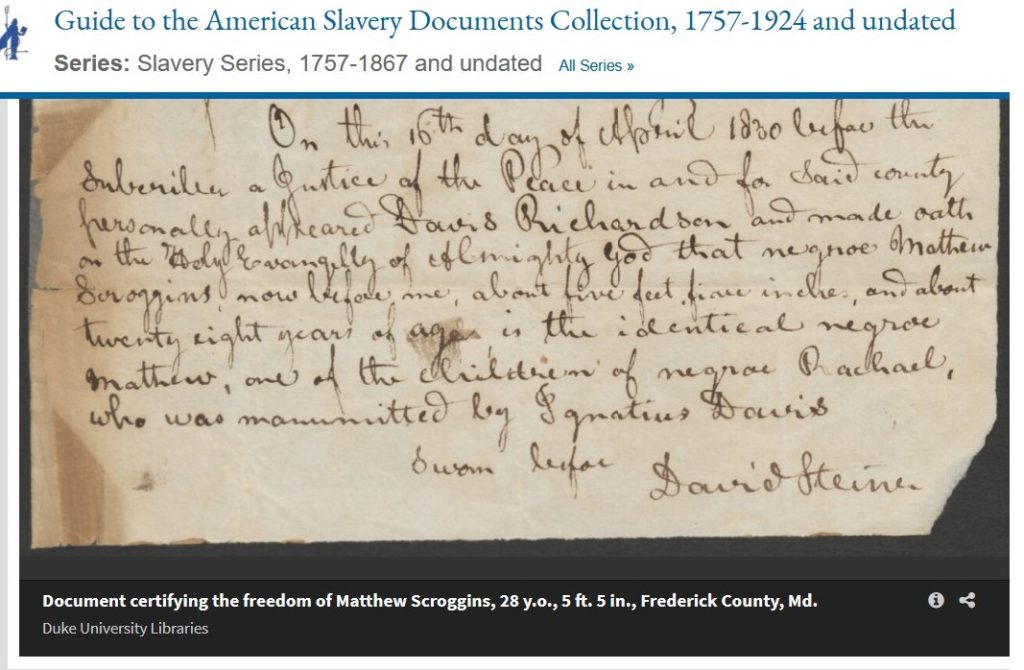 Might the portrait have some connection with this document [above] certifying the freedom of Matthew Scroggins? Not Virginia but also not far away. If you can help us with this intriguing story, please send your research suggestions or results.
The second cased image recently acquired by Graphic Arts has a named sitter: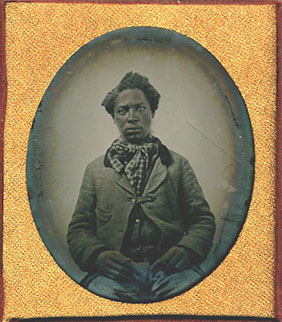 This sixth-plate ambrotype is a formal studio photograph of Caesar, an officer's servant near Washington. A small note traveling with the case reads: "W DeW Pringle body servant Caesar while serving in the Civil War, 1862."
The dealer's note provides additional research:
A sharp and striking portrait of an Army servant, very likely a freedman, taken during the early period of the war. Contrabands escaping to freedom did not yet have the option of military service before 1863, but often found employment as personal servants for army officers.

Caesar's employer Lieutenant William DeWolf Pringle (1840-1930) of Lockport, NY, was chosen as an officer for the 22nd New York Light Artillery Battery in September of 1862, which became part of the 9th New York Heavy Artillery Regiment in early 1863; he served there through October 1864. His unit served on the defenses of Washington through May 1864, and then went out on the Overland and Shenandoah Valley campaigns.

His father Benjamin Pringle (1807-1887) has served two terms as a United States Congressman, and in 1863 was appointed by President Lincoln to serve as a judge in South Africa on a special court for prosecuting the international slave trade. After the war, Lieutenant Pringle was a lawyer in Hastings, Minnesota, near where this ambrotype was found.