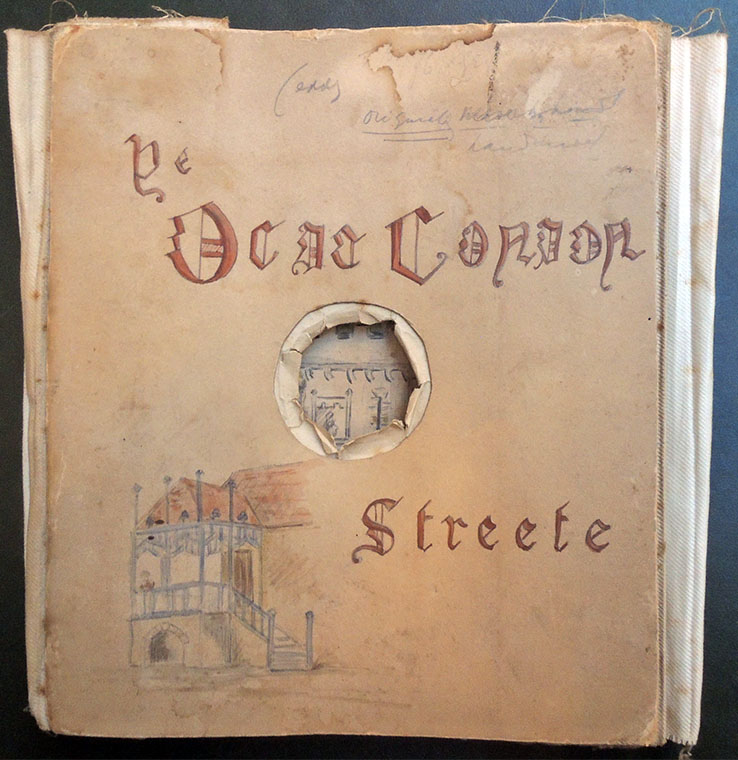 Ye olde London streete ([London], 1884). Peepshow [also called a tunnel book] with 6 watercolored panels. Graphic Arts Collection GAX 2019 in process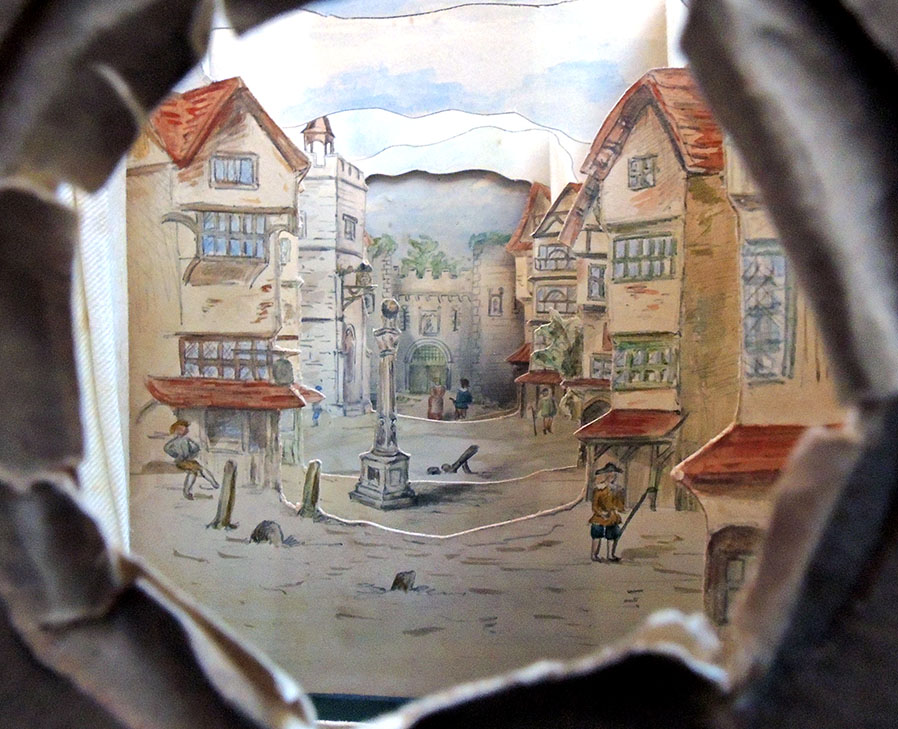 Between the Cotsen Children's Library and the Graphic Arts Collection, Princeton holds a large collection of European and American tunnel books. Here is one of our newest acquisitions.
In this example, the panels are attached to each other with cloth sides, making the whole easily foldable, like an accordion book. It offers a view of an imaginary old London street that was reconstructed at the International Health Exhibition of 1884. The street was made out of real houses, some four or five stories high and was built to give a contrast to the modern sanitary advancements. It proved to be the most visited exhibition.
The artist's initials "G.C.S." are struck through in pencil, followed by what we presume to be the owner's name: Mary Dorothea. The piece is also signed at the back with the initials G.C.S. and manuscript note on the scenery, "Taken from the street in old London shown at the Health Exhibition 1884".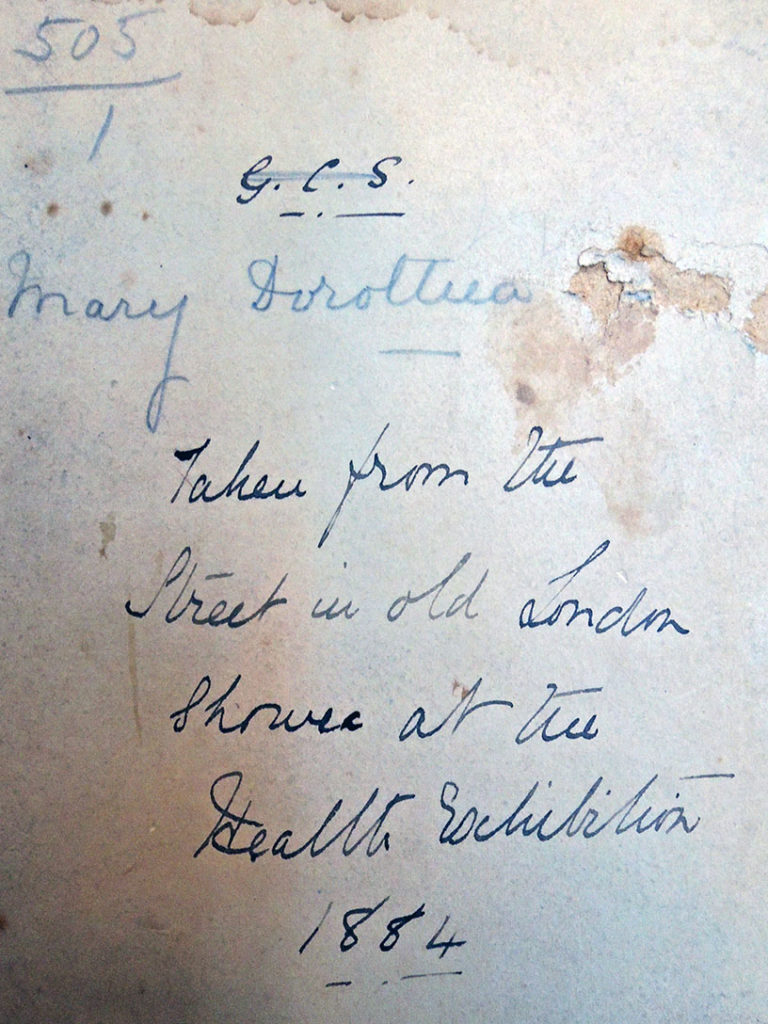 In 1884 London hosted an International Health Exhibition under the patronage of Queen Victoria and the Prince of Wales, and directed by an Executive Council. The Exhibition was held in South Kensington, on a site between the Royal Albert Hall and the newly-opened Natural History Museum, on land which is now occupied by Imperial College of Science and Technology. Four million people visited the Exhibition between 8 May and 30 October 1884 (http://blogs.lshtm.ac.uk/library/2016/07/07/international-health-exhibition-1884/)
Here are a few more of our peepshows:
1. [Milan Cathedral peepshow]
[S.l. : s.n., 18–]. Graphic Arts Collection » 2007-0615N
2. Optique no. 12 : les Boulevards.
[Paris? : s.n., 18–]. Graphic Arts Collection » 2007-0609N
3. Optique no. 8 : le Parc de Versailles.
[Paris? : s.n., 18–]. Graphic Arts Collection » 2013-0443N
4. [Reims Cathedral peepshow]
[S.l. : s.n., 18–]. Graphic Arts Collection » 2007-1260N
5. Teleorama.
[S.l. : s.n., 18–]. Graphic Arts Collection » 2007-0688N
6. A View of the tunnel under the Thames, as it will appear when completed: the carriage ways will be circular : foot passengers will descent the shafts by stairs : dimensions of the tunnel, length fr…
[London] : Pubd. … by M. Gouyn, August. 1, 1829. Rare Books » 2010-0864N
7. Thames tunnel.
[London? : s.n., 184-?]. Rare Books » Oversize 2007-0169Q
8. A Brief account of the Thames Tunnel.
[London] : Azulay, Thames Tunnel, [1851?]. Rare Books » 2011-0054N
9. Ye Olde London streete.
[London : s.n., 1884?]. Graphic Arts Collection » N-001924
10. Grand théâtre en actions.
Paris : A. Capendu, éditeur, [189-?]. Cotsen Children's Library » Moveables 19Q 44369
11. [Noah's Ark] / devised by Jack S. Chambers.
[London : Werner Laurie, (not after 1950)]. Cotsen Children's Library » Moveables 14964
12. Fünfhundert Jahre Buchdruckerkunst, 1440-1940 : über hundert Jahre Bauersche Giesserei, Frankfurt a.M., gegründet 1837.
[Frankfurt am Main : Bauersche Giesserei, 1940]. Cotsen Children's Library » Moveables 30196 and Graphic Arts Collection » 2007-0617N
13. Tony Sarg's treasure book : Rip Van Winkle, Alice in Wonderland, and Treasure Island.
[New York : B.F. Jay], c 1942. South East (CTSN) » Toys 11990