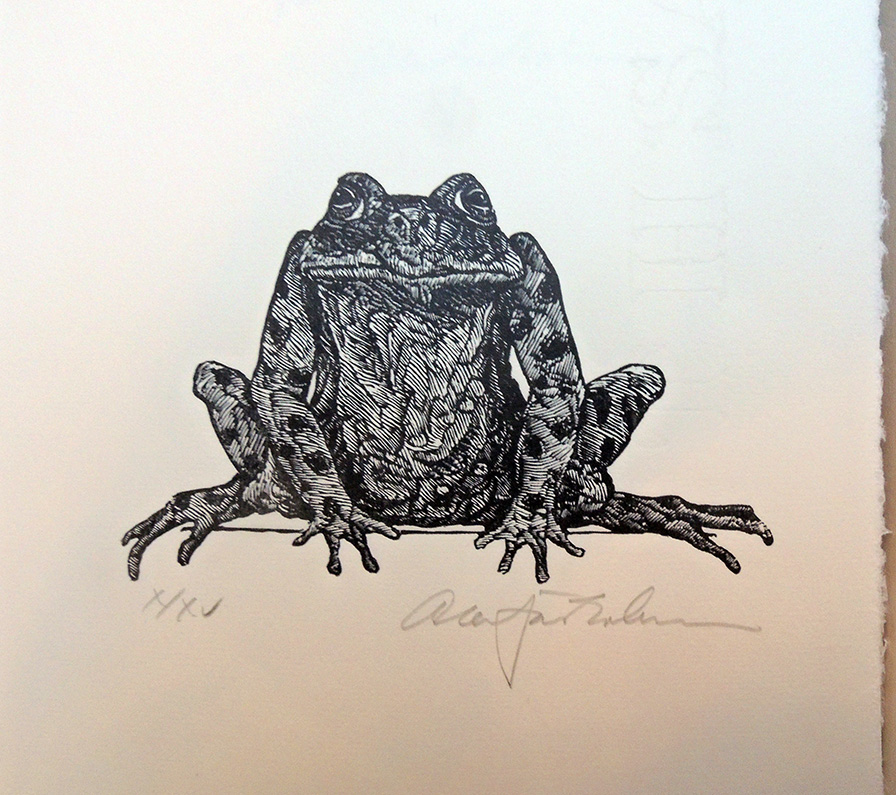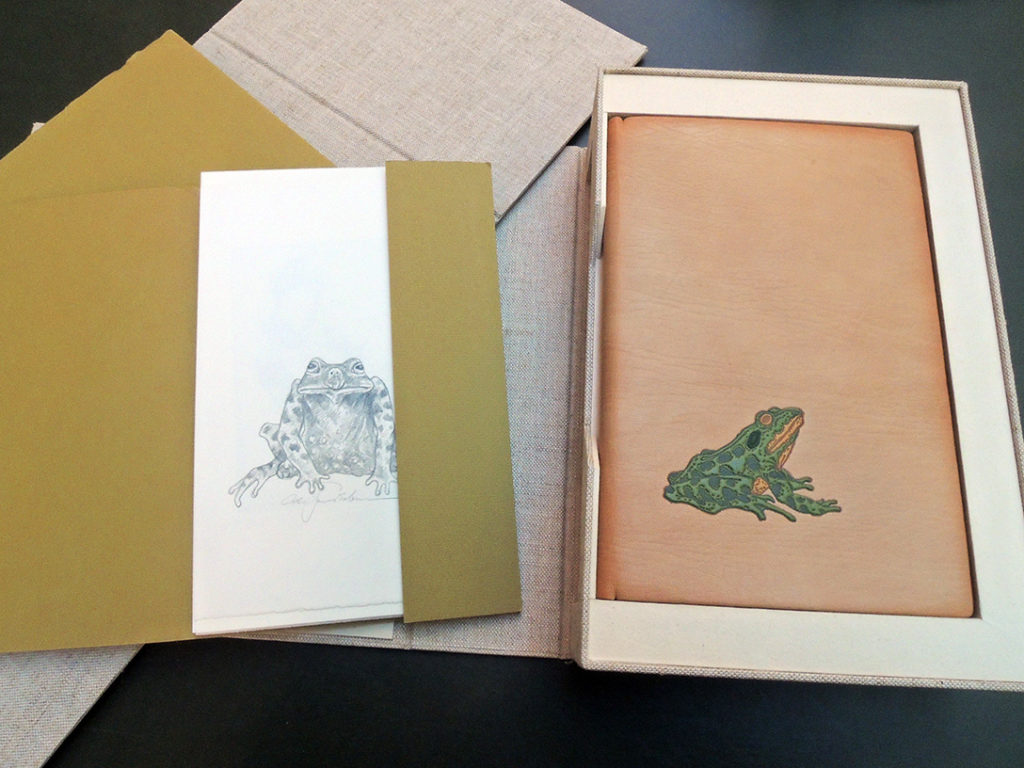 Mark Twain, The Jumping Frog. Wood engravings by Alan James Robinson (Easthampton, MA: Cheloniidae Press, 1985). Copy 10 of 15 state proof copies, with one extra signed suite of the 15 wood engravings plus the triple page fold out of the jumping front, plus working proofs of the wood engravings, plus state proofs of etching, signed and numbered by the artist. Graphic Arts Collection GAX 2019- in process
This Cheloniidae edition of the Jumping Frog from Mark Twain's Sketches, New and Old (1875) contains three versions of this notorious and celebrated tale: the original, the version translated into French (inadequately so, according to Twain), and the version "restored to the English after martyrdom in the French" by Twain. The afterword, "The Private Printing of the 'Jumping Frog' Story" by Samuel Clemens, first appeared in the North American Review (1894).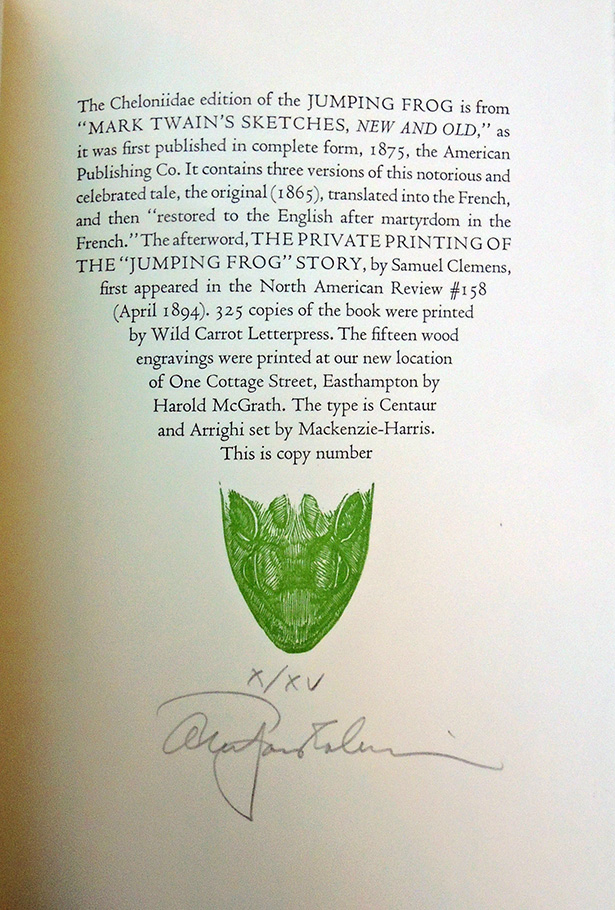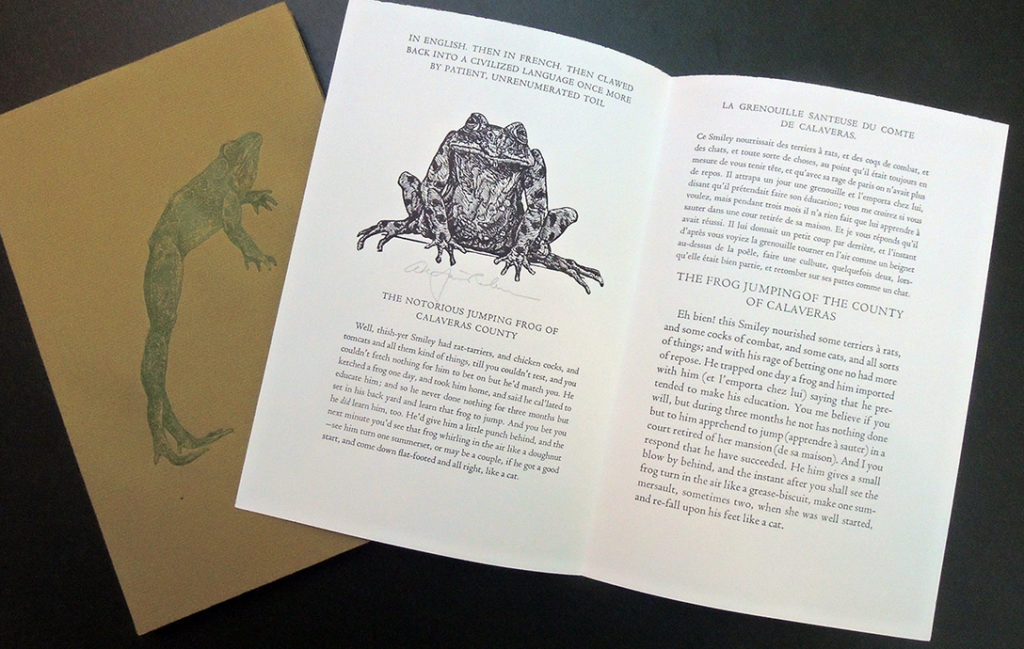 The regular edition was limited to 250 copies and is bound in green paper wrappers, while all editions are printed on Saunders paper in Centaur and Arrighi types at Wild Carrot Letterpress with the assistance of Harold Patrick McGrath and Arthur Larson.
The 15 wood engravings are printed by Harold Patrick McGrath and bound by Daniel Kelm (the design of Alan Robinson) full undyed Oasis with onlays of the frog in repose — before the jump on the front panel and after the jump on the back panel, with doublures showing the frog in mid-jump. Onlays in green oasis of the frog jumping are on the front and back pastedowns.