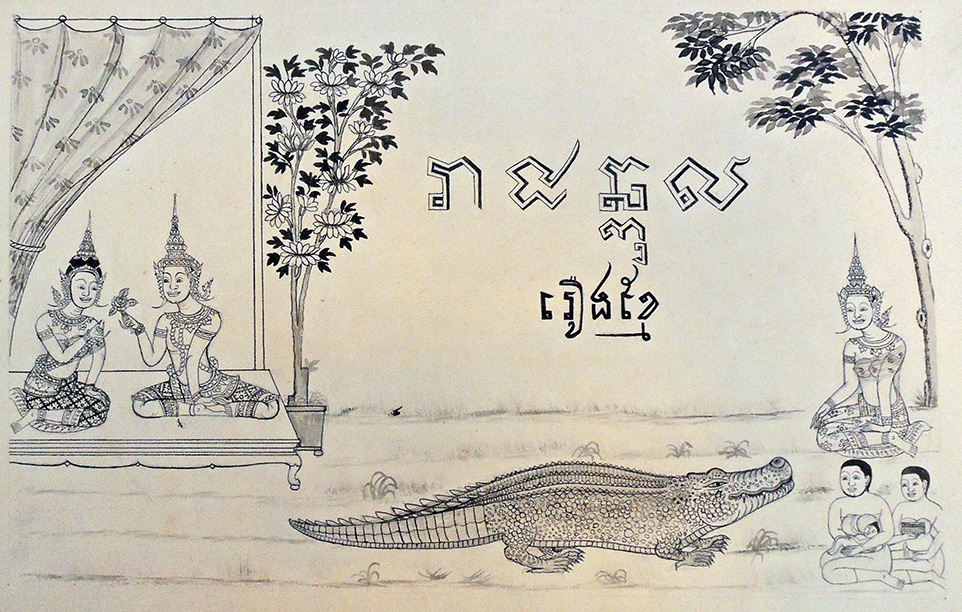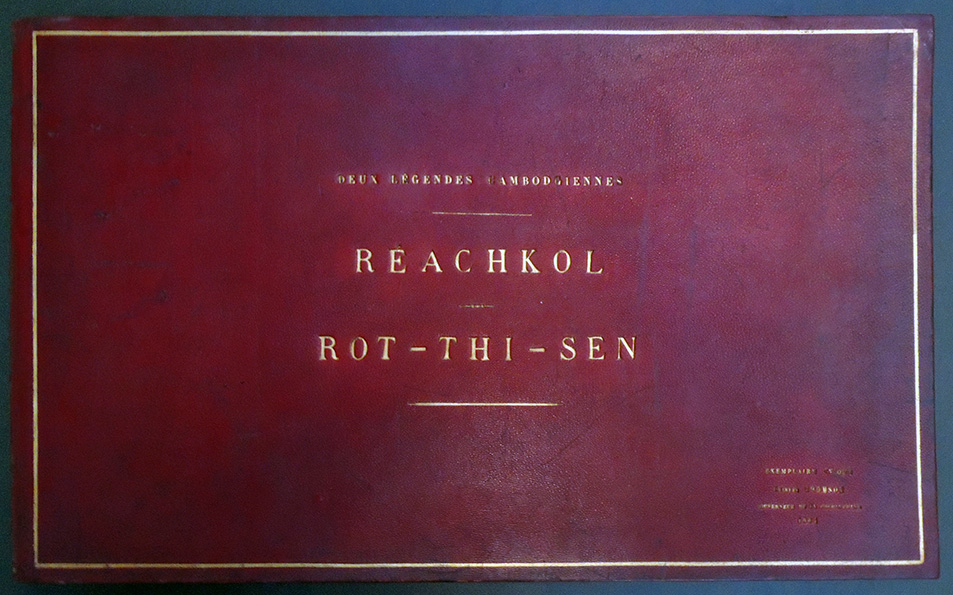 Auguste Pavie, Deux légendes Cambodgiennes. Réachkol. Rot-Thi-Sen. Exemplaire unique [in honor of] Charles Thomson, Gouverneur de la Cochinchine 1884 ([Saigon, 1884]). Illustrations executed by a single, unidentified artist in pencil, black ink, and grey wash. Graphic Arts Collection 2019- in process
A unique and remarkable item, uniting printed text and striking original illustrations for two Cambodian folktales, produced in honor of Charles Antoine François Thomson (1845-1898), French governor of Cochinchina between 1882 and 1885, who established more direct French administrative control over the protectorate of Cambodia. The text of the two legends is taken from Excursion dans le Cambodge et le royaume de Siam (Saigon, Imprimerie du gouvernement, 1884) by the French explorer and diplomat Auguste Pavie (1847-1925), who spent sixteen years exploring the Indochinese peninsula and who later served as the first governor-general of the French colony of Laos.

Whereas the Excursion features only six illustrations to the legends, our Deux légendes includes 58 charmingly drafted original images, including a title to each legend in Cambodian, apparently executed by a local artist especially for this volume. They show great creativity in depicting the extraordinary course of each tale. The first legend tells of prince Réachkol who had two wives, Néang-Roum-say-sack and Néang Mika. When Réachkol abandoned Mika and their baby, Mika sent her talking crocodile, Atonn, to attack his boat. Having tried in vain to appease Atonn with chickens and ducks, Réachkol was saved by Say-sack's magic, which turned Atonn into a mountain (known as Crocodile Mountain). A great battle ensued between Réachkol's wives, with Say-sack emerging victorious and decapitating and disembowelling her rival. The tale ends with the victorious couple establishing a temple.

The second legend tells of a poor woodsman who abandoned his twelve daughters in the forest only for them to be captured by the queen of the Yaks, Santhoméa, who planned to eat them. Saved by a white rat, the twelve sisters were taken in by the king of Angkor, but Santhoméa won his favour and had the pregnant sisters blinded and consigned to a cavern. Here they ate all their newborns except for one boy called Rot-thi-sen. Intending to kill him, Santhoméa sent Rot-thi-sen to her daughter, but the young pair married and Rot-thi-sen escaped with the blinded sisters' eyes. Having evaded his wife, creating a lake in the process, Rot-thi-sen killed Santhoméa and restored the blinded sisters' sight.
Here are a few selected plates.