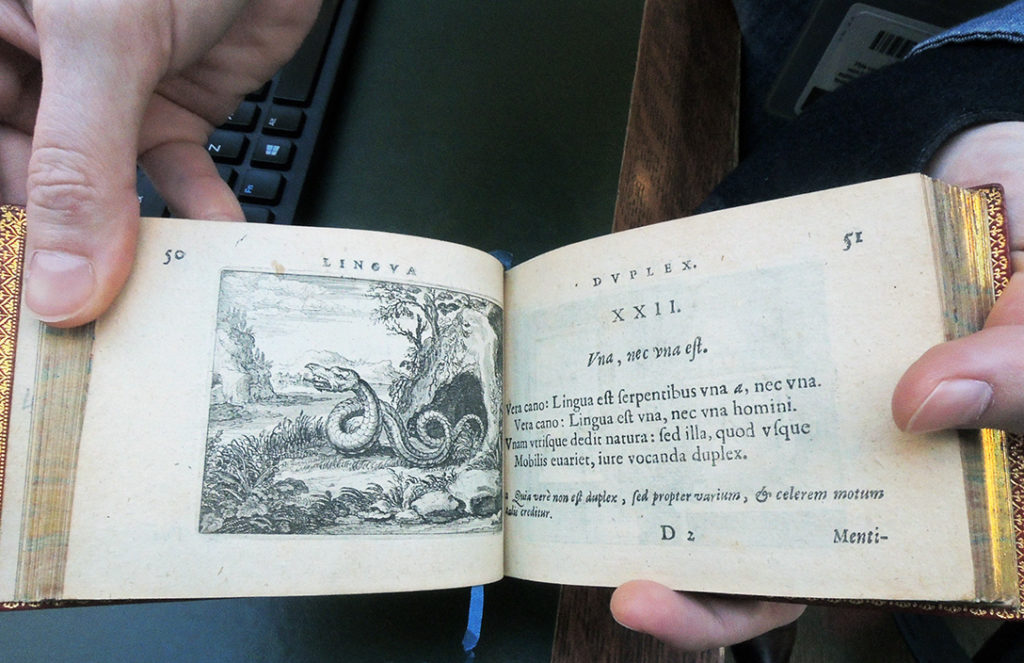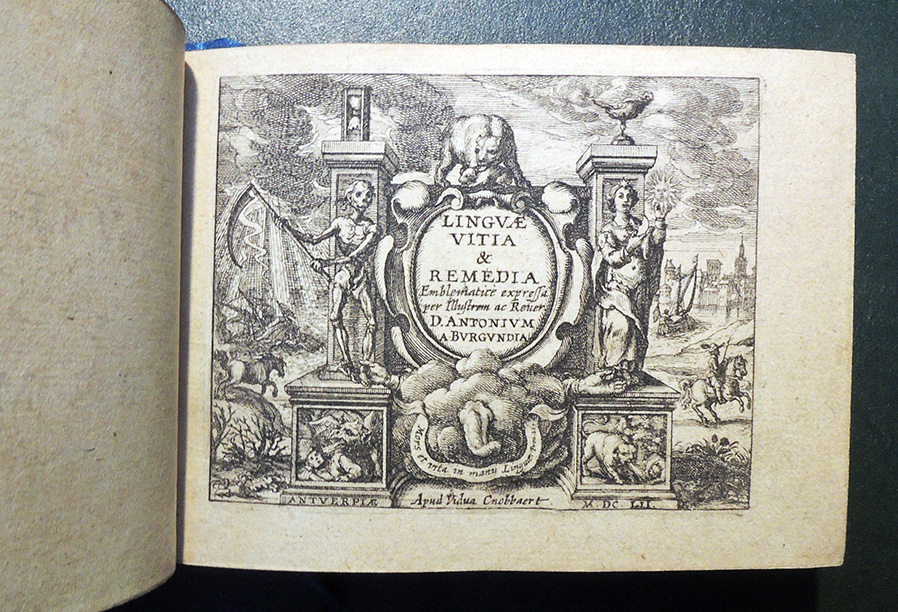 Antoine de Bourgogne (ca. 1594-1657). Linguae vitia & remedia Emblematicè expressa (Antwerp: Widow Cnobbaert, 1652). Graphic Arts Collection GAX 2019- in process.
Small oblong 16mo (74 x 97 mm). [12] leaves, 191, [1 bl.] pages ; etched title, 93 full-page etchings. Nineteenth-century red morocco with triple gilt fillet borders, spine and turn-ins gold-tooled, edges gilt over marbling, by Trautz-Bauzonnet. Provenance: James Toovey (1814-1893), London bookseller, armorial gilt bookplate with motto inter folia fructus.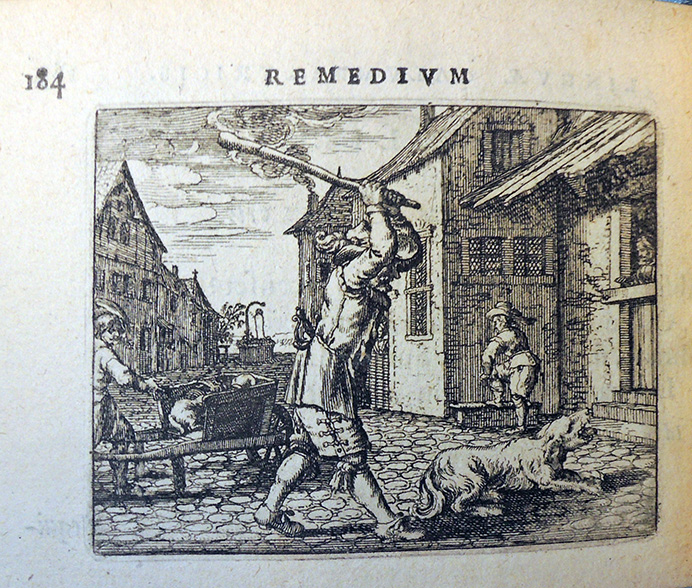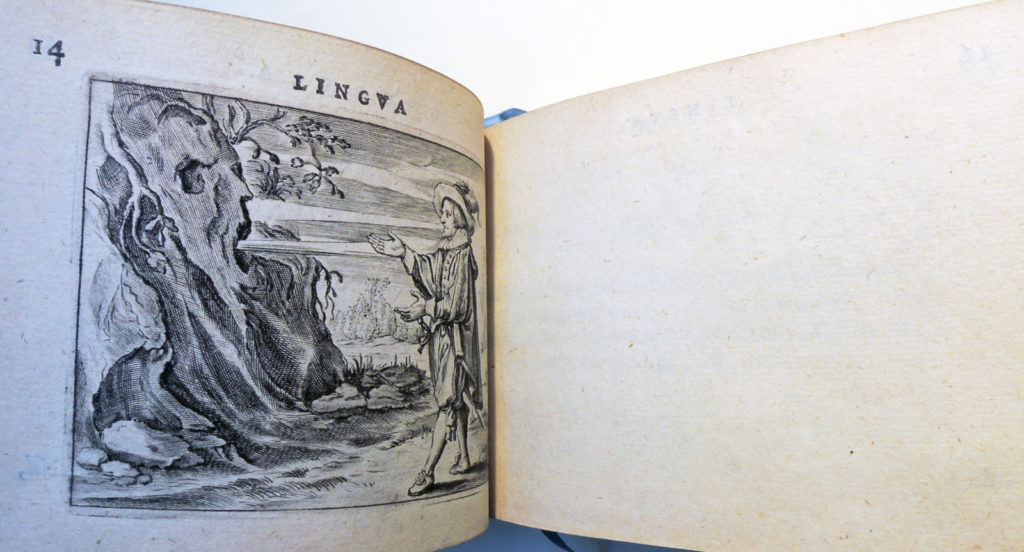 This copy includes the cancelled leaf A8, blank except for pagination and headline on the verso. Interesting that it come at the description of an echo.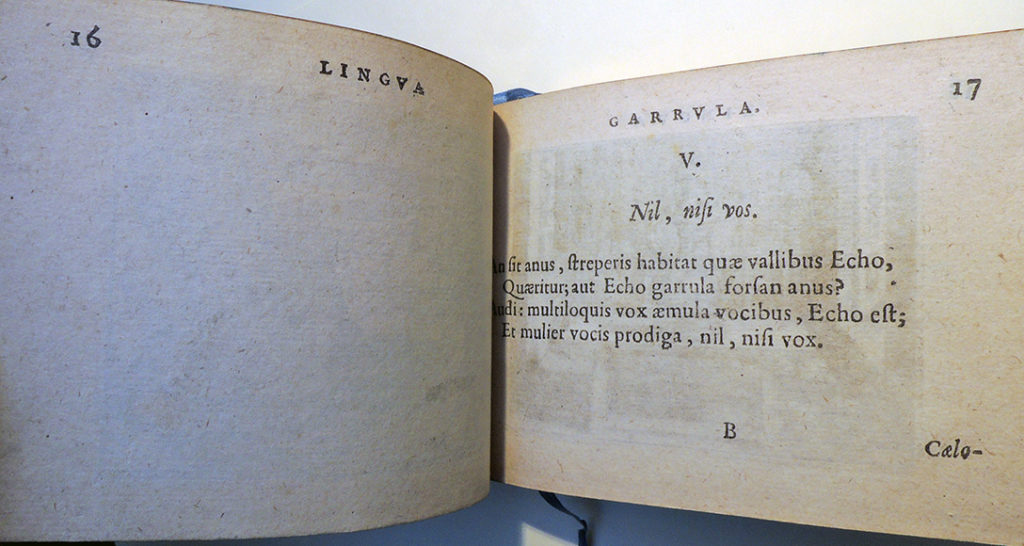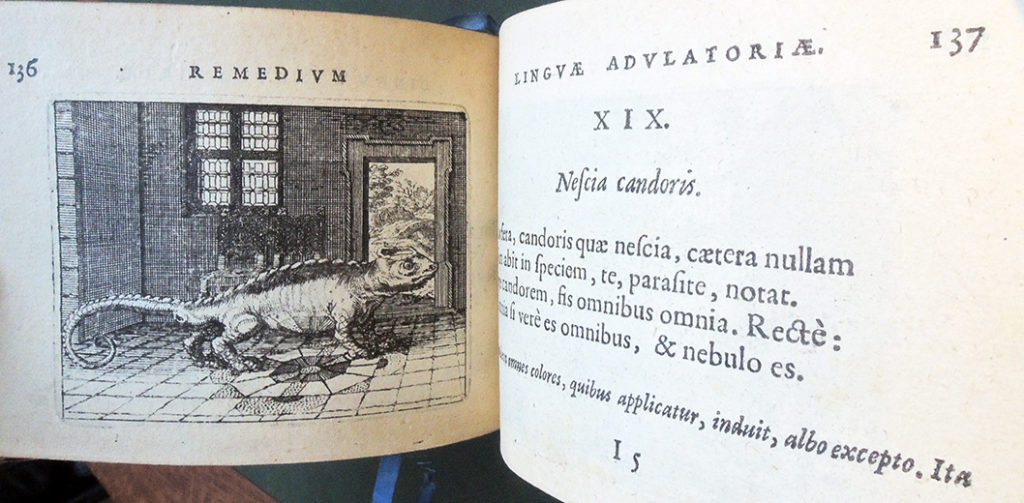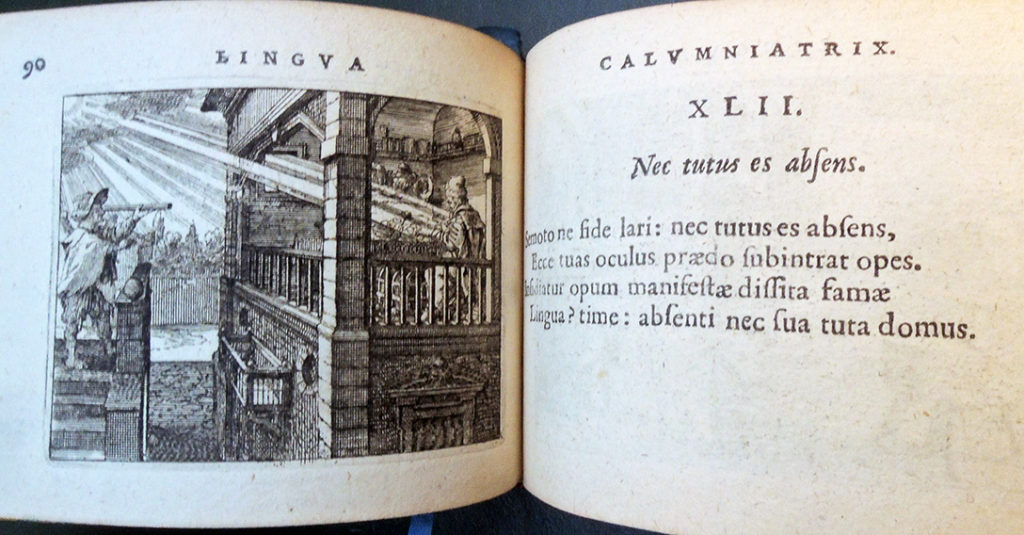 Rare book historian Nina Musinsky regards this as one of the most delightful of the Netherlandish emblem books, with 94 miniature etchings. This second Latin edition reprints the same plates and text as that of 1631, which was published at the same time as a Flemish-language edition.
Musinsky notes, "The purpose of the book was to list and propose remedies for the "vices" of speech: garrulousness, equivocation, insults, foul language, detraction, blasphemy, lying, perjury and calumny. The theme can be traced back to antiquity, having been treated by Plutarch in the Moralia; but the author, a member of the secular clergy at the Cathedral of Bruges, was more immediately influenced by Erasmus's De linguae usu ac abusu" (1525. Princeton Rare Books 2949.32.46).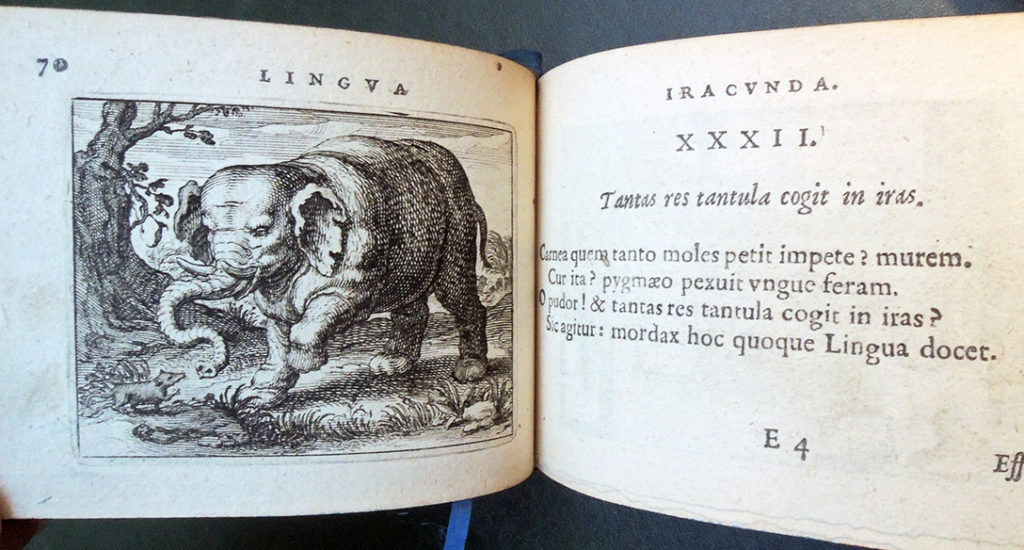 Part 1 provides examples of improper or sinful speech; two introductory emblems (the first a grisly vision of hell) are followed by 45 examples of such speech, each with an etched emblem on the verso and a motto and four-line poem on the facing recto, with an occasional note in smaller italic type at the foot of the page.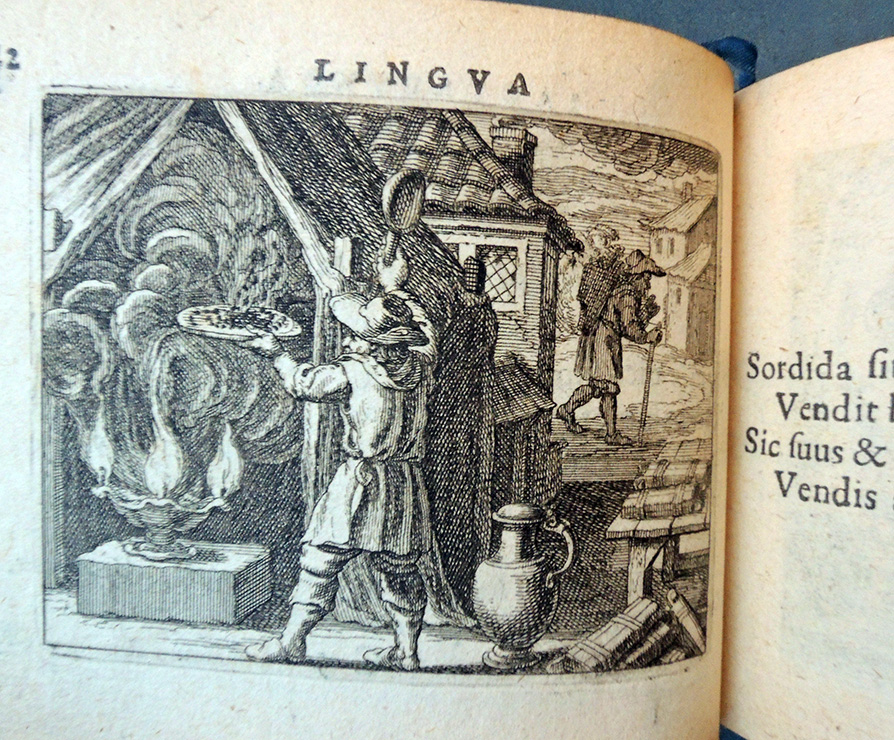 Part 2, with 45 more etchings, turns to the remedies for each kind of evil language (each number responds to the same number in the first part). The delicate unsigned etchings are attributed, apparently without question, to Jacobus Neeffs (1610-1660) and Andries Pauli (or Pauwels) the elder (1600-1639), after designs by Abraham van Diepenbeeck (1596-1675), who dominated Antwerp book illustration at the time.
See more designs by Abraham van Diepenbeeck in three other books at Princeton: The Holy Bible: containing the bookes of the Old & New. Cambridge [England] : Printed by John Field …, 1659-1660. William H. Scheide Library 63.9
The temple of the Muses, or, The principal histories of fabulous antiquity : represented in sixty sculptures / designed and ingraved by Bernard Picart le Romain and other celebrated masters ; with explications and remarks, which discover the true meaning of the fables, and their foundation in history. Amsterdam : Printed for Zachariah Chatelain, 1733. Rare Books Oversize NE1715 .P6f
William Cavendish, Duke of Newcastle 1592-1676. A general system of horsemanship in all it's branches: containing a faithful translation of that most noble and useful work of His Grace, William Cavendish, Duke of Newcastle, entitled, The manner of feeding, dressing and training of horses for the great saddle … with all the original copper-plates in number forty-three …    London: J. Brindley, 1743. Rare Books Oversize 4235.673f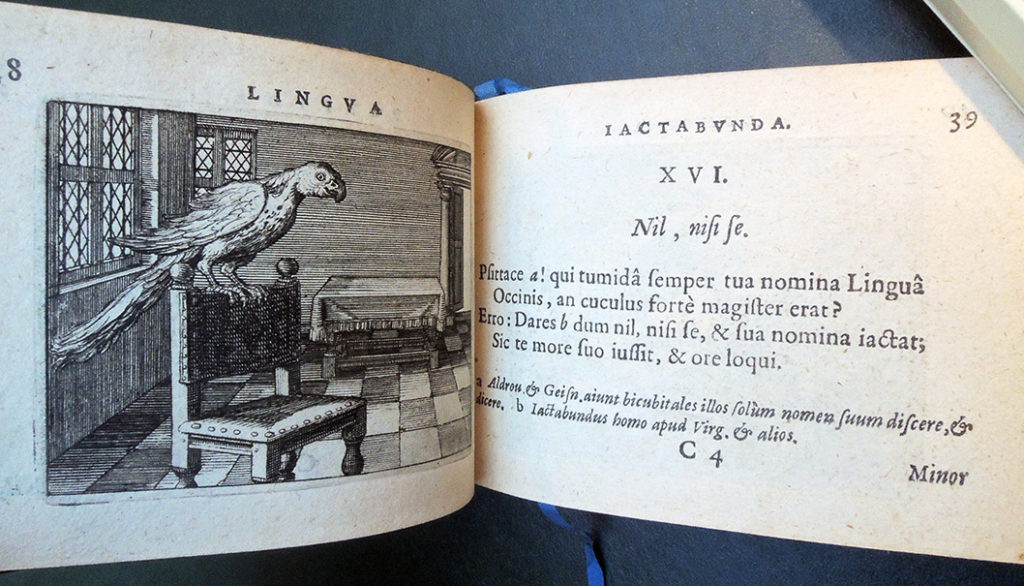 References: Landwehr (3rd ed.) 96; Funck, Livre belge à gravures, p. 284; Forum, The Children's World of Learning, part 7, no. 3815; cf. Praz, p. 292 (1631 Latin edition); de Vries, De Nederlandsche Emblemata132 (1631 Flemish edition).