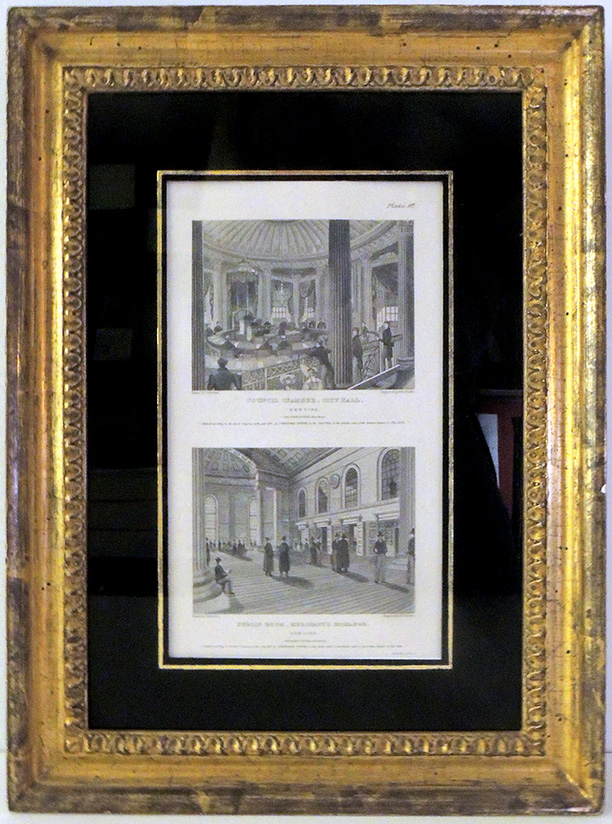 Thanks to the generous gift of Stuart P. Feld, Class of 1957, and Mrs. Feld, the Graphic Arts Collection now holds 14 engravings on 7 sheets, framed, after Charles Burton from the series Bourne's Views of New York, first printing. The drawings were made for George Melksham Bourne, who issued the series of New York views in 1831, engraved by J. Smillie, Archer, Gimber, H. Fossette, and others, then printed by John Neale. This first issue of the Bourne plates can be distinguished by Bourne's imprint and copyright notice, which are removed from later issues of plates published by Disturnell. The views now at Princeton are as follows:
Plate 9: Council Chamber, City Hall [with] Public Room, Merchant's Exchange
Plate 11: Phenix Bank, Wall St. [with] United States' Branch Bank
Plate 12: Brooklyn Ferry, Fulton St. [with] Steam Boat Wharf, Whitehall Street
Plate 14: St. George's Church, Beekman St. [with] Clinton Hall, Beekman St.
Plate 15: Church of the Ascension, Canal St. [with] Exchange Place Looking to Hanover St.
Plate 17: St. Luke's Church, Hudson Street, New York [with] The Reservoir, Bowery, New York.
Plate 18: St. Patrick's Cathedral, Mott St. [with] St. Peter's Church, Barclay St.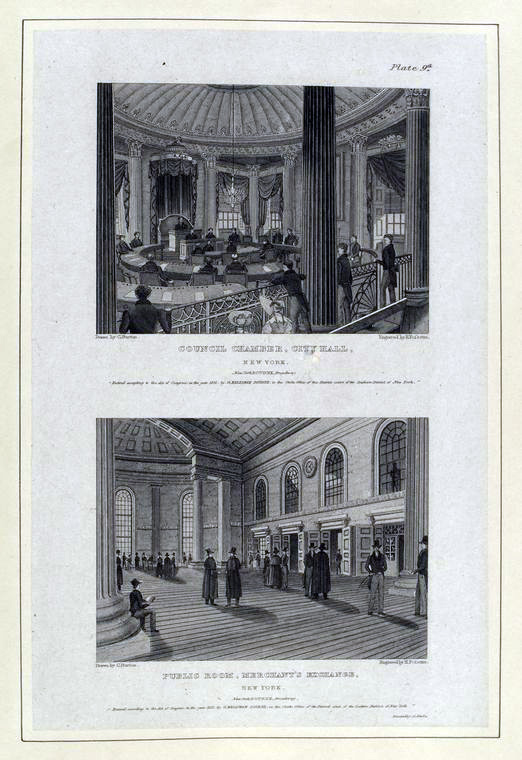 According to Gloria Deak, in her Picturing America 1497-1899 "The set of engravings the George Melksham Bourne issued from his shop on Broadway near Franklin Street in 1831 is generally considered the most beautifully executed sequence of small New York views." [Graphic Arts 2014-0771Q, p. 262]