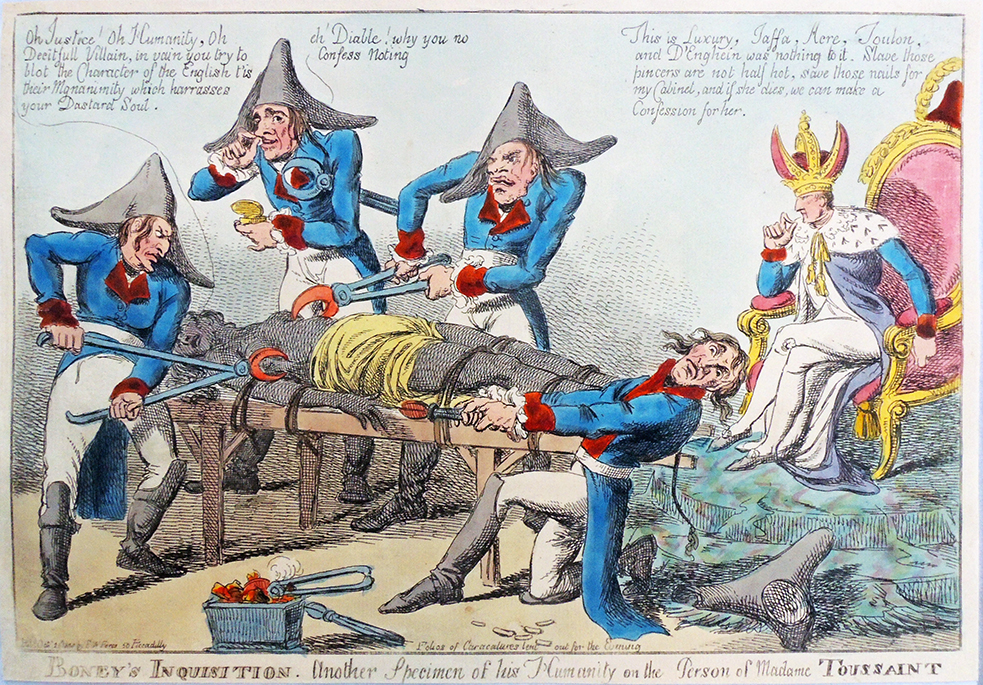 After Charles Williams, Boney's Inquisition.Another Specimen of his Humanity on the Person of Madame Toussaint. London: 'Pubd. Octr. 25th 1804 by by S.W. Fores, 50 Piccadilly', 1804. Hand colored etching. Graphic Arts Collection GAX 2020- in process
"One of the greatest Wars of Independence ever fought in history was the Haitian Revolution (1791-1804), led by the 'immortal' black leader Toussaint Louverture, who became a General in the French military, and whose destiny it was to deliver the slaves and people of Saint Domingue, now Haiti." Suzanne Simone Baptiste Louverture (1742?-1816), the wife of Toussaint Louverture (1743?-1803), was arrested with her husband during the Haitian revolution in 1802.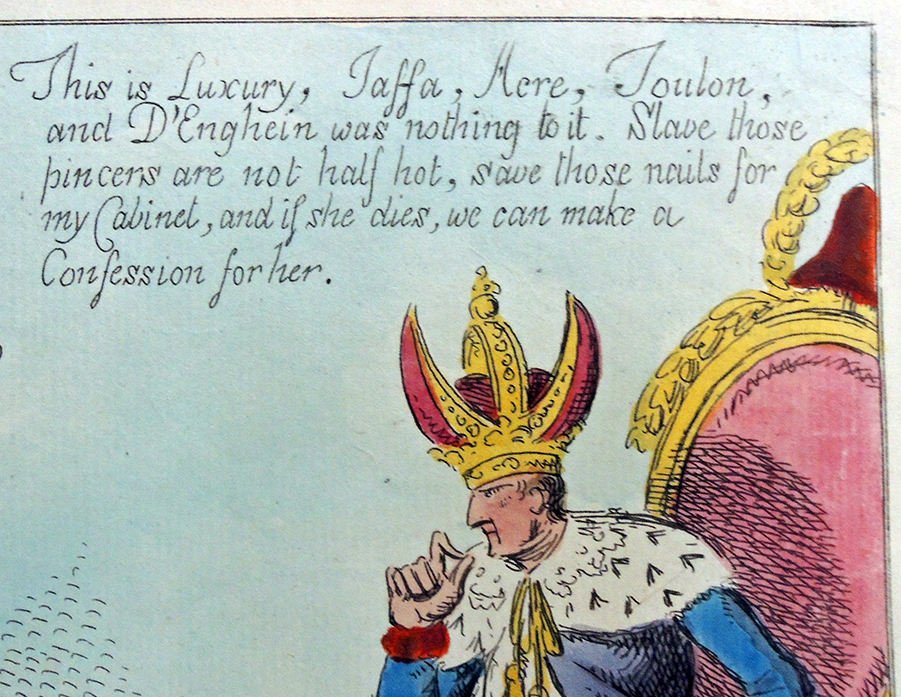 Napoleon Bonaparte sent General Charles Leclerc to apprehend Louverture and deport him to the French Alps. Suzanne and her children were transported to Bayonne, where they were placed under the supervision of General Ducos. She was tortured but never provided any information about her husband. One source notes, "When she arrived in prison she weighed 250 pounds; she only weighed 90 when leaving France. During all the years of torture she gave a single answer. 'I will not talk about my husband's business with his torturers.' It was a mutilated Suzanne, a purely vegetative Suzanne, devoid of all her nails, with several broken bones, who returned to Jamaica where she died on May 19, 1846. She was 67 years old."
According to records, the print is correct in the pulling of her fingernails and other tortures.
–PBS Egalite for All: Toussaint Louverture and the Haitian Revolution (2009)
Suzanne Louverture was still living when the British artist Charles Williams (active 1796-1830) published this print. It is not unusual that the artist did not sign the print, Williams often worked anonymously and it is only in recent years that earlier attributions have been reconsidered.
Toussaint Louverture and the Haitian Revolution inspired millions of free and enslaved people to seek freedom and equality throughout the Atlantic world. His legacy continues to inspire artists and politicians today. One of many examples is the series Jacob Lawrence produced entitled "The Life of Toussaint Louverture":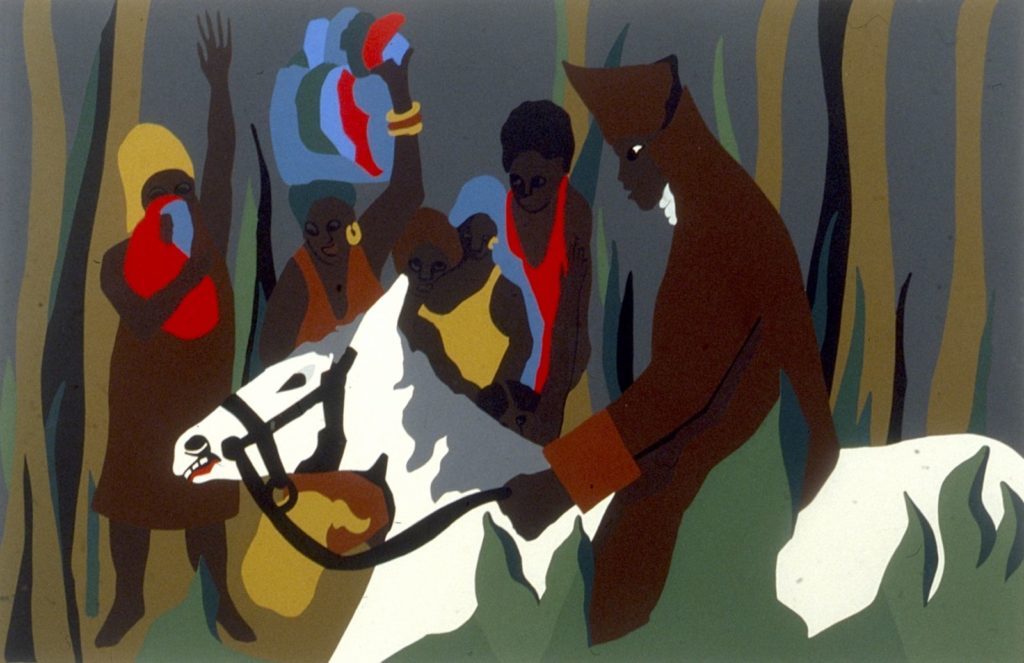 For more, read Temi Odumosu, Africans in English caricature 1769-1819: Black Jokes, White Humour (London: Harvey Miller Publishers, [2017]). Marquand Library NC1473 .O38 2017 and see: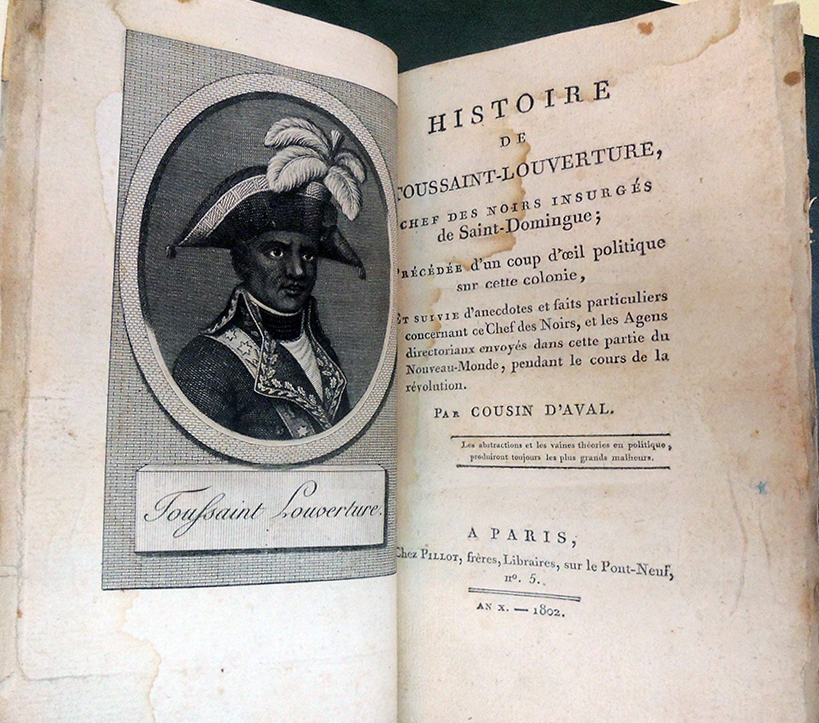 Note: this horrific print is one of the caricatures Samuel Fores lent out for an evening's entertainment in your own home.