This slideshow requires JavaScript.
https://graphicarts.princeton.edu/2014/07/21/archive-of-proofs-and-samples-from-the-societe-engelmann-pere-et-fils-ca-1839/Proofs and samples from the Société Engelmann père et fils, ca. 1839. 3 vols. Chromolithography.
The Graphic Arts Collection holds a set of three elephant folios, which Michael Twyman calls, "the most interesting collection of its kind that I have ever come across." These albums contain hundreds of specimens of early chromolithography from Godefroy Engelmann (1788-1839) and his Société Engelmann père et fils.
Unfortunately, we have not yet indexed the albums. Will you help? The albums have been digitized and are available here: Permanent Link: http://arks.princeton.edu/ark:/88435/3484zk471
Here is a shared spreadsheet: https://docs.google.com/spreadsheets/d/1bzc0GHs1xoqdKsI63dg0drQF7RXl__TjLmsXjs5vSYY/edit?usp=sharing
The plates in each album are numbered. Entries might look like this:
Album 1, plate 1: Proof sheet for the album Chromolithographique (1837)
Album 1, plate 2: 12 separate trade cards dated 1839, each printed: Engelmann, Pere & Fils à Mulhouse – J. Engelmann, Cité Bergere Paris. Chromolithographie ou impression lithographique en couleurs.
Album 1, plate 3: Uncut sheet with playing cards for different games: Loto graphique, Rebus, Jeu de la Mythologie, Jeu de cartes syllabaire Européen, and Jeu de cartes de l'histoire de France par un professeur d'histoire.
And so on
Duplication is good, so we can double check each other. Serious research is encouraged, but simple transcription is also wonderful as a start. Look for a page you enjoy and start. Work alone or in classes, **this is not always easy**
You can also simply mail results to jmellby@princeton.edu if you don't like shared docs. No hurry, take the next few weeks or months. Even if you don't want to join, PLEASE REPOST. Thank you.
*special thanks to Michael Twyman who logged in to get us started on the shared doc..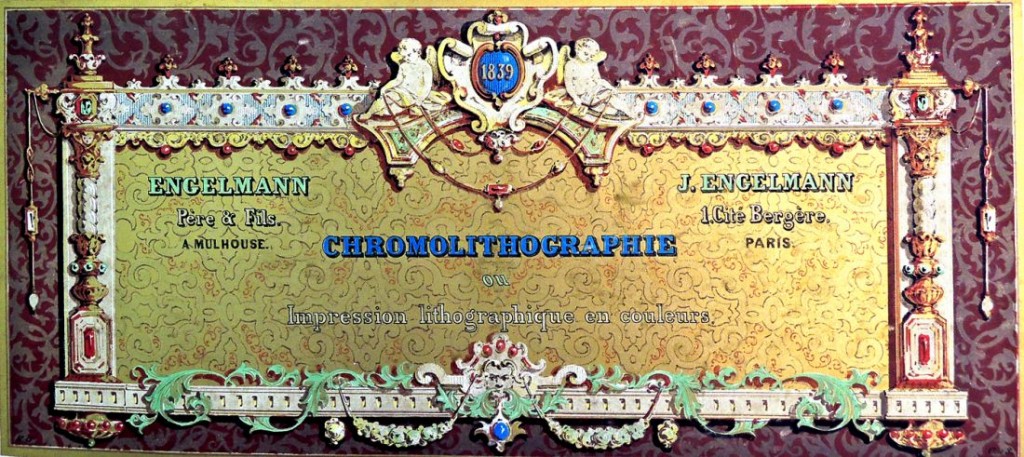 Godefroy Engelmann (1788-1839), biographic details from the British Museum:
"Lithographic printer, famed 'Körner' (grinder) for crayon-lithographs and patentee of chromolithography. Originally from Colmar; trained in Munich; set up press in Paris in June 1816. He improved lithography, particularly by developing lithographic wash in 1819. In 1825 he created a new company in association with Jérémie Graf and Pierre Thierry and named 'Société Engelmann et Cie'. In 1826 an annex company is founded in London and named 'Société Engelmann, Graf, Coindet et Cie', which was dissolved in 1833. Then Engelmann returned to Mulhouse and created the company 'Société Engelmann, père et fils'.