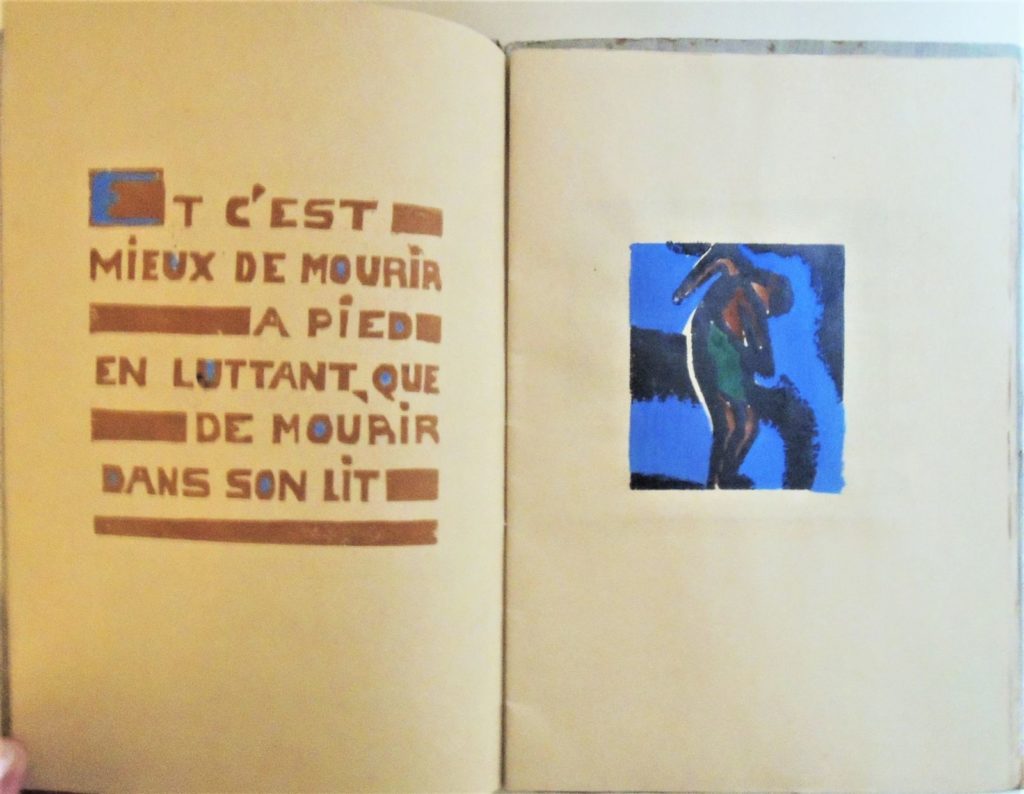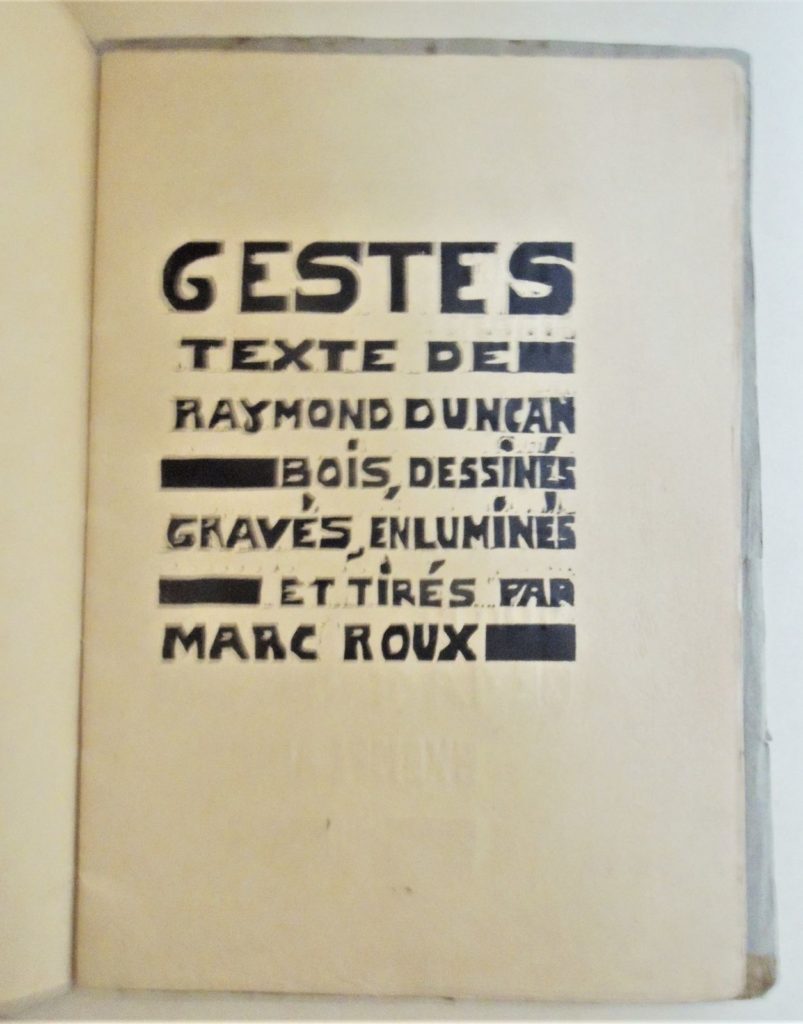 Gestes [Gestures]: Texte de Raymond Duncan. Bois dessinés, gravés, enluminés et tirés par Marc Roux ([Paris]: Raymond Duncan, 1921). Copy 30 of 100. "Tirages, 1 ex: spécial marqué A, 24 ex: grand luxe de B a Z, 100 ex: de 1 a 100 exemplaire"– t.p. verso/ "Achevé le 10 avril 1921."–Colophon. Graphic Arts Collection GAX 2020- in process
In 1919 Raymond Duncan (1874-1966), wife Penelope, and their teenage son Menalkas, moved back to Paris where he reestablished his Akademia Raymond Duncan at 21 Rue Bonaparte.
With his long, flowing hair and Grecian robes, Duncan became a fixture along the streets of Paris and in the galleries and theaters. He organized international conferences each year at his université philosophique and developed a small following of disciples.
Students were taught to weave, print, and create the other decorative arts sold by the Akademia, in exchange for vegetarian meals and lessons in Duncan's philosophy of a simple, holistic lifestyle. His sister Isadora Duncan did not appreciate the austerity of her brother's commune and moved back to Russia where she established her own dance school in Moscow. Conversely, Lucia Joyce, daughter of James Joyce, became deeply immersed in Raymond's Akademia and studied with him for several years.
Duncan collaborated on Gestes with his friend Marcel (here spelled as "Marc" on the cover and title-page) a year before Roux's death. The artist suffered from an illnesses contracted while a medical orderly during World War I, and was forced to switch from his usual copperplate engraving to the softer woodcuts for this project but the style fit Duncan's verse perfectly. Roux printed 100 copies of the book in his studio at 9 Rue Falguiere, published on April 10, 1921.
Only two other copies are held in institutional collections, one at the Bibliothèque nationale de France and the second at the Houghton library, Harvard University. This would be a third known copy of an extraordinary book.
Raymond Duncan's inspiration was the Antique, but his work needs to be set alongside the other stylistic influences of the era including Japonisme, …Indian and Persian art, His life and work should also be related to other contemporary international art movements operating throughout Europe: the Weiner Werkstätte, the Ecole Martine, Charles Rennie Mackintosh, and the Glasgow School, and Bloomsbury and the Omega workshops. His dress and textiles are part of an important group of hand-crafted objects created by artist-designers that include …Paul Poiret, who was patronized by Isadora, and is said to have copied designs from Raymond (L, Duncan 2014). –Charlotte Nicklas, Dress History: New Directions in Theory and Practice (Bloomsbury Publishing, 2015)