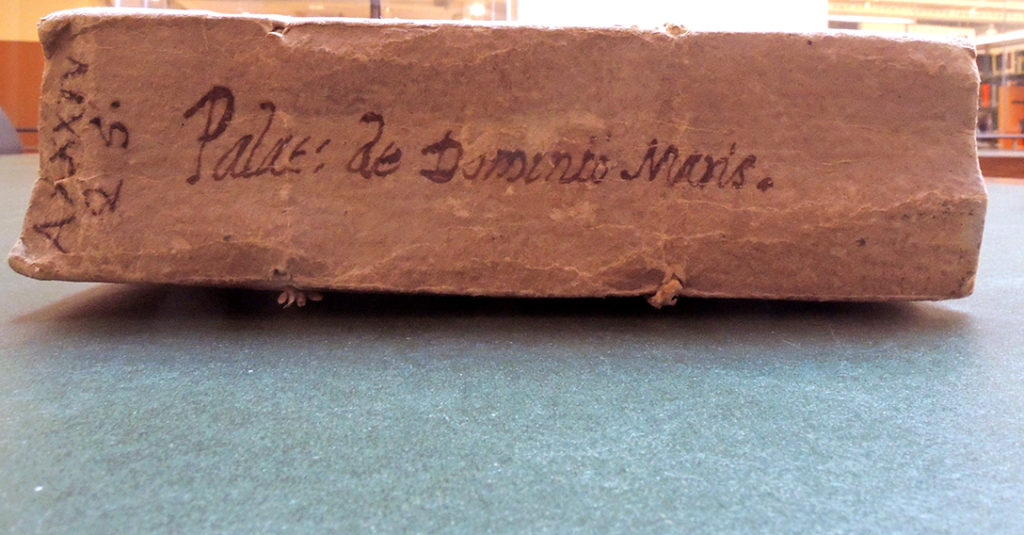 Giovanni Palazzi, De Dominio Maris, Libri Duo. Serenissimae Venetae Reipublicae dicati. Venice: Combi & La Nou, 1663. Graphic Arts collection GAX 2020- in process
The Graphic Arts Collection recently acquired what we believe is the first book engraved by Suor (Sister) Isabella Piccini (1644-1734). A Venetian law book with "laws of the Adriatic Sea," the frontispiece is signed: Elisabeta Piccini [i.e. Isabella Piccini] f. B.R. in. For Graphic Arts, it is Piccini who is of particular importance. The daughter of the printer Giacomo Piccini (died 1669), she has become known for her many 17th- and 18th-century engraved portraits commissioned by Venetian publishers. In 1666 she entered the Convent of Santa Croce in Venice and took the name Suor (Sister) Isabella, while continuing to work as an artist. This work predates her convent years.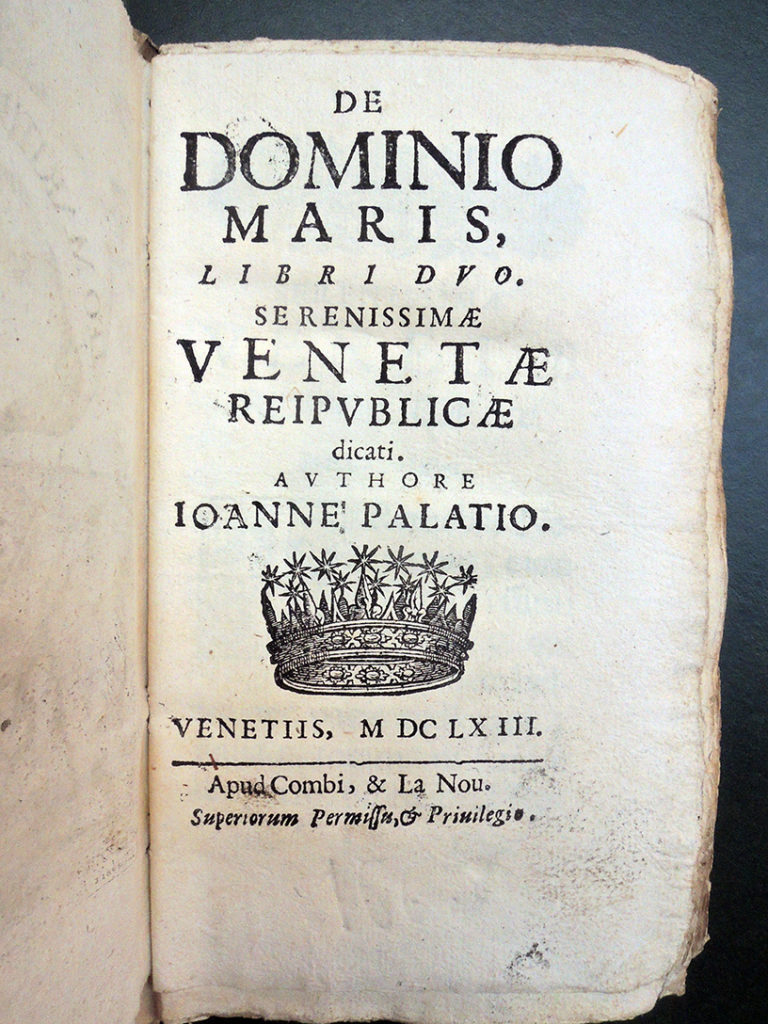 Here is the information that comes with the volume, ripe for a senior paper:
Scarce sole edition of this wide-ranging work by an Italian legal theorist, partly answering the treatises of John Selden (1635) and Hugo Grotius (1609) on the freedom of the seas. Palazzi (1640-1703) is of course most concerned with the sea-going activities of Venetian merchants and navies around the Mediterranean, but broadens his scope to give an account of historical claims to the high seas by the ancients Hebrews, Egyptians, etc. Quoting Selden and Grotius frequently, Palazzi also examines claims made by modern powers – including a legal discussion of the discovery of America on pp. 111-112 – and the recent problematic maritime activities of the Ottoman Turks.

Quite aside from its scholarly content, the present work is noteworthy as the first verifiable piece of engraving by Elisabetta / Isabella Piccini (1644-1734), the nun-engraver of Convent of Santa Croce in Venice. Thanks to the unequivocal date of the book and the full signature of the engraver (rather than 'I. Piccini', which referred to her father Iacopo), the 1663 De Dominio Maris thus bears a significant place in the canon of her works. It must have been executed when Piccini was just 19 years old – before she joined the convent and took the nom de religion of Isabella – and is figuratively quite striking for the work of a teenager. A nude female figure with bare breasts is seated atop a chariot being pulled by an unfortunate-looking male savage (perhaps signifying 'Land'?); at her feet, a lion wields a sword, with a trident in its other hand poised to dig into the flesh of the man-of-burden.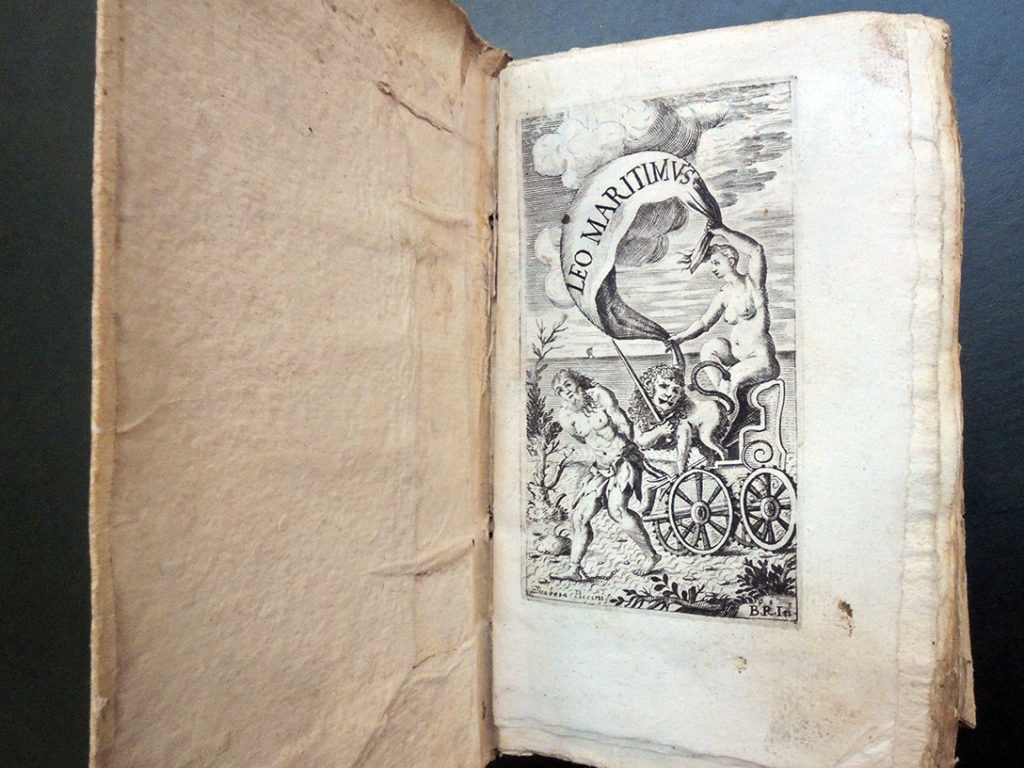 See also: https://graphicarts.princeton.edu/2018/09/07/isabella-piccini/ and https://graphicarts.princeton.edu/2017/11/09/isabella-piccini-and-angela-baroni-18th-century-engravers/
Graphic Arts also holds the second Italian edition of an account of the conquest of Mexico by Spanish forces under Hernando Cortéz (1485-1547). The work describes the three years between the appointment of Cortéz as commander of the invasion expedition and the fall of Mexico City, which contains three marvelous full-page engraved portraits of the author, Cortéz, and Montezuma by Suor Isabella Piccini and five other plates engraved by Alessandro della Via, illustrating significant scenes of the conquest.
For more, see the entry in the Enciclopedia delle donne: http://www.enciclopediadelledonne.it/biografie/elisabetta-piccini/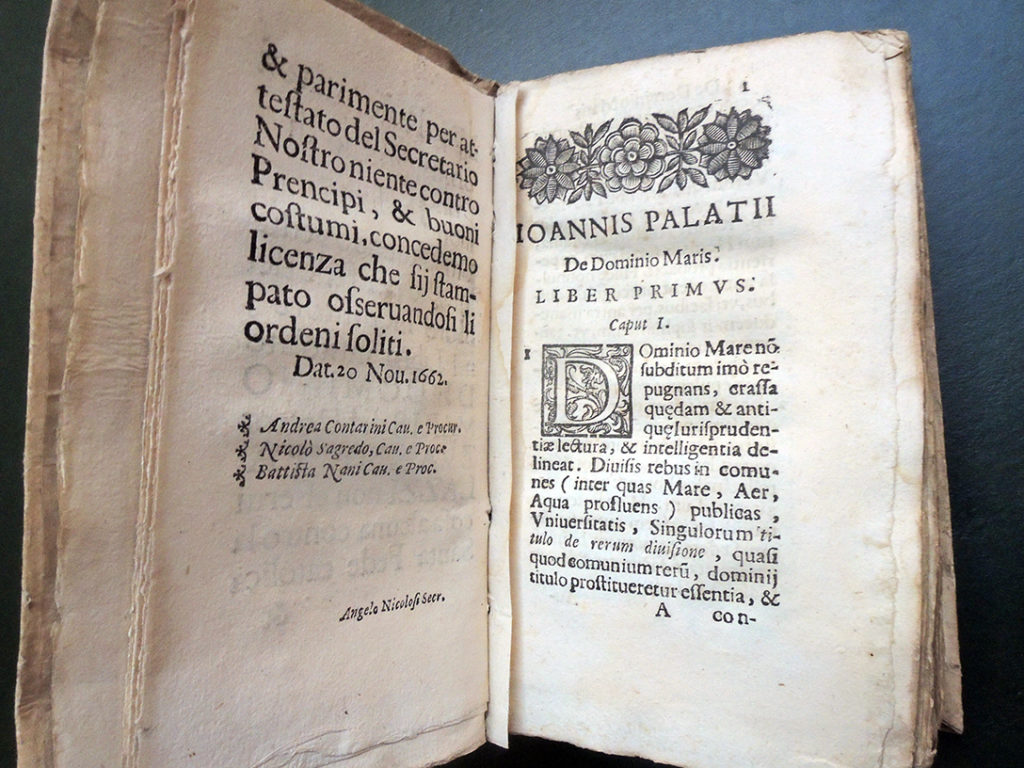 This new acquisition is in addition to other volumes engraved by Piccini:
Carlo Labia, Dell'imprese pastorali (Venetia: Appresso Nicolò Pezzana, 1685). Rare Books (Ex) Oversize N7710 .L12q
Carlo Labia, Simboli predicabili estratti da sacri evangeli che corrono nella quadragesima, delineaticon morali, & eruditi discorsi da Carlo Labia….(Ferrara: Appresso B. Barbieri, 1692).Rare Books (Ex) Oversize N7710 .L122q
Bernardo Lodoli, Serenissimo Venetiarum Dominio ill[ustrissi]mo, et ecc[ellentissi]mo Arsenatus regimini Bernardi Lodoli … fidele votum …([Venetiis], [1703]).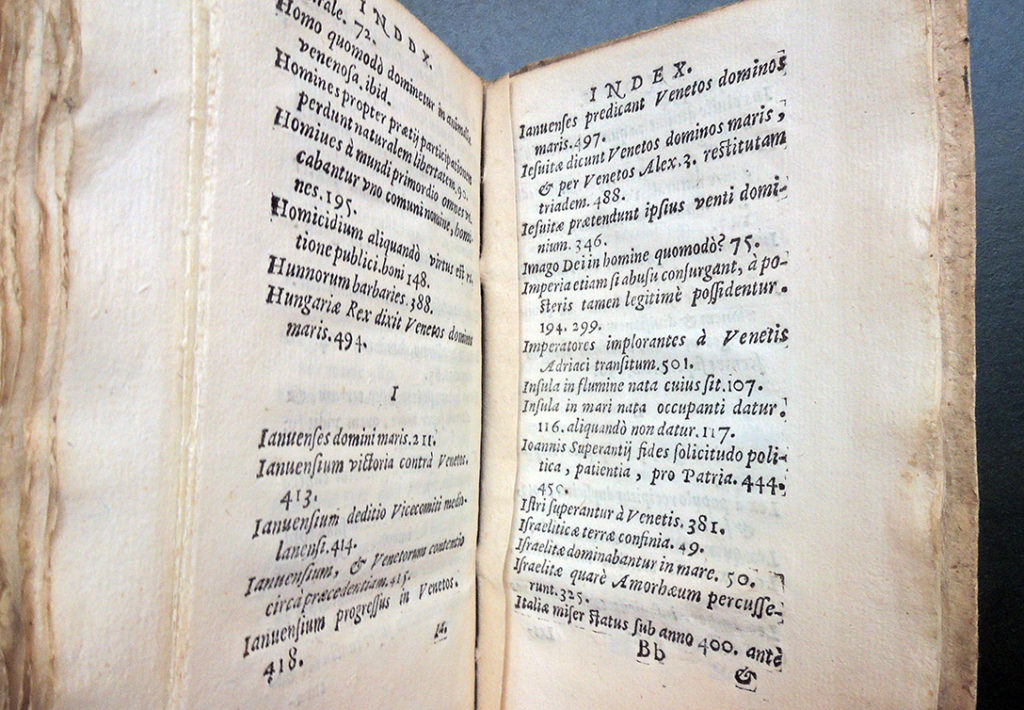 Antonio deSolís (1610-1686), Istoria della conquista del Messico della popolazione, e de' progressi nell' America Settentrionale conosciuta sotto nome di Nuova Spagna / scritta in castigliano da D. Antonio de Solis … e tradotta in toscano da un'accademico della Crusca (Venezia : Per A. Poletti, 1715).
Missale Romanum : ex decreto Sacrosancti Concilii Tridentini restitutum, S. Pii V. Pontificis Maximi jussu editum, Clementis VIII. & Urbani VIII. Auctoritate recognitum ; in quo missæe novissimæ Sanctorum accuratè sunt dispositæ (Venetiis : ex Typographia Balleoniana, 1727 (MDCCXXVII)). Graphic Arts Collection (GAX) Oversize 2012-0009F