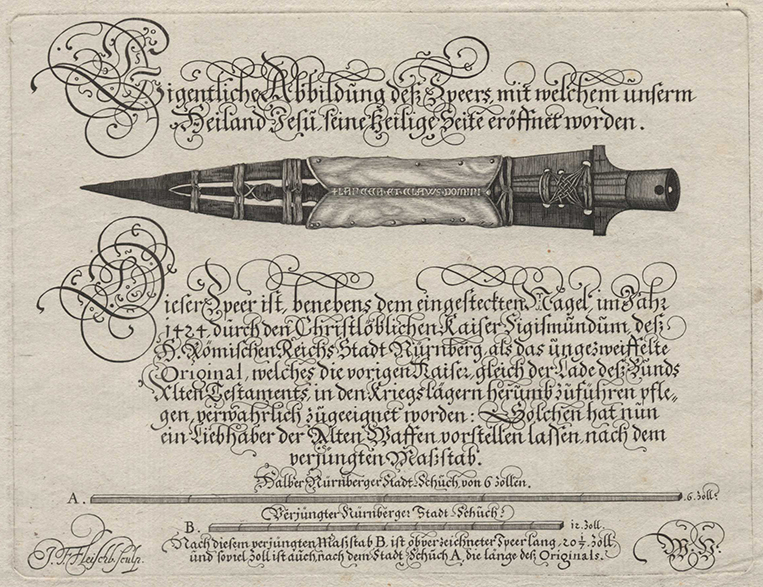 Johann Friedrich Fleischberger (baptised 1631-buried 1665), Eigentliche Abbildung deẞ Speers mit welchem unsererm Heiland Jesu seine heilige Seite eröffnet worden … J. F. Fleischb[erger] sculp. [Nuremberg], Johann Friedrich Fleischberger [for] W.V., [c. 1660]. Graphic Arts Collection 2020- in process
The Graphic Arts Collection recently acquired a small engraved broadside of the Holy Lance as kept in Nuremberg, surrounded by explanatory calligraphic text and scale measurements. The text that comes with it from the dealer is quoted here:
A rare illustrated broadside which celebrates the Holy Lance not only as a relic and a powerful component of the Imperial Regalia, but also – crucially – points out its historic archaeological importance as an antique weapon. The broadside was commissioned by an as yet unidentified art and armor collector, 'W.V.' who asked the Nuremberg engraver J. F. Fleischberger (baptised 1631, buried 1665) to copy it, to scale in reduced form, and adorned its illustration with explanatory text. The text gives a short historical overview about the importance of the Holy Lance, and ends with the note that the broadside was commissioned and paid for by an admirer and collector of old armor, 'Solchen hat nun ein Liebhaber der Alten Waffen vorstellen lassen nach dem verjüngten Maẞstab' [= A lover of old weapons has now had such a thing introduced according to the reduced standard'].

The Holy Lance was believed to have been used by the Roman centurion Longinus to probe and pierce the side of Christ when he hung on the cross, to ascertain his death. It is a relic of immense symbolism and power and is considered one the most important pieces of the Imperial Regalia. The Holy Roman Emperors came into possession of the Holy Lance in the 10th century, and in 1424 it was given by Emperor Sigismund to Nuremberg (to be kept there in perpetuity) and was kept there as part of the Imperial Regalia used in subsequent Imperial coronations. It was only moved to Vienna (where it is still kept in the Imperial Treasury) when the French Revolutionary troops threatened Nuremberg in 1796.
In addition, our rare book division acquired an uncommon dissertation by the Nuremberg lawyer Spies (1710-1778) on the importance of the Holy Lance in Nuremberg as part of the Imperial Regalia rather than as a relic. The Praeses, or thesis advisor, was the historian Johann David Köhler (1684-1755), professor in Altdorf since 1711, first of Logic then History, and whose supervised dissertations are regarded as important contributions to scholarly discourse. See below: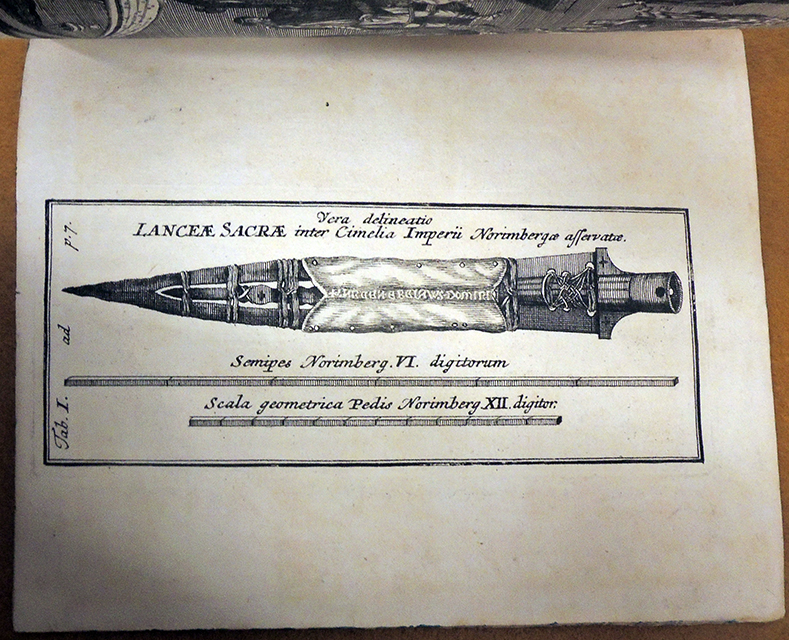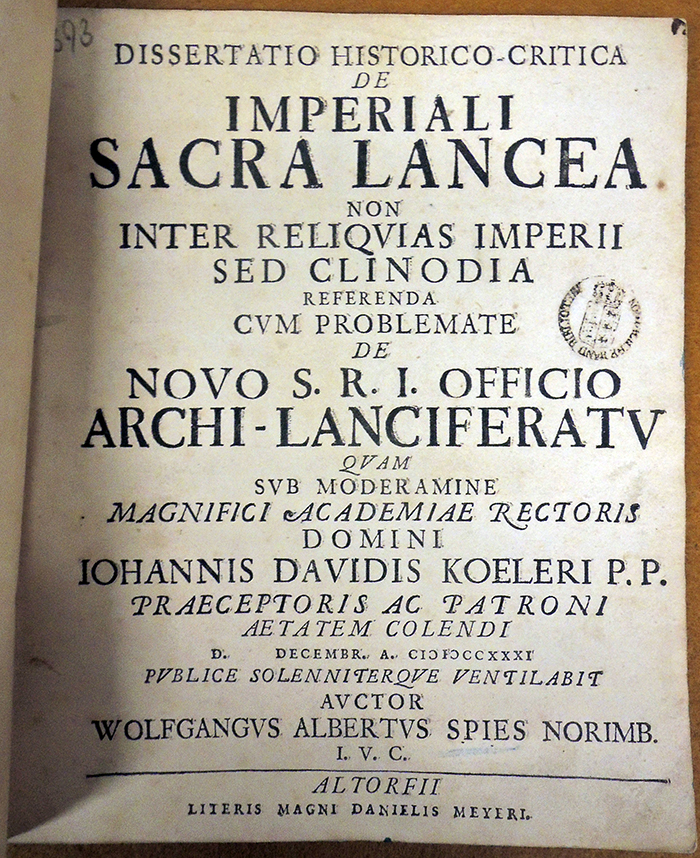 Wolfgang Spies. Dissertatio historico-critica de Imperiali Sacra Lancea non inter reliqvias Imperii sed clinodia referenda: cvm problemate de novo S. R. I. officio archi-lanciferatv / Qvam svb moderamine magnifici Academiae Rectoris domini Iohannis Davidis Koeleri P. P. Altdorf, Daniel Meyer, December 1731. Rare Books EX 2020- in process

The Holy Lance, displayed in the Imperial Treasury at the Hofburg Palace in Vienna, Austria.
Die Heilige Lanze = The Holy Lance. Karolingisch, 8. Jahrhundert Stahl, Eisen, Messing, Silber, Gold, Leder 50,7 cm lang. Carolingian, 8th century Steel, iron, brass, silver, gold, leather 50.7 cm long.
See also: http://www.historynaked.com/nurembergs-secret-vault/
The British Museum has: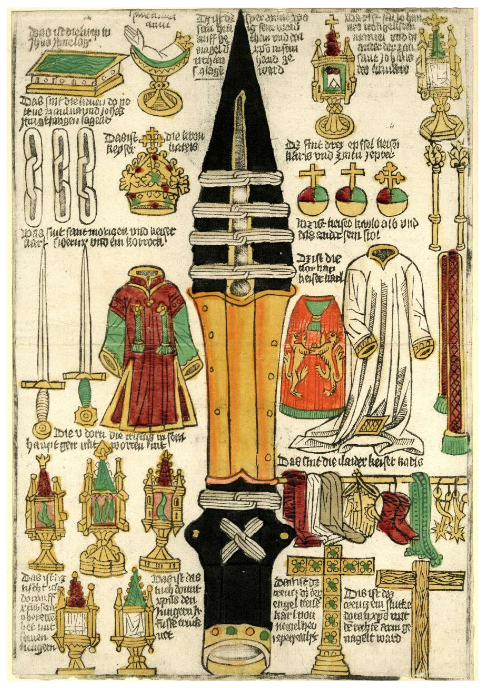 "The relics, vestments, and insignia of the Holy Roman Empire; in the centre of the print is the lance of St Maurice with inscription at its top; to the left and right of the spear are other relics in five rows, all accompanied by an inscription. Woodcut with hand-colouring , Nuremberg, 1470-1480. Inscription in six lines, accompanying the lance: "Dz ist dz sper domit xpo sein heilig seite ward auff gethan und der nagel dr xpo in sein rechten hand geschlage ward."
"The Imperial Regalia and relics repicted in this print were preserved from 1424-1796 in the Heilig-Geist Kirche in Nuremberg, and were exhibited on the Feast of the Holy Lance on the Helitumsstuhl in the marketplace across from the Frauenkirche. Some of the objects were lost in the removal from Nuremberg during French occupation; the others are kept in the Schatzkammer in Vienna. Descriptions of them were printed in book-form in Nuremberg in 1487 and 1493 and it is highly likely that this print was also published in Nuremberg. Apart from the lance of St Maurice, the representations of the objects are stylised and do not resemble their originals."