Ida Saint-Elme on the left, Daumier on the right
Ida Saint-Elme (née Maria Johanna Elselina Versfelt, 1776-1845), La caricature française. Journal sans abonnées et sans collaborateurs [= French Caricature. Journal without subscribers and collaborators] no I-XXV [= all published]. (London: Privately published, 1836). Bound with: Album de la correspondance du prince émigré. Londres, privately published. Imprimerie de Schulze et Cie 1836. Bound with: Portrait d'Alibaud, avec sa défense interrompue par les pairs et des confidences sur sa vie intime, d'une jeune francaise, publié par Mme. Ida St. Elme, 1836. Graphic Arts Collection GAX 2020- in process
The Dutch writer, explorer, and actress Maria Johanna Elselina Versfelt (1778-1845) was also known as Ida Saint-Elme; Elzelina av Aylde Jonghe; and by her pseudonym La Contemporaine. The Getty's union list of artist names adds: Elzélina van Aylde Jonghe and Elzélina Tolstoy van Aylde-Jonghe.
Her moniker "the Female Casanova" came after she published her eight volume memoir Mémoires d'une contemporaine, 1827-28 [recap 1509.178.7913], which emphasized her romantic adventures. Perhaps to escape this celebrity, she spent the next few years sailing the Nile and exploring Egypt, publishing a six-part travelogue La Contemporaine en Egypt.
Later, while working as a manuscript dealer in London, she also published a satirical magazine modeled after Charles Philipon's La caricature, which she called La caricature francaise. Journal sans abonnées et sans collaborateurs. This is possibly the earliest satirical magazine written, illustrated, and published by a woman. However she stole many images directly from Philipon's magazine, such as her copy of Honoré Daumier's 1833 lithograph "Ah ! Tu veux te frotter à la presse !" from La Caricature.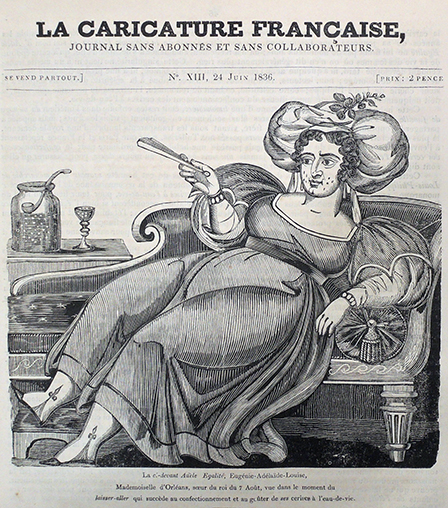 "One of the most unusual results of the September Laws was the founding in March 1836 of a French caricature journal in exile, La Caricature Françoise. It was published anonymously (by the Bonapartist intriguer Ida Saint-Elme) in London, in order to escape censorship, at an office it dubbed "The Crowned Pear." This new extremely rare tabloid-sized weekly, which lasted only six months, consisted of four pages of text and included on the title page a woodcut caricature which was often copied from drawing previously published in Philipon's journals." –Robert Justin Goldstein, Censorship of Political Caricature in Nineteenth-century France, 1989.
"The magazine contained letters from the king, whether or not forged, which ridiculed him. In April 1841 this led to a legal process against Versfelt, the so-called "Procès des lettres". But the court could not prove that the published letters were actually falsified and Versfelt was therefore not convicted. But many English prominent people considered her a forger. After this Versfelt left for Belgium, where she would live until her death in 1845. She died on 19 May 1845, blind and penniless, in a hospice in Brussels. She was buried in an anonymous grave." ~ Enne Koops
https://historiek.net/maria-versfelt-biografie-vrouwelijke-casanova/135805/