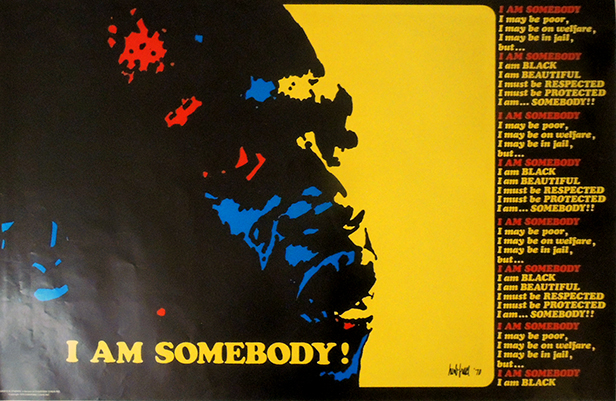 Herb Bruce, I Am Somebody! ([Chicago]: Gráfica Studios / Charisma Chain Inc., 1970). Poster printed with fluorescent inks on coated paper. Graphic Arts Collection GAX 2020- in process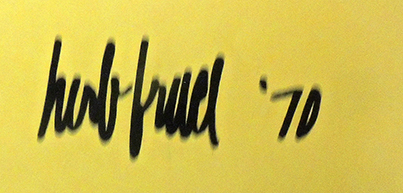 Herb Bruce

The African American artist and illustrator Herbert "Herb" Bruce designed this Day-Glo poster, as well as "Free Angela [Davis]" and "Cosmic Lady [Janis Joplin]" for Grafica studio, a division of Charisma Chain inc., Chicago, Illinois. He was also a contributing artist at the Johnson Publishing Company, founded by the African-American businessman John H. Johnson, whose Chicago headquartered published Ebony and Black World magazines, with drawings by Bruce in both.
The text is by Reverend Dr. William Holmes Borders (1905-1993), who served as pastor at Wheat Street Baptist Church on Auburn Avenue in Atlanta, Georgia, for over 50-years. Thanks to his radio addresses, he became a nationally known orator, writer, political activist, and preacher.
"Rev. Border utilized his platform to help African-Americans wherever he best could. For example, when four African-Americans were cruelly lynched in Monroe, Ga, he raised over $11,000 in community fundraising to go to cover their funeral expenses. Most notably, on January 10, 1957, near the beginning of Civil Rights era, Borders and five other protesters were arrested for violating bus segregation. Their protest directly led to the desegregation of buses in Atlanta."
"During his time serving as a pastor, Rev. Dr. William Borders produced over 7 books of prayers and sermons, most famous is his poem, "I am Somebody" that was requested over 8,000 nationwide and was later used by Rev. Jesse Jackson during the Civil Rights era." — https://www.sweetauburnworks.com/honoring-the-legacy-of-rev-william-holmes-borders-the-borders-family/
In 1970, a documentary film was released titled "I Am Somebody," by Madeline Anderson, following black female hospital workers in Charleston, South Carolina who went on strike for union recognition and a wage increase. Andrew Young, Charles Abernathy, and Coretta Scott King are included in the film, which was recently inducted into the Library of Congress's National Film Archive and preserved by the Smithsonian's National Museum of African American History and Culture. While the poster is not directly related to the film, Borders' poem from the 1940s was revived in these several ways in 1970.