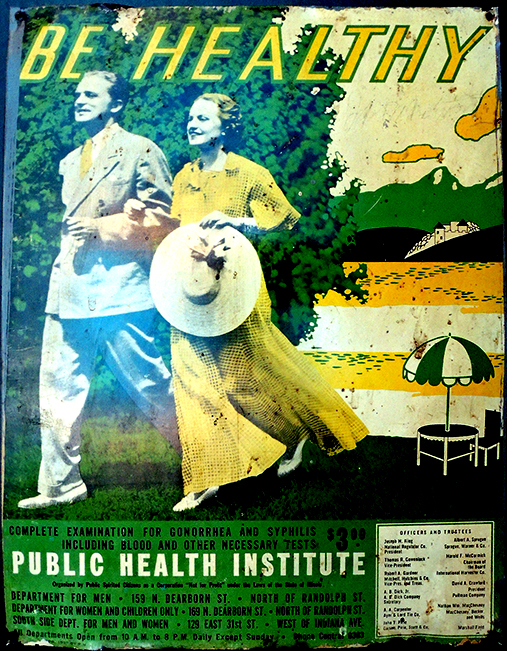 Public Health Institute. Be Healthy. Chicago, 1937. Color enamel silkscreen on metal. Graphic Arts Collection GAX 2020- in process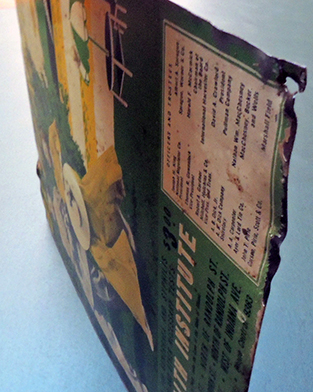 The Public Health Institute (PHI) was established in downtown Chicago in 1919 to cheaply diagnose and treat the epidemic of venereal disease. By 1929, the PHI was serving 1500-2000 patients a day at its three branches, including a south side location opened under pressure from black civic leaders.
Patients remained anonymous and no one was denied service because of inability to pay. Its profits were reinvested in other venereal disease programs, including direct support for the Illinois Social Hygiene League (ISHL) and a $100,000 renovation of Provident Hospital, the first African-American owned and operated hospital in the United States. The PHI's relationship with ISHL and its director, Dr. Louis Schmidt, brought it notoriety when Schmidt was expelled from the Chicago Medical Society (CMS) for violating its ban on advertising.
"According to its own reports, the PHI not only advertised in daily newspapers but placed 25,000 posters in public toilets, factories, and streetcars. The CMS's unanimous action against Schmidt and the Institute—based on how PHI's advertising challenged the social and economic power of their monopoly—was publicly ridiculed, since it punished a charity that had healed thousands. The case brought attention to the increasing cost of medicine and inadequate health care for the lower classes, initiating a conversation about a universal right to health care that continues to this day."
Read more at: "The Case Of Dr. Louis E. Schmidt: Medical Rights In The Early 20th Century" by Robert Glover, Northern Illinois University and at https://catalog.hathitrust.org/Record/010599614
"The whole issue was clearly focused in the case of Dr. Louis E. Schmidt, who as head of the Public Health Institute in Cook County, Illinois, had given medical service at about one-third less than customary cost to considerable numbers of people of the lower income groups. Dr. Schmidt was ousted from the Chicago Medical Society and was about to be dropped from the American Medical Association.
He thus defended his activities: "We cannot make all doctors rich by forming a trade union…. Ours is a profession, not a trade…. The time will come when both the profession and the public will be better served. If we organize to bring the cost of hospital, laboratory, and medical care within the purse of all that great majority of our people known as the middle classes, all reputable, capable physicians will prosper greatly.
Such a plan will take the business of meeting the health problems of these people with small incomes away from the quacks, charlatans, and patent medicine vendors, who now prey upon a public which has no other place to turn." —https://brocku.ca/MeadProject/Young/1930/1930_14.html