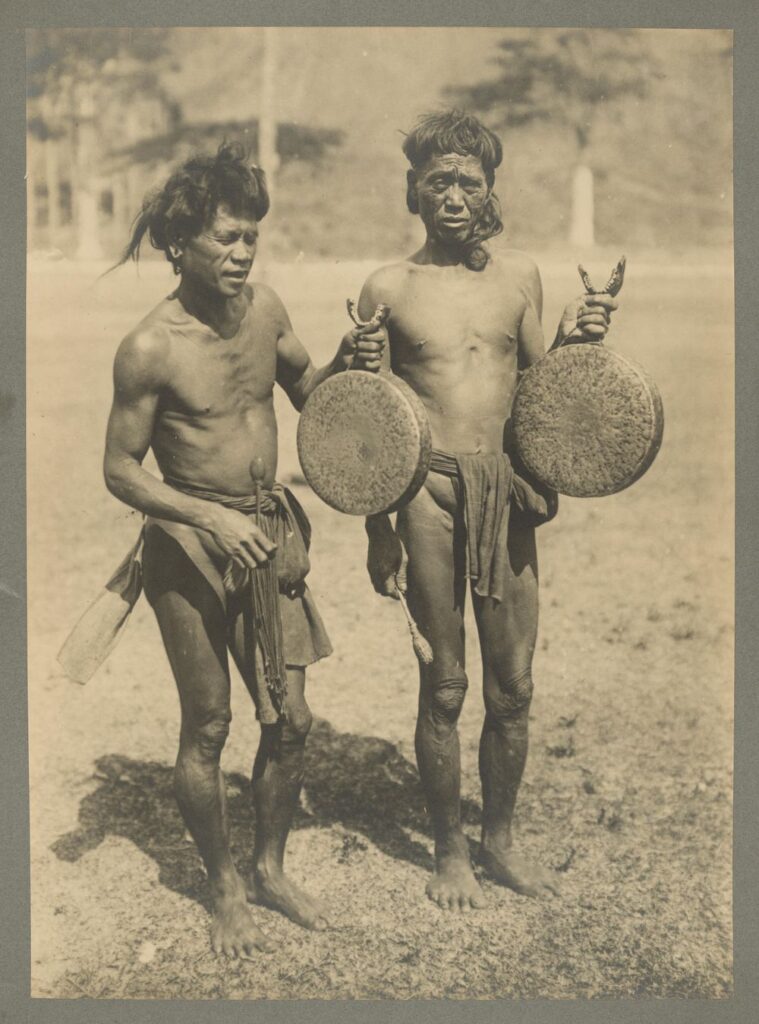 Verso text: "Two Igorrots with Gongs. The Gongs are used on which to bat time for their dances. Note that the handles are human jawbones from the heads of enemies taken in battle. The upper portion of the skull is given a place of honor in the home of the captor." Two Igorrots with gongs
Source Metadata Identifier:, 10636333
Identifier:, ark:/88435/zg64tv292
Call Number: GA 2011.00241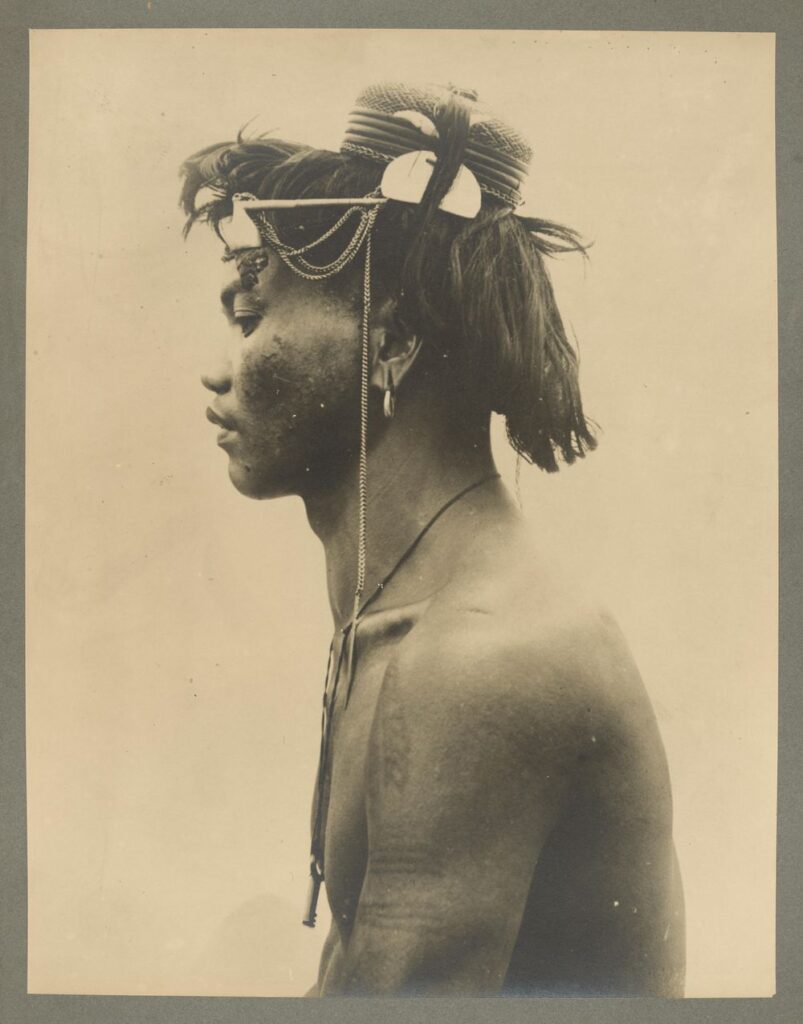 Igorrot man. Bontoc Province, Island of Luzon
Source Metadata Identifier: 10636335
Identifier: ark:/88435/dr26z574x
Call Number: GA 2011.00230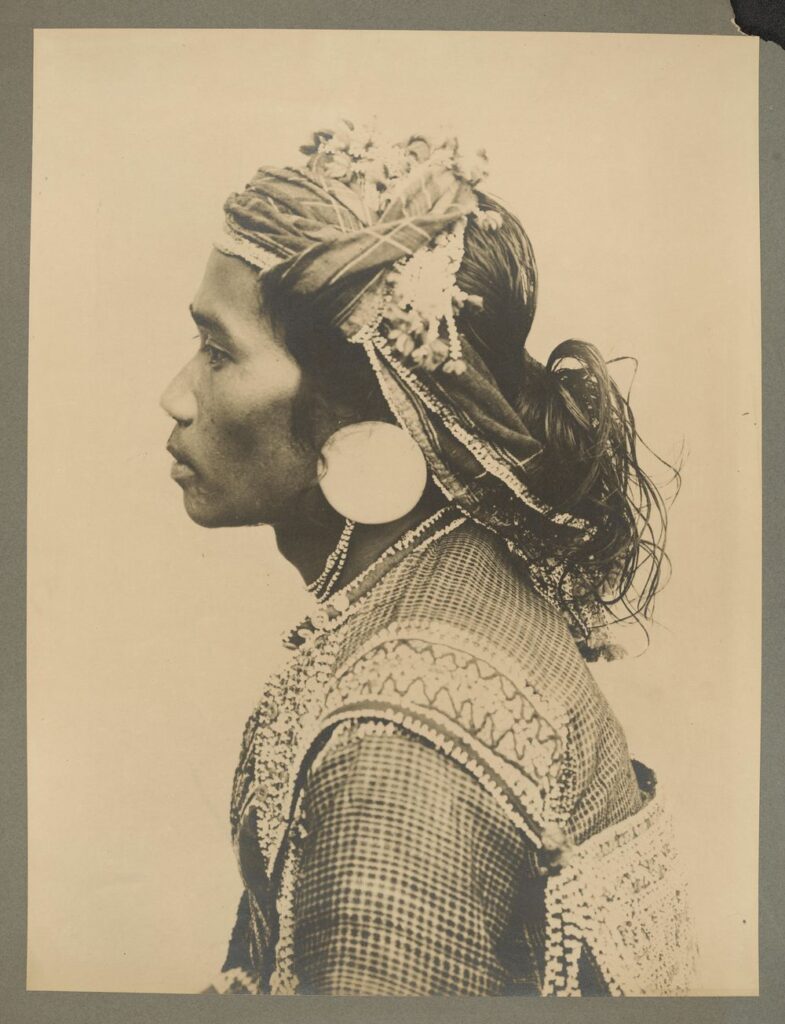 Bagobo man, taken near Davao, Mindinao
Source Metadata Identifier:, 10643034
Identifier:, ark:/88435/m900p278r
Call Number: GA 2011.00222

Early in the twentieth century, historians, anthropologists, and businessmen traveled to the Philippines to both study and bring elements of that culture to the United States, resulting in a massive exhibit at the 1904 St. Louis Fair. "Several anthropologists had gone to the Philippines to study the tribes people of the Cordillera region Northern Luzon. In 1903, the National Geographic did a spread on the people of the region. Anthropologist Albert Jenks conducted fieldwork in 1902, and his ethnographic information was used in the brochures describing the tribes people at expositions in the U.S. Jenks, who worked for the U.S. government, brought over people from the region to the Fair, some of whom lived with him and his wife." — https://www.foundsf.org/index.php?title=Igorots_Arrive_in_San_Francisco_in_1905
The Graphic Arts Collection holds 30 mammoth photographs, recently digitized, taken by an unidentified expedition to the Philippines. The text pasted on the backing board is often racist and pejorative, only some of which is quoted here. Although none are dated, the prints are presumed to be from the early 20th century, after the 1904 fair: "Bagobo Man. Showing how teeth are filed. The Bagobos live on the Gulf of Davao in Mindinao and are noted as the tribe who offer human sacrifices. In 1909 twenty of these people were sentenced by Judge Springer of the Court of first Instance for having taken part in a human sacrifice in the hills near Sta Cruz Davao. They offered a sacrifice of an 8 year old boy to Mandarangan the god of evil as their crops had been bad. Had their crops been good they would have offered a sacrifice to Dawata the god of good. In any case they must appease the wrath of the gods. This tribe make very showy clothing of beads and hemp cloth and are probably the most picturesque tribe in the Islands."
Blunt opinions are made about the people photographed: "They are of a low order of intellegence [sic], live in filthy huts and eke out an existence by abortive attempts at agriculture." An emphasis is placed on the use of skulls in decoration, and on the local diets that include dog meat.
"A Young Igorrot. Taken at Bontoc, Island of Luzon. The Non-Christian tribes of the central part of Luzon number about 500,000 souls of whom the Igorrots are the most numerous. They are great agriculturists but their favorite dish is Dog. Any kind of dog – but dogs with a white skin and hair preferred. They are head hunters and when a successful war party returns there is great rejoicing. The gory trophies are stuck up in front of the home of their captor and there ensues a great feast with much drinking. They believe that the spirit of a person can make trouble for those who killed him but that such a spirit profits by the food and drink consumed by the living at the feast in honor of their killing. A man or boy who has taken a head finds it easy to get an acceptable wife and the influence of the women is one of the potent factors which renders difficult the supression [sic] of head hunting amongst these people."

It is hoped that by digitizing these images, work can be done to improve the study and description so poorly written 100 years ago.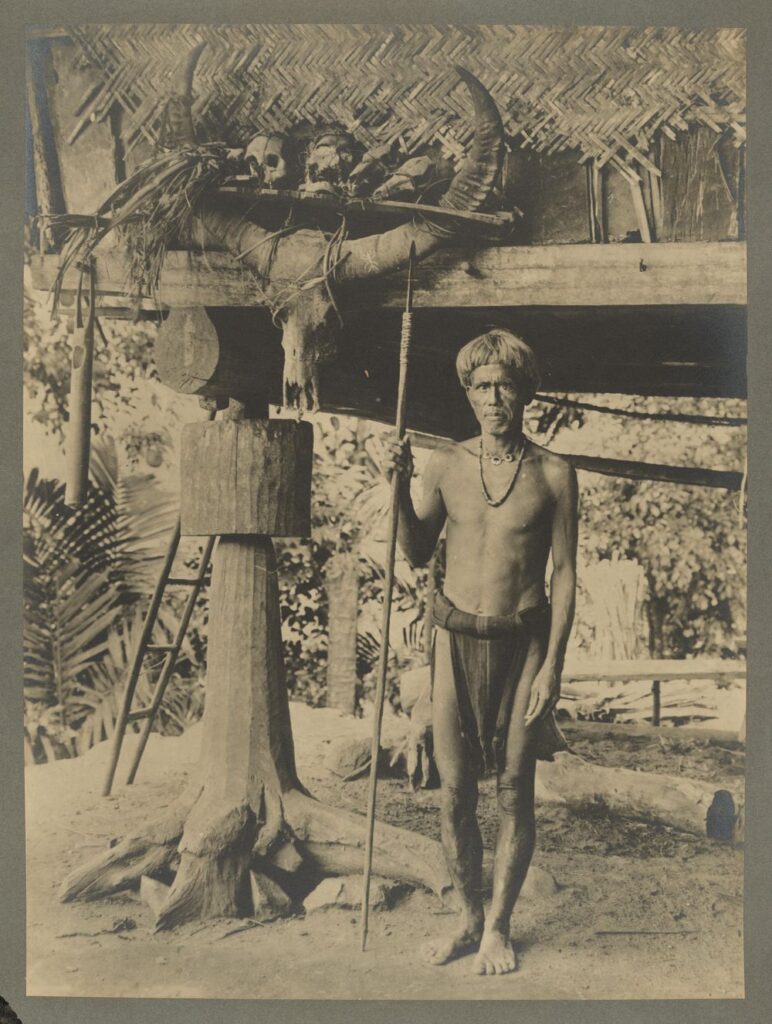 Verso text: "Ifugao Igorrot House Ornamented with Human Heads and the Man Who Took Them. Taken at Quingan, Nueva Viscaya, Island of Luzon. He makes no distinction between the heads of animals captured in the chase or those of his enemies. All are ornaments of which he is extremely proud. The horns are those of the Water Buffalo (Carabao)."Ifugo Igorrot house ornamented with human heads and the man who took them. Taken at Quingan, Nueva Viscay, Island of Luzon
Source Metadata Identifier:, 10646377
Identifier:, ark:/88435/37720n08r
Call Number: GA 2011.00228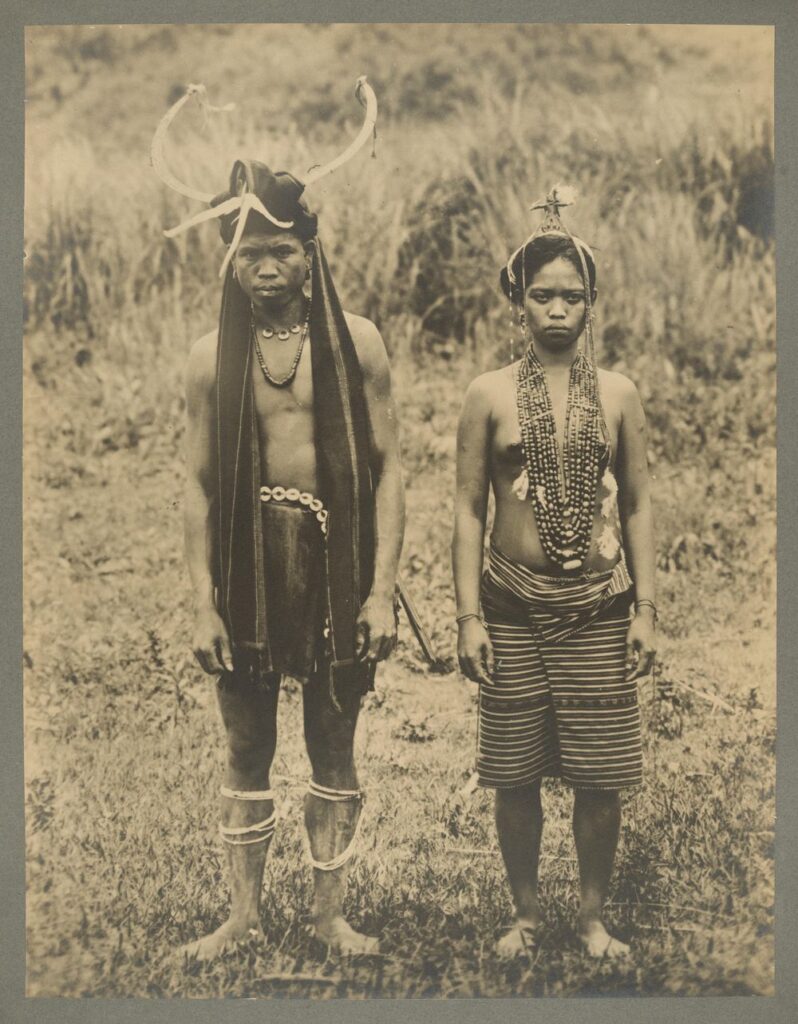 Verso text: "Ifugao Igorrots. Just married and showing their wedding dress." Ifugao Ingorrots. Just married and showing their wedding dress
Source Metadata Identifier:, 10643036
Identifier:, ark:/88435/5712mf89s
Call Number: GA 2011.00227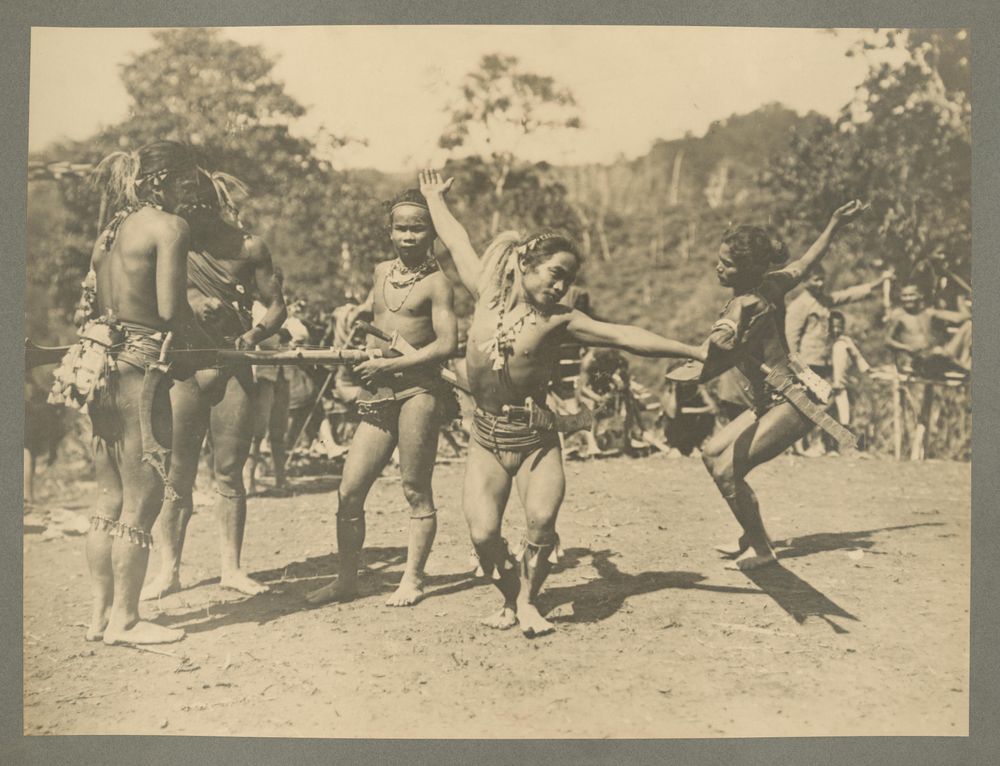 Verso text: "An Ingolot Dance. Province of Nueva Viscaya, Philippine Islands. These people are very similar to the Igorrotes and are also Dog eaters and head hunters. They will continue a dance for hours at a time going through a series of weird motions intended to typify their valor in battle etc."
An Ingolot dance. Province of Nueva Viscaya, Philippine Islands
Source Metadata Identifier:, 10654194
Identifier:, ark:/88435/70795g99j
Call Number: GA 2011.00220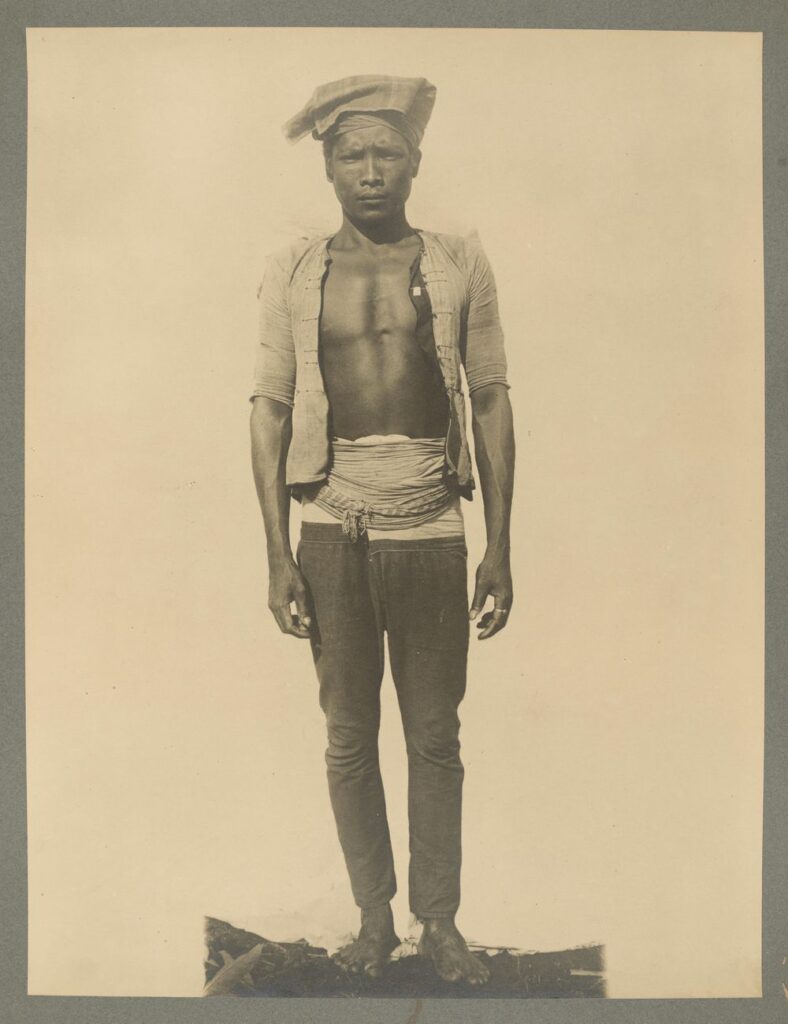 Verso text: "Subano Man. The Subanos inhabit the hills in the interior of the Island of Mindinao and are not as warlike as the Moros who inhabit the coast." Subano man
Source Metadata Identifier: 10654192
Identifier: ark:/88435/rx913z24z
Call Number: GA 2011.00238
Additional records and links:
Tinguian man
Source Metadata Identifier: 10667665
Identifier: ark:/88435/xp68kq56f
Call Number GA 2011.00239
Another Mangayan home. Island of Mindoro – constructed of Bamboo and Nipa
Source Metadata Identifier: 10667664
Identifier: ark:/88435/6682xc32w
Call Number: GA 2011.00221
Bagobo man. Showing how teeth are filled
Source Metadata Identifier: 10667663
Identifier: ark:/88435/q524jx12m
Call Number: GA 2011.00223
Tinguian man playing a flute with his nose
Source Metadata Identifier: 10664307
Identifier: ark:/88435/n8710017n
Call Number: GA 2011.00240
Mangayan home. Baco River, Island of Mindoro
Source Metadata Identifier: 10664306
Identifier: ark:/88435/9z9037223
Call Number: GA 2011.00235
Ifugao Igorrot smoking
Source Metadata Identifier: 10660933
Identifier: ark:/88435/8049gd42t
Call Number: GA 2011.00226
Ingorrot woman taken at Bontoc Island of Luzon
Source Metadata Identifier: 10664305
Identifier: ark:/88435/hh63t426q
Call Number: GA 2011.00234
Heads of enemies placed in a position of honor
Source Metadata Identifier: 10660932
Identifier: ark:/88435/2f75rh39q
Call Number: GA 2011.00225
Ingorrot woman showing ornamental stretching of the ear lobe and taken in Bontoc Province, Island of Luzon
Source Metadata Identifier: 10660931
Identifier: ark:/88435/gh93h6870
Call Number: GA 2011.00233
Igorrot girls house (for unmarried girls).
Source Metadata Identifier: 10654193
Identifier: ark:/88435/kd17d221d
Call Number: GA 2011.00229
Bontoc Igorrot man and two women wearing banana leaf clothing
Source Metadata Identifier: 10657568
Identifier: ark:/88435/9019s983k
Call Number: GA 2011.00224
A young Igorrot. Taken at Bontoc, Island of Luzon
Source Metadata Identifier: 10657569
Identifier: ark:/88435/sx61dv647
Call Number: GA 2011.00218
Young Mangayan woman, taken on Baco River, Island of Mindoro
Source Metadata Identifier: 10657567
Identifier: ark:/88435/p55480738
Call Number: GA 2011.00242
A typical Moro house at Jolo
Source Metadata Identifier:, 10649712
Identifier:, ark:/88435/br86bb92g
Call Number: GA 2011.00217
Ingolot man, Province of Nueva Viscaya, Island of Luzon
Source Metadata Identifier:, 10649711
Identifier:, ark:/88435/jh344164c
Call Number:GA 2011.00232Top of Form
A group of Ifugao Igorrots fighting for a piece of meat which was thrown away by a camping party as unfit for human consumption. Taken at Magok, Ifugao, Island of Luzon
Source Metadata Identifier:, 10649713
Identifier:, ark:/88435/1g05fk95r
Call Number: GA 2011.00213
A Negrito home, Cagayan Province, Island of Luzon
Source Metadata Identifier:, 10646378
Identifier:, ark:/88435/47429j481
Call Number: GA 2011.00215
Negrito women with their children. Province of Zambales
Source Metadata Identifier:, 10636334
Identifier:, ark:/88435/cr56n836m
Call Number: GA 2011.00236
Negrito women with their children. Province of Zambales
Source Metadata Identifier:, 10636334
Identifier:, ark:/88435/cr56n836m
Call Number: GA 2011.00236
Ifugo Igorrot house ornamented with human heads and the man who took them. Taken at Quingan, Nueva Viscay, Island of Luzon
Source Metadata Identifier:, 10646377
Identifier:, ark:/88435/37720n08r
Call Number: GA 2011.00228
Ingolot man. Province of Nueva Viscaya, Island of Luzon
Source Metadata Identifier:, 10639681
Identifier:, ark:/88435/0g354p56z
Call Number: GA 2011.00231
An Igorrot and his family. Trinidad, Benguet
Source Metadata Identifier:, 10643035
Identifier:, ark:/88435/vq27zw778
Call Number: GA 2011.00219
A Kalinga chief from Balantok, mountain province
Source Metadata Identifier:, 10639683
Identifier:, ark:/88435/r207tx693
Call Number: GA 2011.00214
A Negrito woman and child. Taken at Casablanca, Island of Luzon
Source Metadata Identifier:, 10639682
Identifier:, ark:/88435/wp988t15p
Call Number: GA 2011.00216