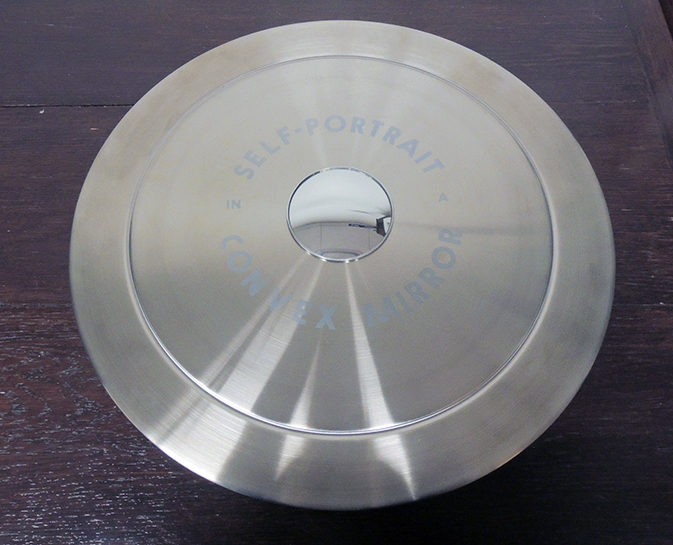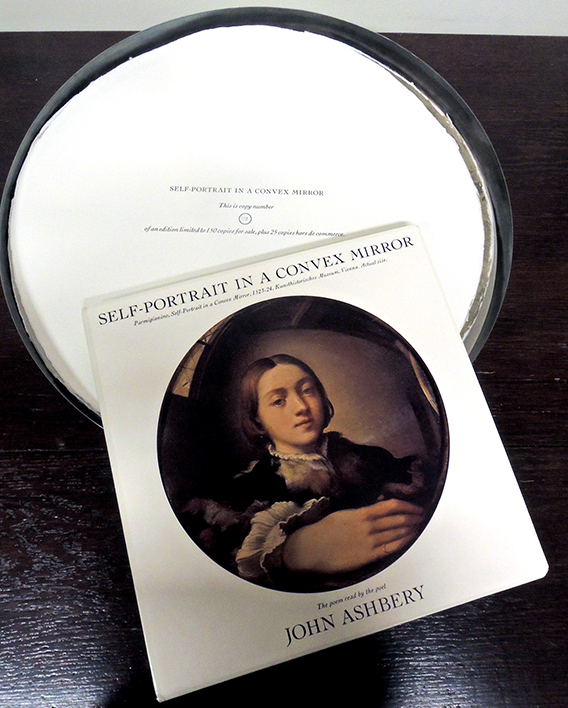 In one small corner of the world, both the poem Self-Portrait in a Convex Mirror by John Ashbery (1927-2017) and the Arion Press limited edition of Mirror, published in 1984 on the poem's ten-year anniversary, are so well-known that some would find it shocking that Princeton University would not have already acquired them both. This has been rectified with the recent acquisition of the limited edition with its circular prints by Larry Rivers (1923-2002), Alex Katz (born 1927), Jane Freilicher (1924-2014), Jim Dine (born 1935), Willem de Kooning (1904-1997), R.B. Kitaj (1932-2007), Elaine de Kooning (1920-1989), and Richard Avedon (1923-2004).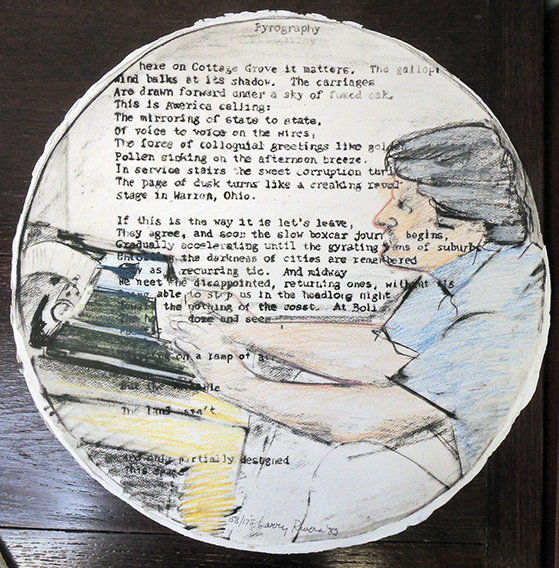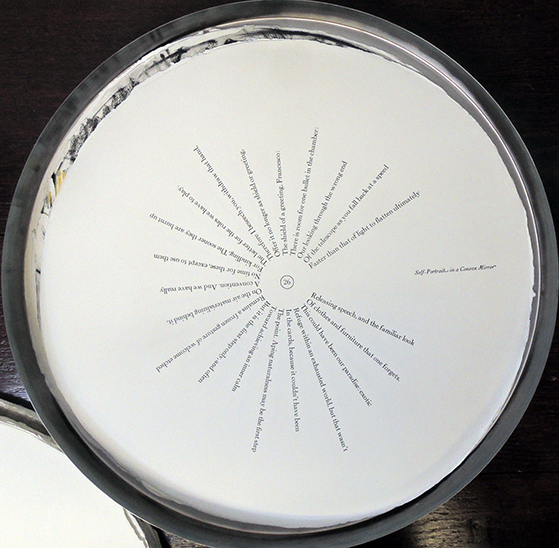 The stainless steel pseudo-film canister binding with a cover convex mirror opens to reveal Ashbery's lines radiating outward like the spokes of a wheel twirling as they are read. Each artist's contribution is unique, printed as lithographs, woodcut, soft ground etching with aquatint tone, photogravure, and photolithographs on cream wove handmade Twinrocker Mill paper.
Princeton's reading room will need to also acquire a 20th century record player to facilitate listening to the 33 1/2 rpm recording of Ashbery reading his poem but happily the foreword and essay by Helen Vendler (born 1933) is printed text, designed as liner notes. The record jacket reproduces the original reference for Ashbery's poem, Francesco Parmigianino's 1523-24 painting of the same name [below].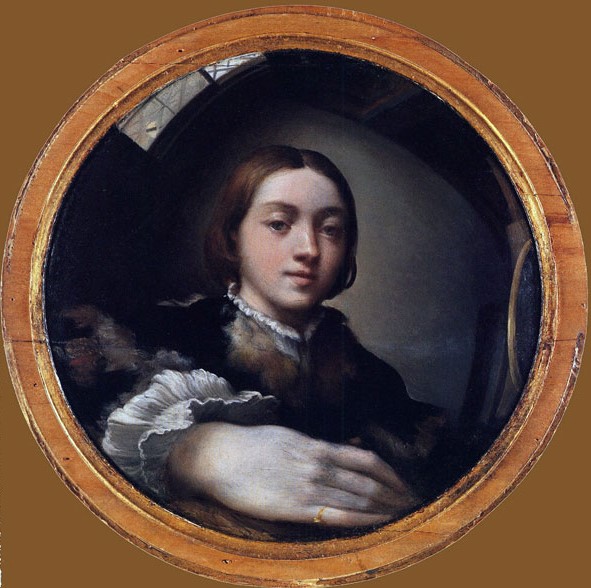 Kunsthistorisches Museum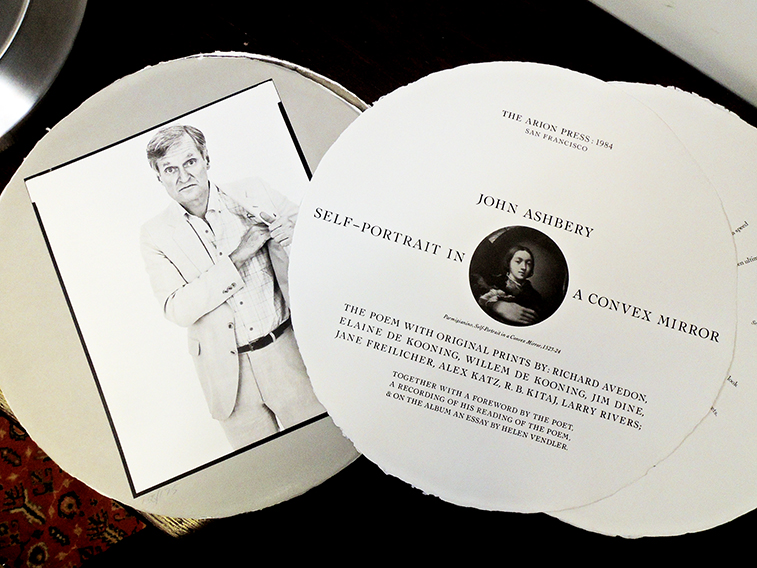 Dozens of scholarly essays have been written about this poem and the corresponding publication, including one recently presented at the Gagosian Chelsea gallery: https://gagosian.com/quarterly/2019/01/22/books-john-ashbery-self-portrait-convex-mirror/. Best to simply let Ashbery say a few words:
As Parmigianino did it, the right hand
Bigger than the head, thrust at the viewer
And swerving easily away, as though to protect
What it advertises. A few leaded panes, old beams,
Fur, pleated muslin, a coral ring run together
In a movement supporting the face, which swims
Toward and away like the hand
Except that it is in repose. It is what is
Sequestered. Vasari says, "Francesco one day set himself
To take his own portrait, looking at himself from that purpose
In a convex mirror, such as is used by barbers . . .
…For one to intervene? This otherness, this
"Not-being-us" is all there is to look at
In the mirror, though no one can say
How it came to be this way. A ship
Flying unknown colors has entered the harbor.
You are allowing extraneous matters
To break up your day, cloud the focus
Of the crystal ball. Its scene drifts away
Like vapor scattered on the wind. The fertile
Thought-associations that until now came
So easily, appear no more, or rarely. Their
Colorings are less intense, washed out
By autumn rains and winds, spoiled, muddied,
Given back to you because they are worthless.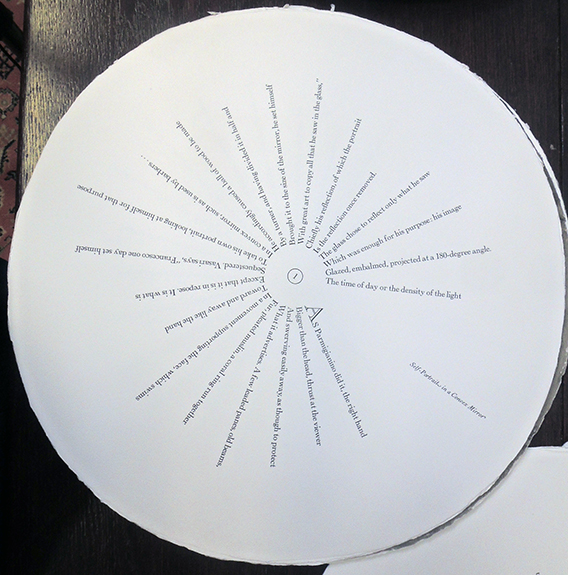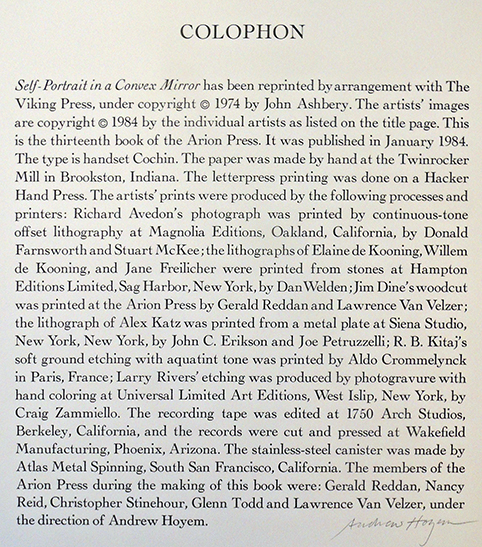 See also: John Ashbery (1927-2017), Self-portrait in a convex mirror: poems (New York: Viking Press, 1975). Rare Books PS3501.S475 S4