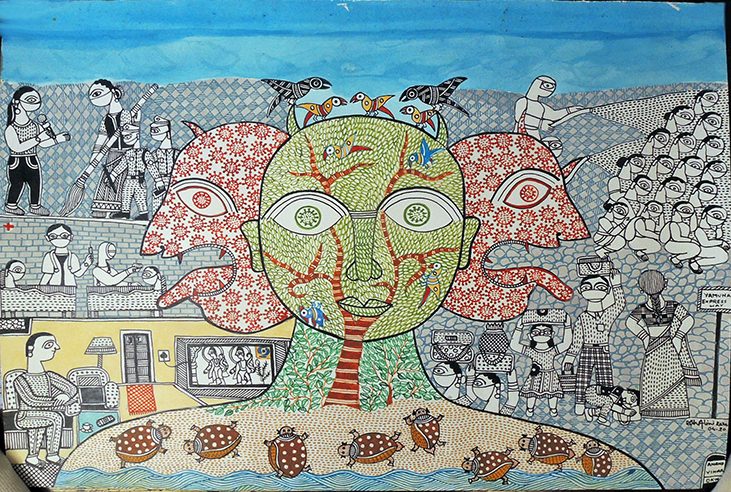 Shalini Karn, Faces of Corona, 2020. Acrylic on paper. Graphic Arts Collection 2020- in process
Please join us at 10:00 am Eastern (daylight savings) time on Friday March 26, 2021, for the next in our series of webinars highlighting the graphic arts collection. Organized to coincide with the one year anniversary of India's shutdown due to COVID-19, the March program is entitled: Mithila Art in 2020: Life, Labor, and COVID-19 in South Asia.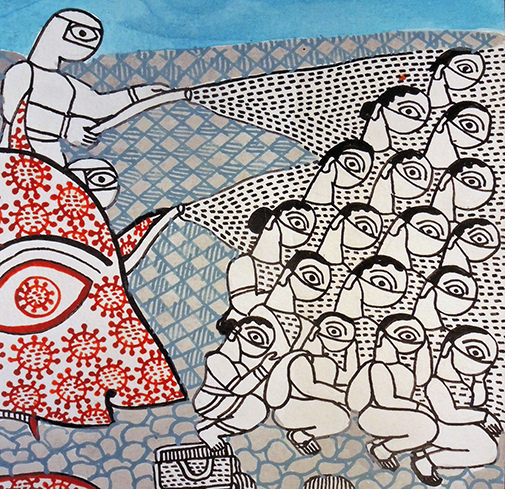 A panel discussion including Amanda Lanzillo, Cotsen Postdoctoral Fellow in the Society of Fellows; Lina Vincent, art historian and curator based in Goa, India; and Peter Zirnis, curator and collector of Mithila art, will be hosted by Julie Mellby, Graphic Arts Curator, and Ellen Ambrosone, South Asian Studies Librarian.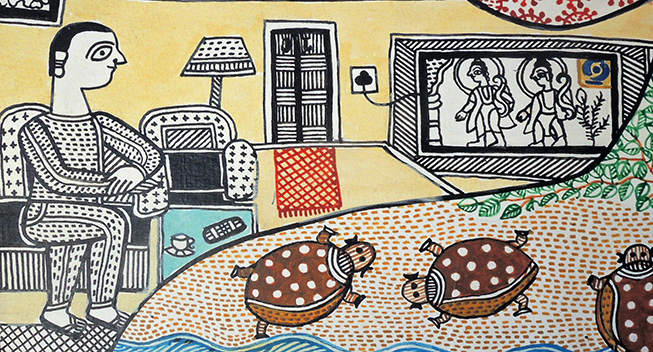 Throughout 2020, artists in India have been engaging with pandemic-related themes that reflect the vast inequity with which the pandemic has manifested in the lives of South Asians. While some have managed to maintain safety and stability, many more have experienced food insecurity, displacement, disease, and loss of income.
The Mithila art in Princeton's collection expresses moments of both serenity and sorrow in the midst of the recent crisis. Panelists will discuss and reflect on the particular expressions of COVID-19 in this art, as well the impact of the pandemic on artisan labor and art markets.
This webinar is free and open to the public, but please register here: https://libcal.princeton.edu/event/7351250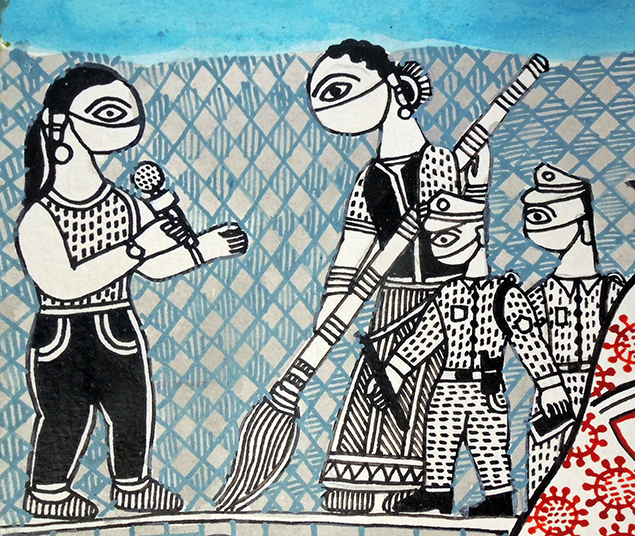 Date: Friday, March 26, 2021
Time: 10:00am – 11:00 am
This webinar is part of the Special Collections Highlights Series. View recordings of previous webinars here.
Previous webinars include:
May 2020: New Theories on the Oldest American Woodcut: The Portrait of Richard Mather by John Foster
June 2020: Thomas Eakins and the Making of Walt Whitman's Death Mask
July 2020: Afrofuturism: The Graphics of Octavia E. Butler
Aug 2020: Celebrate the 100th Anniversary of Women's Suffrage
Sept 2020: The Books and Prints of Anaïs Nin and her Gemor Press
Dec 2020: Before Zoom, Pre-Cinema, Optical Devices Tour
Feb 2021: Acrobatics: Moving Through the Trans Archives
March 2021: Mithila Art in 2020: Life, Labor, and COVID-19 in South Asia
April 2021: April is for the Birds: Audubon and Field Guides