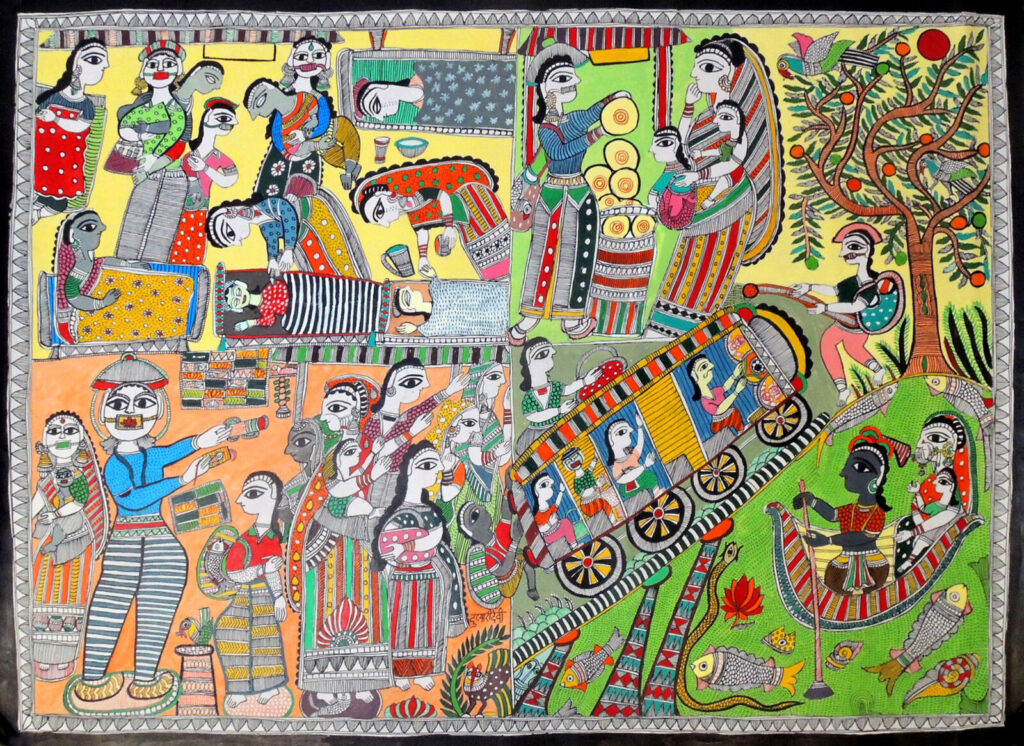 Don't forget to register for Mithila Art in 2020: Life, Labor, and COVID-19 in South Asia, Friday morning at 10:00 am Eastern Times. This live webinar will highlight representations of the pandemic in South Asian art that were recently acquired by the Princeton University Library.
The panel discussion will include Amanda Lanzillo, Cotsen Postdoctoral Fellow in the Society of Fellows; Lina Vincent, art historian and curator based in Goa, India; and Peter Zirnis, curator and collector of Mithila art; hosted by Julie Mellby, Graphic Arts Curator and Ellen Ambrosone, South Asian Studies Librarian.
Throughout 2020, artists in India have been engaging with pandemic-related themes that reflect the vast inequity with which the pandemic has manifested in the lives of South Asians. While some have managed to maintain safety and stability, many more have experienced food insecurity, displacement, disease, and loss of income. The Mithila art in Princeton's collection expresses moments of both serenity and sorrow in the midst of the recent crisis. Panelists will discuss and reflect on the particular expressions of COVID-19 in this art, as well the impact of the pandemic on artisan labor and art markets.
Register by clicking here.
Date:
Friday, March 26, 2021
Time:
10:00am – 11:00am
Campus:
Virtual
Audience:
Public
This webinar is part of the Special Collections Highlights Series. Recordings of previous webinars are available. To request disability-related accommodations for this event, please contact pulcomm@princeton.edu at least 3 working days in advance.