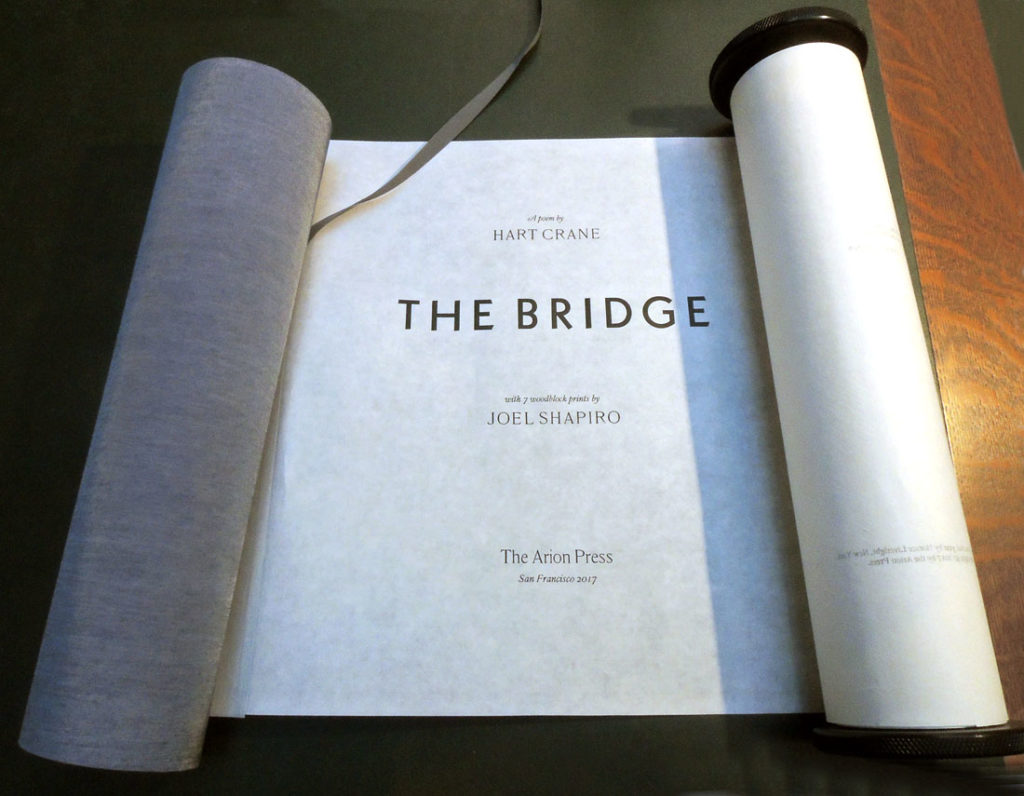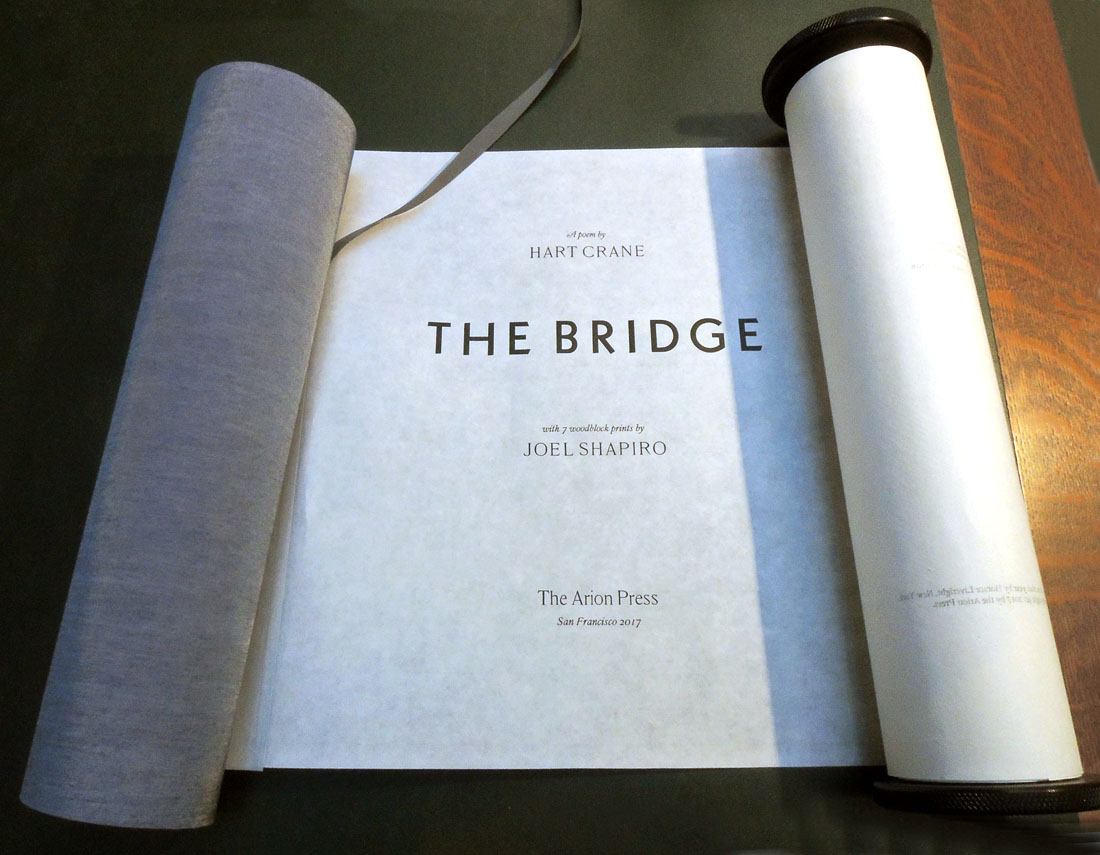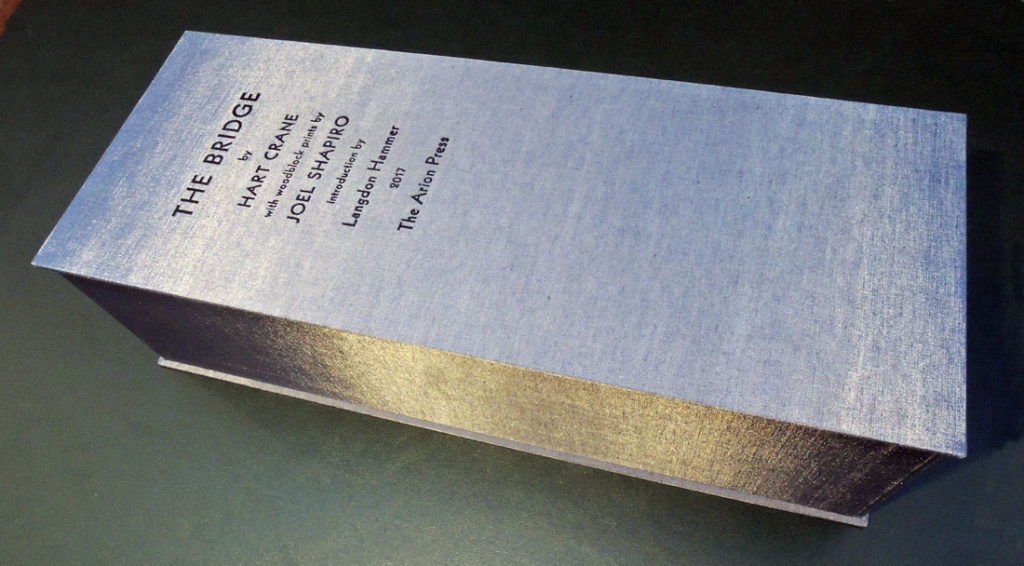 In 1916, Hamilton Easter Field (1872-1922) expanded the Ardsley School of Graphic Arts to include three buildings, 106-110 Columbia Heights, at the base of the Brooklyn Bridge. Many artists and writers were invited to stay with the Fields over the years and even when Hamilton died suddenly in 1922, many of the rooms continued to be used for temporary housing. Hart Crane (1899-1932) stayed there in the 1920s and was inspired by his view of the bridge. The rest is history. https://graphicarts.princeton.edu/2017/01/16/ardsley-studios/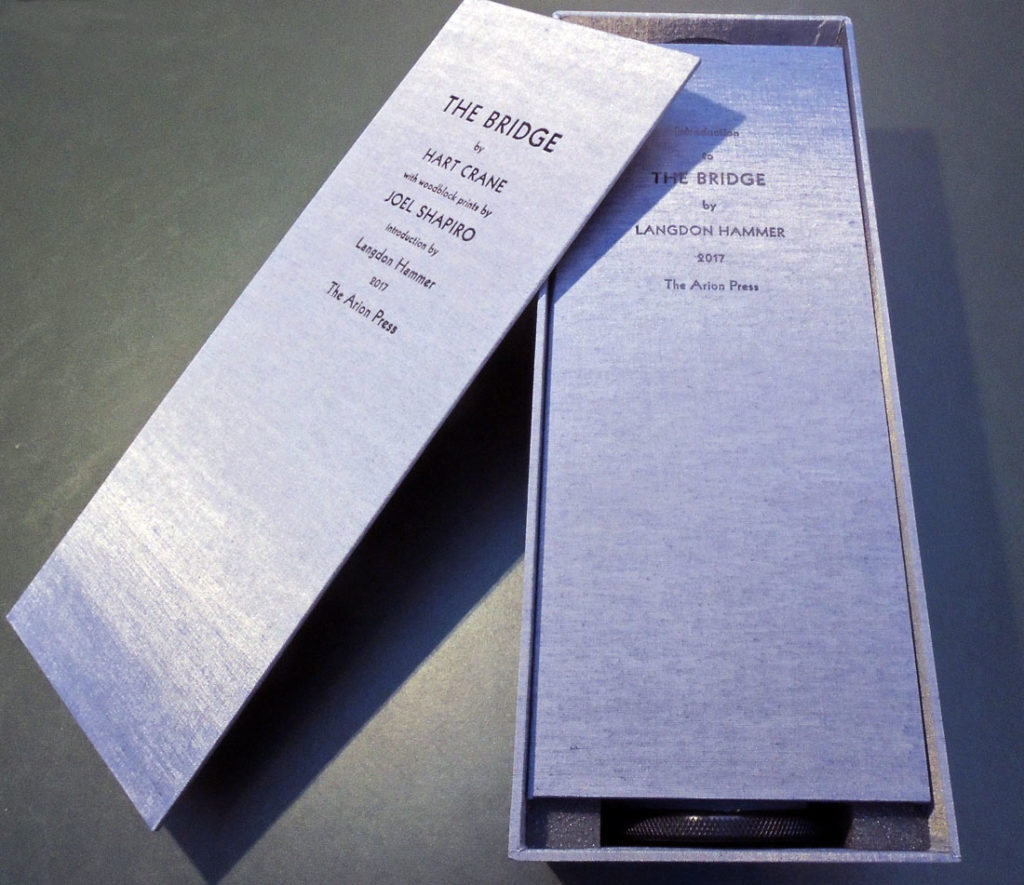 Now eighty-seven years after Crane's poem "The Bridge" was first published, Arion Press released a new edition with seven woodblock prints by sculptor Joel Shapiro. The Graphic Arts Collection received its copy today. It is an ambitious and innovative project, so I will quote from their prospectus, which can be read in full here: http://www.arionpress.com/catalog/images/110/Bridge-Prospectus.pdf
The edition also includes a specially commissioned essay on the poem by Langdon Hammer, Niel Gray, Jr. Professor of English & Department Chair, Yale University, in a separate bound volume. An article adapted from this essay can be read in The New York Review of Books: http://www.nybooks.com/daily/2017/11/24/hart-cranes-view-from-the-bridge/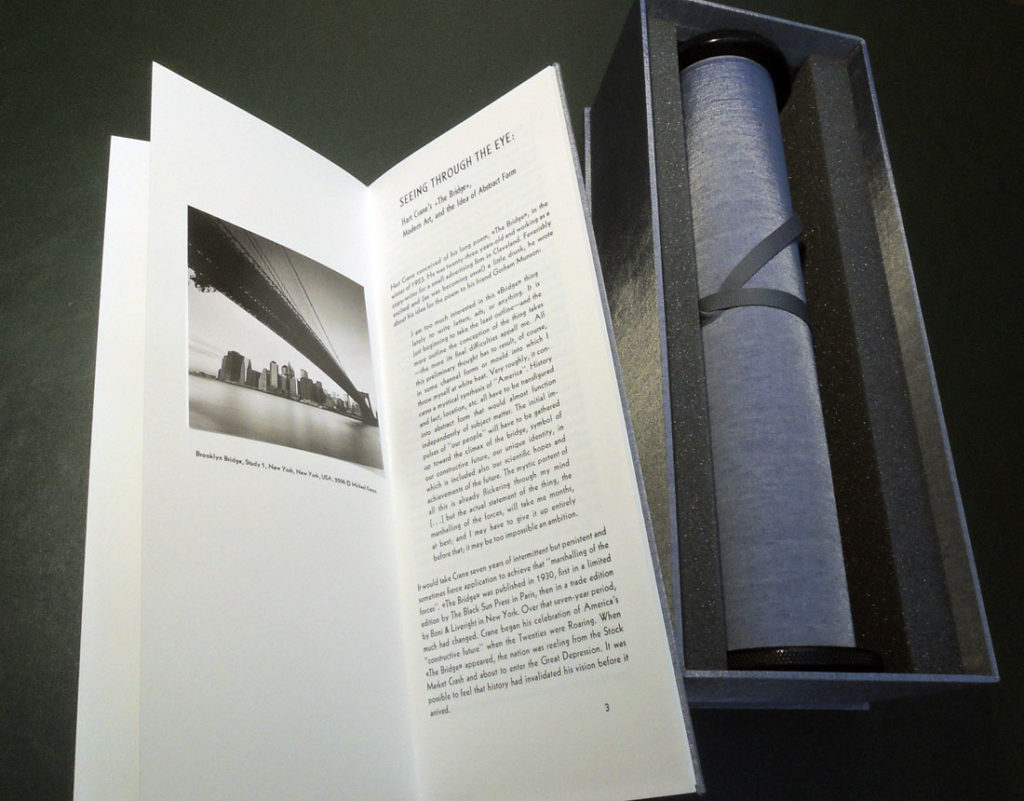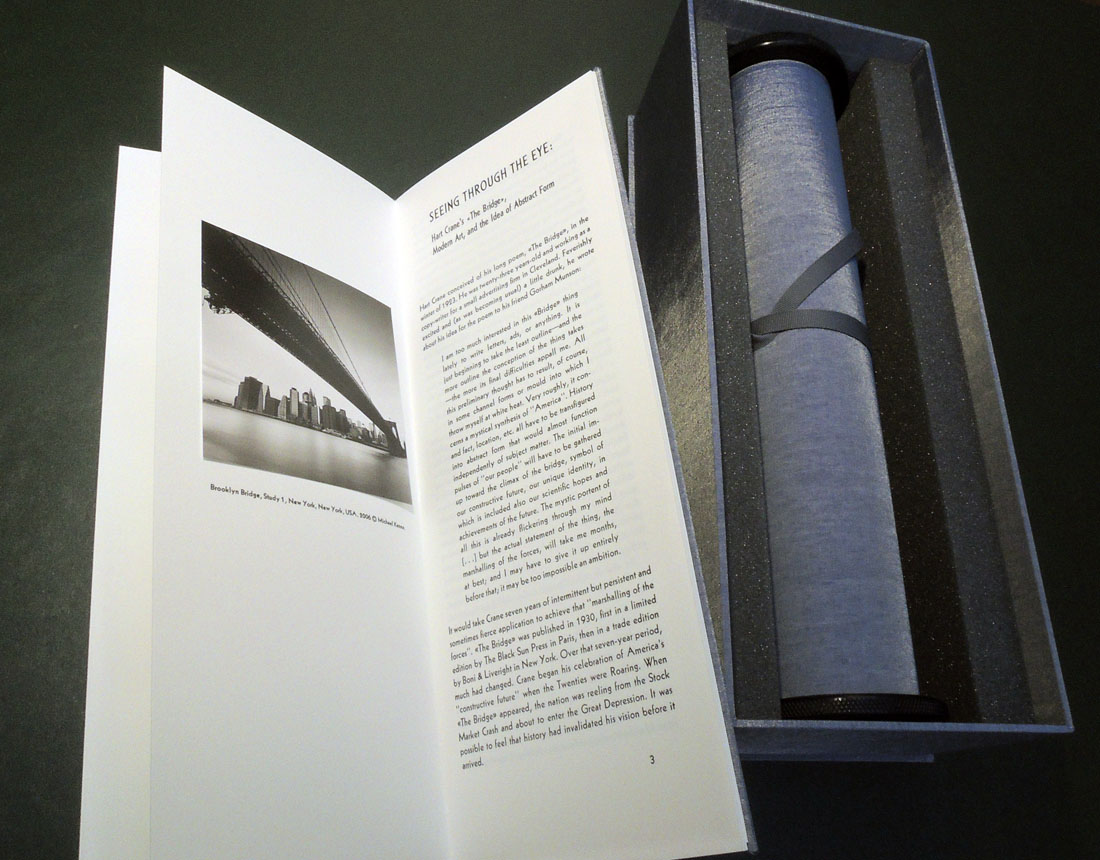 The publisher, Andrew Hoyem, conceived of a scroll format for "The Bridge" while he and senior editor Diana Ketcham were on a two-week tour of China in April 2017 organized by the Grolier Club, an association of bibliophiles in New York City. The theme of the trip was the history of paper, type, printing, binding, and the collecting of books, both private and institutional, in China.

During the first week they visited the Red Star Paper Company in Wuxi, Anhui Province. The Chinese government has recently sought to revive and support traditional crafts. Red Star is the fore-most producer of handmade paper in the nation, using ancient methods and many plant fibers in exacting proportions to make sheets of beautiful thin paper, used mainly for calligraphy and ink and watercolor painting.

In Beijing they visited the most important book collector in China, who showed them an unmounted scroll from the eighth century. Hoyem was inspired to order handmade paper from the mill and to make "The Bridge" in a single-spool scroll format. The book is 13½ inches tall and over 50 feet long, made up of joined sheets measuring 13½ by 25 inches.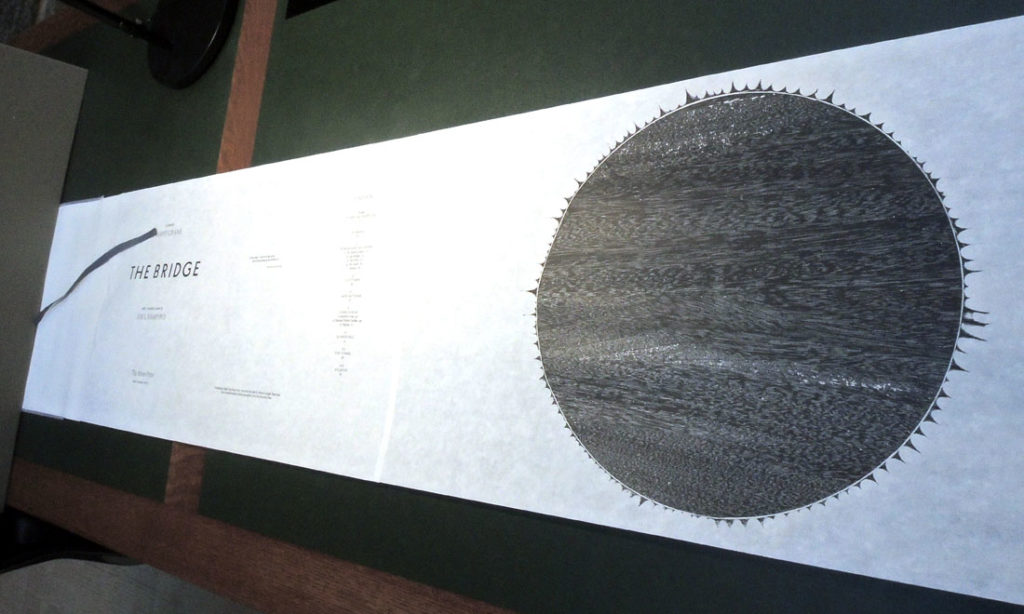 Our book is no. 117 of 300. It is interesting to note that Hoyem handset the long poem himself because typesetters on staff were busy with other projects.
"The type he chose is French Elzevir, 16-point for the text, 24-point for titles, and 10-point for subsidiary material. It is based on a modernized French oldstyle, cast by American Typefounders in the early twentieth century, purchased by the San Francisco printer John Henry Nash as new, and then acquired by the Grabhorn Press in the 1930s when Nash went out of business, then inherited by Hoyem in 1973."
Hart Crane (1899-1923), The Bridge. Woodblock prints by Joel Shapiro, essay by Langdon Hammer, photographs by Michael Kenna (San Francisco: The Arion Press, 2017). "Scroll format, 13-1/2″ x 50′, set by hand and printed by letterpress in black on handmade Chinese paper, with 7 images bound in, presented in a box along with a separate volume containing the introduction."–Publisher's website. Graphic Arts Collection GAX 2017- in process