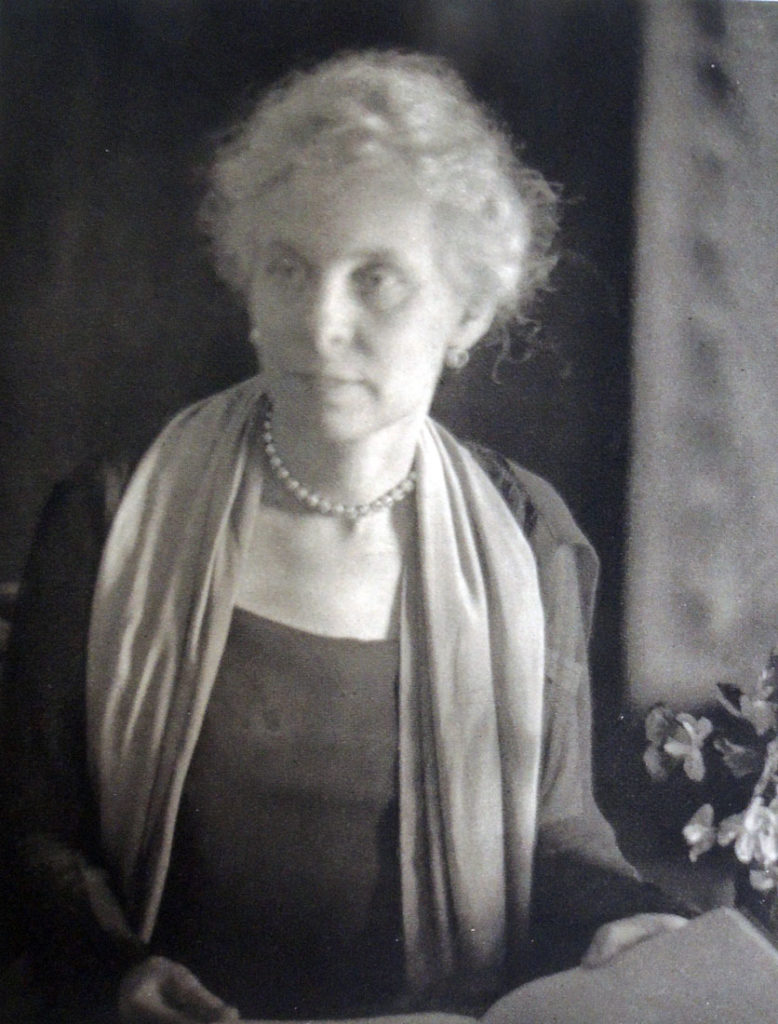 Edna Woolman Chase (1877–1957), editor-in-chief of Vogue magazine from 1914 to 1952. Detail from Doris Ulmann's A Portrait Gallery of American Editors, full page below.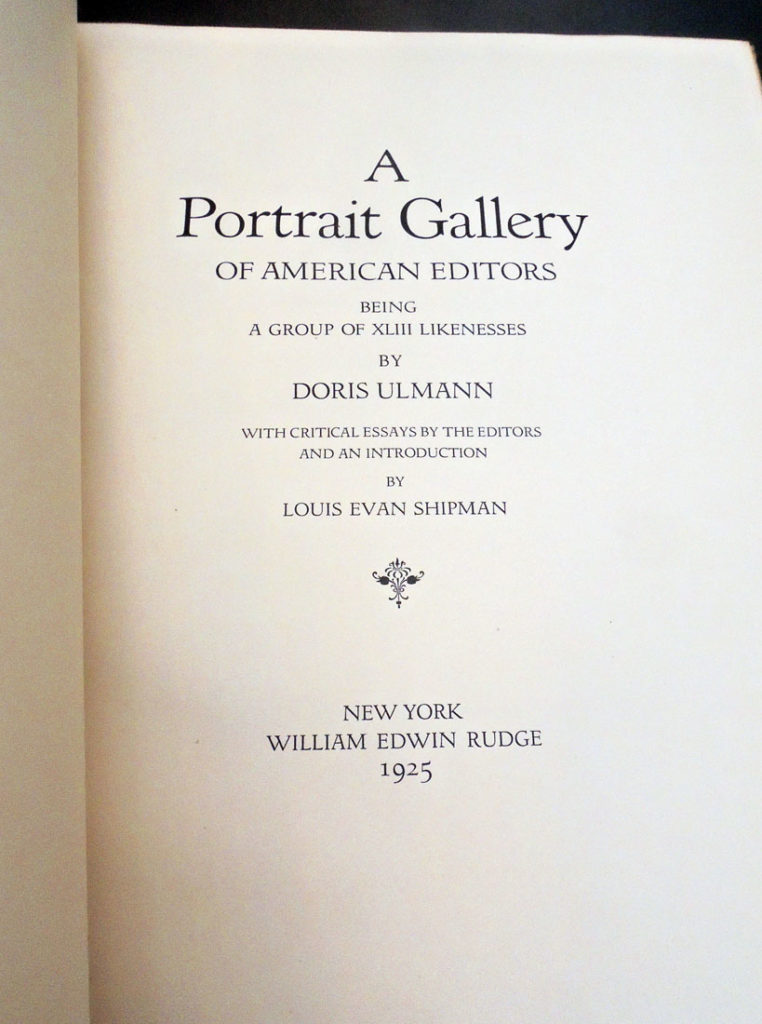 In 1924, when Doris Ulmann (1882-1934) began photographing the leading magazine and newspaper editors in the United States, she made 43 portraits; 41 were men and 2 were women.
Many of the sitters Ulmann met through The Art Center on 56th Street, incorporated in 1921 to bring together seven organizations: Art Alliance of America, Art Director's Club, American Institute of Graphic Arts, New York Society of Craftsmen, Pictorial Photographers of America, Society of Illustrators, and the Stowaways.
Elmer Adler (1884-1962), founder of Princeton's Graphic Arts Collection and a member of AIG and the Stowaways, was the original owner of our book.
A student of the Clarence White School, Ulmann published three volumes of portraits printed in photogravure between 1919 and 1925: The Faculty of the College of Physicians & Surgeons, Columbia University in the City of New York: Twenty-Four Portraits (1919), A Book of Portraits of the Faculty of the Medical Department of the Johns Hopkins University, Baltimore (1922), and A Portrait Gallery of American Editors (1925).
With each, she collaborated with a small circle of friends from the White School and The Art Center, including the Center's president, Frederic W. Goudy (1865-1947). Goudy designed and arranged the type for her books and Bertha M. Goudy (1869-1935) set the type at their Village Press, which had recently moved from Queens to Marlborough-on-Hudson. The photogravures were engraved and printed from her negatives by Harry M. Phillips at his Manhattan Photogravure Company, 142 W. 27th Street.
At an Art Center meeting, Goudy introduced the typeface he used:
"Members were gratified and reassured to see our ex-president, F. W. Goudy, at the March 22 meeting, the first public affair he had attended since his operation and convalescence. Many compliments were heard that evening, and since, concerning Mr. Goudy's new typeface, "Garamont," a classic interpretation of the face used by Geoffrey Tory's pupil. In further celebration of Mr. Goudy's return to health and productivity, the Committee on Publications in April distributed to members, as one of their "keepsakes," Clarence White's portrait study of Mr. Goudy, reproduced in gravure by Harry M. Phillips of Manhattan Photogravure Company."–Bulletin of The Art Center May 1923 [Keepsake: Graphic Arts Collection GAX 2010-0022F].
Their friend Ralph Steiner (1899-1986) also worked for Phillips at Manhattan Photogravure during the early 1920s when they producing the photogravures of Robert Joseph Flaherty's negatives for Revillon Frères. It is likely that Steiner also worked on Ulmann's books. https://graphicarts.princeton.edu/2018/01/09/revillon-freres-portfolios/ . Steiner went on to become photographer for Adler's Pynson Printers, https://www.princeton.edu/~graphicarts/2009/02/adlers_pynson_printers_photogr.html.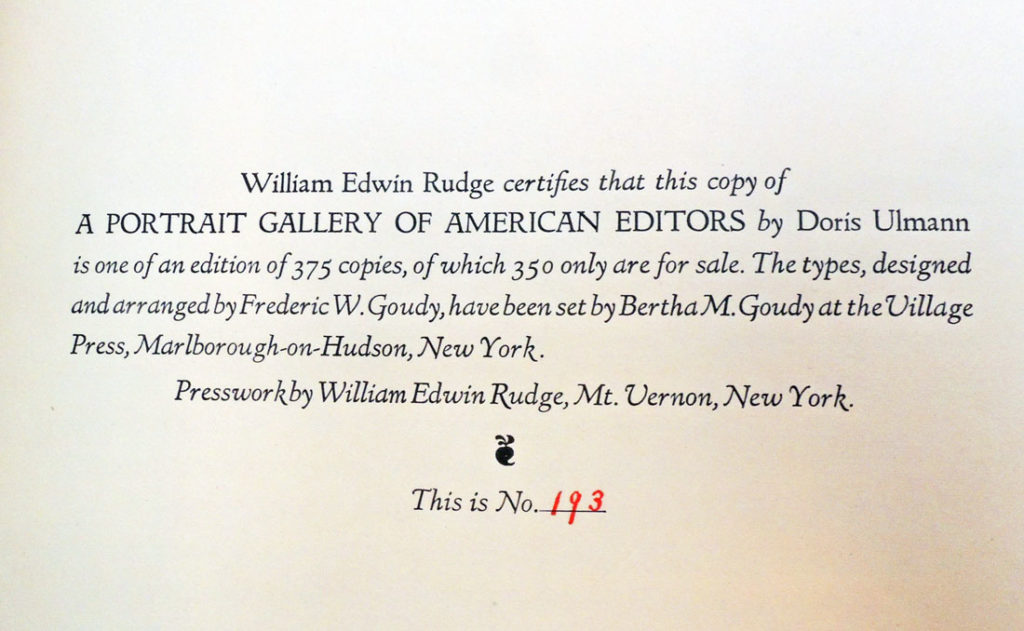 Note: Each of the sitters was asked to write a short statement about themselves and their work. All except one was published. Why is there no text along with the portrait of Elizabeth Cutting (1871-1946)? Did she not write one or was it considered unacceptable and not printed?
Cutting's 1947 obituary in New York History notes that she received a B.A. from Vassar College and an M.A. from Columbia University. She joined the editorial staff of Harper's Bazaar in 1907 before moving to The North American Review in 1910, serving as managing editor from 1921 to 1927. She was among the founders of the Cosmopolitan Club in New York and made a Chevalier of the Legion of Honor by the French government. It is too bad her statement, if there was one, does not appear.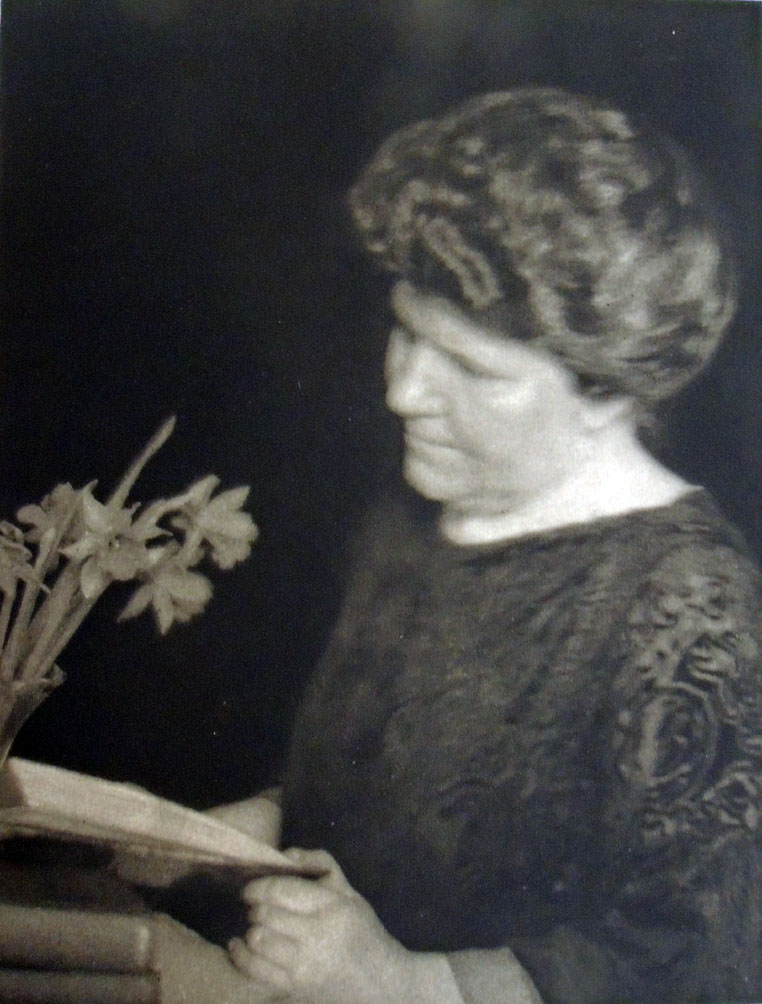 Doris Ulmann (1882-1934), A Portrait Gallery of American Editors, Being a Group of XLIII Likenesses by Doris Ulmann; with critical essays by the editors and an introduction by Louis Evan Shipman (New York: W.E. Rudge, 1925). Copy 193 of 375. "The types, designed and arranged by Frederic W. Goudy, have been set by Bertha M. Goudy at the Village Press, Marlborough-on-Hudson, New York. Presswork by William Edwin Rudge, Mt. Vernon, New York." Graphic Arts Collection GAX Oversize 2006-0205F
See also: Elizabeth Brown Cutting, Old Taverns and Posting Inns (London: G.P. Putnam, 1898).