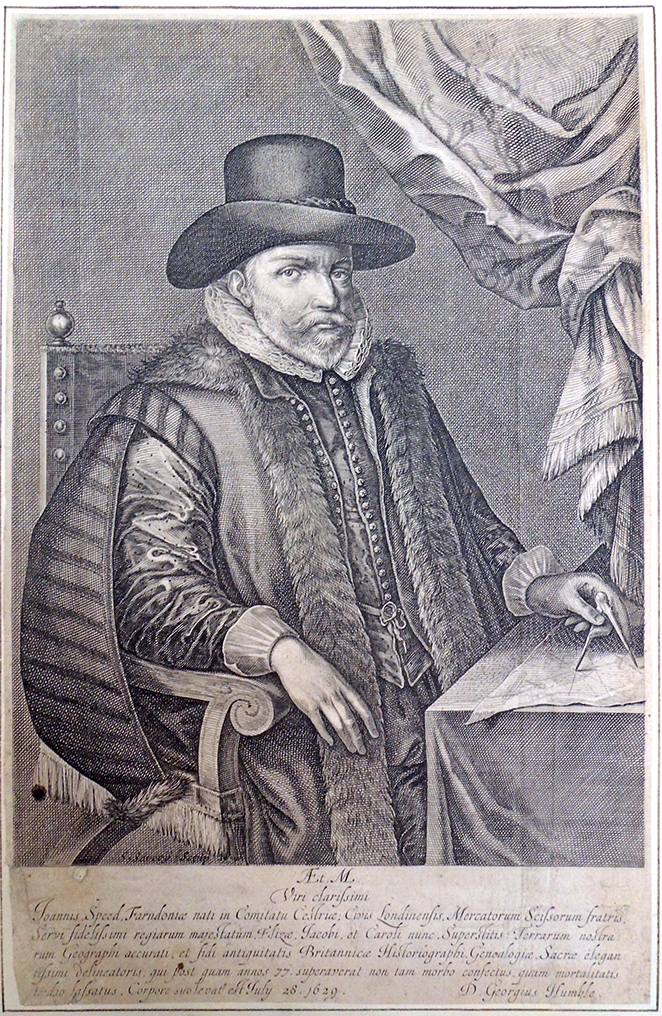 This is a confirmed portrait from the Graphic Arts Collection of the Dutch historian and cartographer John Speed (1594-1678), who biographers often compliment as "having had twelve sons, and six daughters, by one wife."– James Granger, A Biographical History of England, from Egbert the Great to the Revolution … (J. Rivington and Sons, 1804).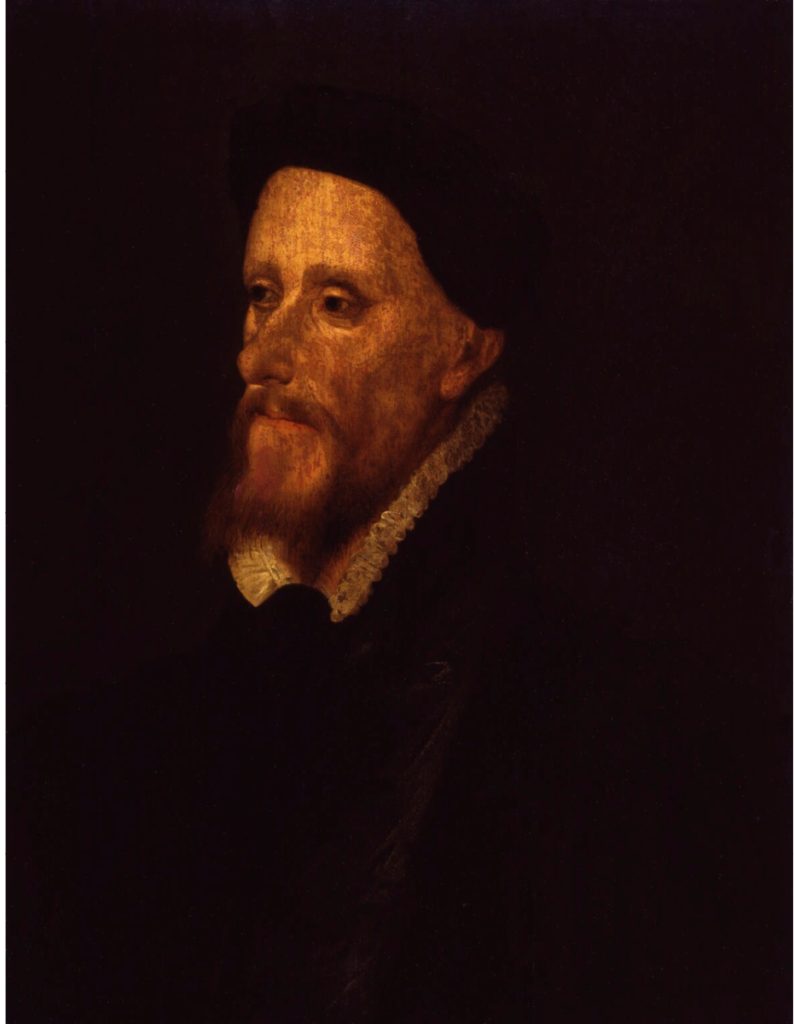 The portrait may or may not relate to an oil painting in London's National Portrait Gallery, currently labeled:
Unknown man, formerly known as John Speed
by Unknown artist
oil on panel, circa 1550-1575
© National Portrait Gallery
How many other portraits are now "formerly known as"?
Online London's National Portrait Gallery turns up 223: https://www.npg.org.uk/collections/search/portrait-list.php?search=sp&sText=formerly%20known&firstRun=true
These include 12 portraits of unknown women formerly known as Anne Boleyn, such as: Probably by Robert White, after Hans Holbein the Younger, Unknown woman formerly known as Anne Boleyn, line engraving, published 1681?, NPG D21020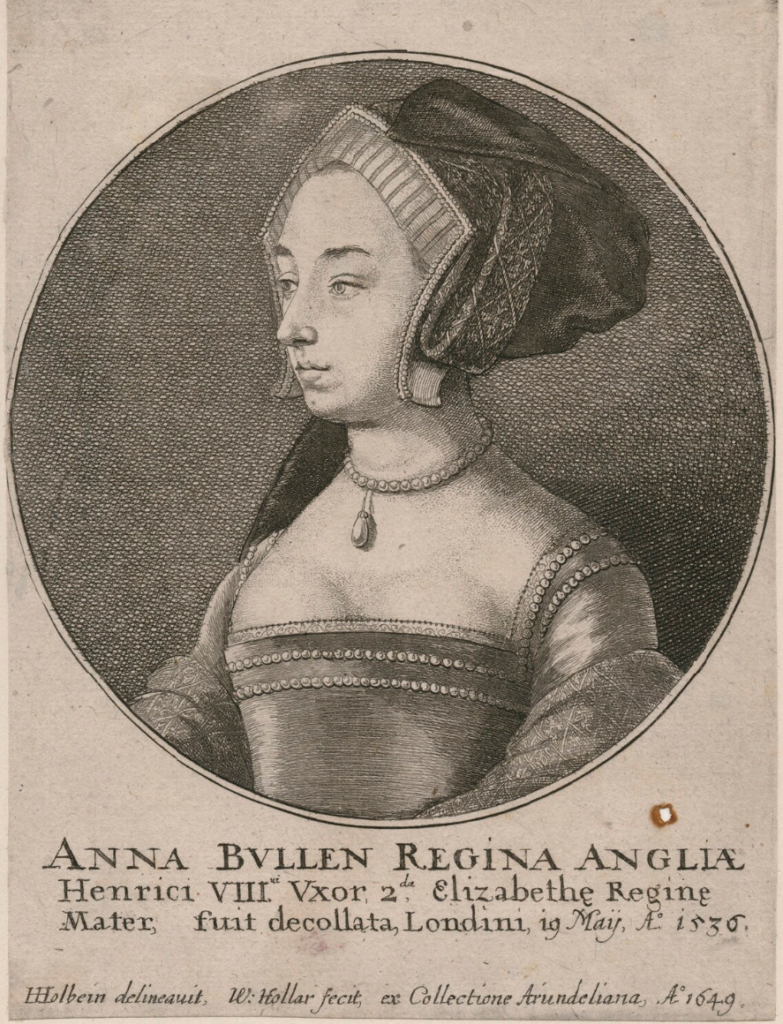 Online the British Museum currently lists 79 portraits formerly known as someone, now unknown (although my count in F. O'Donoghue, Engraved British Portraits Preserved in the Department of Prints and Drawings in the British Museum, 1908, lists over 200). Not one of the 1,650 portraits of William Shakespeare is listed as 'formerly known as'.
The Metropolitan Museum of Art holds the doubly confusing: Thomas Wright (1792-1849) after Cornelius Janssen (formerly known as), William Shakespeare (formerly known as) 1827. Stipple engraving in Wivell's Inquiry into the History of the Shakespeare Portraits (1827).
"…based on a painting then attributed to Cornelius Johnson (or Janssen), owned by Charles Jennens and believed to represent Shakespeare at the age of forty. That worked passed from Jennens, to the Duke of Hamilton, Duke of Somerset, then Lady Ramsden at Bulstrode Park, near Reading, before entering the Folger Shakespeare Library in Washington DC. Today, the "Janssen Portrait" it is no longer believed to portray Shakespeare and has been retitled "Portrait of an Unknown Gentleman, possibly Thomas Overbury" (see also 17.3.756-1714)."
Artist: After Anonymous, Anglo-Netherlandish, 17th century
Artist: Once said to be after Cornelius Janssen (British, London, baptised 1593–1661 Utrecht)
Sitter: Once said to portray William Shakespeare (British, Stratford-upon-Avon 1564–1616 Stratford-upon-Avon)
In addition, the MET has a portrait of the artist formerly known as Prince, by the artist currently known as Prince:

Richard Prince (born 1949), Untitled, 1999. 4 gelatin silver prints and a button. Described: "Signed in ink on printed card attached to frame verso: "R [illegible]"; printed text on card affixed to frame verso: "Left to right an inscribed Barbara Streisand, the artist formerly known as Prince, Sid Vicious, with an attached untitled "Joke" pin and Sylvester Stallone with a signed card by Stallone. [signature] 1999″
"…In his most recent Publicity series, the artist created Duchampian "assisted readymades" by obsessively collecting 8 x 10-inch glossy promotional photographs of show business personalities-in this example, Barbra Streisand, Prince, Sid Vicious, and Sylvester Stallone. Interspersing "authentic" autographs from celebrities (or usually their assistants) with those forged by the artist himself, Prince [not the artist formerly known as Prince] makes explicit the issues of authorship and appropriation that he has explored throughout his career, by demonstrating that the meanings of images are determined primarily by the unruly desires of the viewer.".
Our database turns up the much less interesting: Princeton University, formerly known as the College of New Jersey and Richardson Auditorium formerly known as Alexander Hall.
More on our engraving: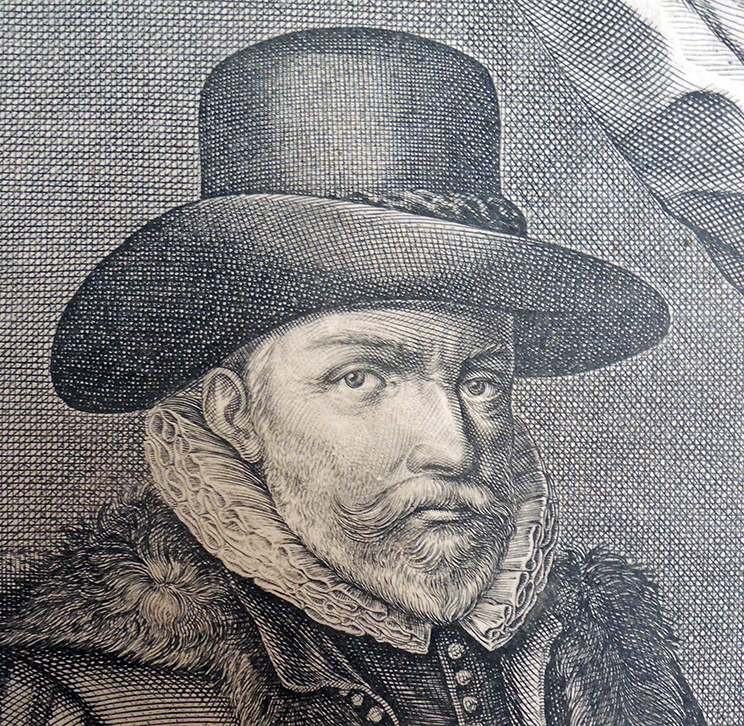 Salomon Savery (1594-1678), John Speed, ca. 1631. Engraving. Also used as a frontispiece to Speed's Prospect of the Most Famous Parts of the World and History of Great British Isles Atlas, Theatre of the Empire of Great Britaine as well as the combined editions of the two atlases. Hollstein D.24.62 (No. 133). Graphic Arts Collection Dutch prints
Latin dedication legend by publisher George Humble: "AEt [ernae] M [emoriae] | Viri clarissimi | Joannis Speed, Farndoniae nati in Comitatu Cestriae, Civis Londinensis, Mercatorum Scissorum fratris, | Servi fidelissimi regiarum majestatum Elizae, Jacobi, et Caroli nunc Superstitis: Terrarum nostra = | rum Geographi accurati, et fidi antiquitatis Britannicae Historiographi, Genealogiae Sacrae elegan = | tissimi delineatoris; qui post quam annos 77. superaverat non tam morbo confectus, quam mortalitatis | taedio lassatus, Corpore suo levat [us] est July 28, 1629 "
=The eternal memory of the famous John Speed, born at Farndon in the county of Chester, citizen of London, brother of the MS [?], most loyal servant of the royal majesties Elisabeth, Jacob I and the now reigning Karl I .; the exact geographer of our country and faithful historiographer of British antiquities, the witty designer of a biblical genealogy; who, after 77 years behind him, was not so exhausted from sickness as exhausted from his body from weariness from mortality on July 28, 1629.
The DNB lists John Speed (1552?-1629) as historian and cartographer and continues: "…On 15 June 1598, on Greville's recommendation, Queen Elizabeth gave Speed 'a waiter's room in the custom-house' … Speed first used his leisure in making maps of the counties of England. … These, accompanied by a description of each map, were collected in 1611 in Speed's Theatre of the Empire of Great Britaine, for which George Humble, the publisher, had received a license three vears before…. A second edition appeared in 1614, and a third in 1627, with the title A Prospect of the most Famous Parts of the World. …Meanwhile Speed had become a member of the Society of Antiquaries, where he met Camden, Cotton, and other scholars. Encouraged by their help, he had commenced his great work The History of Great Britaine under the Conquests of ye Bomans, Saxons, Danes, and Normans . . . . An anonymous portrait of Speed was in 1879 transferred from the British Museum to the National Portrait Gallery, London. An engraving by G. Savery, from a painting belonging to Speed's grandson Samuel, is prefixed to the later editions of most of Speed's works."
James Granger, A Biographical History of England, from Egbert the Great to the Revolution: Consisting of Characters Disposed in Different Classes… (J. Rivington and Sons, 1804), p. 320 below: